Dr. Oz daughters are three in number and Daphne is the first daughter of the family. Arabella takes the second position and Zoe is the last daughter. Their dad, Dr. Mehmet Oz, gained popularity as a TV personality and health professional; his path crossed with fame at the renowned Oprah Winfrey Show. As you will easily find, he served as Oprah's set advisor, especially on matters relating to health – a position which he held down for many years.
Being one of the most-watched shows, The Oprah Winfrey Show became instrumental in propelling Dr. Oz to greater heights, giving rise to his own show (The Dr. Oz Show) which followed in due course. Let's learn more about his daughters and what they've been up to.
Who Are Dr. Oz Daughters?
Facts About Daphne, Dr. Oz's First Daughter
Daphne is one of Dr. Oz's daughters and she takes the position of the doctor's first child. Born on January 17, 1986, in Philadelphia, Pennsylvania, U.S, Daphne is inching towards her mid-thirties as of this writing. According to the records, her birth was a difficult one, but the situation was remedied before it could get out of hand.
Growing up alongside her siblings in Cliffside Park, she attended Dwight-Englewood High and later proceeded to Princeton University. Upon graduation, Daphne forged a career as a Journalist, an author, and television personality. She is equally popular in the field of nutrition as she has authored several publications on the subject. Notable among her books is The Dorm Room Diet Planner. As a host on TV, Daphne has been a part of The Chew, cooking-themed talk show.
Dr. Oz's first daughter is a married woman; her spouse has been identified as John Jovanovic whom she met during her days in college, and they exchanged vows on the 26th of August 2010 at the Manhattan Municipal Marriage Bureau. One interesting fact about their union is that their civil wedding was followed by a couple of religious ceremonies that happened on the 28th of August 2010. In the morning of that fateful day, the couple was at Portland's Synaxis of Serbian Saints Church exchanging marriage vows while the evening saw them in another wedding ceremony at Cumberland Foreside, Maine. Daphne's husband earns a living as an investment fund analyst.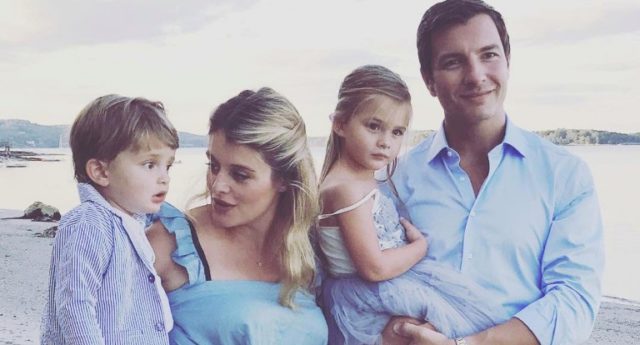 This Dr. Oz's daughter is a mother of four; her first child named Philomena Jovanovic was born on the 26th of February 2014. She soon became a sister to Jovan Jr., a handsome boy who joined the family on the 21st of October 2015. Daphne's third child is a girl named Domenica Jovanovic and she was born on the 4th of December 2017. Giovanna Jovanovic is the name of her last-child born on the 14th of August 2019.
Who Is Arabella Oz?
Dr. Oz's daughter, Arabella Sezen Oz, is the second child of the Oz family. Though we are yet to confirm her exact date of birth, we can tell she was born in the 90s. Her early academic records are not known but she was a student at Columbia University.
Arabella is also an author and works as an actress. She's credited as a writer for the miniseries, Chapters, and her other notable acting credits include movies like 2016's When the Star Ends and Jigsaw which came the following year.
Practically nothing is known about her love life. While it is believed that she is not in any relationship as of this writing, it is possible that she is dating someone but hiding it from the scrutiny of the public.
Things to Know about Zoe Oz
Zoe Yasemin Oz is Dr. Oz's third daughter. Just like her sister Arabella, Zoe's date of birth is not known, but she seems to be in her late teens. She spent a major part of her early years studying ballet and delved into sports in her sixth grade. She likes lacrosse, basketball, and tennis, and still participates in them, especially in high school activities.
The last daughter of Dr. Oz is just like her mom and big sister as she takes healthy living seriously. She was quite vocal in an interview session speaking about the loving relationship in the Oz family.