Eric Stonestreet is an American actor who has established himself as one of the funniest people onscreen. Having spent decades in the industry, he has achieved immense success and is seen as one of the veterans still enforcing their relevance in contemporary times. Over the years, he has gained a reputation for his penchant for taking on challenging roles and portraying them to perfection.
Stonestreet doubles as a comedian and is admired for his penchant for cracking ribs with his witty outbursts. He is, however, more known for his works onscreen as an actor. He is hugely famous for his role as Cameron Tucker in the American TV series, Modern Family which earned him multiple nominations and two Emmy Awards.
Eric Stonestreet's Life Revolves Around Acting
Eric Stonestreet's life revolves around acting. Apparently, it is what his life's purpose is and he has been at it since he was just a child. Born on September 9, 1971, in Kansas City, Missouri, Stonestreet realized he loved entertaining people from when he was very little. By the time he was just 11 years old, he was already performing at the birthday parties of 6- and 7-year-old kids as a comic entertainer or a clown.
By the time he went to college at Kansas State University, Eric Stonestreet was already taking part in stage productions. The actor showed his acting prowess in some stage productions which include Prelude to a Kiss, Twelfth Night, and All My Sons.
From 'Dharma & Greg' To 'Pushing Daisies': Stonestreet's Early Beginnings In Hollywood
After his college days, Eric Stonestreet decided to study improvisational theatre at ImprovOlympic situated in Central Chicago. It was after this that he moved to Los Angeles to begin his professional acting career.
The actor landed his first acting gig in 1999 when he was cast to play Chester in the TV series, Dharma & Greg. One year after in 2000, he was already getting multiple roles in different productions. That year, he starred as Phil in Malcolm in the Middle, Irv in Party of Five, Sheldon in Almost Famous, and Willie in ER. He was gaining momentum and it was evident he was going to get his bug break in no time.
In 2001, Stonestreet began to gain some prominence when he landed the role of Ronnie Litre in the American procedural forensics crime drama series, CSI: Crime Scene Investigation. He played the role from 2001 to 2005 across 13 episodes. In 2005, he appeared in The Island, playing the role of Ed the Trucker.
Eric Stonestreet went on to bag roles in several other productions, boosting his acting prowess and earning him accolades. He played Steve Anderman in Crossing Jordan, Floyd in Stories USA, Beergut in Ninja Cheerleaders, Malcolm Boatwright in The Mentalist, and Leo Burns in Pushing Daisies among others.
'Modern Family' Shot Eric Stonestreet To Global Renown
Even though Eric Stonestreet had starred in numerous movies and TV series from the late 90s to the 2000s, he did not get the global recognition he craved until 2009 when he joined the cast of Modern Family, an American television mockumentary family sitcom.
Stonestreet was cast to play the main role of Cameron Tucker on Modern Family and this completely changed the game for him. The show revolved around the very hilarious world of three modern-day families from California who try desperately to take care of their kids, deal with their quirky spouses, and handle their jobs in their own unique ways.
The show became very popular around the USA and the rest of the world, winning lots of awards in the process. The show ran an amazing eleven seasons, from 2009 to 2020. During that time, Eric Stonestreet gained massive popularity because of his role in the series. Stonestreet's performance was so good that he was nominated for the consecutive Primetime Emmy Award nominations three times, winning the award twice in 2010 and 2012. He also received three Golden Globe Award nominations as well as other awards for his work on the series. Modern Family established Eric Stonestreet as one of the great actors in Hollywood.
During the time that he appeared on Modern Family, Eric Stonestreet also starred in other productions. From 2013 to 2018, he voiced Minimus in the CGI animated series, Sofia The First. In 2014, he played Marty Landry in The Loft and portrayed Ken Duberstein in the 2016 TV movie, Confirmation.
In 2019, he bagged the role of Max Seward in the adult animated series, You're Not A Monster.
What is The 'Modern Family' Actor Worth?
The multi-talented actor who has made a mark with his amazing acting skills in Hollywood has no doubt gathered huge fortune from his career. Having been active for decades, it is expected that he has raked in quite a substantial amount of money for himself.
At the moment, Eric Stonestreet's financial value is estimated at $23 million. The bulk of his wealth comes from his role in the highly successful show, Modern Family. Considering he is still very active in the entertainment industry, that amount is expected to go up in the future.
Eric Stonestreet Is 'Openly Straight'
Rumors of Eric Stonestreet being gay have been around for a while. The rumors began to spread after he landed his highly talked-about role on Modern Family. Incidentally, Stonestreet played a gay character in the series and this gave many people reason to think that the man is actually gay. Apparently, those who think he was gay because of his role on camera are not to blame because Stonestreet played it so well and made it real.
However despite the many rumors and despite his onscreen role, Eric Stonestreet is not gay at all. In fact, he once declared himself to be 'openly straight'. He has also stressed that he has never been involved in a relationship with a man except for the one he depicted in the Modern Family series.
All About The Women In His Life
To prove that he is not gay but 'openly straight', Eric Stonestreet is currently in a loving relationship with a woman called Lindsay Schweitzer.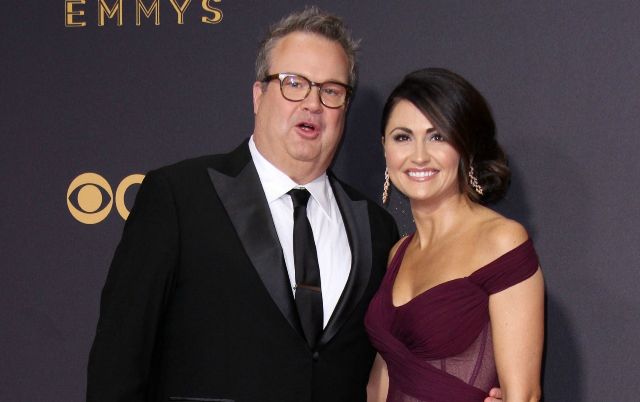 Lindsay Schweitzer works as a pediatric nurse and has largely remained out of the spotlight, unlike her man who is a very famous figure.
The couple started dating in 2017 after meeting at a charity event; the Big Slick charity weekend in Kansas City. They got attracted to each other and soon started their romance, They have been together ever since.
Stonestreet often posts photos and videos of Lindsay Schweitzer on social media, showering her with loving words which go to show how smitten he is by her.
It is noteworthy that before he met Lindsay Schweitzer and fell in love with her, Eric Stonestreet has been naturally linked to other women. In 2015, he was reported that he was in love with American television personality, Bethenny Frankel. However, the two broke up soon after.
He was also rumored to have romantically linked up with popular American-South African actress, Charlize Theron. However, this has never been confirmed.