Eric Stonestreet is not gay. The American actor is straight and though he does not have a wife, he is in a relationship with his partner, Lindsay Schweitzer, who is a pediatric nurse. Eric Stonestreet and Lindsay Schweitzer began dating in 2016 and got engaged in 2021. Stonestreet has long been assumed to be gay due to his famous portrayal of America's favorite gay man, Cameron Tucker, in the TV series Modern Family. 
Is Eric Stonestreet Gay?
Rumors of Eric Stonestreet being gay have been around for a while. The rumors began to spread after he landed his highly talked-about role on Modern Family. Due to the fact that he played a gay character in the series, this gave many people reason to think that the man is actually gay. Apparently, those who think he was gay because of his role on camera are not to blame because Stonestreet played it so well and made it real.
Despite the many rumors and his onscreen role, Eric Stonestreet is not gay at all. In fact, he once declared himself to be 'openly straight'. He has also stressed that he has never been involved in a relationship with a man except for the one he depicted in the Modern Family series.
To prove that he is not gay but 'openly straight', Eric Stonestreet is currently in a loving relationship with a woman called Lindsay Schweitzer.
Is Eric Stonestreet Married?
Eric Stonestreet is not yet married and therefore, does not have a wife, however he is engaged to Lindsay Schweitzer, who happenes to be his long-term girlfriend.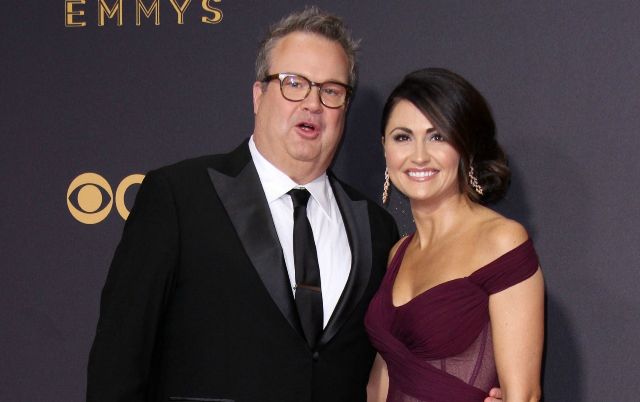 Who Is Eric Stonestreet's Partner?
Eric Stonestreet's partner is Lindsay Schweitzer who works as a pediatric nurse and has largely remained out of the spotlight, unlike her man who is a very famous figure.
The couple started dating in 2017 after meeting at a charity event; the Big Slick charity weekend in Kansas City. They got attracted to each other and soon started their romance, They have been together ever since.
Eric Stonestreet announced his engagement to Lindsay Schweitzer via Instagram and has been together for five years. On the post announcing their engagement, Stonestreet wrote: "She said, 'she'd have her people call my people.' We couldn't be any happier for them!"
Eric Stonestreet and Lindsay Schweitzer's love is evident online with pictures of them spending quality time together. It is clear that humour is one of the foundations of their relationship – something that Stonestreet has demonstrated through his public declarations of affection for Schweitzer.
Their engagement marks the start of a new chapter in Stonestreet and Schweitzer's relationship, one that promises more laughter and happiness.
Who Has Eric Stonestreet Dated in the Past?
It is noteworthy that before he met Lindsay Schweitzer and fell in love with her, Eric Stonestreet has been naturally linked to other women. In 2015, he was reported that he was in love with American television personality, Bethenny Frankel. However, the two broke up soon after.
He was also rumored to have romantically linked up with popular American-South African actress, Charlize Theron. However, this has never been confirmed.