Aside from becoming famous by profession, there are many other ways through which people gain popularity. Heidi became popular after she tied the knot with her ex-husband Taran Noah Smith, a former popular American child actor who is best known for his role as 'Mark Taylor' in the most commonly-viewed sitcom of the 1990s, Home Improvement. Heidi became a public figure not just because of her marriage to Taran, but also because of the colossal age difference between them.
Heidi Van Pelt Bio
Heidi Van Pelt was born on 11th July 1968 in the Midwestern state of Missouri, United States of America. Van Pelt grew up in her birthplace of Missouri where she completed her elementary education before proceeding to the Blue Print High School, and subsequently, the Oak Park High School.
Following her graduation from high school, Heidi enrolled at Stephens College, Columbia to study Fashion and Designing. Heidi however, changed to the University of Missouri where she studied German and Philosophy, for some reasons that were termed "personal". With an ambition to become an agent for the Central Intelligence Agency (CIA), she yet again moved to the University of Washington in 1988 and attempted the Russia Studies Program. Van Pelt, however, withdrew from the university, abandoning her studies when it was only a semester left. She subsequently started a media firm which she named Emergent Films.
Looking at her educational background, one would conclude that Heidi never had a consistent and stable career path. However, her career can be said to have truly begun in the 1990s when she established the Emergent Films. Yet again, after running her newly established firm for a short while, Heidi abandoned it and moved to Los Angeles. On getting to Los Angeles, she continued to struggle with the confusion and inability to follow a particular career path. She consequently hopped from one menial job to another including working as a prop master and later as a production assistant. Then once upon a time, Heidi eventually discovered a new job as a vegan cook.
Breakthrough
Prior to her new-found job, Heidi had been a vegetarian for several years, and so settling down as a vegan cook was not a task for her. While she was busy with her new job, Heidi discovered an animal right activists organisation. She eventually joined the group who lent her full support and helped her hone her vegan skills. Within the same period, she registered for an online study at the American Academy Nutrition, earning a certificate as a Nutritional Counselor after which she started working as such in a clinic in Los Angeles.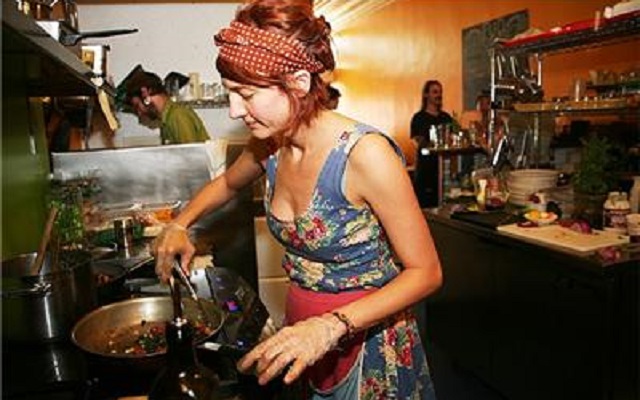 Heidi subsequently co-hosted a program tagged "Raw Health" on the local radio station. This singular act earned her massive popularity in the big city of Los Angeles, eventually leading her to the center of Hollywood party life.
Meeting and Marrying Taran Noah Smith
Heidi met Taran while she was trying to find her way into the heart of Hollywood through her cookery business. As a nutrition counselor, she usually had Taran Smith visit her house with his friend Zachary Ty for a raw food dinner party. Even though their first encounter did not make any significant impact, the second did, and the subsequent ones became history. The lovebirds later co-founded Playfood, a vegan and organic foods company that also produced and sold non-dairy cheese.
The pair later married on 27th April 2001. Their union, however, hit the rocks on 2nd February 2007 when they applied for a divorce. Among the reason for their divorce was Taran's extramarital affairs and excessive partying. On Taran's side, he accused Heidi of moving proceeds of their Playfood business to her personal ventures. The former couple had no child together.
Heidi Van Pelt's Net Worth
The exact figure of Heidi Van Pelt's net worth is not available at the moment. Based on logical speculations, Heidi generated quite a decent amount of money from her cookery business. Moreover, her marriage to and business partnership with Taran Noah added massively to her wealth.
Facts About Taran Noah Smith's Ex
● Heidi Van Pelt is 16 years older than Taran Noah Smith. As at the time of their marriage, Heidi was thirty-two years old while Taran was seventeen.
●  While the media stir caused by their wide age difference disturbed Pelt, Smith on the contrary, never cared.
● Van Pelt's parents unfortunately divorced when she was barely a year old. She, therefore, shared her childhood years between her two parents, randomly visiting them in their separate homes.
● As a vegan nutritionist, Van Pelt has worked with many public personalities including American actor Woody Harrelson.
● Heidi's ex-husband, Noah Smith is also a vegan.