Ines Rau is a trans woman and this means that she was born a boy. However, she had always desired to be a girl as she never liked being a boy. As a result, she decided to undergo sexual reassignment surgery but being an Arab Muslim, she was dragged. Inspired by the life story of transgender model Caroline Cossey, Rau made up his mind to go through with the surgery.
The world is beginning to witness the rise of so several queer and transgender individuals in the entertainment industry with many of them going on to receive widespread acclaim and notable awards for their incredible talent. Popular French transgender model, Ines Rau has defied all odds to become one of the finest models in the world. She became the first openly transgender woman to be named as Playboy Playmate of the Month in November 2017.
The former Playboy Playmate also has a couple of stints in the film and television industry. Notable amongst her credits include Vernon Subutex, Les Terriens du Samedi, Quotidien, Salut Les Terriens, and Cà Vous. Rau is very passionate about LGBTQ rights, women's rights, and the environment. Whenever she is not doing any professional work, the French actress is on the move, conducting various campaigns to preach and spread the word about what she represents.
What Was Ines Rau's Gender As A Kid?
Ines was born on March 18th, 1990, in the beautiful city of Paris in France. Despite her French nationality, her ancestry goes as far back as North Africa. She was born to an Algerian father and a French-Moroccan mother.
Ines Rau was born a boy and he spent a significant portion of her early years as a boy. Nonetheless, she never did enjoy the boyish life and had always desired to be a girl. Sources close to her family revealed that she had a thing for feminine kinds of stuff as against the regular boyish things that should have caught a young boy's fancy.
At the initial stage, Rau experienced challenges peculiar to being an Arab Muslim and was dragged for deciding to undergo sexual reassignment surgery. His ultimate decision to transition was born out of the desire to be free and to freely express himself.
Apart from her ancestry, not much is known about her educational background as there are no official records with regard to that aspect. Notwithstanding, Ines is believed to be well educated, judging from how well she handles herself and her career.
Ines Rau's Trans Journey Started As A Teenager
Inspired by the life story of transgender model Caroline Cossey, Rau made up his mind to undergo a sex reassignment surgery in spite of the shock his decision had on many around him. For 16-year old Ines, the true-life story, coupled with Cossey's book, 'I Am A Woman', was enough motivation for him to go all the way with his transition at such a young age.
Notwithstanding, Ines wouldn't have found the transition from male to female easy without the support of her parents. The popular model attested to the fact that the parents fully supported the decision to transition into being a woman. What's more, he bought hormone drugs with his mum's credit card when he ran out of money.
The surgery was relatively successful and Ines began a new life as a woman. However, the Playboy model decided against coming out openly as a transgender woman until the right time.
Typical of transgender women who just transitioned, Rau's before and after transformation made her self-conscious at first. The French-Algerian model admitted to Playboy at the time that she was concerned about being viewed as "strange". However, she set her mind towards improving herself and furthering her career.
Ines Rau Before and After Transition Surgery
Due to the magnitude of fame that Ines Rau has achieved since her transition and coming out, a lot of people are curious to see what she looked like before the surgery. However, probably owing to the fact that he was never comfortable being a boy he never really posted his pictures on the internet. That notwithstanding, a few of her photos as a boy (just two actually) have managed to find their way to the internet. See them below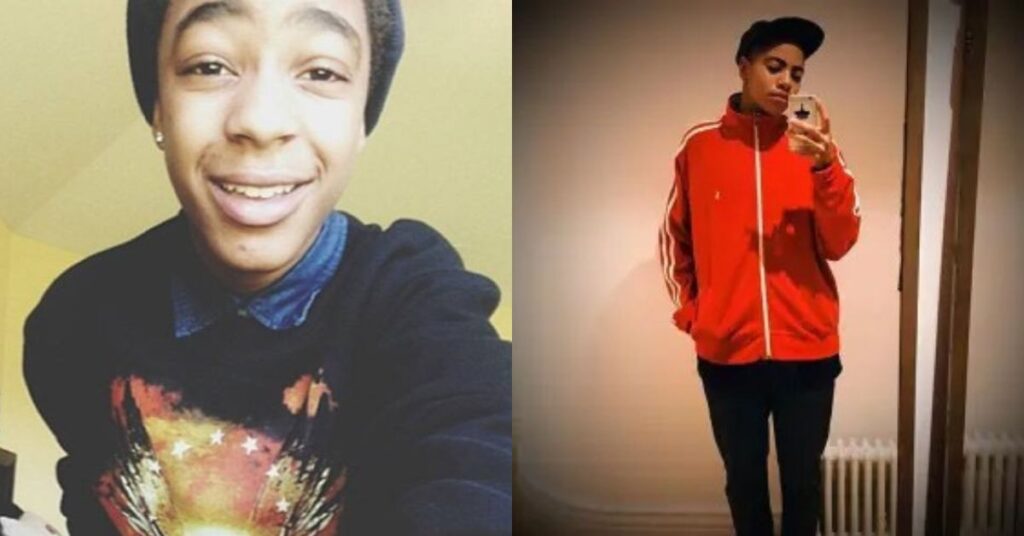 Looking at the pictures above, it's easy to see that Ines was just like every other teenage boy at the time the pictures were taken. He also dressed like a boy even though he didn't feel like one on the inside. Had he decided to carry on with his biological gender, Ines Rau  would have definitely made a very handsome man.
Nevertheless, there's no gainsaying that he turned out to be a very beautiful woman judging by the picture below.
Against All Odds, Ines Has Established A Thriving Career As An Entertainer
Ines began dancing in Ibiza, Spain for various DJs and made a lot of cash from it. During this time, she met and became friends with David Guetta. In 2014, the following year after meeting Guetta, Rau was featured in Playboy A-Z issue in a publication titled, Evolution. The publication was geared towards creating awareness into how people in society accepted persons of various gender and sexual identities.
Ines is known to have posed nude with Tyson Beckford for a spread with French luxury magazine OOB and as her popularity in the modeling industry grew, she started working with various stakeholders, including Alexis Bittar and Nicole Miller. Her face graced many popular magazine covers and she modeled for various brands as well.
She Is Playboy's First Trans Model
Her launch to mainstream fame dates back to her 2014 Playboy appearance which made her very popular as the second transgender to be featured in the magazine. Caroline Cossey, her source of inspiration, was the first.
More so, Cooper Hefner, son of Playboy founder Hugh Hefner, announced in October 2017 that Ines Rau would appear in the November/December 2017 issue of the magazine as "Playmate of the Month," making her the first openly transgender woman to appear as such. Hefner compared the choice of featuring Ines to the decision of his father to feature Jennifer Jackson as the first African-American model to appear as a playmate in the 1965 edition of Playboy.
Subsequently, Ines Rau became more involved in campaigning for transgender rights after her coming-out. In 2016, she appeared in an episode focused on her life in the TF1 news format Sept à Huit.
The Transgender Woman Has Raked In Massive Income From Modeling & Acting
Ines Rau's career as a model will most definitely allow her to earn an income that can give her a life of comfort without her having to worry about paying the bills frequently. Her salary per annum is estimated to be $42,000.
It is also known that additional income comes to this model from her acting spell and the fact that she has signed a book deal as well. However, an exact number on her net worth is not known as she hasn't revealed that. Notwithstanding, Ines-Loan Rau's net worth is believed to be within the region of $1- $5 million. The possibility of the figure being more than that is quite high but there are no official figures to corroborate the claim.
Ines Rau's Partner Is The TV Star, Staiv Gentis
The widely acclaimed former Playboy Playmate is neither married nor single. According to reports making the rounds on tabloids and entertainment blogs, the television star has an ongoing romantic relationship with Staiv Gentis. Like Ines, Gentis is also a model and an actor. He is best known for his superb performance in films like Valerian and the City of a Thousand Planets (2017), Du Soleil Dans Mes Yeux (2018), and Leatherdaddy (2019).
Details about their relationship remain unknown to us at this time. However, from what we have been able to gather, the lovebirds have been together since 2015. The love-struck couple often takes to their Instagram pages to share posts of their love for each other. It is speculated the romance they share might eventually lead them to the altar in the nearest future.