Destiny Etiko is not married despite the many wedding photos you may have seen of her on social media. These photos have caused quite a stir among fans but they are only shots from the sets of movies that have featured the actress in the past.
Etiko's relationship history has been shrouded in secrecy as she does not openly discuss her love life. However, it has not stopped people from linking her to different men. The most recent person to be linked to her is the CEO of Belema Oil, Tein Jack-Rich. Before him, it was Dr. Successful John.
Destiny Etiko is Not a Married Woman
Anybody who has taken the time to go through destiny Etiko's Instagram page will surely not miss photos of the screen goddess decked in very gorgeous wedding gowns. While many have mistaken them for real-life events, this is not the case. Those beautiful wedding pictures notwithstanding, the actress is not yet married and according to the records, she has never tied the matrimonial knot with any man.
The truth about those Instagram photos is that they were on-set shots, taken during the filming of wedding scenes. The actress who is always looking so beautiful in those white gowns has expressed her desire to fall in love and get married someday. Her greatest dream is to meet a man who will share her acting interest. Destiny doesn't want to toe the same line as her mother who had to shelve her dreams of becoming a great actress to stay back and take care of the home front.
She Has Been Linked to Actor Zubby Michael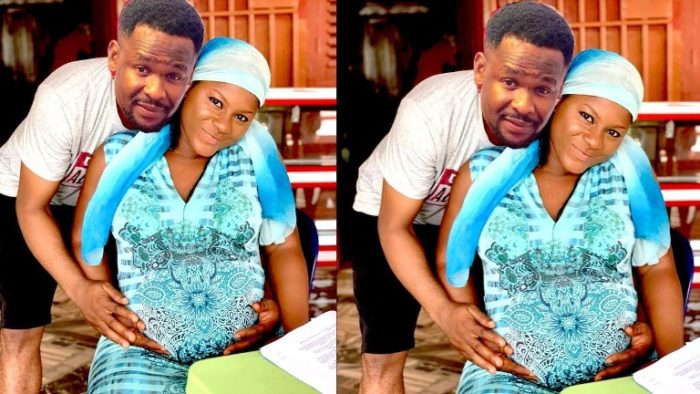 When actors and actresses continue to share the screen in movies for a long time, fans would naturally ship them together, especially when they feel that the characters share strong on-screen chemistry. This was exactly the case with actor Zubby Michael and Destiny Etiko, people just started seeing them as an item, thanks to their on-screen performances. Some even believed them to be married.
However, the screen doll herself has cleared the air on that account. According to Etiko, she is not romantically linked to Zubby Michael, neither is she married to him. After all the denials, she still maintains that her relationship with Zubby is very special, as well as intimate.
Destiny Etiko is Indeed Dating
Just when it seemed like Destiny Etiko would never reveal the identity of the man in her life, the Nollywood star surprised fans a few days after her dad's burial when she took to Instagram to share photos of her beau. In an Instagram post sporting a picture of Destiny and her man, the movie star tagged it The Successful Man. According to Etiko, the man is named Doc Success but "The Successful Man" is what she calls him.
In the post, Destiny was full of gratitude to the mystery man for taking a big risk just to be with her on a special day (perhaps her dad's burial) like this. She said the role the man played was priceless and she really appreciated it. Destiny continued as she prayed for her man, calling on God to bless, provide, and protect him. She concluded by calling "The Successful Man" darling, referring to him as a high-quality soul. Those photos have been causing quite a stir on social media since then.
The Identity of The Man Revealed
You don't expect the media to keep mum after Destiny shared those Instagram photos,  investigative journalism skills naturally kicked in as they went in search of the man's true identity. A little digging revealed that he goes by the name Dr. Successful John and with the help of his Instagram page, they were able to unravel his line of work.
According to findings, the man is neck-deep into movie production, a fashionista, and dermatologist who works as the chief executive officer of sucex intl. The fashionista aspect of his profile is quite befitting as the man is rather classic in looks. It is obvious that his taste in fashion is of very high quality.
Since then, Destiny Etiko and Dr. Successful have been spotted at events together and they appear to like complimenting each other. During the actress's last birthday, Dr. Success sent her a heartwarming message and beautiful image videos. This is the only known relationship for Destiny as the media was unable to dig up any past dalliance.
There Were Rumors that Destiny's Latest Automobile Acquisition was Gifted to Her By A Man
The whole drama started after Destiny Etiko shared photos of her newly acquired customized SUV which is reported to worth over N30 million. People started weighing in on the news, trying to understand how the salary of an actress can finance such a luxury purchase. Even popular rapper Ruggedman couldn't help but wonder how only the female Nollywood actors seem to be building mansions and buying exotic vehicles.
However, things blew out of proportion following a post by Nigeria's controversial blogger Gistlover. According to the blog site, the tear rubber Toyota Land Cruiser Prado sporting customized number plate was actually gifted to the actress by a married man. The Man, Gistlover wrote is Tein Jack-Rich, a known billionaire businessman and the CEO of Belema Oil. To buttress their claim, the blog site shared a picture of Destiny Etiko and her alleged sugar daddy.
Destiny Etiko's Reaction to the Allegations
Reacting to the allegations, Destiny took to her official Instagram page to debunk the rumors. According to the Nollywood star, she has never set her eyes on the oil mogul. In a one-minute Instagram video, she swore on her and her mother's life that she is totally innocent of all accusations leveled against her. She wrote, describing herself as an independent and hardworking woman. Destiny called out all her haters, friends in disguise, bloggers, and evildoers who have been sponsoring the dissemination of false info about her just to besmirch her trend and image.
Etiko said her God will punish those who are propagating the false news and since they find it difficult to appreciate the good things of life, greatness shall be very far from them. The actress said it is crazy how we are quick to tag a woman's success to a man. Her exact words were, whenever a diligent woman acquires things like a house, land, or car, jobless fools waste no time in tagging it to a man. Notwithstanding, the Nollywood actress was quick to delete the post
Recall that the actress wrote about how men easily get scared of successful women. According to Destiny Etiko, her man won't find any cause to be scared of her. The actress said she does not need a billionaire for a husband, as she is diligent enough to make her own money and is willing to support her partner. However, Destiny regrets that people tend to misunderstand her.
She told a tale of people wanting to do her great favors despite not being close to her; thus, what's the need of hopping from bed to bed. Destiny motioned that if she falls in love with a moderately affluent guy, she would marry him, The actress told Punch about the current man in her life whom she is quite comfortable with.
Jack-Rich Also Weighed in on the Matter
Tein Jack-Rich who is a married man and a father of two also came up with a strong denial to all the claims flying around on social media. After he saw the huge mess, the business tycoon took to his Facebook page on Monday the 8th of February 2021 to air his views on the issues.
From his post, it is glaring that the man couldn't believe his own eyes. He decried how we have neglected to give such widespread publication to weightier things like achievements and great news for societal development but would rather lend our voice to what he described as a campaign of calumny.
The Media Dug Up Evidence That They Might Be Dating After all
Even after all their vehement rejections and strong denials, Destiny Etiko and Jack-Rich's matter was never laid to rest. The media still went on to dig deeper and from what we gathered, they unearthed some really interesting pieces of evidence that suggest that the duo may be involved in a clandestine affair.
Recall that Destiny shared a post about getting a bead-made bracelet from "someone special", that someone has been traced to Jack-Rich. Investigations exposed photos of both Etiko and Jack-Rich rocking the same bracelet. Hmm, interesting.