Lucas Grabeel came to heightened media attention for his role as Ryan Evans on the High School Musical films. In addition, Grabeel has drawn significant attention to himself for his roles on The Adventures of Food Boy, the Halloweentown series, Smallville, Switched at Birth, Milk, and I Kissed a Vampire. Lucas is also a regular voice actor, playing some of his prominent voice roles on Family Guy, Robot Chicken, DreamWorks Dragons, Sheriff Callie's Wild West, and Pinky Malinky.
Meanwhile, after playing Danny Nicoletta, the homosexual friend and supporter of murdered gay rights activist, Harvey Milk on the biographical film, Milk, speculations became rife that Lucas Grabeel is gay for real. Also lending credence to the gay suspicions were Grabeel's dressing and speaking style on High School Musical which were on some occasions, subtly gay-themed. Moreover, Grabeel's real-life physical looks somewhat appear feminine. But is he actually gay?
Is Lucas Grabeel Gay or Married?
In a lengthy writeup which he posted on his official website late in 2008, Lucas Grabeel gave a detailed clarification on his sexual orientation. The Milk star first pointed out that his real-life personality has nothing to do with the several characters he portrays in movies, from Ryan Evans to Kelly Kuzio from Veronica Mars. No matter what he portrays on the screens, he remains Lucas off-screen! He further explained that playing homosexual Nicolleta does not make him gay. Citing several straight and married actors who have portrayed gay characters in films, Grabeel made it clear that playing a gay role never makes anyone who is not gay, gay.
Lending credence to this disclaimer is the fact that Lucas Grabeel has dated a number ladies including actress Emily Morris with whom he has been in a longtime relationship. Meanwhile, Grabeel has not married yet.
Is Lucas Grabeel Related To Ashley Tisdale?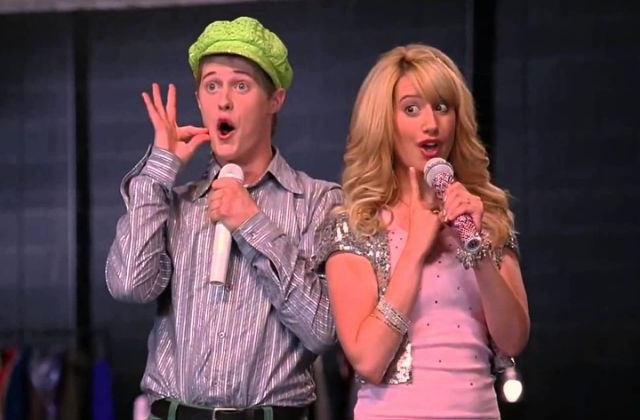 Following his role as Ryan Evans on High School Musical, Lucas Grabeel has collaborated with several co-stars in a number of music projects. Most prominent among them is Ashley Tisdale who played his twin sister, Sharpay Evans in the television films. Among several other post-movie appearances, Lucas Gabreel and Ashley Tisdale did the High School Musical: The Concert track, "I Want It All" which Billboard considered for an Oscar nomination in 2009. Owing to the duo's frequent simultaneous onscreen appearances, many began to take them for siblings. But are they really related?
Lucas Grabeel was born on November 23rd, 1984 in Springfield, Missouri, United States. He is the son of Stephen Grabeel and his wife, Jean (née Harman). Lucas attended the Logan-Rogersville School for his elementary, middle and high school education. He, however, later changed to Kickapoo High School in Springfield from where he finally graduated in 2003. During his school days, Grabeel showed a keen interest in music. At Kickapoo, he formed an all-men a cappella group called "No Treble" while also playing drums for a local church. Following his graduation, Lucas pursued acting and music. He subsequently made his debut screen appearance on the 2004 television film, Halloweentown High.
As a singer, Lucas Grabeel has released a number of songs including "You Got It" (2007), "Trash Talkin" (2008), "135n8" (2014), and so on. He is the first musician to debut in the Billboard Hot 100 with two simultaneous new entries within a week. In addition to acting and singing/songwriting, Grabeel is a film producer and director. In 2007, he founded 14341 Productions, a music, and film production company. Grabeel lives in Mill Valley, California.
On the other hand, Ashley Tisdale was born on July 2nd, 1985. She was born in Monmouth County, New Jersey to Michael Tisdale and his wife, Lisa Morris. While her father is Christian, her mother is Jewish; and Ashley had a bit share of both religions growing up.
Also See: 7 Things You Didn't Know About The Streamer Tyler Steinkamp
Just like Lucas Grabeel, Ashley Tisdale is also an actor, singer/songwriter, and producer. She started her showbiz career at the very tender age of three, successfully combining it with her education till adulthood. Ashley initially started with television commercials, appearing in over a hundred of them before her teens. She subsequently ventured into theater, films, music, and production – in that order. In all, Tisdale is most popular for her role as Sharpay Evans in the High School Musical films. Among her albums are Headstrong (2007), Guilty Pleasure (2009), and Symptoms (2019). In 2008, she founded Blondie Girl Productions. Ashley Tisdale married fellow singer Christopher French in 2014. She lives in Los Angeles, California.
Based on the above facts, it is clear that Lucas Gabreel and Ashley Tisdale are not related in any way.