Ruth Kadiri got married in 2018 to a man who is only known as Mr. Ezerika. The actress and her husband have two daughters named Reign Nwachinemelu Ezerika and Emerald Chizaram Ezerika.
It has become the norm among actors and actresses to keep their partners away from the public eye especially when the person doesn't have anything to do with the movie industry. In the case of the Edo State-born actress, movie producer, screenwriter, and philanthropist, Ruth Kadiri, she has kept her marriage under wraps from inception but it is common knowledge that she is legally married to a Nigerian man named Ezerika. The couple have welcomed a daughter together and that is about much of what the public knows about them, until now.
Ruth Kadiri First Hinted at Being in a Serious Relationship in a 2016 Interview
To date, no one knows exactly when Ruth Kadiri met her husband as they kept things under wraps before exchanging vows. But in a 2016 interview, the Love is Beautiful actress sounded like someone who was ready to settle down. According to Ruth, there are situations and circumstances of life that we cannot control and among them is finding your better half. She went on to say that people cannot decide on the right time to find that Mr. Right, thus, when it eventually happens, you should be happy about it.
Ruth didn't just end the interview with her comments about finding a life partner as the female entertainer also talked about having children. One thing that was glaring in her speech about children was the fact that she advocated having them in the proper way and not outside wedlock.
Kadiri Got Married Almost Immediately After Announcing Her Engagement
In December 2017, Ruth Kadiri announced that she was officially engaged. The movie star took to social media to share a photo where she was seen sporting a beautiful engagement ring. Thousands of congratulatory messages from fans and colleagues were subsequently left in the comment section.
Following the announcement of her engagement, the movie star did not let the grass grow under her feet before walking down the aisle with her hubby in 2018. However, fans were really disappointed when it became glaring that the actress opted to do both the traditional and white wedding in secret, keeping all the juicy details well away from the penetrating eyes of the public.
Consequently, there are no tidbits about the event, including the venue of the nuptials. Even news that she got married remained speculation until the actress changed her social media profile to reflect her married name. Around the same time, people spotted Ruth Kadiri brandishing a gorgeous wedding ring. Thankfully, fans who had been wondering what Ruth wore for her wedding were treated to some tidbits when the entertainer shared a photo of her donning a traditional outfit which was taken as her traditional wedding attire. As expected, her husband was nowhere to be seen in the shot.
Her Husband's Face was Eventually Revealed in 2019
On Valentine's Day of 2019, Kadiri let us have a peek at her hubby in a photo shared on Instagram. In 2019 and 2020, she celebrated her hubby's birthday on the 7th of June. Her first wedding anniversary led the actress to pen adorable words about her spouse sporting a photo where they were seen in a passionate kiss. Ruth also did the same on Valentine's Day of 2020. Her marriage has continued to endure for almost three years and they have not shown any signs of separation.
Who is Ruth Kadiri's Husband?
Right from inception, Ruth Kadiri has been doing her utmost best to keep the identity of her husband shrouded from the public, thus, the man's full identity and occupation never came to light. However, his last name became public knowledge after she updated her social media profile to reflect her married status. Consequently, the man is simply called Mr. Ezerika.
Apart from his last name, no other detail seems to be forthcoming about him except the fact that he is from the Igbo ethnic group of the eastern part of Nigeria. Even this tidbit was never confirmed, it was probably inferred from the man's name.
Perhaps, the reason Ruth thought it wise to keep her husband's real identity shrouded is that it was earlier rumored that he was already married before the actress came into his life. His wife, according to the whispers, is a Swedish woman who goes by the name, Maija Ozokina Ezerika. However, this particular version of the story was taken with a grain of salt as it was never confirmed to date
Ruth Kadiri is a Mother of Two
As expected, Kadiri kept the news of her pregnancy top-secret and only treated fans to a view of her baby bump after a safe delivery. Baby Reign Nwachinemelu Ezerika made her entrance to the world on the 21st of August 2019 in a Swedish hospital after a long labor that lasted for 8 hours.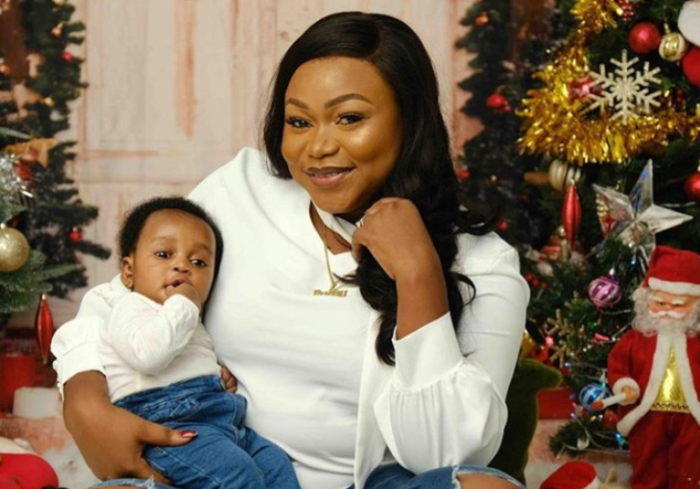 The baby girl, who is said to be Ruth's look-alike, already celebrated her first birthday in 2020. Reign seems to be making headway on social media. Unlike her husband, Ruth didn't keep Baby Reign off the public eye as the girl has already accumulated over 43,000 followers on Instagram.
The screen diva welcomed her second child, also a daughter, on July 20, 2022. She shared the good news to her friends, fans and family through her verified Instagram account.
Sharing a picture of herself and the baby, the actress said that she had prayed, waited and loved her baby even before she was born. She captioned the picture, "Dear Emerald-Chizaram-Ezerika born 20th of July 2022. I want you to know that I prayed for you. Waited for you. Loved you before I met you. And you have made our lives a complete reminder that God answers prayers."
All The Men Ruth Kadiri Had Reportedly Dated in the Past
Before she shed the cloak of spinsterhood to embrace matrimony, Ruth Kadiri was active on the love scene and has dated quite a few men;
1. Unidentified Man
Around 2017, rumors ran rife that the Edo-born entertainer was the girlfriend of a supposed fraudster who spends his life shuttling between Nigeria and London. The man who was said to be already married had his family stashed away in London and according to speculations, the unidentified man's wife was well aware of his dalliance with Ruth. Their relationship did not last for long as it ended within a short while.
2. Stanley Ebonine
Ruth Kadiri reportedly dated famous Nollywood producer Stanley Ebonine. This happened before the man got married in 2011. Their relationship was said to have endured for a while, a time during which Kadiri made regular appearances in his movies playing vital roles.
Allegedly, the duo ended things in 2011 when Stanley took Dorathy Chinasa Agu – his Enugu-born wife on the walk down the aisle. When the news of Stanley's marriage hit the airwaves, fans were really disappointed, accusing the movie producer of dumping the actress. In his defense, Stanley maintained that there is no bad blood between him and Ruth as they were still friends. Besides, he said the actress was well aware of his wedding plans.
Throwing more light on the situation, the moviemaker mentioned that for personal reasons, he never intended to marry someone in the movies. On her own part, Kadiri debunked the suggestion that Stanley dumped her, appreciating the producer's immense contribution to her life.
3. Apostle Suleiman
Apostle Suleiman is one man of God that has attracted a lot of controversies, especially those involving girlfriends and lovers. Ruth Kadiri's name has been mentioned along with other women that have reportedly had a thing to do with the man of God. However, the actress never took the speculations seriously and to date, has never commented on it.