Jack Matthew Lauer is the first child and son of Matt Lauer, the former American television news anchor and co-host of the NBC's Today show. Jack is one of Matt Lauer and Annette Roque's three children, and his two younger siblings are Romy and Thijs Lauer.
Jack Matthew Lauer was born on the 26th of June 2001 and is currently 22 years old. Although his parents are no longer together, Jack has a good relationship with both of them.
Nearly all children birthed by very popular people grow to find themselves in the spotlight as the ever-prying eyes of the media never blink on them. Jack Matthew Lauer is one of such children. Sadly, after spending nearly two decades in NBC, Jack's father went from being famous to being infamous after an unidentified female employee of the company reported that he had harassed her sexually. This ultimately led to the termination of his employment.
Since Matt was disgraced out of his job, a lot of people have been eager to know what has become of him but we are not here to discuss that rather, our focus is on his son Jack Matthew Lauer. Keep reading as we share with you all there is to know about the young man.
Summary of Jack Matthew Lauer's Biography
Full name: Jack Matthew Lauer 
Nickname: Jack Matt
Gender: Female
Date of birth: 26th of June 2001
Place of Birth: New York City, New York, United States of America
Jack Matthew Lauer's Age: 22 Years Old

Ethnicity: White
Nationality: American
Zodiac Sign: Cancer
Marital Status: Unmarried
Jack Matthew Lauer's Parents: Matt Lauer and Annette Roque
Grandparents: Robert Lauer, Marilyn Lauer, Henri Roque, Johanna Struijk
Siblings: 2
Famous for: Being the son of Matt Lauer
Who Is Jack Matthew Lauer?
Jack Matthew Lauer (aka Jack Matt) was born on the 26th of June 2001, in New York City, New York, United States of America. The American citizen is the oldest of Matthew Todd Lauer and Annette Roque's three children.
Jack Matthew Lauer has two younger siblings, a sister and a brother named Romy and Thijs respectively. His sister was born on the 2nd of October 2003 while his brother was born on November 28, 2006.
Romy, like their mother, is a horse-rider. She has taken part in various horse-riding competitions such as the Hampton Classic as well as other horse shows in the region. With an equestrian facility called Bright Side Farm, which was purchased by Jack's parents, at his sister's disposal, it would not be a surprise if she turns out to be one of the best horse riders in the future.
Facts About Matt Lauer's Son 
Jack Matthew Lauer's Parents 
Jack's father has been married twice. He was first married to a television producer named Nancy Alspaugh but their marriage, which produced no children, lasted from 1982 to 1989. This gave room for Jack's mother Annette Roque to come into the scene.
His parents met in July 1997 on a blind date and even though it was not a case of love at first sight, they had a sort of connection and as a result, started dating afterward. After five months, Jack's dad popped the big question to his mom and she said yes. Moving forward, they got wedded in Water Mill, New York on 3 October 1998.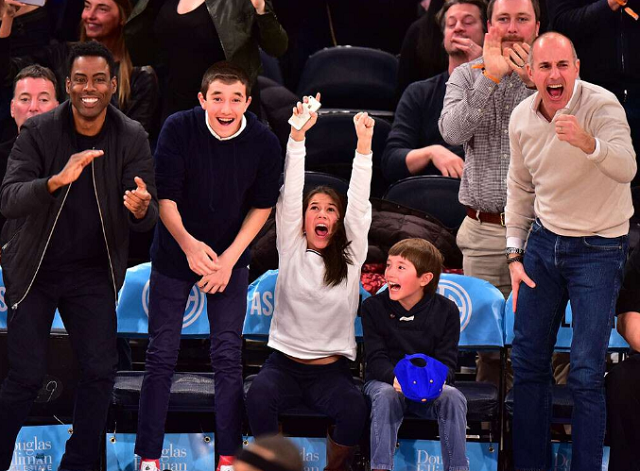 Jack Matthew Lauer's Grand Parents
Jack Matthew Lauer is the grandson of Marilyn Lauer (née Gentry) and Jay Robert Lauer (his father's parents). His paternal grandmother was a boutique owner while his paternal grandfather was a bicycle-company executive. Unfortunately, Jack did not meet them married as they got divorced during his father's youthful days.
While his paternal grandfather was of Romanian Jewish ancestry, his maternal grandfather and mother were from Indonesian and Dutch respectively.
What Is Jack Matthew Lauer's Relationship With His Dad?
The young man is the closest to his dad among his siblings. The bond between them goes beyond that of a father and son to that of buddies. They usually attend entertainment events together and are always seen together at games.
Jack Matthew Lauer and his father are both supporters of the New York Knicks and on several occasions, they have been caught on camera chatting, laughing and enjoying each other's company. As a matter of fact, it was his many appearances with his father that drew the attention of the media to him.
When Matt Lauer's two-decade-long career at NBC was terminated due to an allegation of sexual misconduct, he was more concerned about not losing his relationship with his son than his wife. Consequently, Matt reportedly drove to Jack's prep school, which is outside New York City, to have a man-to-man conversation about his scandal.
According to a source close to the former media personality, what first came to Matt's mind was that he needed to explain things to Jack face to face because it would be more painful if he reads about it on the internet.