Pamela Gregg is a skilled producer who has made a worthwhile contribution to the entertainment industry. Aside from gaining fame from her production work, she is also famous as the wife of the accomplished stand-up comedian, author, TV and radio personality, Jeff Foxworthy. Pamela has been relishing the married relationship with her husband for decades which has also put her family life in the spotlight. According to her husband, she has been the major source of inspiration for his career that has lasted for more than three decades. No wonder, Jeff's career has soared greater heights as he is regarded as one of the wealthiest comedians in the United States. Discover more facts about the dexterous producer below.
Who is Pamela Gregg?
Jeff Foxworthy's wife has been much of a private person as much of her personal details are not available on the media including her birthdate and the names of her parents and siblings. Details of her childhood experiences and educational achievements have not been made public as well, being that she is yet to have an account on social media platforms. Although Pamela's personal details are not known, that cannot be said of her husband whose birthdate is registered as 6th September 1958 and his place of birth is Atlanta, Georgia, United States. He is a graduate of Hapeville High School.
As a result of her husband's work in the entertainment industry, Pamela Gregg has been able to establish herself as an executive producer of a few of her husband's shows. In 1993, she served as the executive producer of a TV Special titled, Jeff Foxworthy: Check Your Neck, a comedy special that featured her husband, Jeff Foxworthy who also serves as the writer of the TV show.
Even though Pamela doesn't have any other production credit to her name, she appeared as herself in a TV documentary titled, Biography: Jeff Foxworthy – Stand Up Guy. The aforementioned documentary which stars Larry Burns, Johnny Carson, Bill Engvall, Jay Leno, and Jeff Foxworthy entails about the life of Pamela Gregg's husband and how he has become one of comedy's biggest success stories.
Aside from the documentary, Jeff Foxworthy has released other comedy albums such as You Might Be a Redneck If…, and Games Redneck Play that gained a nomination for the Best Spoken Comedy Album in 1996 Grammy Awards. He has also starred in the 1995 sitcom, The Jeff Foxworthy Show which ran on ABC for one season before its cancellation. He has further made an appearance in the American adult animated parody talk show, Space Ghost Coast to Coast.
Working as a radio and TV personality, Pamela Gregg's husband has served as the host of TNN Music City News County Awards shows for three consecutive years; 1998, 1999 and 2000. He has also served as the host of the quiz game show, Are You Smarter Than a 5th Grader?, that currently airs on Nickelodeon and is hosted by John Cena.
In addition, Jeff Foxworthy has hosted The American Bible Challenge, a biblically themed television game show created by Game Show Network and also the CBS food reality competition television series, The American Baking Competition. As of recent, he is serving as a judge in the American comedy competition series, Bring the Funny that premiered on July 9, 2019, on NBC.
Pamela Gregg's husband has also authored many books including Jeff Foxworthy's Redneck Dictionary: Words You Thought You Knew the Meaning Of (2005), Jeff Foxworthy's Redneck Dictionary II: More Words You Thought You Knew the Meaning Of ( 2006) and Jeff Foxworthy's Redneck Dictionary III: Learning to Talk More Gooder Fastly.
See Also: Who Is Maria Hanslovan, Andrew McCutchen's Wife & How Did They Meet?
How Long Have They Been Married?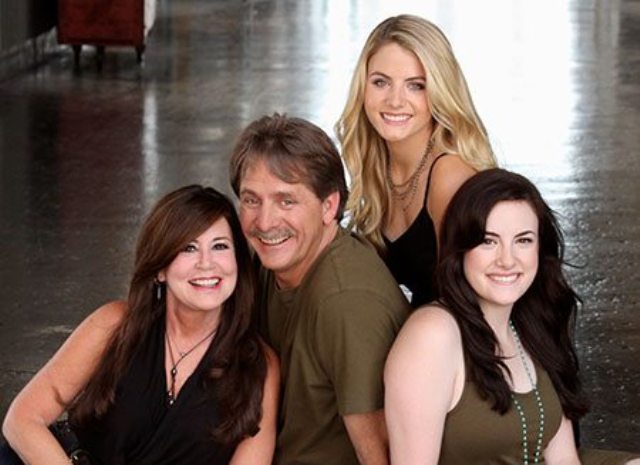 Pamela Gregg and her husband, Jeff Foxworthy got acquainted at Atlanta's Punchline Comedy Club in 1984. The pair dated for a year before they exchanged marital vows in a small wedding ceremony held on 18th of September 1985 in the presence of their family and friends. In 1992, Pamela gave birth to their first child, a daughter named Jordan Foxworthy and two years later, the couple expanded their family once more with the arrival of Julianne Foxworthy.
Pamela and her husband have been married for over three decades, having celebrated their 34th marriage anniversary on 18th September 2019. The cute couple is happily married and there is no sign of divorce in the near future. Meanwhile, their first daughter, Jordan is a graduate of the University of Georgia while their second child, Julianne is an Auburn University graduate.