Kaitlin Olson and Rob McElhenney are still married. They met on the set of It's Always Sunny in Philadelphia in 2005 and started dating the following year. They got engaged in December 2007 and eventually exchanged marital vows on the 27th of September 2008. 
Hollywood is littered with instances of co-stars falling in love on set. Couples, such as Angelina Jolie and Brad Pitt, famously fell in love on set before proceeding to get married and eventually divorcing. Another famous couple whose love story commenced in the course of work is Kaitlin Olson and Rob McElhenney.
The two TV stars fell in love in 2006 while co-starring in the popular sitcom, It's Always Sunny in Philadelphia. They proceeded to get married and welcomed some kids. Discover more about the lovely couple here. Have their union bitten the dust or are they still together?
How Kaitlin Olson and Rob McElhenney Met
Kaitlin Olson and Rob McElhenney first met on the set of It's Always Sunny in Philadelphia; that was in 2005. McElhenney was the creator and executive producer of the show as well as one of the stars. Olson, on the other, portrayed the beloved character of Dee.
It wasn't a love at first sight situation for them, but more of a slow burner. Olson increasingly found herself attracted to McElhenney as a result of his vision and internal confidence. She also loved the fact that he was basically a good dude who wanted everyone's happiness.
Having realized her feelings, Olson bided her time until the network threw a party for the show in 2006. She made her move then and McElhenney reciprocated her affections. They subsequently commenced a romantic relationship that same year. Olson and McElhenney initially kept their romance under the warps fearing that their co-stars would hate them for it. They later fessed up, and their colleagues congratulated them.
When Did They Get Married?
Kaitlin Olson and Rob McElhenney dated for nearly two years before getting engaged in December 2007. They subsequently tied the knot on the 27th of September 2008 in California. The wedding ceremony featured their closest families, friends, as well as their Philly co-stars.
Olson dazzled in a Les Habitudes cotton and lace gown while her husband looked dapper in a Gucci suit. The wedding reception had a nature theme and featured potted plants, herbs, vegetables, as well as a vintage photo booth. The couple's cake also gave a nod to the overriding nature theme of the wedding. The lavish four-tier affair consisted of sugar grass leaves and buttercream lily of the valley flowers.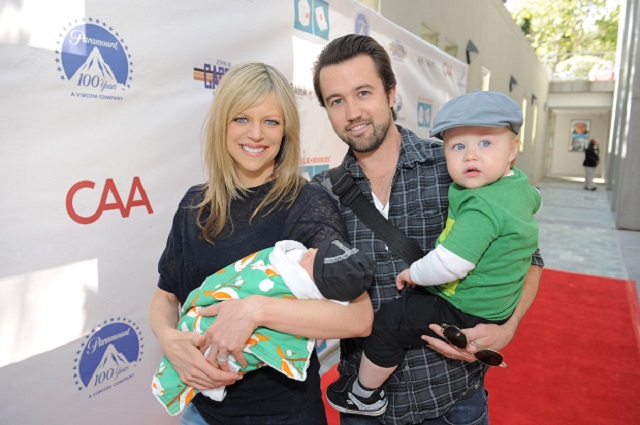 Kaitlin Olson and Rob McElhenney have two children together. Their first is Axel Lee and he was born on the 1st day of September 2010. Prior to Axel's birth, Olson had gone in labour but decided not to head to the hospital right away. She instead chooses to attend a Philadelphia Phillies game believing that the birth, being her first, would be slow.
The actress, however, turned out to be wrong as her labor intensified within a short period. She managed to make it to the fifth inning before she was forced to head to the hospital. Luckily, the birth went smoothly and her favorite team won in her absence. Olson and her husband welcomed a second son, Leo Grey, on the 5th of April 2015. Leo is of German origin and stands for lion while Grey is of English origin and stands for grey-haired.
Are Kaitlin Olson and Rob McElhenney Still Married?
The answer is an emphatic yes. The two co-stars are still very much together and are waxing stronger. They regularly make joint appearances at award ceremonies and other industry events. McElhenney never tires of showing his affections for his wife.
On the 18th of August 2018, the actor used his Instagram to wish his wife a happy birthday. He described her as "light in human form" and disclosed that she has taught him about virtues such as patience, kindness, forgiveness, and inconceivable resilience. He also described their relationship as messy, hard, wonderful, boring, sweet, exciting, miserable, and joyous.
Additionally, on the 28th of September 2019, Rob McElhenney also used his Instagram account to wish his wife a happy 11th anniversary. In a heartfelt post, the actor shared the lyrics of Kenny Roger's evergreen single, Through The Years.
He declared that through the years, his wife has never let him down but had instead turned his life around. The Philly star also stated that he loved the life they had made and that the sweet days he had witnessed was with her. McElhenney finally ended his post by looking forward to 50 more years of togetherness.
Kaitlin Olson and Rob McElhenney's Relationship Timeline
2002: Rob McElhenney begind to crush on Olson after seeing her on TV in an episode of Curb Your Enthusiasm in 2002.
2004: They meet for the first time when Kaitlin auditions for a role in McElhenney's new show, It's Always Sunny in Philadelphia. However, they are not impressed with each other.
2005: Rob casts Kaitlin in It's Always Sunny in Philadelphia
2005: Olson reveals in an episode of Dax Shepard's podcast, "Armchair Expert," in June 2018 that she begins to develop feeling for Rob mid way through the first season.
2005: Kaitlin makes the first move on Rob.
2006: The duo starts dating by season 2 of the hit series but keeps it secret.
2006: Rob McElhenny and Kaitlin Olson share the news of their relationship with their castmates.
December 2007: Rob proposes to Kaitlin at Danny DeVito's Malibu beach house and she says 'yes'.
September 27, 2008: The lovebirds tie the knot at a Malibu vineyard.
July 27, 2009: The married couple enjoys a date night on the red carpet for the premiere of Julie & Julia in Los Angeles.
March 2, 2010: People reports that Rob McElhenney and Kaitlin Olson are expecting their first child.
May 2, 2010: Olson and her husband debut their baby bump on the red carpet at a Pregnancy Awareness Month kickoff event in Los Angeles.
September 1, 2010: Rob McElhenney and Kaitlin Olson welcome their first child, a son named Axel Lee McElhenney, at their California home.
October 27, 2011: Speaking during an interview with People, the happy couple reveals that they are expecting a second child.
April 5, 2012: Rob and Kaitlin welcome a second son. 
January 13, 2015: Rob McElhenney describes Kaitlin Olson as "a lioness" when it comes to their children.
February 14, 2017: Kaitlin Olson discloses that she and Rob McElhenney do not celebrate Val's Day.
August 2, 2018: The couple join forces on a new project for a television movie that is eventually called Mean Jean.
August 18, 2019: Rob McElhenney celebrates Kaitlin Olson's 44th birthday with a heart-melting messge, says he is "lost without" her.
Sept 27, 2019: The lovebirds mark their 11th wedding anniversary.
May 2020: Rob and Kaitlin give a tour of their Los Angeles home.
August 18, 2020: Rob McElhenney celebrates Kaitlin Olson's 45th birthday with a funny birthday tribute. 
December 22, 2021: The final episode of It's Always Sunny in Philadelphia airs, ending Rob and Kaitlin's first-ever joint project.
August 10, 2022: The Hollywood stars appear together on Jimmy Kimmel Live!
August 18, 2022: Rob McElhenney embarks on his yearly birthday roast, calls Kaitlin Olson an "awkward ass beautiful perfect specimen."
January 24, 2023: The amazing pair look back on the early days of their relationship.
Key Takeaways
Rob McElhenney and Kaitlin Olson fell in love on the set of It's Always Sunny in Philadelphia.
They began dating in 2006, got engaged in 2007, and got married in 2008.
They share two sons, Axel and Leo, who were born in 2010 and 2012, respectively.
Rob and Kaitlin do not celebrate Valentine's Day.
The couple has been married for 15 years now.