South Carolina Senator and 2016 GOP presidential candidate, Lindsey Graham is a formidable figure in Congress and one of the leading Republican voices on foreign policy.
Since 2003, the American politician with military experience has been serving as a Senator representing his small upstate town. Here's a look at the life-long bachelor's life and achievements.
Brief Biography
Lindsey Olin Graham was born on July 9, 1955, in Central, South Carolina, to Millie and Florence James Graham. He has a younger sister Darline, who is nine years his junior. Lindsey's parents ran a restaurant-bar-pool, hall-liquor store and he grew up working in the back room of his family owned Sanitary Cafe.
At age 21 and while still in college, Graham lost his mother to Hodgkin's lymphoma and 15 months after, his father died of a heart attack. After their parents' death, Graham then helped raise his younger sister, Darline, and eventually became her legal guardian.
What Is His Level Of Education
He attended D. W. Daniel High School and later, the University of South Carolina in Columbia, making him the first member of his family to attend college. In 1977, Lindsey graduated from USC with a B.A. in Psychology. He further obtained a Juris Doctor degree (J.D.) from the University Of South Carolina School Of Law in 1981.
Graham served in the military for three decades. From 1982 to 1988, he served in the US Air Force. Next, he transferred to the South Carolina Air National Guard from 1989 to 1995, and then the US Air Force Reserve from 1995 – 2015. Since becoming a senator in 2003, Graham remained with the reserve but in 2015, he eventually retired as a colonel from the Air Force Reserve.
Lindsey Graham is a member of the Republican Party currently serving as a United States Senator from South Carolina. Before he became a senator in 2003, Graham worked as a lawyer in private practice. He kicked off his political career in 1992 in the South Carolina Legislature. The man represented the upstate town's 3rd congressional district in the House of Representatives, from 1992 to 2003.
In 2015, the senator announced that he would run for the office of the U.S President but he eventually dropped the ambition paving the way for the Republican Presidential candidate Donald Trump.
See Also: Is Mike Pence Gay, His Net Worth, Wife, Children and Other Family Members
Who Is Lindsey Graham's Wife or Is He Gay? 
Lindsey Graham has never been married and does not have a wife nor children. Graham's bachelor status has attracted several speculations about him being gay. His singlehood has birthed the public assumption about his sexuality, and the senator has long been plagued with gay rumors. After a Republican primary opponent branded him 'ambiguously gay'; Graham, known to be a moderate opponent of LGBT rights, denied rumors about his sexuality. Lindsey who believes that being single does not make him a defective person later addressed the homosexual rumours in an interview stressing that he is NOT gay.
Though the U.S senator has had a well-timed political career, he is yet to do so with his romantic life. In a 2015 self-published memoir, My Story, Graham revealed facts about his family and also opened up about his many failed romances as well as why he never tied the knot. According to Graham, 'timing' is the reason he has never been married. He explains that he hasn't been lucky with marriage opportunities as he has never found time to meet the right girl, or the right girl was smart enough not to have time for him.
But Graham has had some interesting relationships in the past. While in law school, he dated a girl named Debbie. He also had two more close relationships while serving in the Air Force in Europe with a woman named Carol who was a JAG officer, and a Lufthansa flight attendant named Sylvia, whom he considered proposing marriage to, but never did. The relationship was severed because Sylvia returned to Vienna to be with her family and Graham, the South Carolina boy needed to go home.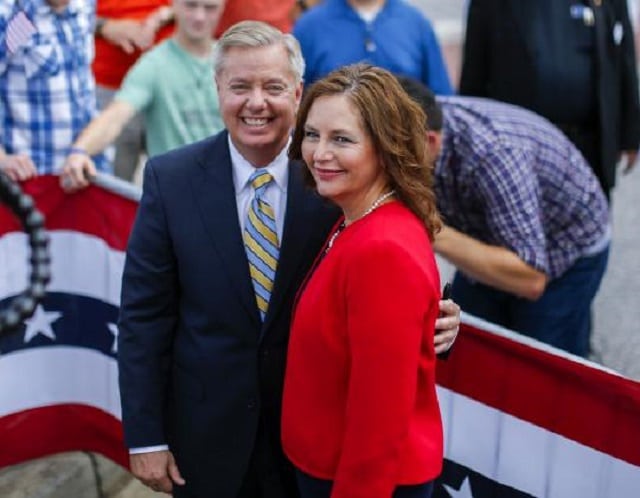 However, Graham is happy with the family bond he shares with his younger sister Darline Graham Nordone, whom he is so fond of and considers his closest companion in life.
What Is Lindsey Graham's Net Worth?
With more than a decade serving as a U.S Senator, Graham has earned a modest financial portfolio from his political career. As a senator, he earns a standard salary of $174,000 annually and has a net worth estimated at $3 million.