Dr. Lizzy Johnson Suleman (born 24 February) is a pastor, teacher, singer, writer, and businesswoman better known as the wife of Apostle Johnson Suleman, a controversial Nigerian preacher who is the General Overseer of Omega Fire Ministries. The couple has six children – Excel, Ebenezer, Mirabel, Love, Divine, and God's Favor.
The Sulemans have so much going for them in their life even though their marriage has faced a truckload of scandals, with different women coming up with stories of the illicit affairs between them and Apostle Suleman. Dr. Lizzy has stood by her husband throughout the ordeal, dismissing all the allegations as fake and saying that those women were only capitalizing on her spouse's generosity.
Apostle Johnson Suleman's Wife Was Born in Kano State
Apostle Johnson Suleman's wife, Lizzy Johnson Suleman, celebrates her birthday every 28th of February but her exact year of birth has never been mentioned in the public space. The parents of the spouse of the General Overseer of Omega Fire Ministries are Mr. & Mrs. Abinya who are residents of Kano State, Nigeria, where she was born. Other details of her birth are not known, neither do we know facts about her family members.
She Acquired Her Academic Qualifications In Nigeria
As a growing child, Lizzy has always harbored a passion for teaching, thus, her interest tends towards education. Attending Auchi Polytechnic in Auchi, Edo State, she studied Mass Communication and in 2006, joined the National Teacher's Institute, Kaduna to acquire a Teacher Grade II certificate.
Armed with her TTC in 2007, Lizzy was set to fulfill her long-held dream of becoming a molder of character through teaching. After graduating from Auchi Poly in 2008, she joined her contemporaries for the National Youth Service Scheme which came to a conclusion in 2010. Her quest for further education led Apostle Johnson Suleman's wife to acquire other professional certificates, including a P.E.C. in Public Administration which she achieved in 2010. The same year, she became an associate of the Chartered Institute of Local Government & Public Administration of Nigeria.
In 2017, Lizzy Suleman was certified by the Teachers Registration Council of Nigeria, and the next year, she went for a Post Graduate Diploma in Education. Today, she is known as Dr. Lizzy Johnson Suleman thanks to Bethel University, Benin City that awarded the female minister an Honorary Doctorate Degree in Religious Studies.
A Look At Lizzy Johnson Suleman's Different Endeavours
The wife of Apostle Johnson Suleman is one woman of God that has established a multi-faceted career, both in the ministry and beyond.
She is an Ordained Minister of the Gospel
Barely a year after she tied the nuptials with her spouse, Lizzy Johnson Suleman was ordained as a reverend in the Omega Fire Ministry International Church. From 2005 to date, she has been steadfast in spreading the gospel both in Nigeria and beyond.
Lizzy Runs A Couple Of Businesses
Hossana Conglomerate comprises several firms and investments like CelebrationTV, Hosanna Oil & Gas, Hosanna Publishers, Hosanna Resort & Suites, Hosanna Laundry, Ebenezer Mall, and Great Hosanna Table Water. They are all under her administration.
Apostle Johnson Suleman's Wife is a Trained Teacher
Lizzy has always had an interest in molding the upcoming generation of leaders; this led her to establish the Dynamic British International High School in Auchi. Today, the school is considered the top Montessori academy in the northern part of Edo State.
The Teacher and Businesswoman Has Authored Several Books
Through her work in the ministry, Apostle Johnson Suleman's wife has penned some really interesting Christian publications, including Pastoring the Pastor, How to Ignite your Husband's Love, The New Anointing, The Power to Overcome, and The Midwife Anointing.
Lizzy is a Singer and Songwriter
Lizzy is not just a minister in the church as she is gifted with a singing voice. She has released really good sons and also takes the credit for writing each of them.
Philanthropy
Dr. Lizzy has been touching lives through her Hebrew Women's Foundation – a Prayer & Help ministry with the aim of helping women to fulfill their life needs. Headquartered in Auchi, the foundation's liaison office is cited in New York.
The mother of six also assists her spouse with his foundation – Touch of Love Foundation and together, the couple has empowered thousands across the globe as well as sustained widows, orphanage homes, and the less privileged with cash and tools.
Apostle Johnson Suleman and Lizzy Wedded in 2004
Nothing is known about their courtship but it is common knowledge that Apostle Johnson Suleman and Lizzy began to make strides towards starting their family when they tied the nuptial knot on the 5th of June 2004. They are believed to have met sometime in 1998. This conclusion was drawn from the fact that the apostle celebrated their 22 years together during their 16th wedding anniversary. Together, they have become a formidable force in Christendom as the church they established, Omega Fire Ministries International is listed among the fastest-growing religious denominations in Nigeria just after 15 years of existence. Though the headquarters is in their hometown of Auchi, the church has achieved global prominence with branches scattered in over 50 countries.
The Suleman's are Parents To Six Children
Lizzy's marriage to Apostle Johnson has been quite fruitful, producing six children, namely Excel, Ebenezer, Mirabel, Love, Divine, and God's Favor. For obvious reasons, the couple shields their children from public attention, consequently, nothing is known about their life and academic pursuits.
However, it is public knowledge that the eldest of them all, God's Favor Vanessa Johnson Suleman, was born on the 5th of June 2005, barely a year after her parent's nuptials. On her sixteenth birthday in 2021, her father took to social media to wish his first fruit a happy birthday. Just like her mother, God's Favor is also a gospel singer.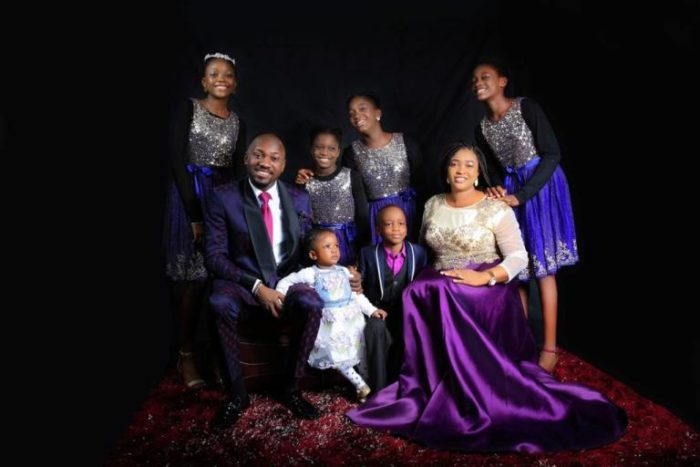 Though Besieged with a Lot of Sex Scandals, the Couple's Marriage Has Survived Against All Odds
Considering the year of their nuptials, Apostle Johnson Suleman's marriage to Lizzy Suleman is over seventeen years and even in the midst of so many controversies, they still manage to sustain their love. The apostle never ceases to shower his wife with love and praises, and during her last birthday, the man of God spared no expense in showering her with expensive gifts, including a shopping mall, a filling station, and a transport company.
On the couple's 16th wedding anniversary, the man of God took to Twitter to narrate how heaven sent him a gift 22 years ago. Describing the mother of his children as a friend, and a great example of a virtuous woman, Suleman appreciated God for seeing them through 16 years of life as husband and wife.
Recently, the duo emerged as one of the most traveled couples, touching over 150 countries. Lizzy and Johnson are always seen together and from what is perceivable, the sex scandals only succeeded in bringing them closer together instead of separating them. Some of the clergy's worst scandals are x-rayed below.
Apostle Johnson Suleman and Stephanie Otobo Sex Scandal
In March 2017, Apostle Johnson Suleman was embroiled in his first major sex scandal when Miss Stephanie Otobo, a Canada-based Nigerian musician released a video accusing the man of God of having an amorous affair with her. After a marriage proposal, he got her pregnant only to go back out on his promise by dumping her. To substantiate these claims, Otobo released some screenshots of her alleged chat with the GO and even threatened him with a lawsuit through her legal rep, Festus Keyamo.
In his own defense, Suleman vehemently denied the allegation, claiming that Otobo only capitalized on his generous nature to level such accusations against him. On her own part, the clergy's spouse, Dr. Lizzy Johnson Suleman, was quick to come to her husband's defense claiming that the snapshots were all fake. The clergy's wife also said that after knowing her husband for 19 years, she can vouch that he is not an adulterer. In conclusion, Lizzy stated the man Otobio was parading on social media is not her spouse.
Otodo and Her Mother Retracted the Accusations and Apologised To Suleman
On hearing the news, Otobo's mother traveled down to Auchi to apologize to Apostle Johnson Suleman on behalf of her daughter. Rumors soon started circulating that she only did that to avert threats to her life but the woman came out to declare that her life was never under threat. Otobo's mother said she felt the need to render the apology as she is not happy with the character Stephanie was displaying and wanted to put an end to the whole thing.
Stephanie Otobo would later withdraw all the allegations in the presence of the congregation at Omega Fire Ministries International in Auchi. In her own words, Otobo claims she was "heavily paid" by some pastors and powerful Nigerian politicians to blackmail Suleman.
His Scandal with Queen Esther
Barely a couple of weeks after Stephanie Otobo's claims rent the air, another purported sexual relationship of the man of God hit the airwaves. According to the lady who was simply identified as Queen Esther, her relationship with Apostle Johnson Suleman was very similar to what happened between him and Otobo. Esther said their affair commenced as far back as 2013 and lasted for a full year from August 2013 up till April 2014 before they had a catastrophic break-up. During this period, Suleman functioned as Esther's pastor, mentor, spiritual director, as well as her boyfriend.
Narrating what happened, Esther said she used to work as an usher at Omega Fire Ministries International when the Daddy GO lured her into sex in a bid to put an end to her spiritual problems. Suleman, she said, promised that he will lift all her limitations to success, career-wise and in marriage. However, her problems continued even after having sex with him, though the pastor proposed marriage to her.
Suleman's Reactions to Queen Esther's Claims
The General Overseer of Omega Fire Ministries didn't let the grass grow under his feet in denying the claims from Esther. At the same time, he threatened Barrister Festus Keyamo (the attorney representing Stephanie Otobo) with a lawsuit, accusing the lawyer of plotting to have his voice cloned in an upcoming video about the marriage saga.
Dr. Lizzy Johnson Suleman also threw her weight behind the clergy, as usual, insisting that all these allegations are merely the handiwork of the political heavyweights who were displeased with the pastor's condemnation of the incessant killing of Christians in the north. However, what Esther told Premium Times bellied Lizzy's claims. According to Esther, Lizzy is well aware of her romantic entanglement with the apostle which was why she (Esther) decided to end things with the man of God. Esther said her request to end their affair was viewed in a different light by Suleman who released threats on the lady, saying that she was going to see the consequences of hurting him if she goes ahead with the breakup.
Seven days following Suleman's threats, Esther said her body began changing in a strange way as she started to feel strange movements in different parts of her body – womb and her left breast where she started feeling a very sharp pain. In a quest for a solution, Esther was told that all the health issues she was passing through have a spiritual undertone as her boyfriend who wished her dead used her for sacrifice. Meanwhile, the cleric already threatened Esther with death on text message. The lady said she even went to solicit Suleman's father's help but the apostle denied being responsible for her ill health.
Esther narrated how she finally got her healing after visiting many places with her family members. In the absence of Suleman, the press made all effort to get in touch with his spokesperson Phrank Shaibu but he declined to comment.
Esther Requested For State Protection From Kaduna
A request from Premium Times for Queen Esther to make her identity known by at least producing a photograph was turned down out of fear on the lady's part. In her own words, Esther narrated how she suddenly started receiving strange phone calls from some people talking in the clergy's indigenous language. According to her, the callers would immediately begin to make incantations on her once she picks the calls. The lady said she started seeing these developments in the wake of Apostle Johnson Suleman's current sex scandal with Miss Otobo. Her only succor Esther said lies in seeking protection against the Apostle and "his team of magicians" from the Kaduna State Government.
To date, Esther never revealed her identity for fear of being attacked by the followers of the apostle since no one assured her of her safety. When Premium Times reached out to the Kaduna State government, one of their top officials confirmed that a request for protection was received from one Ms. Queen Esther but was never honored as the government didn't want to be dragged into the matter.
Esther later narrated how all the pieces of evidence she had against the Apostle disappeared mysteriously from her mobile phone. This happened immediately after she broke up with him, thus, she pointed accusing fingers towards him. When quizzed on the nature of the evidence, the lady listed them as text messages, details of phone calls, and videos of the man of God around her in the church premises. Esther said the situation can only be remedied if the Nigerian police can assist in retrieving her calls and text messages from MTN between August 2013 and May 2015, they will get more than enough evidence against the GO and this will prove his guilt.
Recall that Ms. Otobo earlier talked about the same experience, how a majority of the proof of her romantic entanglement with the man of God got lost. In her own case, they stole her laptop immediately after she stepped foot at the Lagos International Airport. Esther concluded by saying that there are other ladies who are victims of Apostle Johnson Suleman but cannot come out publicly out of fear of being attached.
Apostle Johnson Suleman vs Pastor Faith Edeko
Pastor Mike Davids, a close friend of Apostle Johnson Suleman accused the general overseer of the church of sleeping with his wife, Pastor Faith Edeko, who heads OFMI's Abuja branch Utako, and destroying his marriage. Davids equally accused Suleman of denying him access to his three children for two years and threatening his life. The pastor made this known through three Instagram Videos where he was seen crying bitterly. The case is currently with the Nigerian police as investigations are still ongoing, meanwhile, Pastor Mike Davids has sued the general overseer to the tune of N2 billion for wrecking his marriage.
In the petition sent to the Inspector General of Police, Davids narrated how he met the General overseer in 2003 and after they became good friends. Suleman ordained him as a pastor in OFMI. Davids went on to serve the church for the ensuing 15 years but left in 2019.
Davids' Version Of The Story
According to Pastor Davids, his wife Faith was his secondary school sweetheart to whom he got married after 11 years of courtship. They were still courting when he introduced Faith to his then spiritual father, Apostle Suleman. Though Faith told him that the GO made sexual overtures towards her and even gave her an invite to Reliance Hotel, Benin, David didn't take it seriously. However, the situation started becoming obvious after the church transferred him to Ogun State in 2010 following the birth of his daughter Michelle. At the same time, Suleman asked for Faith's assistance in setting up his gospel television station (Celebration TV and Rhema for Living) as she was a media worker with NTA.
It was while Faith went to see the Apostle for the television station that the man of God slept with her and the worst part of it was that the deed was done with their daughter Michelle present. On returning from the assignment, Faith couldn't keep what happened to herself as she was greatly disturbed by a guilty conscience and had to bare the facts to Davids. She told him how the GO lodged her and Michelle at Uyi Grand Hotel and later returned to have carnal knowledge of her. Michelle, who was barely one year old, was pushed to one corner of the bed while Apostle Johnson Suleman had his way with her.
Pastor Davids said he later forgave Faith and let it go since he couldn't fight Suleman and had no one to tell. However, when the illicit relationship continued, he came to the conclusion that the GO hypnotized his wife as she has greatly changed from the woman he married 11 years ago. The two men soon fell out which led to Suleman suspending David and after he lifted the suspension, Faith's aggrieved spouse refused to return to the church only to start receiving threats from the general overseer.
Without his permission, Suleman made Faith the head of his branch in Utako and for two years, he didn't see his family. Davids claims to have a video where the GO said he is going to take him out if he goes near his family. The pastor mentioned that they were already estranged thanks to Suleman but were still legally bounded and he appealed to all big General Overseers in Nigeria, PFN, and CAN to come to his aid as he doesn't want to lose his life.
Pastor Faith Edeko's Response
As the Instagram videos from Davids hit the airwaves, his estranged wife Pastor Faith Edeko released a counter video where she was seen condemning her spouse's allegations, dismissing it as cheap blackmail. In her own words, Faith said Davids was the one that left the marriage and refused to come back home even after her relatives intervened. He even went as far as asking for a refund of the bride price he paid on her head. Weeping in the video, Faith narrated how she nearly committed suicide because of the ordeal but was stopped by her son. On Apostle Johnson Suleman, Davids' wife said she never had any form of sexual relationship with him, including that she does not even have easy access to the man of God.
On being hypnotized, Faith claims she is not and has never been under a spell. Going further, the pastor in charge of the Utako branch of Omega Fire Ministries International said she doesn't know who paid Davids neither does she know what he aims to achieve but enough is enough, she is not going to allow him to continue flogging her in pain.
On their children, Faith said Davids has never been prevented from seeing the kids, and besides, he is a resident of the city where they live but has refused to come to see them.
To date, Suleman never contributed to the saga. The GO only tweeted that the IG was not the one that ordered his probe for the allegation but neglected to comment on the allegation itself.