Kane Holloway is the ex-husband of Kelsey Cook, an American comedian and podcaster. Holloway, who is also a comedian and tattoo artist, was married to Cook for one blissful year after being in a relationship for close to 7 years. During the course of their relationship and marriage, Kane Holloway, who is known for his charming personality and witty humor, was not just Kelsey Cook's husband but also her biggest supporter and partner-in-crime.
While Kelsey shines on stage with her hilarious stand-up routines, Kane was the rock behind the scenes, offering unwavering love and encouragement. Together, they made one incredible power couple that proved that love and laughter could go hand in hand. This is why several of their fans wonder to this day what might have gone wrong in their relationship.
Summary Of Kane Holloway's Biography
Full name: Kane Holloway
Gender: Male
Date of birth: August 19, 1996
Kane Holloway's Age: 27 year old

Ethnicity: Caucasian
Nationality: American
Zodiac Sign: Leo
Sexual Orientation: Straight
Marital Status: Divorced
Kane Holloway's Ex-wife: Kelsey Cook
Famous for: Being a Comedian and a Tattoo Artist
Instagram: @kaneholloway
Kane Holloway was Born in Seattle, United States of America
Kane Holloway was born on the 19th of August 1996, even though there have been some who claim that his year of birth is 1995. He is originally from Seattle, which is where he spent a lot of his life.
Holloway's work as a comedian began when he was still and Seattle, as he used to visit local bars and perform there. It is not clear when he decided to become a comic or what prompted this. But in the course of his career, he has performed in different locations all over the United States.
Kane Holloway Met Kelsey Cook in Tacoma in 2011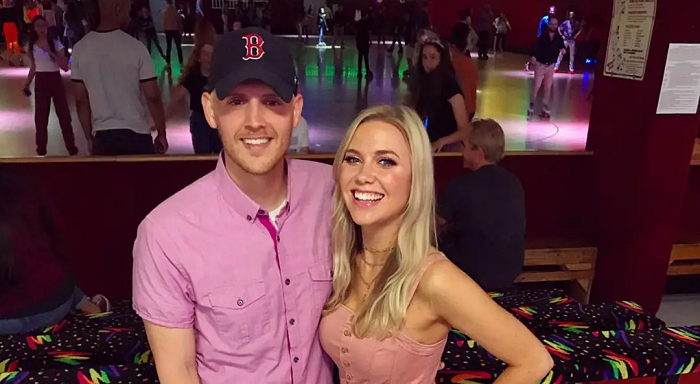 Kane and Kelsey were married for a year, but from all indications, the couple had been dating for a long, long time. They are believed to have met at a comedy club in 2011. According to a Facebook post by Kelsey, they officially began dating on March 5, 2012. The couple then went on to have a long relationship where they lived together for more than almost 7 years before walking down the aisle in 2019.
Kane Holloway Proposed To Kelsey Cook During A Podcast
After being together for more than six years, Kane thought it was time to take their relationship to the next stage, and he had a well-thought-out plan of how to make the proposal a memorable one.
On the 22nd of June 2018, Kane joined Kelsey and her co-hosts for the one-year celebration of their Self-helpless podcast. When the show ended, he passed a note to Kelsey where he recalled some of the memorable moments they had had during their relationship. 
Kelsey, who was still overwhelmed by his sweet words, was surprised when he brought out a ring and asked if she would marry him. She said Yes. They were engaged for a year before tying the knot on the 11th of July 2019.
Kane Holloway Became Kelsey Cook's Husband in 2019
Kelsey Cook and Kane Holloway lead very quiet lives, so it is a bit difficult to know much about the intricacies of their private lives. Nevertheless, when it comes to their love story, they didn't mind sharing some of the details with their friends, fans, and loved ones.
After a year-long engagement, they finally walked down the aisle on the 11th of July 2019. Their wedding was attended by their friends and loved ones. After it, they continued to focus on their careers.
By maintaining a low-key approach, they have been able to focus on their careers and personal growth away from the constant spotlight. The specific details of their marriage and subsequent divorce are not widely known.
Kane Holloway was Kelsey Cook's Husband For Just One Year
Kane Holloway and Kelsey Cook divorced right before the start of the pandemic. It's interesting to note that neither Holloway nor Cook have publicly discussed the specific reasons for their divorce.
The news of their divorce came to light on the 1st of October 2020 when Kesley casually and jocularly mentioned on Twitter that it was "fun getting divorced at 31 and having to change your emergency contact back to your mom lol." She also shared in a separate YouTube video that she used the lockdown period to get used to her divorced life.
One aspect that made the divorce process seemingly smoother for Kane Holloway and Kelsey Cook was that they did not have any children together. Without the added complexity of a custodial battle, they were able to focus solely on the legal and emotional aspects of their separation. While divorce can be challenging and emotionally trying, both Holloway and Cook appear to be thriving in their individual pursuits.
A glimpse into their social media accounts reveals they are actively engaged in their respective careers and personal lives. Kane Holloway continues to pursue his passion for comedy, using his witty humor to entertain audiences while also working on his tattoo artistry skills. Similarly, Kelsey Cook remains fully committed to her career, sharing her comedic talents through various platforms and continuing to build her presence in the comedy world.
It's important to remember that while social media can provide a glimpse into someone's life, it may not reflect the full reality. People may choose to share only the highlights, and it's natural for individuals to focus on their growth and successes on public platforms. Ultimately, it's encouraging to see Kane Holloway and Kelsey Cook thriving in their respective endeavors, and we wish them both continued success and happiness in their individual paths.
Kane Holloway Has Found Success as a Standup Comedian
Kane Holloway's style of comedy is conversational and impinged with relatable observations. This gives the illusion of intimacy and connection between him and the crowd. His career as a comedian has been relatively successful. In 2012, he was selected for the World Series of Comedy in Las Vegas, and this happened after he won the 2011 Mt. Rainier Comedy Cage Match,
Holloway has also been featured on comedy tours with other comedians, one of which was Just Another Hangover Tour and the Keeping Our Day Jobs College Tour. He has also recorded a few specials, with the first being at the Tacoma Comedy Club. He titled the special Kane Holloway: See What I Did There?
His work as a public speaker also extends to podcast hosting. Most notable is the podcast he had with his now ex-wife Kelsey Cook called Cook'd with Kelsey Cook. These are some of the other podcasts he has worked on The Hollingsworthless Podcast, Irrelevant Radio with Mike Merryfield, and Eat Laugh Fight Podcast.
Has Kane Holloway Remarried?
It is not known if Kane Holloway has gotten remarried or if he is presently dating anyone. Kelsey Cook has moved on in her love life and is currently dating another comedian by the name of Chad Daniels. Holloway, on the other hand, seems to be focusing on himself and his career as a comic and tattoo artist.
It appears that Kane Holloway, being a comic and tattoo artist, is primarily focusing on his career and personal growth at this time. With the demanding nature of the comedy and tattoo artistry industries, artists often need to dedicate extensive time and effort to honing their craft.
This could explain why Kane Holloway has been primarily focused on furthering his career and developing his skills. It's not uncommon for individuals in such creative fields to invest a great deal of energy into their work before exploring romantic commitments. It remains unclear whether Kane Holloway has gotten remarried or is actively pursuing romantic relationships.