Nigerian billionaire lawyer and politician Ned Nwoko is married to five women but we only know the names of four of them and they include Lily Nwoko, Laila Charani Nwoko, Lina Nwoko, and Regina Daniels. Through his marriages, he has about eight children, four daughters named Julia, Naya, Maya, and Hayat Nwoko, and four sons named Amir, Sultan, Munir, and Khalifa Nwoko. Meanwhile, Ned's very first child/son, Tarik, passed away on December 8, 2014.
One of the many reasons why Ned Nowko has remained controversial is his idea about marriage. One would only wonder what the brain behind Ned's multiple marriages is for one who is well experienced and advanced in learning. Yes, Ned is a custodian of religion and culture. As a Muslim and royal blood, polygamy is not a hazardous social policy to him as many would think. As a matter of fact, this Nigerian law graduate, politician, and humanitarian has proved the ideology of "one man many wives, big problems" wrong through his marriage to his six wives and counting.
The internet went all loose in 2019, with Ned's marriage to former child actress Regina Daniels as his sixth wife. While the marriage between the two was highly criticized following the over thirty-year age gap between them, it is also worthy of note that it further made Ned more popular with many wanting to know more about his private life, especially regarding his marriages to his beautiful wives.
A Look at Ned Nwoko's Family
Coming from a polygamous environment, Ned Nwoko, had always wanted to have a large family with many children. Upon his conversion to Islam, while studying in England, he got a better chance to fulfill his wish as Islam permits him to marry as many wives as he desires. Today, the lawyer and politician is living out his life with his huge family. His mansion, where he lives with his wives and children, is 1,000 meters above sea level and, therefore, one of Delta's highest structures.
Giving his reasons for his taste for women, Ned claims that his multiple marriages were to save young women from going into prostitution and to help the economy, among other things. Despite being a very busy man, Ned still manages his schedule to spend adequate time with his family. All of Ned's wives are not known to the public. Only four out of his six wives have been publicly identified.
 Meet All of Ned Nwoko's Wives
With the number of women Nigerian billionaire lawyers and politician Ned Nwoko has married, it is quite easy to mix things up. You may find most online reports calling Ned Nwoko's Moroccan wife, Laila Charani Nwoko, his first wife when in actuality, she is not. Ned's marriage to these wives is quite controversial. Not only does he have a likeness for fair ladies, the business mogul and lawyer also claims that he married his wives as virgins. Furthermore, he seems not to consider age a hindrance, seeing that he marries when he wants. His latest wife is proof of this. He married Regina at the tender age of 19 years.
Lily Nwoko
Lily Nwoko is Ned Nwoko's first wife. She is also a barrister, and the Nigerian politician loves and adores her. Not much is known about Barrister Lily as she appears to like to keep a low profile, unlike the other wives of Ned. However, it is quite clear that she is the mother of Ned Nwoko's first child, Julia. Lily and Ned have been married for over two decades, and Ned has most of his cherished properties under her name. A good example is a property, the Lily house situated at Idumuje Ugboko in Aniocha North Local Government Area, Delta State.
Laila Charani Nwoko 
It is clear what position Laila occupies on Ned's wives' list, but she is for sure one of his Moroccan wives. Ned married her in 2011, and they have been living together since then. Although it is not clear which of the children she bore him, the two share three children. She is also the stepmother to Ned's other kids from his other wives, including Regina Daniels.
Laila also has a fair share of popularity on the internet. One of her popular posts that drew people's reaction was her 30th lowkey birthday celebration when her husband Ned gifted her a luxurious Rolex wristwatch.
Lina Nwoko
Lina is a Morrocan air hostess and one of Ned Nwoko's wives. Lina, like Ned's first wife, enjoys keeping her life outside the media. We only got to know about her in a family drama involving her and her husband's sixth wife, Regina.
Lina, who couldn't stand the fact that Nwoko is spending more money on Regina
than any of his wives, accused Regina of diabolically manipulating their husband. The accusation came after Regina posted a picture of a new car Ned had bought for her.  Although Regina never replied to the comment, it was a pointer that Ned's wives are not so much on good terms.
Is Regina Daniels Ned Nwoko's Fifth or Sixth Wife?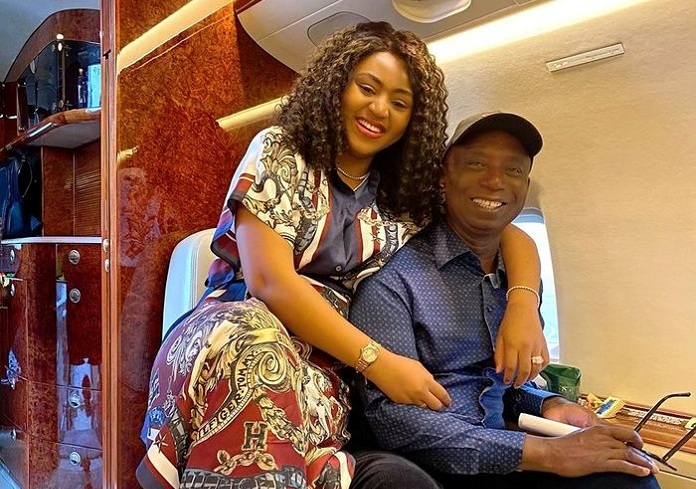 Regina's position on Ned's number of wives has been very controversial, with many referring to her as the politician's sixth wife. There is a statement credited to Ned where he said "his wife (Regina Daniel) was 22 years when he married her and she is his fifth wife and not the sixth." So, we take that the former legislator is the authority on this matter.
Regina is a Nigerian actress and film producer born on October 10, 2000. Regina is Rita Daniels's daughter, an actress/film producer and the Actors Guild of Nigeria (AGN) in Delta State, Nigeria. Ned met Regina for the first time when she and some friends and family of hers came on a tour at his residence. The politician liked her from the start and the fact that she is from Delta state like himself. Upon finding out that she was a virgin, it reinforced him to marry her as he had always married his wife's virgins.
On the other hand, Regina agreed to marry Ned because, according to her, she couldn't have married a younger person. She said she wouldn't be able to listen or respect any man her age. The actress and her billionaire husband, Nwoko, got married in April 2019 and had their first child, a son, in June 2020.
Is Ned Planning for a Seventh Wife?
Barely two years after the Nigerian billionaire married the actress Regina Daniels came rumors about him getting a 7th wife. While fingers pointed at popular Nollywood actress Chika Ike as Ned's possible next wife, it turned out that the new wife isn't Chika.
At the time of writing this post, two women have been mentioned as the billionaire's possible 7th wife. The first lady is identified simply as "Sara" and "Sar8al" on Instagram. She is a fair UK-based lady who has been seen around Ned's house and with Regina Daniels. There are even claims that the lady would be going through the traditional marriage rites just like Regina Daniels, as Ned Nwoko reportedly "believes in culture."
The other lady said to possibly be Ned's possible next wife is Phyllis Thompson, a Zambian lady who had recently described the former politician as 'my love' in a birthday message. Shortly afterward, romantic photos of her and Ned Nwoko surfaced online.
Phillis is reportedly a sportsperson and an owner of a mining company in Zambia. She allegedly spoke on her interest in polygamous marriage as long as she would experience peace in it.  She further described herself as someone who minds her own business and grabs her man only when he is in her arms.
While Nwoko is yet to confirm which of the two ladies he would be taking next as his wife, he revealed that he could marry another wife when he likes and that his wives are aware of that fact. After facing social media users' shades, Regina has indicated she has given her husband permission to marry a seventh wife.
How Many Children does Ned Nwoko Have?
Being someone who loves having children around him won't be a surprise to see Ned's children increasing by the day. Presently, the politician has seven children from his numerous wives. A lot is not known about most of Ned's children's private activities and education. Still, being born into a wealthy and educationally sound family, it is believed that they all attend one of the best schools around. Meanwhile, there are a lot more you would love to know about the Nwoko's. One unique thing about them all is that they share their father's looks, especially the boys. Aside from Tarik, who has passed away, the politician has four girls and three boys. Let's meet the.m
Tarik Nwoko
Tarik was the tycoon's first and oldest son who passed away in London in 2014 at the young age of 22. Tarik's mother is Moroccan, and he lived in London until his death. The former law student at the North Staffordshire University, England, was reported to have died in his sleep on December 8, 2014.
Before his death, Tarik had mentioned to his friends that he was not feeling well, and by the following morning, he was found dead in his room. Meanwhile, the police authority ruled out drugs and alcohol as factors behind the young boy's death. Tarik was said to have been a keen footballer.
Julia Nwoko
She is one of Ned's children and the one people assume to be the eldest now that Tarik passed on. She is Barrister Lilly Nwoko's first child and is older than her latest stepmother, Regina Daniels. While it is still unclear if Regina gets along well with her husband's first wife, we are quite sure she does with her daughter. The two ladies seem to be good friends going by the number of pictures and photos they keep posting together. Julia's real age and academic qualifications are unknown, but she is said to be above 20 when her father got married to this latest wife, Regina Daniels.
Naya Nwoko
Naya is Nwoko's young daughter, whose age is around 6 years old. According to the family, she appears to be the family's little swimmer whose love for the sport began early when she was just two years old. The world only knew about the young beautiful girl when Regina posted a video of her swimming during one of their frequent family outings for family sporting activities.
Maya Nwoko
Naya and Maya are very close. It is not clear if the two share the same mother but what is sure is that Maya rarely leaves Naya's side. The two girls are often seen together most of the time. More information about Naya has not been found, but it is not clear what position she occupies in the list of her father's children. However, we know that the young girl and her sister are probably Ned's favorites, seeing that they are the younger girls in the family.
Amir Nwoko

The young lad is Ned's son, who prides himself as a natural athlete. It appears as though he follows in his father's footsteps as far as sports are concerned. Regina once posted a video with Amir, explaining that football was his favorite sport. Like his sister, he is also a great swimmer, having learned at the age of six.
Hayat Nwoko
Hayat is another of Ned Nwoko's daughters. She seems to be vocal and more popular on social media, considering her over 22k followers on Instagram. She enjoys content creation and is often posting pictures and engaging content on her platform.
Sultan Nwoko
Sultan is Nwoko's son, who turned three years in 2020. Before the birth of Munir, Regina's son, Sultan was the youngest of Nwoko's children. The young man is cute and a true replica of his father except for his light skin tone.
Munir Nwoko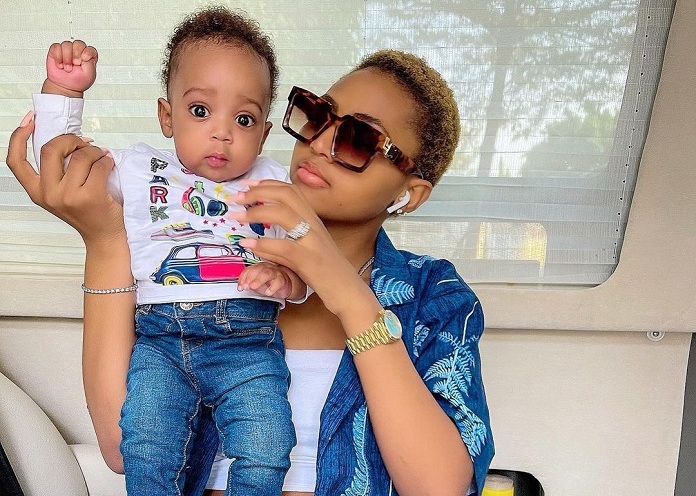 Munir is Ned Nwoko's son with Reginan Daniels. The young handsome kid was born on June 29, 2020, and he is presently the youngest of the Nwoko family after Sultan. Munir's naming ceremony happened four weeks after his birth, and his parents celebrated his birth privately due to the COVID-19 outbreak. Since his birth, the cute boy's picture has been shared on several pages of Ned and Regina's social media accounts, and like his siblings, he looks like his father except for his fair complexion.