There are many ways of becoming famous in our world today. One can achieve greatness through hard work, parents, spouse, social media and so on. In the case of Nancy Fish, her walk to stardom came about with her marriage to an accomplished American businessman, P.T. Barnum alias The Greatest Showman. Not only was she famous as a result of her husband's popularity but also because of the age difference between them. Read on to find out everything you need to know about P.T. Barnum's wife.
Nancy Fish Biography
P.T. Barnum's second wife was born as Nancy Alexandry Orengiani in the industrial city of Blackburn, Lancashire, England on 22nd April 1850 to her parents Martha Shaw and John Fish. Nancy Fish was the second child of three born to her parents. Regarding her ethnicity and nationality, she was a British-American citizen. Though much is not known about her educational background, from the records, the beautiful damsel was very good at letter writing.
Furthermore, Nancy's meteoric rise to fame came about as a result of her much-publicized marriage to the renowned businessman and promoter, P.T. Barnum who is also known as The Greatest Showman. She was married as the second wife of the accomplished promoter after his first wife, Charity Barnum died from heart failure. Prior to her marriage to one of the wealthiest men of the 19th century, Nancy Fish worked at her father's cotton mill. Also, she was the one who engraved the name, Barnum on one of their machines in adoration of the successful showman.
Her Family
Nancy Fish was the second daughter of her parents, Martha Shaw and John Fish. She was raised together with her two siblings in Lancashire and their names are; Jane Fish, born in 1846 and John Fish, born in 1861 and died in 1914. Her father was an educated and fulfilled businessman who owned a few number of cotton mills in Lancashire. Nancy's father credited the success of his cotton mill business to P.T. Barnum whom he got inspiration from after studying his autobiography. Fish helped her father out in the production of cotton together with her elder sister, Jane.
Everything You Need To Know About P.T. Barnum's Wife
1. Nancy Fish's marriage to P.T. Barnum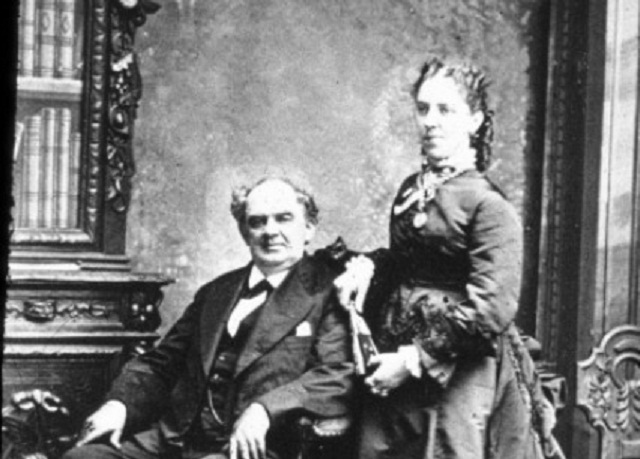 Nancy Fish wedded with P.T. Barnum twice. She got acquainted with P. T. Barnum through her father who was P.T. Barnum's close pal and it was reported that the duo had been in a relationship before the death of P.T. Barnum's first wife, Charity Barnum on 19th November 1873. However, the greatest showman wrote in his autobiography that they were in constant communication through writing and that Nancy Fish used to accompany him to some of his European tours.
Soon after the death of his first wife whom he did not attend her burial, P.T. Barnum exchanged marital vows with his mistress, Nancy on 14th February 1874 in a private wedding held at The Strand, London in the presence of John and Martha Fish. Then on 15th September in the same year, P.T. Barnum tied the knot for the second time with Nancy Fish, this time in the presence of a mammoth crowd in the Greek Orthodox church named Church of the Divine Paternity, Fifth Avenue, New York officiated by his good friend Rev. Dr. Chapin. Almost soon after the wedding, they went on a honeymoon at the Windsor Hotel, New York. The couple lived happily together before the death of the professional showman, P.T. Barnum on 7th April 1891.
2. Her Relationship with Demetrius Callias Bey
Four years after the death of her husband, Nancy Fish exchanged marital vows again with Demetrius Callias Bey in a secret wedding held at Annunciation Greek Orthodox Church, New York officiated by Fr. Agatheodoro Papageorgopoulos. The two lovebirds met when Callias got hold of Nancy after falling off the Great Pyramid during her visit to Egypt. Their great love life was short-lived as Callias died barely after one year of their marriage on the 22nd of September, 1896 from a liver-related ailment.
See Also: Nichole Beattie – Bio, Family, Facts About Michael Rapaport's Wife
3. Nancy Fish's Third Marriage
P.T. Barnum's widow remarried again. This time to a French baron named Lucien Hippolyte Ferdinand. Their marriage was a contract one being that Nancy Fish paid off the baron's debt in order to become a baroness.
4. Her special love for Demetrius Callias Bey
Nancy Fish passed away in 1927. Before her death, she stated that she should be incinerated and buried next to her second husband, Demetrius Callias Bey whom she loved so much and not alongside P.T. Barnum.