Though Nikita Kahn is a woman of many talents and is quite accomplished in her own right, she is best recognized as the significant other to one of the world's wealthiest men. Professionally, Nikita has successfully tried her hands on different ventures in various fields and continues to explore more interests. Kahn is also popular for her animal rights activism. Find out lesser-known facts about the actress and businesswoman.
Nikita Kahn Bio (Age)
There are lots of conflicting reports on Nikita Kahn, thus leaving an underlying mystery on her profile. While it is believed in some quarters that Nikita's exact birthdate is unknown, other sources claim she was born in the Soviet Union in the year 1991 and was originally known as Iryna Osipova. There is also a dearth of information regarding her academic endeavors. The names of her high school and college have not been disclosed. However, it is common knowledge that Nikita first bagged a degree in hospitality tourism before proceeding to top up her profile with an MBA from Kiev National University of Trade and Economics. She later took some courses in architectural engineering after relocating to the US.
For her career accomplishments, Kahn has ventured into various fields including showbiz, blogging, and real estate. As an entertainer, Nikita Kahn has worked both behind and in front of the camera. Notably, she featured in the 2011 movie Catch 44, and as an executive producer for the 2017 documentary The Last Animals.
As a blogger, Kahn runs a female-oriented lifestyle blog, where she empowers her audience with knowledge on various issues ranging from fashion to health and fitness, food and nutrition, as well as travel. In real estate, Nikita has an agency which specializes in house makeovers for individuals and corporate organizations.
Her Net Worth
Nikita's numerous professional efforts have undoubtedly yielded financial rewards. While the actress' exact salary and net worth have not been disclosed, she is presumed to have accumulated a decent financial portfolio. More so, as Larry Ellison's significant other, Kahn is believed to be enjoying his huge fortune. Her boyfriend who is the CEO and founder of Oracle Corporation has a net worth currently pegged at about $66 billion.
Family Facts
There is a dearth of information regarding Nikita Kahn's parents and dating history. While it is presumed that she has never been married and sans kids, the actress is perhaps just a few steps away from walking down the aisle. It is no news that Kahn is in a longterm relationship with her heartthrob Larry Ellison.
Prior to Nikita, the millionaire businessman, entrepreneur, and philanthropist had attempted marriage four times but all of them had ended in a divorce. He also has two children David and Megan from his previous relationships.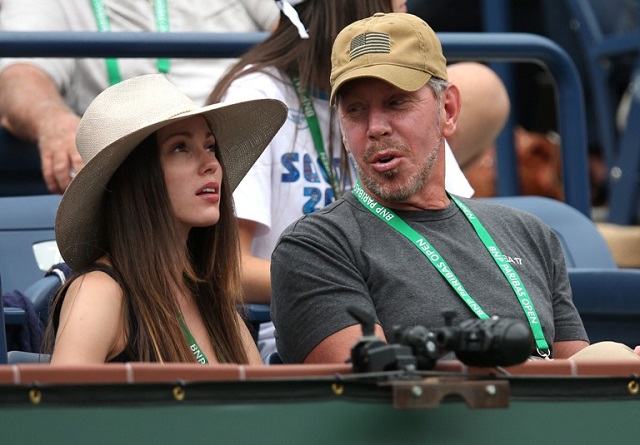 Kahn is presumed to be living her best life yet with her doting boyfriend. Among other romantic gestures, Larry has a world-class Italian/Mediterranean restaurant in Malibu named after Nikita. For now, Nikita and Larry have not disclosed their future relationship plans to the public. Thus, it remains uncertain if they have plans to tie the knot or have any kids together in the near future. But going by how long they have been together, it is safe to say the lovebirds have found true love in each other's arms and fans can only hope their love story ends happily.
See Also: Nadine Caridi – Bio, Children, Net Worth, Jordan Belfort's Ex-Wife
Height, Weight, and Other Facts About Nikita Kahn 
Nikita Kahn has impressive physical features. The blonde-haired actress stands at an average height of 5 feet 6 inches, with the complementary weight of about 50 kg. Her body measurements are bust – 34 inches, waist – 26 inches, and hips – 35 inches. Below are more fun facts about the actress.
It is uncommon knowledge that Nikita Kahn is sports-inclined. As a child, she had special interests in gymnastics and ballet dancing. While Kahn began training to become a gymnast from age five, she enrolled for ballet classes at age nine.
Activism and Philanthropy
Besides her professional endeavors, Nikita Kahn is also known as an animal rights activist and philanthropist. Kahn's love for animals stems from the fact that she was raised on her grandpa's animal farm. Not only does she raise animals as pets, but the actress is also committed to saving endangered species.
Part of Nikita's social works includes volunteering at the San Diego Zoo Safari Park's Rhino Rescue Center – a facility that is dedicated to conserving and rescuing rhinos. Kahn's conservation efforts have also been extended to the California Wildlife Center. In collaboration with her boyfriend Ellison who is also an animal lover, Nikita organized a fundraiser in 2014 for the center to aid their rescue and rehab efforts for animals. Kahn also actively sits on the board of the Peninsula Humane Society & SPCA.
Nikita Kahn has an active social media life. While she may not be present on all popular social networking sites, she has amassed an impressive following on Twitter and Facebook.