Regina Lasko (Born November 20, 1960) is a 62 year-old American production assistant who has worked on shows like Saturday Night Live and Another World.
Lasko is, however, better known as the wife of David Letterman, the celebrated American television host renowned for his time as the host of Late Night with David Letterman. The duo dated for over 20 years and welcomed a child together in 2003 before considering the option of marriage in 2009.
Summary of Regina Lasko's Biography
Full Name: Regina Lasko
Date of Birth: November 20, 1960
Regina Lasko's Age: 62 years old
Zodiac Sign: Scorpio
Ethnicity: White
Nationality: American
Sexual orientation: Straight
Marital Status: Married
Regina Lasko's Husband: David Letterman
Children: Harry Joseph Letterman
Regina Lasko's Net worth: $90 million
Famous For: Being David Letterman's Wife
Where Was Regina Lasko Born?
From what is perceivable, Regina Lasko is quite stingy with information on her background. Even her long dalliance with a celebrity of her husband's ilk has not made her reveal facts about her early life, however, her date of birth is recorded as the 20th of November 1960 but her place of birth and the identity of her parents are not known. It is equally not known if she is an only child or has siblings.
Regina Lasko's Relationship with David Letterman
David Letterman was not a single man in February 1986 when he started dating Regina Lasko, he was the lover of Merrill Markoe – an American author whom he later broke up with to continue with Regina.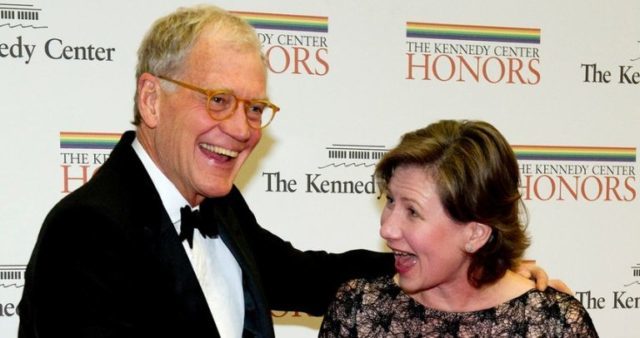 Their dating period lasted for all of 23 years and people had already given up hope of a possible marriage between them. In the intervening time, the duo became parents when their son Harry Joseph Letterman announced his entrance on the 3rd of November 2003 in North Salem, New York.
Contrary to expectations, the couple finally tied the connubial knot on the 19th of March 2009, in a private ceremony which took place at a secret court in Choteau, Montana. The Justice of the Peace, Peter Howard officiated at the ceremony.
Their wedding was later announced by David, on the set of his show, coupled with an explanation on the reason they took so long to say I do. According to him, he earned the admiration of many married men while he dated his wife for so long. Regrettably, the first year of their marriage was not so good as David faced accusations of extramarital affairs with some of his female staff.
In September 2009, the couple had to deal with a note which they discovered in a package in their car. Later, it became public knowledge that David was being blackmailed by one of his assistants Stephanie Birkitt who had been issuing threats to expose all his clandestine affairs if he did not come up with a ransom of $2 million.
It would seem that Regina Lasko tolerated a bit too much as Holly Hester – one of the production staff came up with her claims of being romantically involved with her husband. As if that was not enough, Margaret Mary Ray was constantly stalking David.
David later sent his apologies to Regina via his show on the 5th of October 2009, admitting that he had really hurt her with his unruly behavior. He also vowed to work hard at fixing their marriage any way he could. One notable fact about Regina Lasko is that in spite of all the negativity about her spouse, she did not publicly utter a word against him. Apparently, she is trying to let go of the past in order to maintain marital peace.
Son's Kidnap Incidence
An unsuccessful kidnapping attempt was made against her son Harry when he was just a year and five months old. The mastermind was discovered to be Kelly Allen Frank – a domestic staff at David's ranch in Montana. Kelly Allen's plans got burst after he sought an unidentified man's opinion on the kidnapping for which he planned to demand the sum of $5 million. The unknown man was the one who alerted the police.
 Regina Lasko's Net Worth
Though she has been working for a long time, Regina Lasko's net worth has never been reported. However, she is comfortably buoyed by her husband's wealth, estimated at a jaw-dropping $400 million. David's wealth accrued from his hefty annual paycheck of $50 million from his media personality and show host career. The Letterman family currently reside in North Salem, New York on a 108- acre estate.