Robert Durst's net worth was last estimated at $100 million before he was jailed. He was an American real estate heir and a convicted murderer. 
Robert Durst was counted among the several New Yorkers that were born right into wealth. Despite swimming in and out of several controversies as grave as serial murder allegations, Durst remained afloat as far as money was concerned, thanks to his family's real estate empire. While many knew Durst as a criminal, some others knew him asan estate baron and millionaire. But what exactly was Robert Durst's net worth before he passed on; and what do you know about the vast fortunes of the Durst Organisation?
How Much Was Robert Durst Net Worth?
Many sources, including the New York Times and the FBI, placed Robert Durst's net worth at an estimated $100 million. The real estate scion amassed the majority of his wealth from his family's real estate business. He was born Robert Alan Durst on 12th April 1943 into the wealthy family of NYC real estate magnate, Seymour Durst and his spouse, Bernice Herstein.
Robert was the first of his parents' four children comprising two brothers (Douglas and Thomas) and a sister (Wendy). He grew up alongside his siblings in Scarsdale, New York where he attended the Scarsdale High School. Durst subsequently attended Lehigh University, graduating in 1965 with a B.Sc. in Economics. Meanwhile, as the first son of the family, Robert was automatically the heir of the Durst empire.
Breaking Down Robert Durst's Family Real Estate Empire Fortune
Robert Durst's paternal grandfather, Joseph Durst was a Jewish tailor and migrant who moved from Austria-Hungary in 1902 and settled in New York where he eventually landed huge success in the real estate business. He consequently set up the Durst Organisation in 1915. Upon his death in 1974, his son Seymour (Robert's father), took over the family business. While Joseph Durst started the real estate business with acquiring already constructed buildings, Seymour expanded it into fresh estate development and construction. He subsequently became one of the major pioneers of landmark buildings and skyscrapers in New York.
As of 2015, Forbes rankings revealed that the Durst family real estate is worth up to $5.2 billion. The empire reportedly owns and manages over 8.5 million square feet of office space in Midtown Manhattan and more than 1 million square feet of luxury rented homes in New York City. Some of the notable properties of the family are the Bank of America Tower at One Bryant Park, the Conde Nast building in midtown, Manhattan, and a 10% stake in the reconstructed One World Trade Center.
Multi-million-dollar Trust Settlement
Robert Durst, right from his early years has been associated with personality issues. As early as ten, Durst already had heated rivalry with his brother, Douglas. A psychiatric record also suggested he suffered from personality decomposition and schizophrenia. Owing to his continued record of several inappropriate behaviors and criminality, Robert's father bequeathed his heir right to his younger brother, Douglas Durst.
Douglas consequently began heading the family empire in 1992, a few years before Seymour's death in 1995. This notwithstanding, Robert still got a fair share of the family fortunes. Forming a greater part of Durst's impressive worth is his trust settlement of $65 million. Prior to the decisive agreement, Robert received an annual income of $2 million from the family trust.
Following the settlement, Durst made significant attempts at investing his money in real estate alongside his second wife, Debrah Lee Charatan to whom he gave $20 million in 2006. In 2011, he purchased two apartments at the cost of $6.1 million in Harlem and Brooklyn. He later sold off the two properties in 2014, on a profit of over $10 million, according to CNN Money.
Dwindling Fortunes Following Murder Allegations, Trials, and Imprisonment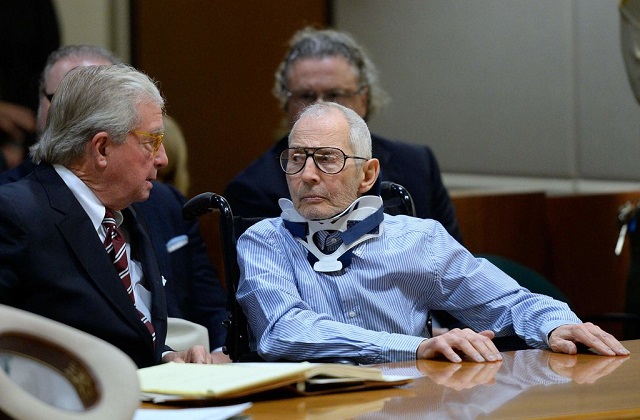 Starting from 1982, Durst entangled himself in three murder cases. The first was that of Kathleen McCormack Durst, his first wife, who disappeared in 1982, about nine years after their marriage in 1973. Robert had a troubled marriage with Kathleen and many believe that he eventually killed her.
Many years after McCormick's disappearance, Susan Berman, a longtime close friend of Durst was the next to go down. She was shot dead at her Los Angeles home on December 4, 2000. The murder occurred not long after the New York State Police resumed an open investigation of McCormick's case, and a few days before an alleged interrogation by investigators. Many believe Berman had substantial information on Kathleen's whereabouts, and that Durst got rid of her to forestall a spill.
Following his indictment in Susan Berman's murder, Robert Durst went hiding in a Galveston boarding house in Texas. He however, still won't let go of the life of crimes. He soon landed into police custody after he killed and dismembered his old neighbor, Morris Black in October, 2001. The court, however, acquitted him on the grounds that he murdered Black in self defense.
Robert Durst's Income Sources
Multi-million-dollar trust settlement
real estate
Robert Durst's Incarceration
In addition to the above murder allegations, Robert Durst also entangled himself in several other criminal acts, including shoplifting, possession of unauthorized arms and controlled substances. Although he over the years succeeded in escaping conviction and imprisonment for his criminal acts, the suspicions, allegations, and ensuing court trials negatively affected his worth. He spent fortunes on hiring high profile lawyers to pluck him out of grave charges that would on a normal day, earn him life sentences.
In February 2016, however, Durst eventually earned a 7-year sentence for illegal arms and drugs possession charges. Meanwhile, as he served his time at a correctional facility in Los Angeles, the Susan Berman murder case continued.
His health began to deteriorate while he was in prison and he eventually passed on on 10 January 2022, at San Joaquin General Hospital, French Camp, California, United States. No one knows exactly what was left of Robert Durst's net worth at the time he died.