Rod Wave's kids are adorable twin girls whose names are Kash and Mocha Green. He had his children with his girlfriend and baby mama, Kelsey Dee Coleman.
Despite his success as a musician, Rod Wave tries to keep his private life away from the media. He has shared tidbits here and there about his life as a father but has chosen to protect the privacy of his girls. To this day, he and his baby's mom has refused to show the faces of their girls on any of their social media pages and posts.
Who Is Rod Wave's Babymom?
Rod Wave's baby's mom is Kelsey Dee Coleman. She is mostly referred to as "Dee" by her friends and family. Rod Wave met the stunning Kelsey sometime during the course of his career, and they began to date. Nothing is really known about Kelsey's family background and education as she came into the limelight due to her relationship with Rod Wave.
Despite having children with the popular rapper, the beautiful Kelsey has chosen to maintain her privacy. She is not one of those baby moms who chases clout but has chosen to stay under the radar raising her beautiful girls.
Rod Wave and Kelsey Dee Coleman Dated For Awhile Before Welcoming Their Twin Daughters
In actual fact, nothing was known about Kelsey Dee Cole until Rod Wave announced to the world in May 2020 that he was expecting twins with his girlfriend and was grateful to God for blessing him. In that particular social media post, Wave referred to Dee as his girl, which implies that they have been together for a while before falling pregnant.
He had also shared before this time that it was his girl and family that kept him sane during the Covid-19 pandemic and he was very much in love with her.
However, It is unclear if the pregnancy was planned or it just happened, nevertheless, Wave and Dee anticipated the birth of their twins and love them wholly when they arrived. It is also pertinent to note that Rod Wave and his baby's mom were not married at any point before and after she birthed the twins.
Who are Rod Wave's Kids?
Rod Wave's kids are Kash and Mocha Green and his love for them is evident from the ways he has spoken about them in interviews and how he anticipated their birth before arrival.
While he has chosen not to share their pictures and show their faces on his social media account for reasons best known to him, he has shared in a series of interviews how becoming a father has changed him and made him more responsible.
Prior to having kids, Rod Wave claims that he was too fond of going places even in the last minutes. He would normally hop on a plane and leave for wherever, but after the birth of his daughters, he lost the zeal to travel last minute and just wanted to stay at home to be around them.
Kash Green is One of Rod Wave's Twin Daughters
Date of birth: June 12, 2020
Age: 3 years
Mother: Kelsey Dee Coleman
Kash Green is one of Rod Wave's kids. She is one of the beautiful twin daughters of the rapper. For reasons best known to their parents, fans have not really gotten a glimpse of what Kash looks like in recent times. Whenever Kash appears in a picture alongside her sister and mother, her back is always to the camera.
Mocha Green is the Other One of Rod Wave's Twin Kids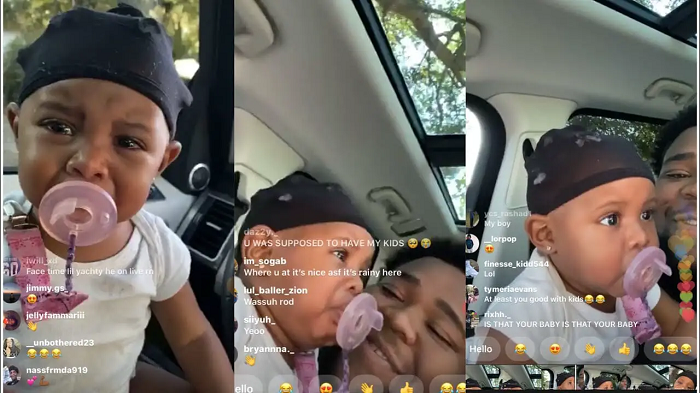 Date of birth: June 12, 2020
Age: 3 years
Mother: Kelsey Dee Coleman
Mocha Green is the second of Rod Wave's kids and she is well-loved and taken care of by her parents. Rod Wave's baby mom derives pleasure in dressing her twin girls in matching outfits, shoes, and hairstyles. While fans have not seen their faces as their mother has them turn their back in pictures that she posts on social media, it is obvious that they are healthy, growing, and thriving.
Rod Wave and His Babysmom Were Involved in an Altercation That Led To His Arrest
The nature of Rod Wave's relationship with Kelsey has been a mystery as they aren't the type to make a spectacle of their family issues. Still, something happened in April 2022 that led to an intervention by the police and later an arrest of Rod Wave in Florida.
On the 24th of April 2022, Kelsey Dee Coleman was reportedly sleeping in her house and room when the rapper showed up and began to choke her. He strangulated her as she lay in bed until she could not breathe. She gasped for breath and fought hard to free herself from his stronghold.
Kelsey also claimed that their two children were in the room at that time, and Rod Wave's provocation was an accusation that she was seeing and talking to other men. He then went ahead to kick the storage shelves by the front door in anger before taking 2 pictures off the wall and tossing them on the porch by the sidewalk.
Kelsey called the police in fear, but Wave was long gone by the time they arrived.
Despite having a scratch near the left center of her neck due to the altercation, Kelsey chose not to go to the hospital or seek medical attention. But she did go ahead to file a complaint against him but chose to strike her name out of the documents that were filed.
He was later arrested on the 2nd of May, 2022, following a traffic infraction in Florida. He was taken in on a charge of battery by strangulation but was later released on bail after posting a bond of $5,000. Rod entered a not-guilty plea to the case leveled against him.
A few months after, Wave was cleared of all the charges as prosecutors determined that the case was unsuitable for prosecution. In celebration, Rod went ahead to drop a new album titled "Beautiful Mind". The album, which did very well, landed him his second No. 1 album on the Billboard 200 chart.
It Is Unclear If Rod Wave and Kelsey Dee Coleman are Still Together
Following their altercation, which led to Rod Wave's arrest, it is unclear if Rod Wave and Kelsey Dee are still together. Considering the reason behind Wave's outburst, it is safe to say that they have gone their separate ways.
They were together for a total of four years, during which they welcomed their twin daughters. It is possible that they are concentrating on finding a common ground to co-parent their daughters.
Rod Wave, on the other hand, has shared that fatherhood has changed his life. He has grown from a teenager who was constantly in and out of Juvee to a responsible father. In some of his interviews, he has shared some of the difficulties that he has encountered as a young father, especially in being a positive example for his children.