Sherra Wright Robinson is the ex-wife of Lorenzen Wright, the late American professional basketball player who was murdered in 2010. Born in 1971, Sherra came into the limelight after it was discovered that she was the mysterious killer who took her ex-husband's life.
Lorenzen Wright caught the fancy of many fans of basketball with his skills and energy. And having claimed fame, a portion of it has rubbed off on his family including his ex-wife, Sherra Wright Robinson who is the writer of the book; Mr. Tell Me Anything. The book is a supposed fiction story which was later revealed to be 99.99% Sherra Wright Robinson's life story and that of her late husband. She is also known as the mother of twin basketball players Shamar and Lamar Wright.
Although her career, as well as her family history with sports have spurred her to fame, it was the revelation that she – not any other – was the mysterious killer her husband that pushed her more to the limelight as the case has lingered unsolved for 7 years.
Even when many thought she could be innocent of the allegations, Sherra Wright Robinson took the world by storm when she pleaded guilty for the charge of first-degree murder of her husband and the father of her 6 children. Reasons were made as to why she killed her husband, however, there are no justifications so far for her acts. Currently, she is serving a 30-year jail term with a possibility of parole.
Facts About Sherra Wright Robinson
Sherra Wright Robinson was born in 1971 in Tennessee as an African-American to her father, Julius Robinson and an unknown mother. Her growing up, education and her life before Lorenzo Wright has been kept under wraps and off the media.
In relation to her career, the only known thing is that she is a writer. Her only work that has so far made it to the limelight is the book, Mr. Tell Me Anything – fiction with a touch of reality – a 'touch' Sherra Wright Robinson describes as 99.99%. In the book, she told the story of a 'deceitful, philandering basketball player, who moves to Memphis, becomes married to an older woman and makes his journey to becoming a basketball superstar.
She is the mother of three basketball players – Lorenzen Wright Jr., Shamar Wright, and Lamar Wright. She has 4 other children, one of them died in 2003.
Sherra Was Lorenzen Wright's Wife For Several Years
Sherra Wright Robinson was married to Lorenzen Wright for many years in a relationship that produced seven of his children including Sierra Simone Wright – their daughter who died as an infant.
While he was alive, Lorenzen was largely known as a Power forward and Centre basketball NBA player. On July 18, 2010, he went missing and on July 28, his dead body was found in the woods. Even with the series of investigations, no one was caught in relation to the murder until the authorities decided to check the loopholes all over again 7 years later.
Did Sherra Wright Robinson Kill Lorenzen Wright?
After Lorenzen Wright passed on, he was mourned by both his fans and family while the necessary authorities worked through their nails to uncover his killer. However, 7 years passed down the line before his killer was unveiled!
Meanwhile, in 2011, a $21,000 reward was placed on any useful information given as regards to the killing of Lorenzen. Nothing was uncovered until 2017 when the murder weapon – a gun was discovered in Walnut, Mississippi Lake. Afterwards, a Shelby County landscaper, Billy R.
Turner was arrested in relations to killing the basketball player. Days later, Sherra Wright Robison was also arrested for the same crime of first, the attempted murder her husband and second, the conspired murder of her husband.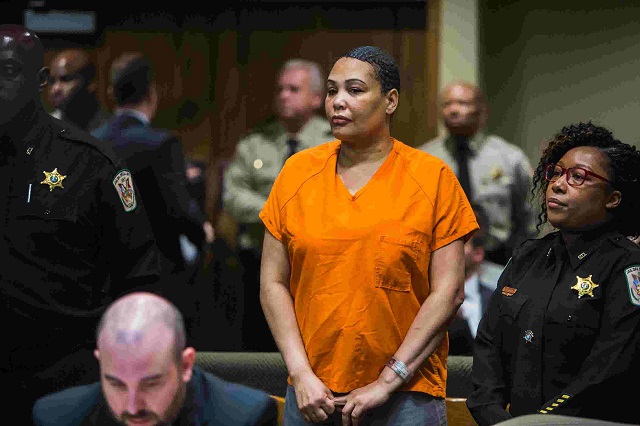 Since the authorities got their alleged killers, the two were charged to court while Sherra Robison Wright ended up with a 30-year jail term after she pleaded guilty for the aforesaid charges.
Moreso, in the court during the trial, Lorenzen's mother pleaded with the court that Sherra should serve the entire 30 years in jail since her son was sent to spend life in death. However, sources have reported that she will be eligible for parole 9 years into her 30 years term.
Why did Sherra Robison Wright Kill Lorenzen?
According to Sherra's attorney, Juni Ganguli, their defense would be of battery by Lorenzen. He said Sherra and her children received constant physical abuse by the former NBA star which left Sherra's face disfigured.
However, it has been reported that the former couple was no longer living together before his death. If this was true, why then did she have to kill him since they were no longer together?
Furthermore, Sherra has announced that she will release a sequel of her initial book Mr. Tell Me Anything where she would journey her readers on the killing of her husband.