If you have been following recent football history, you will not be surprised to see it littered with siblings who are A-list professionals in the game. We have seen the likes of Charlton brothers who once won the World-Cup, De Boers, the Laudrups, Nevilles, the twins – Rafael and Fábio Da Silva, as well as Sven and Lars Bender from Germany. But perhaps we wouldn't be completely off the mark to state that there has been no fraternal fable as intriguing as the soccer career of the Boateng brothers, Kevin-Prince and his younger half-sibling Jerome. The brother's careers have obviously taken very different paths but remains curiously interconnected.
Important to note that there are more than two Boateng brothers; in fact, the Boateng household can boast of three sons George, Kevin-Prince, and Jérôme who are all talented in the football game. However, George, the oldest who was believed to be the most talented among them had his career truncated. This happened after he landed in jail at an early age, leaving the field clear for his two younger siblings.
Now, fans occasionally try to figure out who is more successful as a footballer between Kevin-Prince and Jerome? While Prince has made the most headlines in global soccer, Jerome has won both the Champions League and the World Cup, but we will have to leverage their career history and net worth to fish out the more successful between the duo.
Kevin-Prince Boateng Almost Retired From Football At The Age Of 23
Among the two famous Boateng brothers, Kevin-Prince is the older sibling. Born in Berlin on the 6th of March 1987, Prince is the son of a Ghanaian father, Prince Boateng Snr., and a German mother, Christine Rahn. His father, Boateng Snr., was born in his home country, Ghana, but in 1981, he relocated to Berlin where he met and married Christine who gave him two sons – George and Kevin-Prince with George being the older one.
Kevin-Prince and his brother, George, were brought up by their mum after Prince Boateng Snr. moved on with his second wife. The two brothers lived in an underprivileged suburb of Berlin called Wedding which is known for a crime rate that is rated higher-than-average as well as high unemployment rates.
Kevin-Prince's big brother George was equally talented in football, and perhaps, he might have turned out to be the most naturally talented among the Boateng brothers. However, he had a short temper which, when coupled with his troubled upbringing, landed the aspiring star in prison when he was supposed to be embarking on a football career with Hertha.
His Career Was Kick-Started At Hertha BSC
Presently, Kevin-Prince Boateng plays professional football for the Serie B club called Monza. A competent midfielder who is capable of doubling up as a forward, the footballer is remarkable for his foot speed, strength, and his prowess at ball-juggling tricks.
Kevin-Prince is one footballer that emerged through the youth system, commencing his football career with Hertha BSC, prior to moving to England where he joined Tottenham Hotspur. He was also with Borussia Dortmund on a brief loan spell, heralding his move to Portsmouth.
The year 2010 saw the midfielder joining a Serie A side, Milan, where he played remarkably well in his first season, bagging the league, as well as the Supercoppa Italiana, titles. Kevin-Prince would go on and stay three full seasons with Milan following which he went back to Germany to join Schalke 04.
He Had To Return To Milan In 2016
After he made the move to Germany, Milan still beckoned, which made him return in January 2016, staying for half a year before joining Las Palmas – a Spanish club. In 2017, the Boateng brother returned to Germany for the third time to play with the team of Eintracht Frankfurt but he proceeded to Italian side, Sassuolo. Kevin-Prince bagged the La Liga title while on loan to Barcelona, moving back to Italy, to join Fiorentina. Turkish side, Beşiktaş, had him on loan in January 2020 and barely nine months down the line, in September, the midfielder joined Monza.
Kevin-Prince has also played for his home country, Ghana, at the youth level (internationally). Also at the senior level, the football star has represented his nation 15 times, spanning between 2010 and 2014 with a record of two goals. He also emerged among Ghana's representatives at the FIFA World Cups for both 2010 and 2014. The midfielder once announced his retirement from international football in November 2011 at the young age of 23, citing fatigue from traveling as his reasons for early retirement. However, he ultimately reversed his decision to retire.
Jérôme Agyenim Boateng Is 18 Months Younger Than Kevin-Prince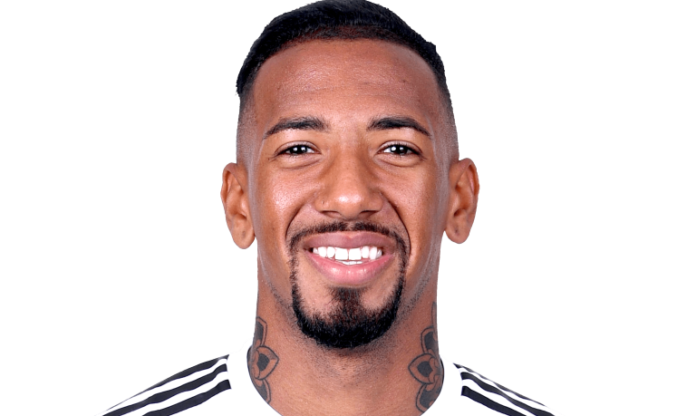 Kevin-Prince was barely out of the diapers when he became a half-brother to Jérôme Agyenim Boateng who was born on the 3rd of September 1988 in Berlin. Just like the older Boateng brothers, Jerome's mother, Martina Boateng is also German, and being born to the same father makes him a younger, paternal half-brother to both George and Prince. Martina and the senior Prince got married after he called it quits with his first marriage.
With just 18 months age difference between then, both Kevin-Prince and Jerome grew up sharing a close bond. Growing up in the more affluent part of Charlottenburg-Wilmersdorf, which is in close proximity to the Olympiastadion didn't stop the young Jerome from seeking out the company of his older half-brother. They often met to play football on the street, spending quality time in the process.
Jerome revealed that living in a completely different area from his siblings made him change his game, becoming a notch harder as they were always pitched against older guys in street football, playing on concrete. He said, foul play had no place in their games then, even when you are younger than the rest and not as strong, you still had to try and make the most of the situation. This became a routine for the Boateng brothers during their formative years, and growing up in close proximity, both Kevin-Prince and Jerome kick-started their football career in the German youth system.
Just Like Kevin-Prince, Jerome is Also A Product Of The Youth System
Jérôme Agyenim Boateng is an Afro-German center-back who plays professionally for the German national team and Bundesliga club Bayern Munich. Jerome, like Kevin-Prince, launched his career at Hertha BSC, growing from rank to rank over time and, proceeding to the main team.
He barely finished a season with Hertha before inking a deal with Hamburger SV, and after he joined the team, Jerome assisted Hamburg to two successive UEFA Europa League semi-finals. He would often spend a single season with Manchester City in England before proceeding to Bayern Munich; this happened in 2011. Since then, the center-back has bagged both domestic and European honors as part of the club; notable among them is the continental treble in 2012–13 as well as the 2019–20 seasons.
The footballer was also outstanding as an integral part of Germany's under-21 side, winning the 2009 Euro U-21 Championship which saw his ascent to the country's national side. Since then, the Afro-German has accumulated above 70 caps, representing Germany at the 2012 UEFA Euro, Euro 2016, and 2010 World Cup. He was also able to represent the country in the 2014 and 2018 World Cup, playing a key role in Germany's victory at the football World Cup Championship of 2014.
The Boateng Brothers Came Against Each Other For The First Time In The 2010 World Cup
Following Kevin-Prince's eligibility to represent his  country of ancestry, Ghana, in the 2010 World Cup, the Boateng brothers were set to play for opposing teams. However, that did not douse their close affinity one bit as they were constantly in touch and even leveraged the off-seasons to go for training together. But then, their near-perfect relationship was hit by a strain just before the commencement of the World Cup in South Africa.
It happened that Kevin-Prince injured Michael Ballack – then Germany's captain during the FA Cup Final of 2010. That particular injury kept Ballack out of the World Cup. Consequently, he refused to speak to his older brother in the weeks before the tournament. Nevertheless, the World Cup commenced with Ghana and Germany in opposite groups.
Both teams eventually met in Johannesburg, on the 23rd of June at the group stage match with Prince and Jerome as part of the starting line-up for each of the teams. This marked the first time the Boateng brothers took the field on opposing ends during an international match simultaneously. Eventually, Germany emerged the winner, beating Ghana 1-0 and advancing to the tournament's semifinals.
Their Second Time Playing On Opposite Teams Happened At the 2014 World Cup
Even with that defeat, Ghana still made history with its quarterfinals run which went down as one of the most remarkable and successful runs by a team of African origin in World Cup history. Being brothers, the rift between Jerome and Prince was short-lived as the duo eventually put their differences behind them and reconciled.
The 2014 World Cup also saw Ghana and Germany pitched against each other in the same group where the soccer duo once again faced each other on the 21st of June, drawing 2-2. From what is obvious, the Boateng Brothers have succeeded in laying the blueprint on the best way to represent your country in sports while still working hard to maintain family bonds away from the field.
A Comparison Of The Boateng Brothers' Career Progressions 
Though the two soccer players had their start at the same level, Kevin-Prince always appeared to be the one ahead. Winning the 2006 gold Fritz Walter Medal and earning recognition in Germany as the best under 19 player, Prince's impact while playing with the Old Lady for a couple of seasons was so impressive that he earned an enviable high-profile in 2007, moving to the team of the Tottenham Hotspur.
On the flip side, the younger Boateng brother earned the Fritz Walter Medal one year after Prince, albeit in bronze. While Prince was busy with preparations for a career in the Premier League, Hamburg signed on Jerome who stealthily commenced his journey on earning a slot among the most talented and accomplished center-backs ever in the Bundesliga.
While their older brother George described Jerome as a sponge, who absorbs everything,  he credited Prince with being ambitious. George also described Jerome as a perfectionist who lives for success.
Jerome Eventually Emerged As The Better Player Among The Two Brothers
At the onset, Prince was the one who looked destined join the German team until his outspoken and exuberant temperament caused him to be dropped from the squad that played for the 2009 UEFA European U21 Championships. The older Boateng brother was part of the final training camp in anticipation of the Sweden tournament, however, the German team still needed to cut out one player from their squad. It happened that Prince already earned an unpalatable reputation, being a party animal and something of a hothead, and after he showed up late for team meetings severally, Prince became the one to miss out.
While Prince was at home, Jerome lifted the European Under 21 title that summer, joining future World Cup-winning players like Mats Hummels, Manuel Neuer, Sami Khedira, Benedikt Höwedes, and Mesut Özil in achieving this great feat. Seeing that he would never be able to represent German again, Kevin-Prince, decided to represent his native country Ghana the next year at the 2010 World Cup.
According to the then DFB's sporting director Matthias Sammer, Kevin-Prince displays a certain egotism and a lack of discipline; but he credited Jerome with being the stronger player when it comes to mental and athletic constitution. Thus we would not be wrong to say that the brothers' divergent temperaments were eventually what stopped them from playing together for the German team at the international level.
Who Is The More Successful Brother?
Looking at their accumulated wealth, one would readily draw the conclusion that the younger Boateng brother has achieved more success. A 2019 review of Jerome's net worth pegged it at a handsome $25 million. Nearing the end of his football career in his early thirties, the Afro-German inked a mega-contract with his present team Bayern Munich. The deal sees him going home with a whopping 12 million Euros as an annual salary. Crunching the figures, it becomes glaring that Jerome earns €59,488 daily and €2,479 per hour.
On the other hand, a recent estimation of Kevin-Prince's, fortune showed a $20 million net worth, which is $5 million short of his brother's wealth. His annual remuneration was previously pegged at $4 million. Speaking up in an interview session, Prince admitted having squandered a lot of funds while struggling to cope with fame and all its trappings. According to the older Boateng brother, a large part of his fortune went to clubs, automobiles, and friendss who were not truly "friends".