Candice Modiselle was born on the 16th of May 1995 and is 28 years old. She has a look-alike sister named Bontle who many people think is her twin sister but that's wrong. Bontle is her older sister (five years older) and not her twin.
'Fantastic' is an apt word to describe Candice Modiselle's journey to fame. The South African emcee, actress, TV presenter, and businesswoman had a brush with acting very early in life when she appeared in her school drama. That singular experience made her believe that her rainbow will one day come smiling through if she perseveres in the entertainment industry and she has not looked back since. The year 2020 marked her 25th birthday and the SA beauty has not only become a household name in entertainment, but she has also created a niche for herself in business.
Candice comes from a family of three children and was raised alongside her sisters – Refilwe and Bontle. While Refilwe (who is the eldest), looks very different from the rest, Bontle and Candice share the same physical features which have led many to view them as twins. Candice has attested to being mistaken for Bontle on several occasions by people who believe that they are one and the same person.
Candice Modiselle Was Born Same Year South Africa Won Its First Rugby World Cup
The South African actress and media personality was born in South Africa on the 16th of May 1995 – about one month before the country captured their maiden Rugby World Cup trophy. Candice Modiselle is the daughter of Grace and Percy Modiselle who have two other daughters –  Refilwe and Bontle. The trio is popularly referred to in the entertainment circles as the Modiselle sisters. Candice is the last child of the family and was born in Johannesburg, Gauteng Province – just like her sisters before her.
She was barely out of diapers when she lost her father in 1997; this led to the sisters being solely raised by their mum whom they obviously share a close bond with. Life was not so rosy for the sisters after their father's demise, however, with consistency and determination, Candice was able to surmount all life challenges and emerge as one of South Africa's celebrated entertainers.
She is Arguably a Star in Her Own Rights
Refilwe and Bontle Modiselle may have paved the way for their baby sister in the entertainment industry but Candice is far from the kind of person that takes a ride on the wings of her sibling's success. The last child of the Modiselle brood sure didn't sit and wait for handouts as she started working assiduously from an early age, charting her own course in the entertainment industry. She just clocked ten when an opportunity to appear on stage presented itself – a Cagebirds stage production, an event at McAuley House School. The drama afforded her the opportunity to play a major role on stage for the very first time.
With time, it became clearer to Candice Modiselle that her future lies in performing which led the youngster to opt for a BA in dramatic arts at the University of Witwatersrand. She eventually graduated, emerging as her department's overall highest achiever. Since she emerged on the entertainment scene, Candice has achieved great feats like becoming a presenter on YoTV and joining the cast of Generation The Legacy. These made her a household name as she bumped into mainstream fame. The actress has since given all credit to God for paving her way to success, attributing her achievements to prayers, a positive mindset, and of course genuine hard work.
Contrary to Popular Belief, Her Path to the Top Was All But Rosy
Candice has made it known that all her career successes did not come overnight as many would want to believe. According to the television presenter, she spent her initial five years, going from one audition to the other and on different platforms. More interesting is the fact that she got more "no" than "yes" but her perseverance kept her going. In an interview session, Candice revealed that it got to a point where she contemplated switching careers to try her hands in a business. She, however, came to understand that God's delay cannot be a denial.
Today, Candice Modiselle is known all over South Africa as a television presenter, an actress, an emcee, and a businesswoman. Besides, the media personality has this unwavering passion for teaching which has led her to become one of the tutors at OnCue Interface School of Television and Radio.
Who Are the Modiselle Sisters?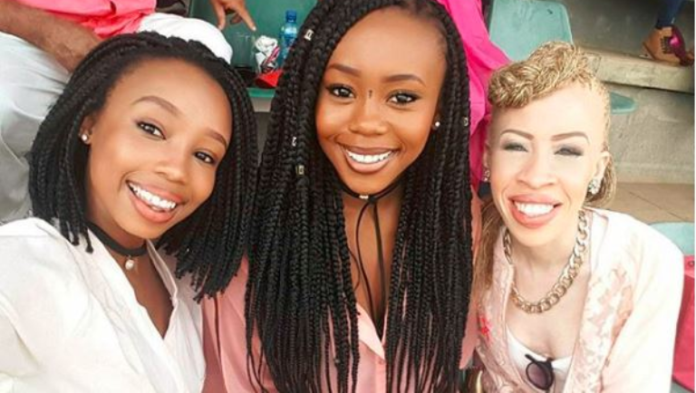 As aforementioned, Candice Modiselle is the youngest of the trio widely known as The Modiselle Sisters. Her immediate elder sister is Bontle Modiselle – a multi-talented South African beauty. Bontle has built a multi-faceted career as an actress, a TV presenter, radio personality, choreographer, model, dancer, and singer. She is arguably the most successful of the trio.
The eldest of the brood – Refilwe Modiselle – has also etched her name in the fabrics of the entertainment industry as a television presenter, actress, and model. However, before her emergence on the showbiz scene, Refilwe alongside her sister, Bontle, was part of the corporate world, attaining qualifications in advertising and Corporate Communications. Apart from having careers in the entertainment industry, all the Modiselle sisters seem to be doing wonderfully well in their different fields.
Talking about the sisters' involvement in showbiz, Candice let on that entertainment is part of their nature and they all believe it to be their calling. Obeying this call from God according to the trio has been very fulfilling for them. The sisters always love hanging out together as they consider themselves to be each other's closest friends.
Why is Candice Modiselle Often Mistaken As Her Sister's Twin?
Since Candice emerged on the entertainment scene alongside her sisters, fans have been mistaking her for big sister, Bontle, because they have the same facial and body features. Even those who have come to the realization that she is not Bontle tend to think that they are probably identical twins. Besides, the two being in the same industry doesn't seem to be helping matters and Candice only gets to hears greeting like "Hi Bontle" as she meets people.
Apart from being each other's look-alike, Candice Modiselle and Bontle are rather too close, sharing each other's photos on their socials and attending major events in the country together. However, their oldest sister has a completely different appearance but the bond is still as strong. In conclusion, Candice is not Bontle and they are not twins; Bontle is five years older.
The Modiselle Sisters Still Live With Their Mum
While most people itch to leave home upon maturity, especially when they start earning a living, the Modiselle sisters seem to prefer staying back home with mummy. According to the siblings, that is where real happiness lies.
Despite their thriving careers, they prefer their childhood home. From what Candice said, they sometimes feel the need to be independent, to strike out on their own, but are aligning their resources and energies in other spaces as opposed to renting apartments. She also mentioned that the siblings have unconditional love for each other and enjoy each other's constant and unflinching support.
Pooling their resources together and living in the same house has helped the family a lot. According to Candice, they will eventually move on, but for the moment, they are all happy and comfortable. Their mum whom she describes as an excellent judge of character has even taken Bontle's spouse, rapper Priddy Ugly under her wing. Candice said her mum is able to tell good people from shady ones.
Candice Modiselle's Take on Opening their House For a Reality TV Show
On opening their home up for a reality show, Candice Modiselle told TshisaLIVE that they don't have any plans of towing the same line as the famous Kardashian family in the US. She said they are being protective of their lives because of the misconception people often have about reality shows. The youngster described it as giving out a part of your life to people.
However, Candice kept hope alive when she said that the reality shows may not be completely ruled out for the future as they have never sat down to discuss it. Though for now, the celeb sisters are completely focused on their individual crafts.