Wizkid has four children- three sons named Boluwatife, Ayodeji Ibrahim Balogun Jr, and Zion Ayo Balogun, and a daughter whose name is not known yet.
Information about Wizkid's children has always been a highly sought-after thing. This is not surprising at all considering how insanely popular the superstar is. Wizkid, a Nigerian singer and songwriter, is one of the most successful pop stars on the African continent. Over the years, he has risen to become one of the most instantly recognizable faces in the Nigerian music scene and now enjoys a massive cult-following from die-hard fans all over the world who see him as an idol.
Unsurprisingly, his massive success has put all of Wizkid's affairs in public glare. All information about his private life, including who the women in his life are, as well as how many kids he has fathered over the years has become juicy gist that is desperately sought after by the general public.
Wizkid Has Three Adorable Sons From Three Different Women
Wizkid has three sons whom he is very fond of at the moment. The superstar musician fathered the three sons with three different women. This, too, is not surprising; over the years, many highly successful Nigerian entertainers have had kids with different baby mamas and Wizkid is no exception.
Wizkid's sons are called Boluwatife, Ayodeji, and Zion Balogun, and they are among the most popular children in Africa because of their father's status in society.
Meet Wizkid's First Son, Boluwatife?
Wizkid became a father for the first time on May 13, 2011, when his son, Boluwatife, was born. At the time, Wizkid was just beginning to gain recognition as a singer of note in Nigeria and was already starting to bag some of his earliest awards, including the Next Rated award at The Headies 2011 for his single "Holla at Your Boy" and Nigeria Entertainment Award for Best New Act of the Year.
The singer was just about 21 years old when his son was born and, at first, he found it very difficult to accept the boy as his own. So, how did the drama play out? Let's take a look.
Boluwatife's Mother Got Pregnant For Wizkid As A Teenager
The woman who birthed Wizkid's first son is called Ogudu Oluwanishola. Interestingly, she was only 19 years old and an undergraduate when she met Wizkid, and they fell in love. Their romance did not last long, but in the short time they were together, she got pregnant for Wizkid when she was still 19 years old, and the rest is history.
However, things were not all rosy at first, especially when Wizkid first got to know that Ogudu Oluwanishola was pregnant.
Wizkid First Refused To Accept Boluwatife As His Own
When Ogudu Oluwanishola found out she was pregnant, she was surprised and shocked about it because it was the first time she was having sex. According to her, she did not even know she was pregnant until the pregnancy was five months gone.
She eventually decided to let Wizkid know about the situation. However, Wizkid denied being the one who got her pregnant. She revealed this in 2018 when she released explosive details about her relationship with Wizkid, accusing him of neglecting their son. The stunning allegations caused a serious stir on social media and trended for days.
According to Ogudu Oluwanishola, Wizkid stood his ground and refused to accept the pregnancy when she told him about it. His family later demanded a DNA test to be conducted, and the results came back 99.9% positive. Still, Wizkid continued having cold feet about accepting the baby, even after the child was born when Oluwanishola was just 20 years old.
Also, in different interviews he granted at the time, he denied fathering a child, politely brushing off insinuations that he was abandoning his son. However, the superstar singer eventually came around and accepted that Boluwatife was his child. In 2013, fans were stunned when he shared a photo of Boluwatife on his Instagram page. Boluwatife was already 2 years old at the time.
How Involved Has Wizkid Been In Boluwatife's Life?
Wizkid is known for regularly sharing photos of his sons on his Instagram page, but he has been accused of neglect before. In her 2018 explosive details about how her relationship with Wizkid has been, Boluwatife's mother, Ogudu Oluwanishola, claimed that Wizkid was absent in their son's life.
According to Oluwanishola, Wizkid often turned down the offers she made for him to come to see their son; he would always say he was busy. She also claimed that she had to do everything for their son because Wizkid was mostly away. She claimed that at the time Boluwatife was 7 years old, Wizkid had never attended any of the boy's birthdays, even though the boy longed for his father.
However, in recent times, it seems that things have changed drastically because it appears that Wizkid has improved on his father-son relationship and is now very much in touch with his kids.
Boluwatife Is Already Making Big Strides
Wizkid's son, Boluwatife is a very brilliant child. The boy, who is growing into a fine young man, has started taking after his father already in music. In 2020, his mother revealed on social media that her son had become a music producer. According to her, Boluwatife could actually make fresh beats from start to finish. This excited fans of Wizkid who felt that the star singer's son may turn into another great musician in the future.
Apart from being a music producer, Boluwatife is also a CEO, even though he is not a teenager yet. In 2019, when he just about 8 years old, he launched a clothing line called Czar and Czarina. He is now the CEO of Czar and Czarina, while his mother is the Creative Director of the clothing line. It s clear that Boluwatife is threading on a path that will lead him to great things.
Wizkid's Second Son Is Named After Him
Wizkid became a father for the second time on January 15, 2016, when his second son was born. Reports about him welcoming his second son emerged on January 25, 2016, when popular Nigerian blog, LIB broke the story, stunning fans, and admirers. The report also claimed that the new son had been named after Wizkid; he was actually named Ayodeji Ibrahim Balogun (Wizkid's exact full name) by the child's mother. As expected, the boy had a jr. attached to his name.
When this story broke, it took many people by surprise because not many people knew that Wizkid was seeing the woman until she reportedly gave birth to Ayodeji Ibrahim Balogun Jr. However, at the time the story broke, it was mere speculation as nothing was sure yet.
The Woman Who Birthed's Wizkid's Second Son
In the LIB story, it was revealed that the woman who birthed Wizkid's son was called Binta Diamond Diallo, and she was from Guinea and based in the USA. It was also revealed that she is a model. Before the story came out, very few people knew she was even close to Wizkid.
She would later reveal that when she got pregnant, she decided to keep it a secret to avoid the drama that trailed Wizkid's first baby mama, Ogudu Oluwanishola's pregnancy. Checks revealed that Wizkid and Binta Diamond Diallo had been together for some time and may have been dating since 2015. Initially, she had been spotted at the same events with Wizkid, but nothing much had been thought of it till she gave birth.
History Repeated Itself
History repeated itself when Wizkid's second son was born because, just like he did with his first son, the singer denied being the father of his second boy. When the news first emerged, the pop singer refused to confirm the story and avoided social media for some time. In February 2016, when he was asked by HipTV about the baby mama reports, he simply put his two hands together pleadingly before walking away, refusing to answer.
Binta Diamond Diallo also confirmed fears that Wizkid was refusing to acknowledge his son's arrival. In an interview she had with TheShadeRoom, the model claimed that Wizkid had not even seen the newborn boy and was not showing any interest in getting to know the child. Another source close to the model also claimed Wizkid had also refused to make himself available for a DNA test to be carried out.
Eventually, Binta managed to do a DNA test, and the results came back 99.9% positive. The result of the DNA was shared by Binta Diamond Diallo on her Instagram page in May 2016. It was clear that the baby was Wizkid's son. In the end, Wizkid finally accepted that Ayodeji Ibrahim Balogun jr. was his son. In 2017, the superstar singer posted a photo of the boy on his Snapchat account and subsequently on his Instagram page.
How Involved Has Wizkid Been In The Boy's Life?
Wizkid was apparently not very present in the life of his second son, Ayodeji Ibrahim Balogun jr. The boy's mother, Binta Diamond Diallo, revealed this in 2018 when she made some explosive revelations about him. According to her, Wizkid had been absent in their son's life and is a deadbeat dad.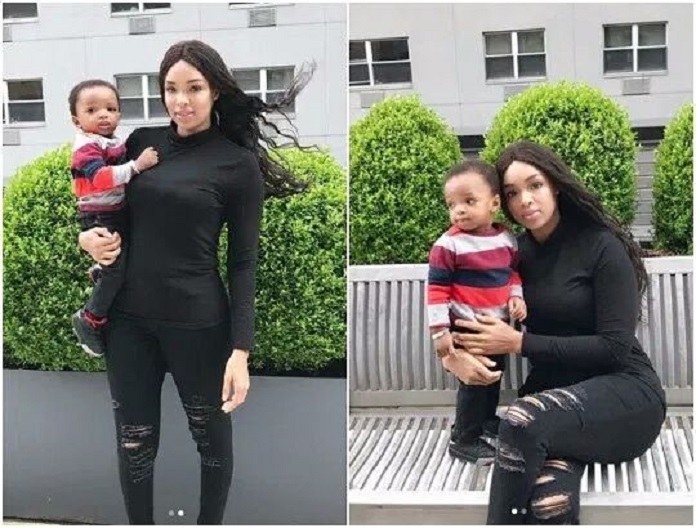 She also claimed that the singer, despite being very rich, has refused to pay child support.  She explained that in February 2018, a legal agreement was reached that Wizkid would pay child support of $2000 every month. Documents were also signed to that effect. However, she revealed that since the agreement was reached, Wzkid had refused to pay the money. Even his legal team was reportedly unable to reach him as regards the matter.
She went on to explain that she had the right to sue Wizkid for the act but had restrained herself from doing so because his family members had begged her not to. When these allegations were made, many people turned on Wizkid, challenging him to be a better man and father. The public was so angry because only days before Binta's accusations, Wizkid's first baby mama had also made similar accusations.
However, it appears that things have changed in recent times because Wizkid has become more mature and is believed to have gotten a lot closer to his kids. At the moment, Ayodeji Ibrahim Balogun Jr. lives with his mother in the USA.
Zion Turned Wizkid Into A Three-Time Dad
Wizkid became a father for the third time on October 28, 2020, when his third son, Zion Ayo Balogun, was born. At first, no one knew that a son had been born to Wizkid until weeks later. In November 2020, reports began to make the rounds that Wizkid had welcomed another son with a different woman.
For a time, the only thing being circulate were rumors but it was soon confirmed that the "Joro" crooner had indeed welcomed a third son.
Zion's Mother Is Also Wizkid's Manager
When the news emerged that Wizkid had fathered a third son, it was also revealed that the mother of the boy was none other than his own manager, Jada Pollock, an American woman. This came as a surprise because many people believed she was just his manager who was only working with him professionally. However, there were more things involved in their relationship. Apparently!
Interestingly, Jada Pollock is an entertainment veteran who had managed top names in the music world, including globally famous American musician Chris Brown, before meeting Wizkid. She had also provided branding for many prominent football players.
There Was No Paternity Fuss This Time
Unlike what happened in the past, Wizkid did not cause any paternity fuss when his son, Zion, was born. He did not deny the boy. In fact, he actually tweeted the name of his son to confirm he was the father. Many fans understood this gesture as a sign that Wizkid was becoming more mature and more capable of handling personal responsibilities better.
Wizkid's Involvement In Zion's Life
Wizkid has been very involved in the life of Zion. In fact, some people have claimed he is more fond of the boy than his other children. He has been seen countless times having awesome moments with Zion and often rushes to have daddy and son time with the boy when he has the chance.
Zion lives with his mother, Jada Pollock in the UK and is believed to be receiving the best upbringing possible. In November 2020, it was released that Zion had signed an ambassadorial deal with Childsplay, a UK clothing line.
Wizkid Welcomed His 4th Child/First Daughter in 2022
The superstar singer welcomed his very first daughter around the end of 2022. He had the child whose name is yet to be disclosed with Jada Pollock, his talent manager and mother of his third son.
Commemorating her 39th birthday on the 13th of October, 2002, Ms. Pollock shared a picture of her newborn baby and their son, Zion, on Instagram and captioned it, "Beyond a blessing, thank you, God, for another year."
Jada Pollock revealed she was expecting their second baby in July 2022 when she debuted her baby bump in a photo together with her first child, Zion, indicating that the baby would be born soon.
How Wizkid United His Three Sons In His Music Video
In September 2020, Wizkid released a video for his single "Smile." The video was highly anticipated because the audio had already been around since June 2020. When the video dropped, it caught lots of attention because, for the first time, the superstar singer featured his sons in his creative work.
Wizkid managed to get all his three children together and featured them in his music video despite the fact they all live on different continents. Boluwatife, the first son, lives with his mother in Nigeria; Ayo, the second son, lives with his mother in the USA; and Zion, his third son, lives with his mother in the UK.
Wizkid's decision to feature all his sons in the music video got him a lot of praise from fans who saw it as a very mature move and one that will cement the love between the children who do not see themselves very often because of distance.