Debraca Denise is the adopted daughter of John Elroy Sanford, popularly referred to as Redd Foxx, who made an indelible mark with his iconic portrayal of Fred Sanford in the beloved sitcom Sanford and Son. She was born in 1947, and so is 76 years old.
Debraca's mother, Betty Jean Harris, married the iconic actor when Debraca was just nine years old, which was how she came to become an integral part of Redd Foxx's life. However, she prefers to lead a private life away from media scrutiny.
Summary of Debraca Denise's Biography
Full name: Debraca Denise
Gender: Female
Date of Birth: 1947
Debraca Denise's Age: 76 years old
Ethnicity: African American
Nationality: American
Sexual Orientation: Straight
Religion: Christianity
Marital Status: Married
Debraca Denise's Husband: Ralph Russell
Famous for: Being Redd Foxx's adopted daughter
Debrace Denise is the Adopted Daughter of Redd Foxx
Debraca Denise, the daughter of the renowned actor and stand-up comedian John Elroy Sanford, better known as Redd Foxx, has a unique and intriguing background. Born in 1947 in St. Louis, Missouri, in the United States, to Betty Jean Harris, Debraca's biological father remains unknown as there is not a lot of information available on him.
In a fateful turn of events, at the tender age of nine, Debraca's mother married the charismatic John Elroy Sanford in 1956. Redd Foxx's extraordinary talent in stand-up comedy and his notable appearances in various television shows earned him well-deserved fame. As the adopted daughter of this iconic figure, Debraca Denise's story weaves in seamlessly with the fascinating tapestry of Redd Foxx's personal and professional life.
Denise Debraca Had a Good Relationship with her Father, Redd Foxx
When Betty Jean Harris divorced Redd Foxx, they had been married for 18 years. The dissolution of their marriage came about due to Foxx's infidelity. This decision was undoubtedly a difficult one, especially considering the length of their union. At the time of their divorce, Denise Debraca, their daughter, was already 27 years old. Foxx and Betty jointly raised Denise to adulthood.
It's unclear whether Denise remained in regular contact with her father thereafter. Foxx, however, did not let the end of his marriage hinder his pursuit of love. He went on to marry two more times. Unfortunately, despite his multiple attempts to find lasting happiness, Foxx passed away while still married to his fourth wife, Kaho Cho.
In a twist of fate, Foxx's death posed a unique challenge. He had died without leaving a will. As a result, Denise unexpectedly became the proprietor of his estate. This turn of events undoubtedly surprised many, especially Cho, who believed she should have been entrusted with the responsibility of managing Foxx's estate.
The absence of a will led to an embittered battle for control over Foxx's assets. Cho, disappointed and frustrated, contested Denise's claim as the estate's executor. The rift between Denise and Cho further complicated matters, creating tension and disagreements surrounding Foxx's legacy.
Debraca Denise is Happily Married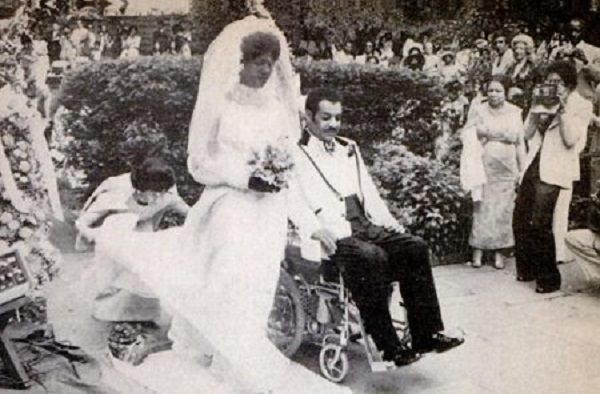 Debraca Denise is known for her preference to lead a low-key life, valuing her privacy and personal space. It is believed that in June 1975, she got married to a man called Ralph Russell. Russell is known to be a successful businessman from Los Angeles. Their nuptials took place in the exquisite Grand Ballroom of the iconic Beverly Wilshire Hotel, setting the stage for a lifelong commitment.
Through the passage of more than four decades, Denise and Ralpha have nurtured their marital bond, steadfastly embracing their chosen path as a couple. Although they have not been blessed with children, their love and dedication to one another have remained unwavering.
Before her marriage to Russell, Denise enjoyed a romantic relationship with the popular Jackie Jackson, a prominent figure in the music industry. However, as life unfolded, their paths diverged, and Denise ultimately got married to Ralph. Denise's unwavering commitment to leading a private life serves as a testament to her desire to focus on personal happiness and cherished connections, shielding them away from the incessant glare of public scrutiny.
Is Debraca Denise Still Alive?
Debraca Denise is still alive, and she continues to lead an understated and private life, preferring to stay out of the media's limelight. Notably, she remains absent from the eyes of the public and has chosen to keep her personal affairs off public display.
However, it is believed that she is relishing quality time with her loved ones, finding contentment in the moments they share.
Since Debraca has not made any public statements to the contrary, it is safe to assume that she finds great fulfillment in the path she has chosen for herself. By carefully safeguarding her privacy, Debraca has managed to maintain a level of discretion, resulting in limited accessible information about her personal life. Debraca's commitment to leading a quiet and reserved life speaks volumes about her values and priorities.
What Does Debraca Denise Do For a Living?
Debrace Denise's professional pursuits remain shrouded in mystery, adding to the enigmatic nature of her life. Information regarding her specific source of income has not been disclosed, leading to speculation that she may have relied primarily on her father's wealth throughout her life.
Given the lack of available details, it is challenging to ascertain the nature of Debrace's professional endeavors or whether she has pursued a career independently. She has made appearances in some TV shows, one of which is Unsung Hollywood, the series profiled influential black celebrities who had worked or existed in all spheres of Hollywood.
It is presumed that with the support of her father's financial resources, she has been able to navigate life comfortably while maintaining a level of financial security. However, as with much of her private life, the specifics surrounding Debrace's professional journey have remained elusive, allowing her to cultivate a sense of privacy and discretion. The enigma surrounding her occupation contributes to the intrigue that surrounds Debrace Denise, making her a fascinating figure in her own right.
What is Debraca Denise's Net Worth?
Debraca Denise's actual net worth is not known. When she took over her father's estate she also took on the debt that he owed. There is not much information on how she is faring in regard to his debt or the way she has managed his estate, as he died over two decades ago in 1991. This makes it hard to say how much Debrace Denise is worth.