Manuela Escobar is the daughter of Pablo Escobar, the Colombian drug lord, narcoterrorist, and politician also known as the "king of Cocaine." She was born on May 24, 1984, and is currently 53 year old. She was the jewel of her father's eyes while he was alive to the point that her father once burnt $2 million cash to keep her warm while they were in hiding from Colombian authorities.
When her father was killed by Colombian authorities in 1994, Manuela Escobar's mother, Maria Victoria Henao, fled Colombia with her and her older brother, seeking refuge in several countries and but denied access, until she eventually settled in Buenos Aires in Argentina. Manuela is believed to be currently residing with her brother's family. She has been a recluse since her father's death, and her fear that her father's enemies would harm her family has driven her into depression and she has suffered mental health challenges over the years. She goes by the name Juana Manuela Marroquin Santos currently.
Summary of Manuela Escobar's Biography
Full name: Manuela Escobar
Other name: Juana Manuela Marroquin Santos
Gender: Female
Date of birth:  May 24, 1984
Manuella Escobar's Age: 39 year old
Ethnicity:  Latina
Nationality:  Colombian
Zodiac Sign:  Gemini
Religion:   Christian
Manuela Escobar's Parents:  Pablo Emilio Escobar (father) and Maria Victoria Henao (mother)
Sibling:  Juan Pablo Escobar
Manuela Escobar's Net worth: About $ 2 million (or more)
Famous for:  Being the daughter of the "King of Cocaine" Pablo Escobar
Pablo Escobar's Daughter, Manuela Escobar, Was Born In 1984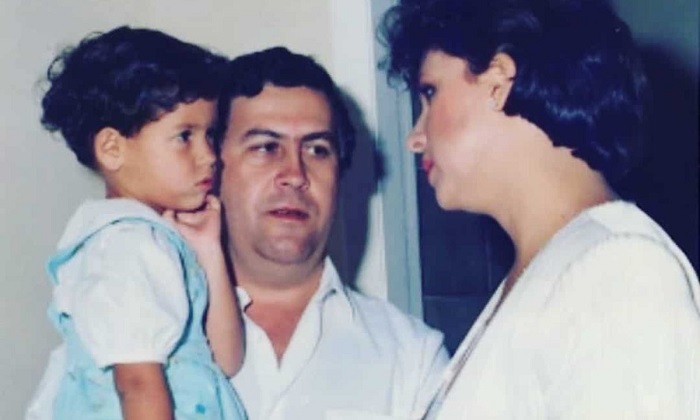 Manuela Escobar was born on May 24, 1984. She was born in Colombia where her parents were residing at that time. Manuela was Pablo Escobar's only daughter and he loved her so much that there was nothing under the sun that he was not willing to do to make her happy. At the time of her birth, her father was already one of the richest men in Colombia and was on his way to becoming one of the richest men on the face of the planet.
Manuela spent her early life living in Pablo Escobar's lavish mansion called Hacienda Napoles – named after Naples, Italy, located between Medellin and Bogota. The 7000-acre estate was built for about $ 63 million and has facilities such as an airstrip, a full tennis court, a soccer field, a bullfighting arena, and several dinosaur statues.
Pablo Escobar had more money than he could ever spend in 10 lifetimes and he spared no expense to make his family very comfortable – especially his beloved daughter and princess, Manuela. While most children her age were hurried off to school to learn, Manuela had tutors and teachers come to her home where she was home-schooled and a zoo filled with exotic animals from around the world.
Meet Manuela Escobar's Parents
Pablo Escobar's daughter Manuela would have been just a regular woman in the world today if she did not have such a globally notorious father, Pablo Escobar. In fact, she is simply known as Pablo Escobar's only daughter today, and nothing else. Although her father's popularity brought her great benefits in the past and possibly her present, she is currently living in fear of his legacy.
Maria Victoria Henao is Manuela Escobar's Mom
Maria Victoria Henao is Manuela Escobar's mother. She was born in Palmira, Colombia, sometime in 1961. Though exact details about her family and childhood are not known, she is believed to have come from a middle-class social status in Colombia. Not much was known about Maria until she caught the eye of Pablo Escobar.
In her Memoir, Mrs Escobar: My Life With Pablo, she is probably the only one who has given us a clue about the other side of Pablo Escobar – outside of crime and his cocaine distribution business. She wrote that she first met Pablo when she was 12, and right away she saw him as the love of her life. The much older Pablo wooed her with gifts like a yellow bicycle and composed lots of romantic messages.
She began having a sexual relationship with Pablo not too long after they began dating and by the time she turned 14 she was already pregnant for him. Her parents disliked everything about Pablo – then the son of a watchman and local criminal who zoomed around the neighborhood on his Vespa motorcycle.  Pablo took Maria to abort their first pregnancy which caused her great pain.
She stated that Pablo Escobar was the first and only love of her life, and she went on to marry him at 15. He would drive around town with her showing her places where he would like to build schools and hospitals for the poor, and she loved this about him. She did not really like the criminal and violent nature of her husband who had raised her to be a loyal wife who looked the other way.
Pablo Escobar Was Manuela Escobar's Father
Pablo Emilio Escobar Gaviria, otherwise known simply as Pablo Escobar, is Manuella Escobar's father. He was born in Rionegro, Colombia, on December 1, 1949, to a very poor family. He was the third of seven children in his family and his parents – Abel de Jesus Escobar Echeverri and Helmilda Gaviria, raised their children in Medellin – hence Escobar's deep ties with Medellin.
Little is known about Pablo Escobar's childhood, except for the fact that he was a bully while in high school, who extorted other children for their money. He was also known to have gained a reputation for bullying and intimidating his teachers while in school. He was admitted into Universidad Autonoma Latinoamericana in Medellin but dropped out of school to pursue another career entirely.
Escobar took to a life of crime thereafter and began selling fake lottery tickets and illegal cigarettes to others in his community. He graduated from petty crimes to automobile theft, gang violence, kidnapping, and ransom collection and also worked for various drug smugglers in Colombia. He steadily began to rise in the criminal underworld and soon ventured out on his own.
In 1976, Escobar founded the Medellin cartel in Colombia through which he distributed powdered cocaine through several smuggling routes from Bolivia, Peru, and Ecuador through Colombia to the United States of America.  His drug shipments to the United States were as much as 70 to 80 tons a month, and he was by far the largest supplier of the drug to America.
Due to the nature of his business operations, he always had run-ins with the law which led to an initial arrest in 1976, though he was released. He was also battling with rival cartels which was always a bloody affair. He handled problems with his "plata o plomo" (meaning a silver (bribe) or bullet) philosophy – preferring the former to the latter, but was not shy to dish out the latter excessively.
He was elected on the platform of the Liberal Party as an alternate member of the Chamber of Representatives in Colombia and served for two years before he was kicked out due to his criminal enterprise. Escobar built hospitals and schools for the poor in his country to endear himself to the people and even had aspirations to be the country's president at some point.
At the height of his criminal career, he was dubbed the "King of Cocaine" and was valued to be worth about $ 30 billion (now worth more than $ 70 billion in 2023). He even proposed a deal with his country's government to pay off the nation's debt which was about $ 10 billion then, in order to get the local authorities off his back and to avoid being extradited to the United States of America.
Escobar was so rich and influential in his prime that he not only had a private army of his own but was friends with several presidents and very influential politicians across the world. Whoever he could not buy off, he had them killed in the most gruesome manner one could ever imagine. He was loved and feared in equal measures by his countrymen and associates across the world.
He was killed on December 2, 1994, when he got into a gun battle with the Colombian Police Force with some of his personal guards, as he was attempting to escape a well-coordinated raid on one of his safe houses, after being declared wanted by the authorities after escaping from his own self built luxurious jail a few years earlier.
Manuela Escobar's Parents Were Married Until His Death in 1994
Manuela Escobar's parents – Pablo Escobar and Maria Victoria Henao were married at the time of her birth. In the mid 1970's the relatively unknown Pablo Escobar was in a relationship with a teenage Maria, and her parents were livid about the relationship and did not approve of it. They considered Pablo to be beneath their social status and did not want their daughter to associate with him.
Against her parent's wishes, or due to either her love for Pablo or her own wishes, Maria continued the relationship with Pablo, and both of them conspired and ran away from home. In March 1976, Pablo Escobar got married to Maria Victoria Henao – even though she was just 15 at the time and not yet considered an adult.
The marriage between Pablo and Maria produced two children – Juan Pablo and Manuela, and they were married for about 18 years before Pablo sent her away with the children, they got protection from the Colombian government while the manhunt for Pablo Escobar was still on. They were still married till December 1994 when Pablo was killed while running from the authorities.
Pablo Escobar's Life Of Crime Led To His Death
For much of his adult life, Manuela Escobar's father was always on the wrong side of the law. He was into cocaine trafficking, money laundering, public massacres and kidnappings, and several other vices. His cocaine distribution business made him so rich that his net worth was reported to be around $ 30 billion.
Sometime between the late 1980s and very early 1990s, both American and Colombian authorities declared Pablo Escobar wanted and he went into hiding for a while. However, in 1991, he decided of his own free will to surrender to the Colombian authorities with a few conditions including a no-extradition deal to America, and the option to be incarcerated in a lavish prison facility he built called La Cathedral.
La Cathedral's amenities include a waterfall, sauna, standard soccer pitch, and a nightclub. His self-built prison also has amenities such as computers and internet service, telephones, and fax machines. He spent his time in prison in such luxury and freedom and reportedly still continued his business therein, culminating in killing two of his cartel members.
1n 1992, after the killings in La Cathedral, the authorities decided to move him to a more restrictive prison facility, and as soon as he got a whiff of this decision, he escaped from prison and was on the run. After running for 2 more years, the Colombian authorities aided by the Americans were able to locate his hideout, and a gun battle ensued during which he met his bloody end.
Manuela Has Suffered The Consequences Of Her Father's Crime Life
Manuela Escobar is currently deaf in one of her ears, and it was as a result of who her father was, and the kind of enemies that he made over so many years during his lifetime. On January 13, 1988, while the Escobar family was living in their Monaco mansion in France, an attempt was made on Pablo Escobar's life, but it was not successful.
On this fateful day, a bomb was planted by rival cartels and Pablo Escobar's enemies in his Monaco home, and when the explosion went off, the blast and sound from it was so deafening and catastrophic that it affected his daughter's hearing and would make her permanently deaf in her left ear even to date.
Manuela was probably just 4 years old at the time of the car bomb explosion in their Monaco home, and the impact from the bomb blast affected her tender and yet-to-be-fully developed ear canal – but only on the left side of her ears. To this day, she is still totally deaf in her left ear and can only hear what is going on around her through her right ear.
Pablo Escobar Proved His Love To His Daughter
There was nothing under the sun – except probably giving his own life, that Pablo Escobar was not ready and willing to give to his daughter. He loved all his family members and friends, but his daughter and princess Manuela had a very special place in his heart, and he spoilt her with all the best things that a child could ask for and more.
During one of Manuela's birthday ceremonies as a child, her father asked her what she wanted for her birthday, and the spoilt little princess asked her father for the gift of a rare and magical creature which was a Unicorn. Despite the fact that her father knew this was an impossible present to give her, he did all he could to grant her desire.
Don Pablo asked his employees to quickly buy him a white horse and then to staple a horn on its head and wings on the poor animal's sides, just to present his daughter with a semblance of her birthday wish, rather than tell her that a Unicorn is a mythical creature. Manuela got her perfect birthday present, but the animal's life ended tragically from infections through its wounds.
Pablo Escobar proved his unmatched love again for his daughter when he reportedly burnt over $ 2 million currency notes – just to keep his daughter warm from the cold. While the Escobar family was hiding in the Colombian mountains from the authorities who were hunting him down to answer for his crimes, his daughter told him she was getting cold and he burnt $ 2 million notes just to keep her warm.
Pablo Escobar's last act of love towards his family, and especially his daughter, was to send them away from him while he was on the run from both the Colombian and American authorities, right into the care of the same authorities that he was running from. He did this knowing full well that his end was near, but did not want his family to get caught in the crossfire and battle with the authorities.
Life For Pablo Escobar's Daughter After Her Father's Arrest and Death
After Pablo Escobar's escape from prison in 1993 and the nationwide manhunt for him which led to his bloody death on December 2, 1994, his wife, Maria Victoria Henao, fled with their children, Juan Pablo and Manuela Escobar, from Colombia – for fear of reprisal attacks by her husband's rival gangs from Colombia.
Manuela's mother sought refuge in countries like Brazil, South Africa, Peru, Ecuador, and Mozambique, but they were not granted refuge by these countries. They later found refuge in Argentina and settled down there in late 1994.  She changed her name to Victoria Henao Vallejos, their son's name to Sabastine Marroquin, and Manuela's name to Juana Manuela Marroquin Santos.
The family had some relief from their travails for a few years without being detected under their new names and identities. Manuela, for the first time, was able to go to regular school as a child and even had friends her age. She was able to live life as a normal kid, but their family's real identity and crime soon caught up with them.
Her brother and mother were arrested by Argentinian authorities for illicit association and money laundering, as well as falsifying public documents and they were sent to jail for a few months, leaving Manuela alone again in the world. A Colombian news website, El Tiempo, broke the news of her family's arrest and rumors began flying around that they were hiding millions of Escobar's wealth.
This sparked new fears of reprisal attacks in Manuela's mind, and she was reportedly fearful of everyone around her. This ultimately led her into depression, which she reportedly still suffers from to date. She is still constantly afraid that her father's enemies and treasure hunters are still after her and her family since their new identities were leaked to the public.
According to her brother's account, Manuela's depression culminated in mental health challenges, and she is said to be hiding from the rest of the world to date. She has not granted any interviews to the press since her father's death as her brother and mother have done, and she is said to be the most popular recluse in the history of mankind.
Not Much Is Known About Manuella Escobar's Personal Life
The truth is that Pablo Escobar's daughter does not seem to really have a personal life like every normal person out there. Due to the nature of who her father was and the reputation he had while he was still alive, she has never been able to shake Escobar's legacy off her and she lives in fear of being attacked by her father's enemies all the days of her life.
Apart from the fact that she was able to live life a little bit after the death of her father in 1994 when her family fled to Argentina and assumed new identities, she has never been able to live her life independent of her father's legacy and notoriety. She presently lives in Argentina and does not seem to have a social life at all.
She does not have a family of her own despite the fact that she is currently approaching her fortieth birthday. It is not known if she is married and has children of her own. She has never really been seen in public like her mother and brother since her father died, and she is currently hiding from the world in her older brother's home.
Manuela Escobar's Net Worth
There are several reports out there that Manuela Escobar is reportedly worth about $2 million currently – all made through her own sweat and from honest earnings. She is believed to be a business owner and hotelier in Argentina currently. She is the only member of Pablo Escobar's family who has never been arrested by the authorities for being part of a criminal enterprise.
However, there are those who believe that Manuela Escobar is definitely worth more than the $ 2 million credited as her net worth. The fact is that while her father was still alive, he notoriously hid his money from the authorities in various places – safe houses, open fields, secret vaults, etc., and there was no way his wife, Maria Victoria Henao, would not have knowledge and access to some of his hidden wealth.
Where Is Manuela Escobar Today?
Pablo Escobar's daughter, Manuela Escobar, also known as Juana Manuela Marroquin Santos, is currently living with her older brother, Juan Pablo (also known as Sabastine Marroquin), in Buenos Aires, Argentina. She chooses to hide from the rest of the world and her father's enemies by living with her brother and his family. She hardly goes out by herself, and if she does, she is constantly watches her back.