Robin Baumgarten's fiance is a man she calls "Mr X." The 59 year-old American news anchor working with WGN Chicago has moved on from her marriage with her first husband, Matt Piancente – who is the father of her two beautiful daughters. She waited for more than a decade and a half to find true love after her divorce.
Baumgarten has decided not to reveal the true identity of her mysterious lover Mr. X, but she revealed that they have been together for about 2 years now. She announced her engagement to Mr. X via an Instagram post in which she was holding his face, which was blocked by a smiling emoji, on June 25, 2022. She caption it, Mr. X is now Mr. Fiance and stated that she cannot wait for us all to meet him.
Who is Robin Baumgarten Engaged To?
The true identity of the individual who is Robin Baumgarten's fiancee is really not known. Ever since the news of her relationship with her then-boyfriend broke out, she has always referred to him as "Mr. X". Online sleuths have tried all they can to unravel the identity of Mr. X (her mysterious lover), but to date, no one has been able to unravel the identity of the mysterious man.
It is clear that Robin Baumgarten is not yet ready to reveal the real identity of her lover, perhaps to protect her lover or their relationship from the intense scrutiny and attention that revealing his identity brings, or maybe she even enjoys the aura of mystery created around him. Even when one of her WGN colleagues, Sports Anchor Pat Tomasulo, interviewed Mr. X, his face was not revealed, and his voice was digitally changed through the 5 minutes or thereabout interview.
Robin Baumgarten did reveal, when asked by her fellow WGN anchors, what made her believe that Mr. X was the one after she announced their engagement that apart from him really being a great guy, he has some other attributes that endeared him to her heart. Mr. X walked her to her car, which was parked some distance away on their first date. He also volunteered to drive her to get her Covid-19 vaccinations.
He always walks on the street side of the walkway when they are walking to protect her from dangerous drivers, and he always buys her bubble gums and blow pops – which she absolutely loves. And finally, he pops up when she is tending to her garden and helps her uproot those thorny weeds. It is clear to all that she is evidently very happy in her relationship, and one can only wish them happiness always.
Who was Robin Baumgarten's First Husband?
Robin Baumgarten's first husband was a dashing bloke known as Matt Piacente. They both worked for NBC Chicago and may possibly have met on the job as they were both in the news section of the broadcasting organization. They began dating sometime in the late 1990s and got married in the very early 2000s.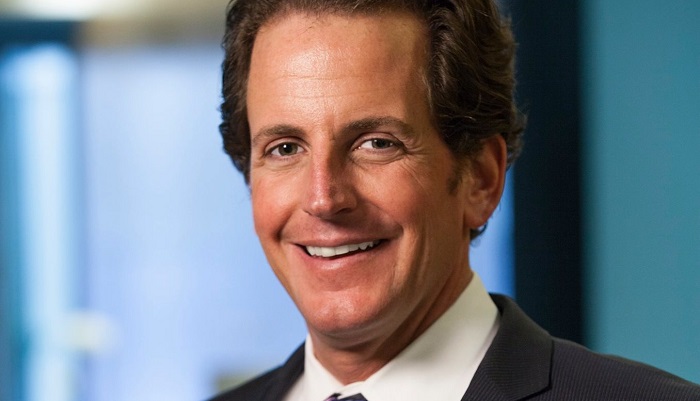 Robin has always been tight-lipped about her personal affairs and relationships, which she guards jealously from the media even to this day. While they were both married, the marriage produced two beautiful daughters – Ana, who was born on July 5, 2002, and Mary, who was born on July 22, 2004. They got divorced from each other sometime after the birth of their second child, and the reason why has not been revealed to date.
Robin Baumgarten's ex-husband, Matt Piacente, is currently Vice President of Fox 32 in Chicago. He started off his career as an Executive Producer at NBC 5 Chicago for 12 years – where they met each other. He was then promoted to Manager, News and Content Development in the same organization, he was in this capacity for 4 years. He was again promoted to Vice President of News of NBC Connecticut, where he spent another 2 years. They both co-parent their two daughters amicably.
When is Robin Baumgarten's Wedding Date?
Robin Baumgarten and her mysterious lover are yet to announce their wedding date, but a lot of her WGN colleagues, fans, and well-wishers are hoping that her wedding day will come soon. They are loving the fact that Robin's current relationship and engagement are bringing out the very best in her.