Nigeria is home to several billionaires and while only 4 people in the country were included in the recent Forbes list of the world's richest people, the wealth of other affluent Nigerians cannot be denied. The proof of this is usually seen in the fleet of expensive cars, frequent trips out of the country, and the myriad of very luxurious homes scattered all over the country. It would hereby be correct to say the most expensive houses in Nigeria belongs to the country's wealthiest men and women whose sources of income cut across different sectors of the Nigerian economy. These elites in many cases do not just own 1 property but acquire or build several mansions both in Nigeria and abroad.
Check Out The 10 Most Expensive Homes In Nigeria
Aside from fancy wheels, one other thing the affluent class in Nigeria loves to lavish their wealth on is the homes they live in. Below is a comprehensive list of the most luxurious houses in Nigeria and their owners:
1. Folorunsho Alakija's House
Location: Ikoyi, Lagos
Size: Not revealed
Number of Rooms: Approximately 400 rooms
Cost of acquisition: N267 billion ($700 million)
At the top of the list is the house owned by the richest woman in not just Nigeria, but Africa as well. Interestingly, her house is believed to be the most expensive residential home that can be found in Africa. Therefore, referring to it as just as a house downplays the architectural significance of this property, as well as the money and resources that went into its existence.
This ₦267 billion ($700 million) house is located in Ikoyi, Lagos, and is rumored to have about 400 rooms. This magnificent house was built back in 1998 by Julius Berger and for extra security, it is bulletproof and in place of windows, what this house has is light wells. The house which is the most expensive residential home in Africa is owned by a woman who is one of the most successful entrepreneurs in the continent with her net worth set at $1 billion (₦381 billion).
Folorunsho Alakija's success is attributed to her business in the oil sector as she is the Vice Chairman of Famfa Oil. Her oil firm is notable for having a stake in one of the popular offshore oil assets, Agbami Oilfield. She has also done well in the fashion and printing business as she serves as the Managing Director of Rose of Sharon Group, which is her fashion and designing company.
Unique Features
More than 400 rooms
The building is bulletproof
Light wells instead of windows
2. Mike Adenuga's Estate
Location: Banana Island, Ikoyi, Lagos
Size: Occupies 3 hectares
Number of Rooms: Not revealed
Cost Of Acquisition: N8 billion ($19 million)
Banana Island in Ikoyi is home to some of the most expensive homes in Nigeria and West Africa. This is where the home of the 3rd richest person in Africa, Mike Adenuga, is located. His estate is believed to have cost him more than N8 billion to erect. This multi-billion naira estate is actually made up of 8 duplexes which the billionaire uses to accommodate family and guests except for one which is used as his personal residence.
These properties on the estate cover a massive 3 hectares of land which makes Mike Adenuga's place not just one of the luxurious homes but also one of the massive homes in terms of landmass. The business magnate is able to maintain such a lavish lifestyle because of his staggering net worth of $6.1 billion (according to Forbes's analysis in February 2021). His business interests include Globacom, Conoil, as well as some stakes in Equatorial Trust Bank before it merged with Sterling Bank back in 2011.
Unique Features
2 watchtowers for security surveillance
A mosque
A church
200 capacity multipurpose hall
Indoor swimming pool
Berth for yachts
Heliport etc
3. Aliko Dangote's House
Location: Abuja
Size: Not revealed
Number of Rooms: Not revealed
Cost Of Acquisition: N11 billion ($30 million)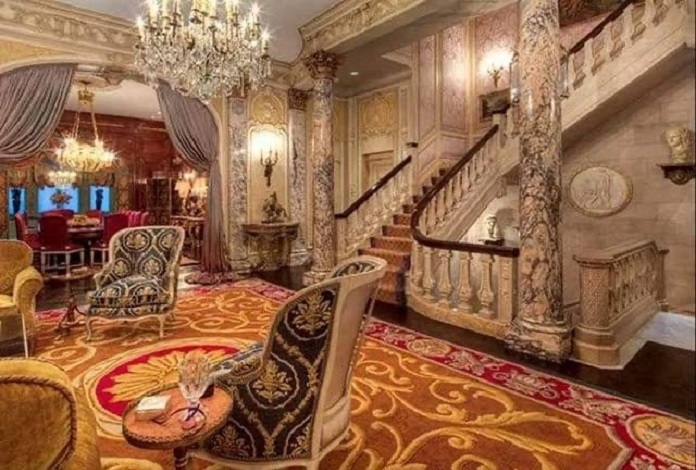 The third house on the list and the first house that is not located in Lagos State belongs to none other than the entrepreneurial Aliko Dangote whose net worth of $11.2 billion has afforded him the means of owning one of the most expensive and luxurious homes in Nigeria. It is obvious that the Dangote Group which he is the founder and CEO of accounts for his massive net worth.
As of now, Africa's richest man has to his name a property that is worth a staggering $30 million (approximately ₦11 billion). This luxurious mansion is located in Abuja. More so, it is not unusual for the wealthy in the country to keep certain aspects of their lives and houses very private and the same goes for Dangote's house. However, based on an exclusive interview with the billionaire, his luxurious home comes with standard features that allow Dangote to host some of the top dignitaries in the world in his home like Bill Gates. He also had the honor to host former Nigerian President Goodluck Jonathan.
Unique Features
Spacious living rooms
King-sized bedrooms
A Gigantic kitchen
An office
4. The House of P-Square
Location: Banana Island, Ikoyi, Lagos
Size: Not revealed
Number of Rooms: More than 10 rooms
Cost Of Acquisition: N1.5 billion ($3.6 million)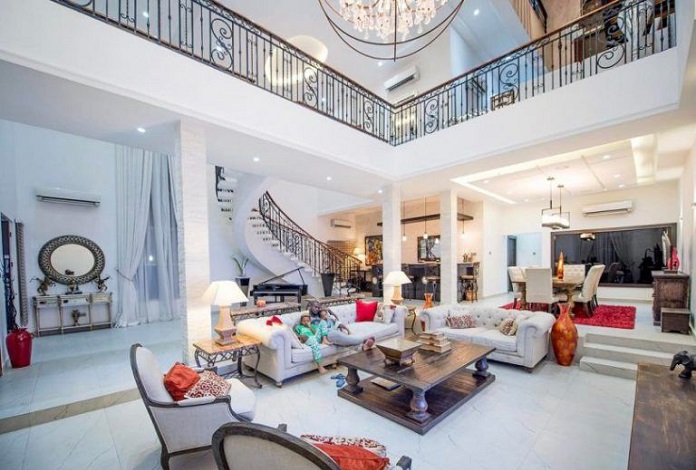 The house owned by twin brothers and musicians, Peter and Paul Okoye is the fourth house on this list. Their combined net worth of N3.6 billion ($8.7 million) makes them one of the richest musicians in the country. The house which they got for ₦1.5 billion is located in the prestigious Banana Island and it houses members of their families, including their brother Jude Okoye.
The P.Square mansion comes with 3 floors that have 6 en-suite bedrooms. It also has 2 living rooms and other luxuries you can imagine. Aside from this masterpiece, the musicians are also known to own exquisite homes in California and Atlanta.
Unique Features
3 floors
6 ensuite bedrooms
2 big living rooms
A Gym
A cinema room
Fully-furnished kitchen
walk-in closets/dressing rooms
A swimming pool
A laundry room
Well-equipped studio
5. Senator Dino Melaye's Home
Location: Abuja
Size: Not revealed
Number of Rooms: Not revealed
Cost Of Acquisition: More than N1.5 billion ($4.8 million)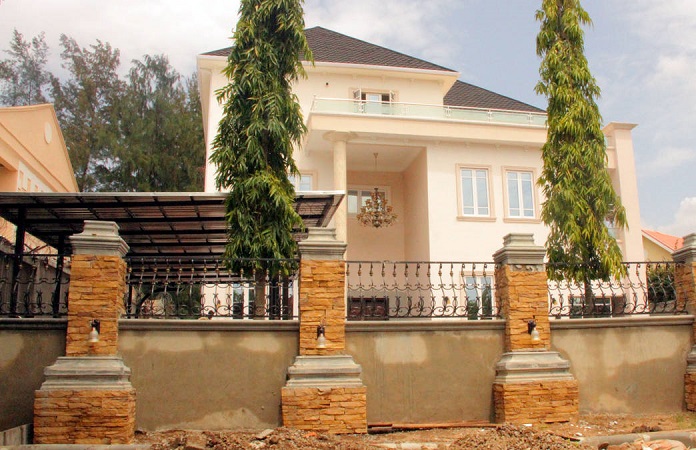 Senator Dino Malaye is known for a number of things including owning some of the most expensive cars in Nigeria. He is widely recognized for his refined taste for luxury which goes beyond just the cars he owns. His multi-billion naira home in Abuja is yet another one of the many expensive properties in Nigeria. This property was acquired by the senator not long after he became a lawmaker, sometime in 2012.
Although he is yet to share all the features of his home, he gave us a sneak peek into his mansion's living room sometime in 2020 and it was a very luxurious space. The rest of the controversial politician's home would definitely be as elegant as the sitting room. More so, just as his political career is controversial, his net worth has also been very controversial as different figures have been given as his net worth and Dino is yet to confirm any of them. However, he is believed to worth millions of naira, given the kind of assets and cars he owns.
Unique Features
6. The Home of Bola Ahmed Tinubu
Location: 26 Bourdillon, Ikoyi, Lagos
Size: Not revealed
Number of Rooms: Not revealed
Cost Of Acquisition: N1 billion ($2.4 million)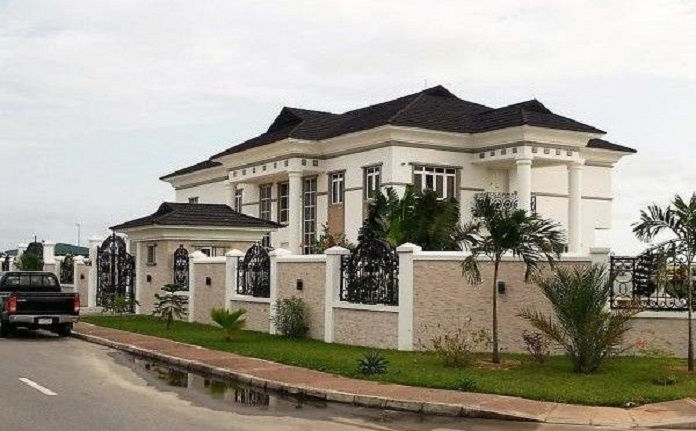 Bola Ahmed Tinubu is a top Nigerian politician who is notable as a former governor of Lagos State. He is also the leader of the country's current ruling party, All Progressive Congress and over the years, he has garnered a lot of wealth but the actual figure of his net worth is yet to be determined. As of now, Tinubu ranks as one of the richest politicians in the country and owns a number of expensive houses and landed properties in Lagos.
His house on 26 Bourdillon Road, Ikoyi cost up to N1 billion and is not the only house to his name but that is where he lives now. However, he has been quite frugal when it comes to sharing details of his mansion but from the appearance of the building, it is believed to be fully furnished with the best equipment money can buy.
Unique Features
Non-available
7. Senator Lee Maeba's House
Location: Banana Island, Ikoyi, Lagos
Size: Not revealed
Number of Rooms: Not revealed
Cost Of Acquisition: N1 billion ($2.4 million)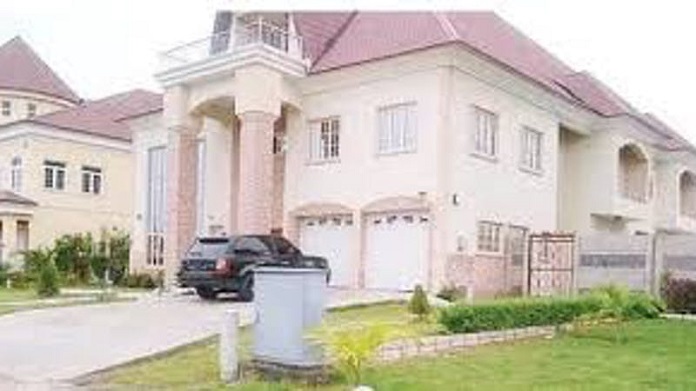 At 42, Senator Lee Maeba is arguably the youngest Senator in Nigeria but this feat is not the most significant thing about the politician as he has gone on to own a place among the most affluent personalities in the country. As of now, his net worth is not yet specified but it is definitely a huge chunk of money.
Sources have it that his mansion in Port-Harcourt is valued at the same price as Bola Ahmed Tinubu's mansion valued at N1 billion. It is believed that constructing the foundation of this mansion cost over N100 million. More so, this luxurious fortress comes with everything that is associated with a luxurious lifestyle.
Unique Features
More than 50 bulletproof doors
Very large living rooms
A swimming pool
8. Linda Ikeji
Location: Banana Island, Ikoyi, Lagos
Size: Estimated to be 700 meters
Number of Rooms: More than 10 rooms
Cost Of Acquisition: N500 million ($1.2 million)
The net worth of Linda Ikeji is set at $75 million and for a woman who has spent a long time building her career as a blogger, this is a great feat she has achieved. Her house at number 8 on this list is equally as luxurious as the other houses that have been mentioned earlier.
She acquired her home in Banana Island in October of 2015, and it is a two-storey mansion which she bought for ₦500 million. The news of this masterpiece the blogger acquired was first shared by her sister before Linda took to her blog to attest to the fact that she actually owns a mansion in Banana Island.
Being a media personality, Linda did not leave any detail out when she shared pics of her home on her blog. From what was shared, it was gathered that her luxurious mansion is a 6-bedroom apartment, with outstanding features that guarantee maximum comfort.
Unique Features
6 bedrooms
A swimming pool
A media room
A gym
2 living rooms
A cabana
9. E-Money's Mansion
Location: Lagos Island
Size: Not revealed
Number of Rooms: more than 6 rooms
Cost Of Acquisition: N250 million (approximately $606,000)
Emeka Okonkwo who is popularly known as E-money is a businessman and record label owner. He is one of the youngest millionaires in the country and one of the few people who have struck gold in the music business. More so, he is quite popular in Nigeria's social media space for the tremendous wealth he has which he does not hesitate to flaunt.
More so, it's his love for luxurious and exotic properties that explain why he owns a ₦250 million mansion on Lagos Island. This mansion is tastefully designed with gold and white but there are no in-depth details with regards to the full details of the house. On his own part, he is estimated to have a whopping net worth of $65 million to his name.
Unique Features
Designed with gold and white
10. Orji Uzor Kalu's Home
Location: Lagos Island, Lagos
Size: Not revealed
Number of Rooms: More than 400 rooms
Cost Of Acquisition: N1.5 billion ($4.8 million)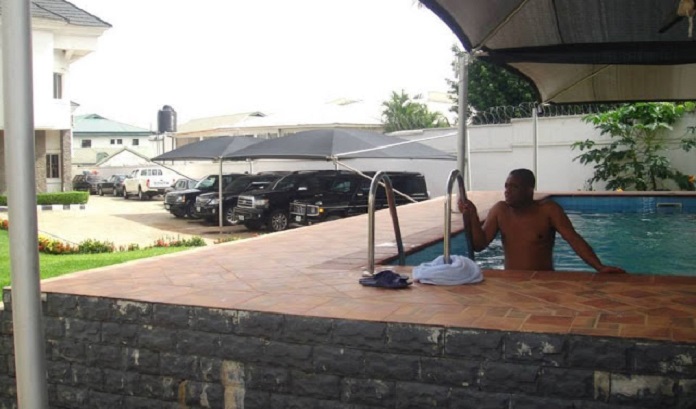 For the last house on this list, we head on down to the eastern part of the country where the home called Camp Neya exists. It is owned by former Abia State governor Dr. Orji Uzor Kalu and was built in 1998. The house was actually erected before Orji Uzor Kalu became governor of Abia and that was when he was in his 30s. As of then, he was a businessman who owned Slok Holding, a conglomerate that is the parent company of his many other businesses. His endeavors so far as a politician and businessman account for his $1.1 million net worth.
It would interest you to know that the former Abia State governor's popular Camp Neya home (which he named after his first child and daughter, Neya) comes with breathtaking features.
Unique Features
More than 36 jumbo-sized sitting rooms
A presidential lodge that is made up of 12 rooms
Governor's lodge for all the 36 states and FCT
A conference hall that can comfortably accommodate 5000 persons
A banquet hall
A Karaoke hall
More than 20 kitchens
More than 100 toilets
More than 100 bedrooms
A golf course
A football pitch
2 gigantic swimming pools, one indoor and the other outdoor
A basketball court
Lawn tennis court
Sports center
A church
A mosque
A bush bar
A filling station and several other structures