Ronnie Nyakale is a multi award-winning South African actor, MC, events host and businessman who rose to prominence after playing the role of gangster Papa Action in Yizo Yizo. The role has remained his best-known role to date. Since he came into his own in the SA movie scene, Ronnie has recorded notable roles in productions like Blood Diamond, Machine Gun Preacher, Generations; The Legacy Dora's Peace, and many more.
The Soweto native has written his name in gold in the SA movie scene with his stereotype gangster character roles. Hence, it is no surprise that he has received some interesting awards for his hard work, perseverance and the many years he has put into building his career. Here are ten facts that willtell you all you need to know about the actor.
1. Ronnie Nyakale's Was Born and Brought Up In Soweto, Gauteng
The records capture Ronnie Nyakale's place of birth as Soweto, Gauteng, however, the Yizo Yizo actor has never revealed his date of birth. However, as of 2021, sources speculated that the father of two is slowly inching towards the fifth floor. In the same vein, the identities of his parents have never been revealed, thus it is hard to know the kind of family background he grew up in. Besides, Ronnie is rather taciturn when it comes to family matters and has never mentioned having any siblings in the public space.
One thing that is known about the 178 cm tall actor is the fact that he is multi-lingual with competency in four languages; English, Tswana, Sotho (Northern), and Zulu. The last three are languages spoken by different tribes in South Africa.
2. Nyakale Had to Battle With Substance Abuse In High School
His academic records are equally not in the public arena but he is believed to have attained a good level of education. There was a time when the SA actor shed a little light on his formative years. According to Ronnie, he used to be a brilliant student, topping the class in his grade nine, however, the emerging star took to substance abuse during grade 10 which resulted in failures. The SA native was a boarding student then and in June that year, he had to resort to tearing up his report card to avert the shame of facing his parents and listening to their comments which he knew would be far from palatable.
Ronnie has since cleaned up and has been really active in assisting the present-day South African youths to leave a drug-free life. His mantra has always been for them to "stay away from hard substances as it will turn them into nothing". There was a special case of a KwaSwayimane youth in KZN whom Ronnie gave the needed opportunity to speak out about his struggle with hard substances. For his effort, the Generation actor was applauded for getting personal as well as motivating the youth with his personal tales and life challenges.
3. Ronnie Nyakale's Acting Career Commenced in 1999
According to his IMD page, Ronnie Nyakale's career in the entertainment industry started in 1999 on the set of the production entitled Portrait of a Young Man Drowning. Before the year came to an end, the Soweto-born actor scored his best-known role in the debut season of Yizo Yizo – an SABC1 drama series where he played gangster Papa Action. The role ushered the youngster into stardom, opening inroads into several other projects.
The star recorded two movie credits in 2001 in Dr. Lucille: The Lucille Teasdale Story and Transit Cafe TV movie where he acted the role of Vuyo. After he was featured in the miniseries, Desert and Wilderness in 2002, Ronnie waited for four years before landing a role in Blood Diamond as Digger 1 in 2006. He also played Sylvester in the TV series, A Place Called Home the same year.
2008 ushered in two roles in Gangster's Paradise: Jerusalema as Zakes Mbolelo and Silent Witness TV series as Mizinga. 2010 was when he depicted the character of Feather duster salesman in Jozi and Strike in State of Violence. In 2011, he played AJ in Machine Gun Preacher and Moli in Lucky. Ronnie had a small role in 2013's Durban Poison and surfaced as Captain Stone in Avenged before the end of the year.
His other projects include Kingmakers, The Call, Generations; The Legacy, iNumber Number, Naledi, eKasi: Our Stories In End Game, and Fallen. Others are Rhythm City, Silent Witness, Zaziwa, Zero Tolerance, and Transit Cave
4. Nyakale Seems To Be the Best Plug For Hooligan Roles In The South African Movie Scene
In the South African movie scene, no one fills the role of a hooligan better than the Soweto native. Viewers in SA and beyond have watched the talented actor display exceptional prowess on the screen, making an otherwise simple action look so incredible. The movie star scored his first hooligan role in 1999 during the debut season of Yizo Yizo as Papa Action and since then, he has not looked back as playing the gangster seemed to be his forte. What's more, the role earned him a prestigious award and introduced him to a wider audience.
Ronnie Nyakale's next gangster role came on the set of Rhythm City – the e.tv soapie where he breathed life into the character of the hooligan named Dingo Dingo. Ronnie also played a rugged role in Generations: The Legacy where his portrayal of the thug Thembinkosi Diale "Cosmo" kept viewers glued to the screen. Though he seemed to be a hard guy on set, Cosmo exhibited a soft spot on a few people in Generations.
5. Nyakale's Real Persona Is Comparable To His Cosmo Role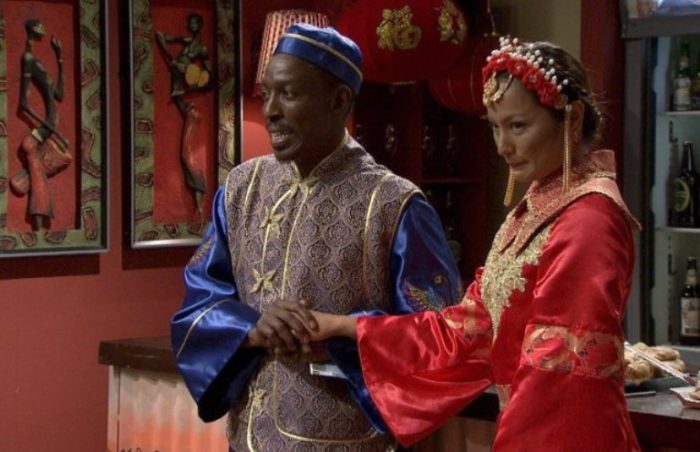 Comparing Ronnie's real-life persona to his Cosmo character in Generations: The Legacy, Gaaratwe Mokhethi (Generations PR chief) says the two are not far removed from each other. Going further, the PR chief observed that Ronnie constantly borrows from himself whenever he is depicting Cosmo. In Cosmo, there is a touch of Ronnie with the goal that makes both comparative, however, he sees the movie star as a fair and unassuming person but both Ronnie and Cosmo are very defensive of their families.
Ronnie was also the bad boy in Conversation With My Brother where he ended up behind bars after getting a girl pregnant during his high school years. This may not be the end of his hooligan roles as we may yet see the movie star in tougher roles as time goes by.
6. His Movie Gangster's Paradise: Jerusalema Was a Box Office Flop
Originally titled Jerusalema, Ronnie Nyakale's movie, Gangster's Paradise: Jerusalema turned out to be a flop at the box office in 2008. Against its production budget of $2 million which was rather too small, it grossed a paltry $400,000. Directed and written by Ralph Ziman, the film was presented at the Academy Awards with the hope that it will qualify as one of the nominees for the year's Best Foreign Language Films but it obviously didn't make it. The makings of the South African crime movie was rather too difficult as it was a big struggle for the moviemakers to find a budget; reasons for this was that South Africa's National Film and Video Foundation objected to investing in the project, leaving Ziman and his crew to explore alternative means of financing.
According to the movie director, the only budget they could lay hands on was smaller than what he uses in directing music videos. They had to resort to filming with old technology cameras and made use of skateboards as dollies while on the set. At a point, he had to cut down on the number of crew members but it didn't affect the finished project.
Initially, the filmmakers sought to go through Ster-Kinekor – the South African cinema chain in distributing the movie in theaters. However, the chain refused to back them after they insisted on holding onto rights for the release on television and DVD. This led Ziman and his crew to seek backing from the Gauteng Film Commission and Metro FM, two of which assisted in publicity as well as a premiere in Berlin. In fact, the movie experienced a lot of setbacks that contributed to its failure at the box office.
7. Ronnie Nyakale Is An Award-Winning Actor
After Ronnie Nyakale surfaced on the movie scene in 1999, it did not take long before it became glaring that he is going to be exceptional. Before long, the Soweto-born star proved his mettle to the world on the set of the first season of Yizo Yizo, breathing life into the character of gangster Papa Action. This role did not just usher the youngster to stardom, it became an award-winning role, bagging the Best Supporting Actor – Drama Series in the NTVA Avanti Awards in 1999. This has remained his best-known role to date.
When the South African Film and Television Awards was naming their nominees in the 2010 SAFTA Golden Horn, Nyakale's name earned a mention in the category of Best Actor – TV Drama for his excellent portrayal of Sylvester in the most-watched television series entitled, A Place Called Home.
After playing the role of Khaya Ncube in the TV drama called Fallen in 2012, the actor was nominated for the SAFTA Golden Horn in the category of Best Supporting Actor. Ronnie did not just end up as a nominee this time around, the South African star emerged as the winner.
8. Ronnie Nyakale Has Tidied Up A Fortune As His Net Worth
Taking the long list of his movies and television shows into consideration, one would just have to agree that the South African movie star has become quite prolific over the years. Besides, it goes without saying that these numerous roles translate to money which boosts his bottom line. Thus, it came as no surprise when the latest review of his net worth pegged it at a tidy $700,000.
Though a huge portion of Ronnie's fortune is believed to accrue from his acting roles, the SA native also engages in other endeavors from time to time. According to reports, Ronnie Nyakale doubles as an MC and has taken charge of several events and occasions. The rugged-looking actor can also hold his own in the wheeling-dealing world of business as an entrepreneur.
9. The Actor is Married With Two Daughters
It has become a culture among celebrities to always update fans with the details of their personal lives, however, the reverse seems to be the case with Generation actor, Ronnie Nyakale, who prefers to keep everything about his life under lock and key. This has not stopped him from making it known that he is off the marriage market though, and reports later revealed the identity of his wife as Lebogang Mashilo.
Lebogang Mashilo is just like her spouse as she has refused to divulge bits about their lives together as man and wife. Consequently, nothing is known about their dating life, their wedding, and married life. The only information about Lebogang that is in the public arena is the fact that she is equally a South African native like her spouse but her family background and profession are not known. From what is perceivable, Ronnie's wife seems to be taking this secrecy business more seriously than her husband as the SA lady seems to have no known presence on social media. Since the duo has been living peacefully without any major scandals, fans naturally assume that they have a successful marriage. Besides, they have two beautiful daughters to show for their years together.
Even with all the secrecy, we must acknowledge the fact that Ronnie Nyakale's wife was once mixed up with Lebogang Mashile, a popular US-born actress of South African origin who is acclaimed as a writer and poet. This mix-up obviously happened because of the similarities in their names – Lebogang Mashilo and Lebogang Mashile. However, while Ronnie's wife's name ends with an "o", the actress' own ends with an "e" and there lies the difference.
10. Ronnie Has A Twitter Page
Distinct from the present-day celebrities that have flooded all social media platforms in their numbers, Ronnie Nyakale has proved to be different from his contemporaries. To date, he has not registered his presence on the picture-sharing platform Instagram where celebs of his ilk update fans with the happenings in their lives.
However, this does not mean that the Generation actor has nothing to share. To get info about the movie star's career life, you will have to visit his Twitter handle @mdunyaro, but sadly, the Yizo Yizo star has consciously omitted sharing bits and pieces about his personal life to date.