Think you've heard it all before? Not yet! Most times, people think touring Kenya means going to safaris and some cool beaches, but there is so much more you can do in Kenya beyond Safaris and beaches. Yes, numerous things that you probably didn't know you can do while touring Kenya. So when next you take a trip to Kenya, make sure you get some of these 10 wild and exhilarating experiences that are sure ways to blow off some steam.
1. You Can Dine in a Cave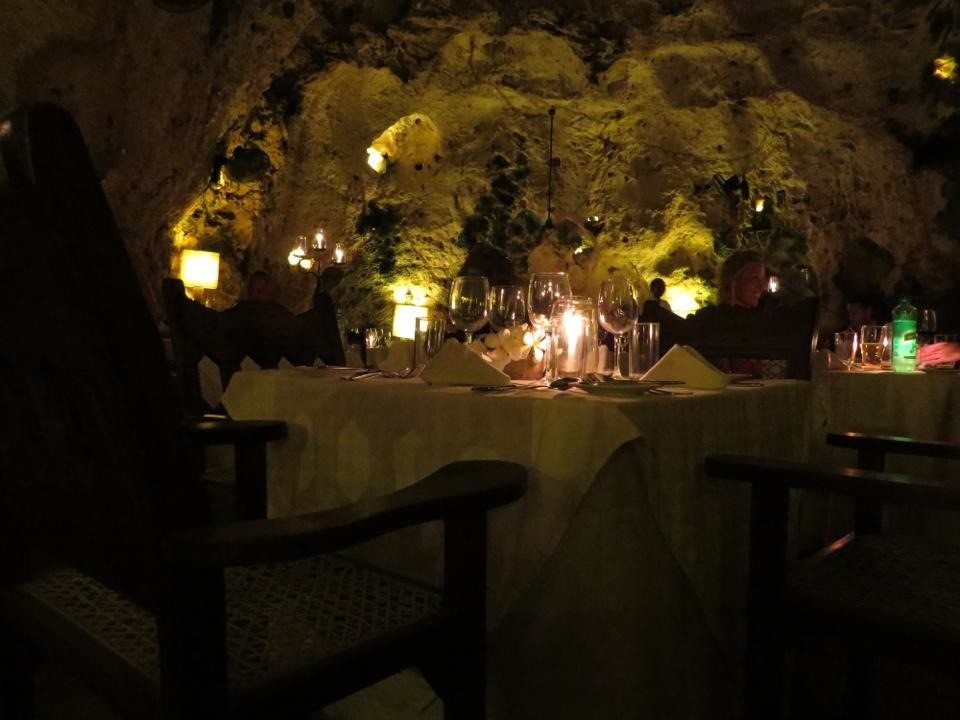 You could visit Ali Barbour's Cave Restaurant in Diani, a candlelit cave located in a place thought to be between 120,000 and 180,000 years old. This underground cave that has a winding staircase leading to it will offer you the most amazing dining experience. The restaurant serves international cuisine, but specializes in seafood. While dining at a table 10 meters below the ground in this open-air coral cave, you can view the stars; a sight that will leave you wanting for more. In bad weather, sliding covers are placed over the holes in the roof to ensure a romantic evening. Speaking of cost, the main courses start from around KES 900 ($10) for vegetarian cannelloni. The catch of the day will set you back KES 1,650 ($17) and lobster comes in at KES 3,950 ($39). Reservations are required as well as a smart-casual dress code.
See This: Every True Nairobian Must Have Experienced These 5 Things
2. You Might Also Go on the Rhino Charge
Rhino charge is an off-road motor sport competition that holds in Kenya around May or June every year. The motor sport often requires entrants to visit a number of check points while slowly navigating a rough and trackless terrain. This would allow you travel through one hundred square kilometers of rough terrain which will take up to 10 hours, 13 check points, one map, one 4×4 vehicle and no set route to make it. The person who reaches the most checkpoints in the shortest time becomes the winner. The particular spot to be used is always kept secret until a few days before the competition to discourage competitors from going on sneaky survey missions. The event is organised in order to raise funds for the conservation of Kenya's Aberdare Ecosystem.
Only 60 vehicles can take part in this competition in order to reduce environmental damage and it only allows crews that are between two and six people. The more cash you can put up, the more likely you are to get a place.
3. You Can Share Your Breakfast with Giraffes
Ever imagined having tea, toast and a dash of giraffe slobber for breakfast? Giraffe Manor, a 1930s boutique hotel which is about 20 kilometers from Nairobi, set in 12 acres of private land, with a view of the Ngong hills will make it come through. The place gives its visitors a chance of having a remarkable breakfast with Giraffes by opening the windows so the folks can pop right in. These Giraffes know too well how to whiffle gently at the homemade jam and exercise some quality-control over the toast, with their long necks popping into the sun room.
Other species such as warthogs, dik diks, birds, bush buck and other city attractions with enriching sights equally help to kill every dull moment. One thing to keep in mind while in this place that offers unparalleled fine experience is to make sure your curtains are well closed at night because you never know who might be peeping through.
Rates for 2015 start at $525 per night for an adult and $350 for children. The price covers airport transfers, transportation around the area, meals and drinks (including wine, beer and spirits).
4. You Can Participate in a Rally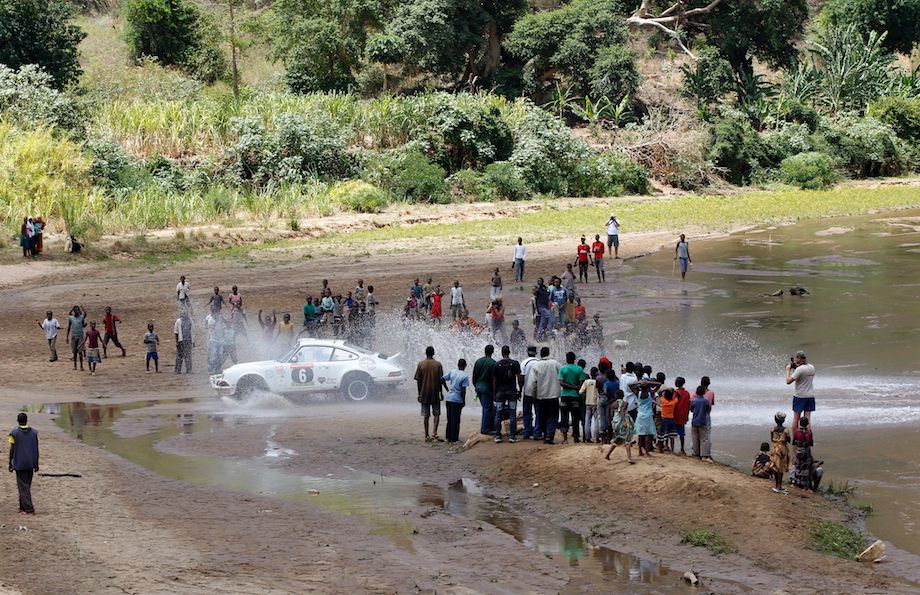 If you enjoyed Fast and Furious, then you can take part in the East African Safari Classic Rally. This rally requires drivers to cover a 4,100-kilometer route which starts and finishes in Mombasa while dodging wildlife and trying not to bust their suspension on boulders which leave competitors feeding from the dust thrown up on the roads. It is fun and allows some of the world's best "classical" cars and drivers to compete on difficult Kenyan terrain. The event was cooked up in 2003 and works to awaken the glory days of the East African Safari Rally that started as an endurance race in 1953. Entrants are required to have an international competition and driving license to participate. Cars have to be passenger vehicles and built before December 31, 1978.
5. You can Get Married or Remarried in Maasai Style
You can decide to renew your marriage vows or marry your special other for the first time in a Maasai style ceremony just as this couple did. The couple you see in the picture above are known as Roger and Laurie Moore. They have been married for about 46 years but they both decided to remarry in Maasai style which came out remarkably stunning. The ceremony began with the village chief of Embiti "adopting" Roger while a family in a close-by village took Laurie under their wing. They dressed Laurie in traditional garb, warriors painted her face and grass was put in her shoe (which symbolizes food for their cattle). After dressing the bride, she was was set to be presented to her groom, who was equally made up.
The bride was escorted by the happy people who dressed her up in a celebratory walk from the her village to that of the groom amidst singing and dancing. The elders gave them blessings, gifts were exchanged and a dowry negotiated. It appears Laurie was a bargain. In her words: "I was worth one cow and one goat, a very affordable bride!" Already thinking of having a wedding that authentic and true to tradition of Maasai? Okay, but keep in mind that it will take around $20,000 to tie knot with your special someone in Maasai wedding which would cover food, a week-long safari, accommodation and transport costs.
6. Tackle a Snake Safari
Kenya is home to more than 100 snake species, and snake safari outfit, Bio-ken organizes tours to find them in forests, riverbeds, rocky cliffs and mangroves. This trip of spotting snakes is often lead by Kenya's top reptile experts. The aim of this trip is to increase awareness and education about snakes and their role in the eco-system. The most famous package you could try is a three-night snake safari along the banks of the Galana River or an alternative which is the Big Five safari — a search for pythons, boomslangs, puff adders, cobras and mambas.
The three-night snake safari costs $1,200 per person, per night. Prices of the longer Big Five safaris are tailored according to customer preference. The average price per person, per day is around $1,000, and includes full board and domestic transfers and flights.
7. You can Visit Museums to See Archaeological and Ethnographic Exhibits
You can browse the ethnographic and archaeological exhibits of the National Museum which lies within walking distance of the city centre. You can alternatively, head out to the suburban Karen Blixen Museum which occupies the farmhouse made famous by the nominal author's book, "Out of Africa". The museums in Kenya as a matter of fact, are known to be brimming with natural history and cultural exhibits that grant an amazing experience to its visitors.
8. You Can Foster an Elephant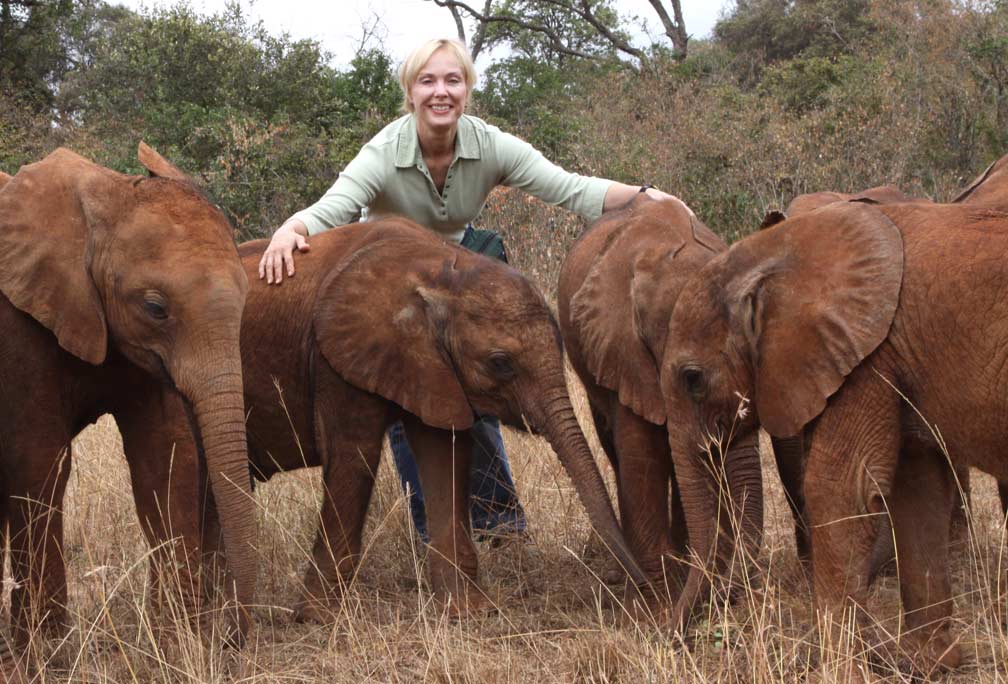 The David Sheldrick Wildlife Trust in Nairobi saves the lives of elephants and rhinos whose parents are dead and then rehabilitates with the intention of returning them to the wild. So you could call it an elephant orphanage. According to reports, thousands of elephants are killed annually for their ivory which is highly demanded by Asia, particularly China and Thailand. Conservationists say more elephants are being poached now than they have been for the last ten years.
The David Sheldrick Wildlife Trust allows visitors to have direct contact with the young survivors of the illegal ivory trade at the trust's Nairobi nursery. The babies play around in their daily mud bath between 11 a.m. and noon. It will cost an entrance fee of about KES 500 (US$5.80) to have access into this place. You can as well foster an elephant or rhino with some cash starting from US$50 a year if you fall in love with one.
9. You Can Get Engaged at Africa's Hogwarts
Based on the description given by Travel Africa magazine, the quirky design of Ol Malo, made of stone, complete with thatched roofs and the occasional spiral staircase, "is a kind of African Hogwarts".
You can decide to take a trip to Kenya to propose to your partner at Ol Malo game sanctuary located at the edge of the Laikipia plateau and famous for being a perfect place in Kenya to pop the question. Gurantee yourself a yes when you cough out the words 'will you marry me' in this location.
10. You Can Go Fishing in the Deep Sea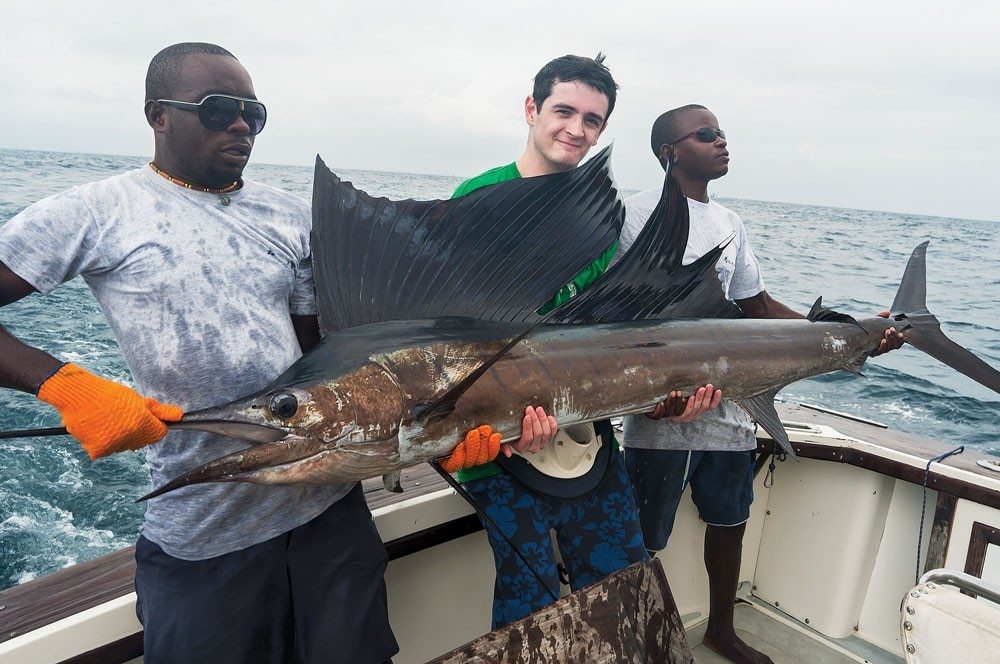 Reel in a deep-sea fish in Watamu or Malindi which are main coastal angling centres for fishing in Kenya. Deep-sea fishing is often at its best along the Kenyan coast between July and April. Yo you could take a trip to Kenya around this period in order to try your hand at it. Of course, sailfish, marlin, swordfish, kingfish, barracuda and tuna are all abundant.
11. Go on a Cheese Tour
You can take a 30 minutes trip out of Nairobi where the award winning Brown's Cheese factory is located. Its product has been bestowed with many awards, including the South African Dairy Championship and awards from the East Africa Cheese Festival. Brown's belief is to operate the farm "on an unparalleled bio-dynamic and organic principles". Going on a Cheese tour at Brown's factory, you will be shown how the cheese is made. After that, guests can settle down to a cheese platter, followed by a three-course lunch complete with homemade chutneys, bread and homegrown salad. Brown's in addition, provides cheese-making classes and, for children, milking sessions with the factory's Friesian cows.
It takes around  KES 3,600 ($36) per person to spend an afternoon at the farm and it covers for up to three glasses of wine or beer. Children under five are allowed in for free, 5-11 years rate is KES 500 and 12-plus years rate is KES 1,500. Tours are by appointment only.
12. You Can Get 'Eatertained'
Carnivore restaurant is a meat specialty restaurant located in Langata suburb of Nairobi, Kenya. It provides rare fares like rumps of beef, legs of lambs, chops, sausages and ribs, crocodiles, ostrich, chicken livers and gizzards. There are several delicious side dishes and an exceptional array of sauces that complement this fixed price feast which also includes soup, a selection of desserts and Kenyan coffee. You don't order here rather, guests sit down and carvers dressed in zebra aprons and straw hats bring meat hanging off Maasai swords. When guests are done, they signal by lowering the white flag on their table. Set in attractive tropical gardens, the service and the décor are exceptional, and is open daily for lunch and dinner. It costs about KES 3,265 (US$38) to have a complete dinner set menu, including soup, salad, side dishes, dessert and coffee or tea. Carnivore also offers a vegetarian menu.
13. Go Twitching in Kakamega Forest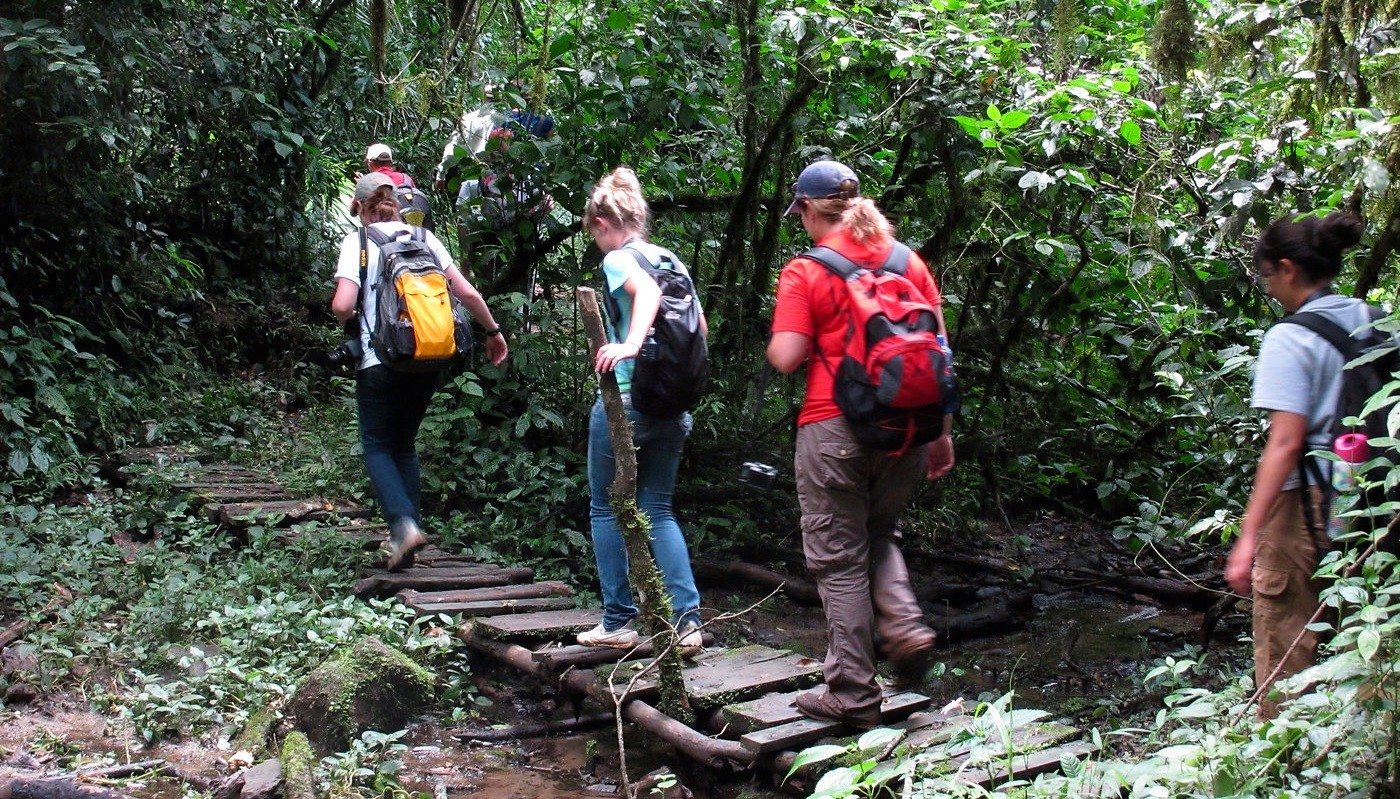 You can visit this lovely rain forest located in the Western Province of Kenya, North West of Nairobi and near the border with Uganda. The forest is without doubt, the prime bird-watching site in Kenya, offering dozens of species you probably can't find anywhere else in the country. But if you are no bird watcher, you'll love the shady forest paths and plentiful monkeys full of charm.