Best happy anniversary poem for your soul mate. Heart-melting set of happy anniversary poems that is bound to melt the strongest of hearts. Anniversaries are moments of happiness, moments to share the love you have for each other, take advantage of these best happy anniversary poems and put a smile on the face of your loved one.
Happy anniversary poems for her – Happy anniversary poems for him
1) My beautiful princess, I hope I've been able to, become your prince charming and always woo you. My gorgeous angel, I hope I have become the guardian of your life making it awesome. My stunning enchantress, I have only wish; That I can always give you lovely moments to cherish. Happy anniversary.
2) The mark of a worthy husband is how happy his wife is. Looking at you, I can say that yours is full of bliss. The sign of a loving hubby is the glow on his wife's face. Looking at you, I know that you are in your life's happiest phase. Happy anniversary.
3) In a way, an anniversary is just a date. Can't you see it is an easy way for the wife to get the costliest gifts of her life? Your wish today is my command. On our anniversary, I'll do as you demand. Happy anniversary.
4) No adjective in the world to describe you is enough, Listing your qualities is a job which is tough. No simile in this world is enough to compare how we both have made such a beautiful pair. No sayings about love can ever suffice to describe our marriage which is like a prize. Happy anniversary.
5) My life until now has been nothing but fun because my lovely wife is one in a million. Until now, my journey has been terrific because I have a wife who is so fantastic. Happy anniversary.
6) Today is not just our anniversary, it's a celebration of the bond between you and me. It is not just a reminder of our years together, it is a celebration of our love for one another. Happy anniversary.
7) We bicker and argue, we quarrel and fight. But we still love each other with all our might. We have differences which we grumpily bear but at the end of the day, we both make a great pair. Happy anniversary.
8) You are like a rose in my life's garden. Without your fragrance, life wouldn't be fun. You are the sunrise in my life's horizon. Your undying love feels warm like the sun. You are like the moon that lights up my nights. Your eternal beauty is like a radiant light. You are not just a woman, you are an angel. My darling, to me you are so priceless and special. Happy anniversary.
9) The celebrations of my life are not limited or restricted to our anniversaries. The revelries of my life had already begun when I laid eyes on you and you made me your man. Happy anniversary.
10) One of the most beautiful things that I've ever done in my life is to give you a wedding ring and make you my wife. The other most amazing thing that I'm proud to have accomplished is to have nurtured a family and a life which is so cherished. Happy anniversary.
11) Getting married to you has been like winning a lottery. I won millions by becoming your loving hubby. Spending my life with you has been like hitting a jackpot. Happy anniversary honey, I love you a lot.
12) Our anniversary is not meant to be a reminder of a long journey. Our anniversary Is meant to be a mark of the good times that we are yet to see. Happy anniversary.
13) No one else would have tolerated me. No other woman would have let me be. No one else but you would let me do things in the manner that I want to. Thanks for being a perfect companion. Your place in my life can be taken by none. Happy anniversary.
14) Like bubbles in a champagne or the texture of a wine, You are the reason why my life has been so fine. Like the hues of a sunset or the colours of a rainbow, you are the only happiness I know. Like warm coffee in winter and a cube of ice in summer, you are the one who makes My life so perfectly nice. Happy anniversary.
15) Handsome husbands like me are very few but fewer than that are beautiful wives like you. You are like a rare pearl in the ocean, meant only for me and not for everyone. Happy anniversary.
16) My whole world would've been reduced to total ash. It would have been nothing, not even mere trash. My whole life would've been crumbled to tatters if you weren't there. You're the only one who matters. The only reason why my life is so seamless and fine is because you are forever mine. Happy anniversary.
17) Every morning of my life feels so blessed and pure. Everything I do, I feel so secured and sure. Every night before bed, I feel profusely thankful for the way in which my life has tuned out so beautiful. There is no mystery about the woman behind all this. It is none other than my beautiful missus. Happy anniversary.
18) One more year of romantic intimacy. One more year of sweet camaraderie. One more year of warm companionship. One more year of our relationship. One more year of being married to you. I wish a happy anniversary to you.
19) I'm sure you remember our very first kiss; how it was so full of lust and pure bliss. I'm sure you recall how very exciting our relationship was when we were dating. I'm sure you recollect that magical moment when I proposed to you with me on my knee bent. All these memories, each and every instant that we have spent together have been nothing less than brilliant. Happy anniversary.
20) My dear wife, you are the one who knows me so well and because of you in my life, everything is so well. If not for you darling, I would be clueless. Thanks for giving me so much happiness. Happy anniversary.
Happy anniversary poems for husband
21) Today I feel a sense of pride in raising a toast to that person around whom the fairy tale of my life has been spun. He has always made sure that my priorities come first. He has been the one to placate every emotional outburst. He has always made all my dreams and wishes his own, ensuring that I am never sad and I never feel forlorn. To this man, I owe my life and much more that without him I am nothing and that will always be a fact. Happy anniversary.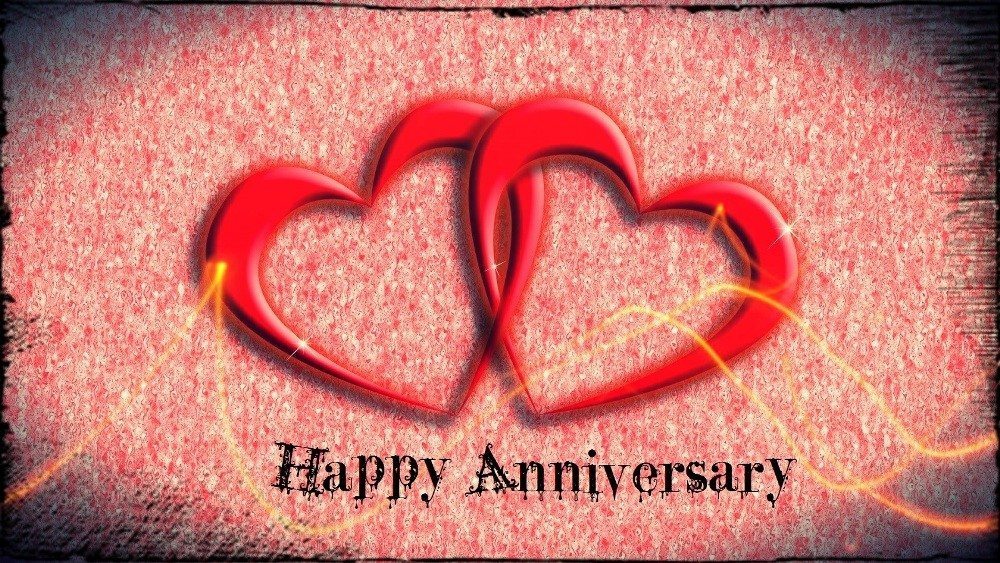 22) Even after so many fights, so many sleepless nights, even after so much stress and after going through so much mess, we both have ploughed through. For which credit goes out to you. Let's forget everything and start again. Let's make this year free of pain. Happy anniversary.
23) You are the best thing that could ever happen to me. I am glad you are the man fate picked as my hubby. To imagine life without you is next to impossible. You are the reason our marriage has been so magical. Happy anniversary.
24) You are so awesome. You are so handsome. You are so charming. You are so loving. You are so sexy. You are so manly. You are so amazing. You are my darling. I was meant to be Your baby. Happy anniversary, My dear hottie.
Happy anniversary poems for girlfriend
25) Our (number of years) anniversary, Love,
Brings feelings of delight,
Thoughts of pleasure that you give me
Every day and every night.
I'm grateful for each day and hour;
I thank the Lord above
For giving me the precious gift:
Of your deep, enduring love.
As our lives go on and on,
One thing is always true:
To the very end, I'll always wish
For more time, more love with you.
26) Every year makes me realize
When I first met you all those years ago,
I fell in love so fast, I knew right then,
You were the one and only one for me;
I'd never have to look for love again.
Each anniversary finds us happier;
You are my light–my moon, my star, my sun.
You show me what real love is all about,
You fill my life with pleasure, joy and fun.
As time goes by, our love grows stronger still.
You're the most amazing (man/woman) I ever knew.
I prize our anniversaries because
Each year I fall in love again with you.
27) Our anniversary means a lot,
Much more than any another day;
I celebrate my love for you,
And cherish you in every way.
Through passing time, our love still grows,
A caring relationship to explore;
Our life together gets better and better,
And I keep on loving you more and more.
28) If I could go back in time today,
Way before we met,
I'd search and find you right away,
To form our loving duet.
Far, far back, I'd go for you,
To marry you much sooner;
We'd tie the knot, and you would be
My amorous honeymooner.
I love our anniversary now;
I'm happier every year;
I just wish there'd been more time
For me to love you, Dear!
29) Dear one, for me we are the perfect pairing;
Every thought of you is filled with all my caring.
You're the real live answer to my fondest dreaming,
A perfect partner for a perfect teaming.
Each year I realize that it's all true;
I have the one I searched for, and it's you.
I'm lucky that I have you as my mate;
It's our anniversary; time to celebrate!
30) After many years of trying
To be the perfect mate,
You've still kept up the effort,
And that's why you're so great.
My love for you keeps growing,
With each year that goes past;
The enjoyable times I spend with you
Are really quite a blast!