Because of isolation, many islands have become home to some of the world's most unusual and fascinating wildlife. Rich in cultural and geographic diversity, South Africa is an interesting and fun-filled African holiday destination with incredible places and warm hospitality. Aside from being home to 10% of the world's birds, fish, and plant species, as well as 6% of its mammal and reptile species, the country also boasts incredible islands that attract tons of tourists from all parts of the world. Talking of stunning islands, we are fortunate to live on a part of the planet where we're spoiled for choice. Among the most enthralling, we selected the eight most fascinating islands in South Africa.
1. Addo Elephant Island Group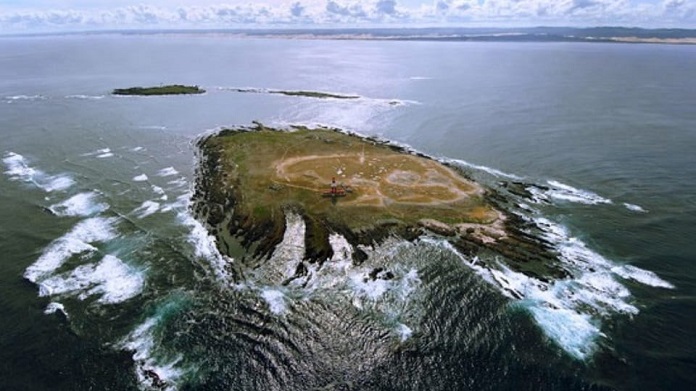 The Addo Elephant Island group comprises four uniquely designed islands: Bird Island, Stag Island, Seal Island, and the St Croix island. The group of four islands lays to the south-east of the Addo Elephant Park in the Eastern Cape. They are about an hour away from Port Elizabeth which is colloquially known as "The Friendly City" or "The Windy City. The Addo Elephant Park is generally known to be the third-largest national park in South Africa and finding yourself at the park gives you greater opportunity to explore each of the islands.
Unique Features
Bird Island: The Bird Island which is part of the group of four islands is an important breeding place for marine bird species. Some of the resident birds on the island include Bridled Tern (Sterna anaethetus), Great Frigatebird (Fregata minor), Barred Ground-Dove (Geopelia striata), Common Moorhen (Gallinula chloropus), Greater Crested Tern (Sterna bergii), and Common Mynah (Acridotheres tristis).
Seal Island: Seal Island is a small island lying 360 m north of Bird Island. The Island has no vegetation, soil of any significance, or beach but it supports the habitation of a special seal species known as the Cape fur seals. These piles of seals use the island as their main breeding ground and usually are left in peace.
St. Croix Island: nearer to the town of Port Elizabeth, is home to a large breeding colony of African penguins. The Island lies 4 km offshore between the Coega and Sundays River mouths and it is part of an experiment to study the effects of fishing on penguin breeding and foraging behavior.
Stag Island: Located in the Eastern Cape Area of the country of South Africa, Stag Island is home to various species of fishes and other outdoor adventures.
Can You Visit Addo Elephant Island?
Parts of the Addo Island are Marine Protected Area (MPA), thus, cannot be visited randomly. Boats are not allowed to land on this group of islands, although some charter boats can cruise close enough to see the habitats quite easily. The Addo Elephant National Park MPA was established in2018 in order to achieve the long-term conservation of nature with associated ecosystem services and cultural values.
 2. Dassen Island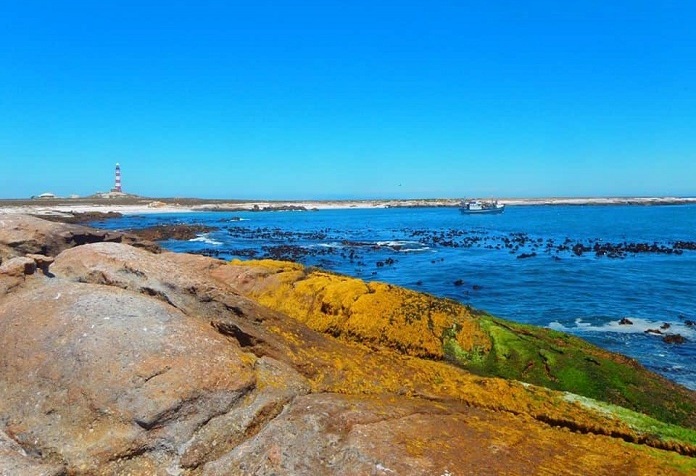 The  Dassen Island is the second-largest coastal island on the South African continental shelf after Robben Island in Table Bay. It was named by Dutchman Van Spilbergen in 1601 and was proclaimed a nature reserve in 1987. The Island is managed by Cape Nature.
How to Locate the Dassen Island
Dassen Island lies in the Atlantic Ocean approximately 55km north-west of Cape Town and 9km off Yzerfontein. The island is also located within the Benguela upwelling ecosystem. The flat and low-lying island is about 4.5 km long & 2 km wide.
Unique Features
 Dassan Island is approximately 4km long and 2km wide, making it South Africa's second-largest coastal island.
The island is composed of fine-grained tourmaline-granite (with a few areas of biotite granite) outcrops covered with sand.
The Island provides key habitat for a significant number of seabird and shorebird species, including the African penguin, white pelican, African black oystercatcher, three species of cormorant, and kelp gull.
You could also find the Egyptian geese, sacred ibis, Cape wagtail, Hartlaub's gull, and swift tern.
Threatened species such as the African penguin (Spheniscus demersus) and Cape cormorant (Phalacrocorax capensis) and other coastal birds find their safe breeding refuge on the island.
The island also shares coverings from Cape seashore vegetation.
Possibility of visiting Dassen Island
You can surely visit the nature reserve island, although it is not open to the public. The reserve is only 10km from the Yzerfontein fishing town and tours around the island can be arranged when you apply for permission. If granted, you will also need to stick to a designated path. Remember to pack your binoculars and zoom lens.
3. Seal (Duiker) Island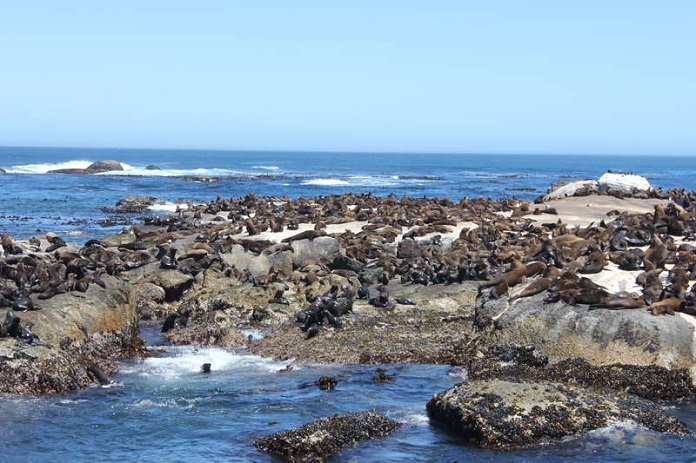 Now, there are just a few places in the world where you can connect with seals, lounge on the beach, and sip craft South African gin the same day. One of those places is Seal Island. Also known as the Duiker Island, Seal Island is off Hout Bay near Cape Town South Africa.
Where is the Seal or Duiker Island Located?
With a measurement of 77 by 95 metres and an area of about 0.4 hectares, Seal Island is renowned for its marine wildlife. The seabird sanctuary is located just off the South African coast at Hout Bay, near Cape Town. Just 30 minutes drive from Cape Town's city centre will lead you to Mariner's Wharf in Hout Bay and from there, you take a 20-minute sail to the island.
Unique Features
Unlike the original Seal Island, to the west in False Bay, which is inhibited by seals and great white sharks predate, the Duiker Island is home to a lively population of Cape fur seals and marine bird species such as the common cormorants, the skua, and kelp gulls.
A 40 to 60-minute cruise on the island gives you an opportunity to admire the views of Sentinel Mountain and the cliffs and caves of Chapmans Peak.
You could also get a chance to see marine life, including dolphins and whales.
How to Visit the Island
Well, Duiker Island is generally off-limits to humans as the adolescent seals are highly territorial. Fortunately, however, there are pockets of options for exploring the area from a safe distance.
Animal oceans, which is a team of marine experts who run a tour to the Island, offers visitors the chance to get up close to the seals. The Seal Island is visited regularly by tourists and photographers by boat through Mariner's Wharf in Hout Bay harbor. Day tourists spend around an hour cruising around Duiker Island and in order to make the most of the day and fit in multiple activities, they leave Cape Town early in the morning. However, the best months to go are from July to November. This is because, during this period, you can also spot southern right whales, whose migration path goes along the coast past Hout Bay.
4. Dyer Island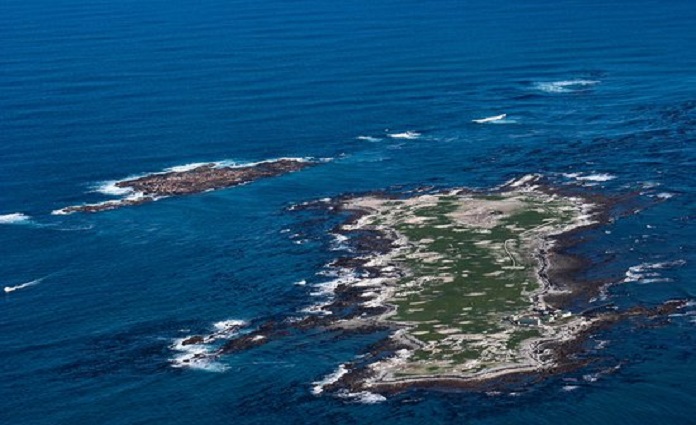 Originally named Ilha da Fera (Island of wild creatures) by Portuguese seafarers in the 15th century, Dyer Island is typically the largest of a group of islands about 5 miles offshore from Gansbaai. The Island was later called Dyer Island after it was discovered by Sampson Dyers in 1806.
Dyer Island Location
The island is around 100 miles (160 kilometers) away from Cape Town. So, you can make your own way to Gansbaai early in the morning in order to make the most of the day. How long you spend around Dyer Island depends on which tour you choose to take, but most tours take up most of the day.
Unique Features
Situated 8.5 Km from Kleinbaai harbor in a popular South African fishing town of Gansbaai, the Dyer Island was once home to a huge colony of African penguins (25 000 pairs). Today, it has about 50 000 penguins and a huge gathering of seabirds.
Some of the birds you could find breeding on the island include the vulnerable African Penguins and endangered Bank Cormorant and Roseate Tern.
Birds like the white pelicans once had the Island as their home but they were all destroyed because of man's penchant for their eggs.
Dyer Island is recognised as an Important Bird Area (IBA) anywhere in the world.
Aside from birds, you are sure to also find sea animals like southern right whales and great white sharks.
The Island is largely recognised as one of the hundred most important sites in the Southern African country.
How to Visit the Island
Dyer Island is managed by CapeNature, primarily for seabirds and shorebirds. It is a nature reserve and cannot, therefore, be accessed by the general public. The only way to get close to the Island is to join a team of guided tourists which is usually led by marine biologist guides. A 2-hour boat trip from Gansbaai will earn you an opportunity to see The Marine Big Five.
5. Islands of Saldanha Bay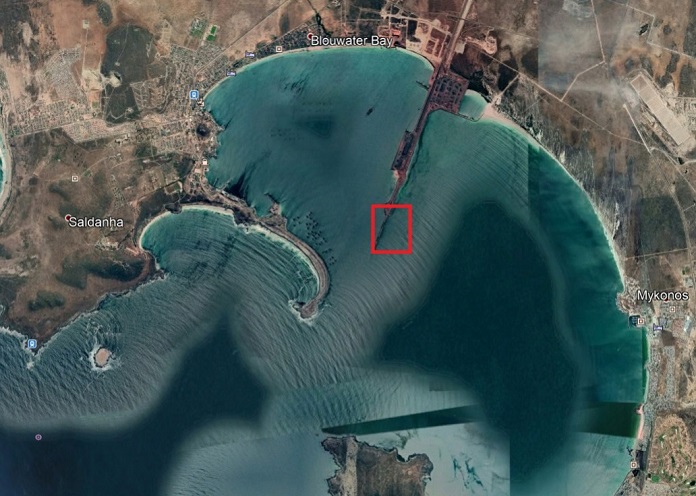 Named after António de Saldanha, captain of a vessel in Albuquerque's fleet which visited South Africa in the early 16th century, Saldanha Bay, is a town of 21,636 people. The western coast is home to about 7 wonderful islands six of which are uninhabited. The islands at the Saldanha Bay include:
Jutten Island
Malgas Island
Marcus Island
Meeuw island
Schaapen island
Vondeling
Islands of Salfhana Bay Location
The location of Saldanha Bay is on the West Coast Way Foodie Route on the south-western coast of South Africa. It is about 105 kilometers north-west of Cape Town. Malgas Island, which is one of the uninhabited parts in the bay is a small 8.3 hectares (21 acres) and lies about 800 meters (2,600 ft) from the mainland in the Benguela upwelling system.
Unique Features
Saldanha Bay is the largest and deepest natural harbour in South Africa.
The islands in Saldanha Bay are home to nearly 80 000 coastal seabirds.
Parts of the islands consist of smooth rock and big boulders, though there are patches of shallow soil, guano, and shell fragments.
Most of the central Malgas Island areas are occupied by nesting Cape Gannets, whereas other nesting seabirds are mostly confined to the periphery.
Saldanha Bay is home to numerous fish canneries. One of the most notable companies in the area is the Saldanha Bay Canning Company, founded by James Kasner and Ellis Silverman in 1905.
Thanks to its unique location, the bay is a good spot for the watersport enthusiast. Its local economy is being strongly dependent on fishing, mussels, seafood processing, the steel industry and the harbour.
12% of the world's African Black Oystercatcher Haematopus moquini population is found scattered throughout the IBA, mostly on the islands.
Malgas Island is among the six localities in the world that support breeding Cape Gannet Morus capensis and is known to have been home for the species since at least 1648.
 Jutten, a large, triangular island, lies about 800 m from Jut Point at the southern entrance to Saldanha Bay and rises to some 60 m a.s.l. There are buildings on the island and stone and concrete walls intricately subdivide it.
 You could find a wild display of wildflowers during late winter and spring at the SAS Saldanha Nature Reserve. Southern right whales also visit the waters.
The largest known Kelp Gull Larus dominicanus colony in southern Africa is found on Schaapen Island.
The Malgas island forms part of the West Coast National Park and Saldanha Bay Islands Important Bird Area.
How to Visit the Islands of Saldanha Bay
The possibility of visiting any of the islands is not certain as the islands have been unoccupied since 1962. However, you can join the high number of hiking and walking trails in the reserve and around the town to enjoy the view of the unspoiled natural surroundings, home to many seagulls, cormorants, Cape gannets, terns, and other birdlife. A picnic on the Klein Eiland peninsula could also be of great help.
6. Leisure and Thesen Islands
These two Islands of the gorgeous Knysna Lagoon are among the most interesting places to visit. Leisure Isle is largely surrounded on all sides by the waters of the tidal Knysna estuary and is ringed by a chain of hills. Leisure and Thesen Islands are linked to the mainland by a narrow causeway. Leisure Isle was formed over 5000 years ago by swirling currents and the buildup of sandbanks. However, in the early 1930s, a businessman named George Cearn saw the potential on the island, known then as Steenbok Island, and arranged with authorities to pay prisoners to build the stone causeway.
How to Locate the Leisure and Thesen Islands
Surrounded by the Knysna River and salt marshes, Leisure Island, a suburb of Knysna is located on the southern coast of the Western Cape Province. The Island is also 75km away from George Airport in George, Western Cape, South Africa. Hence, finding yourself on the island won't be difficult. A number of car rental agencies are located in Knysna and at the George airport or you could order a rental online. Several metered taxi companies operate in Knysna. Shuttle service operators transport visitors between George Airport and Leisure Isle.
Thesen Islands is linked by a causeway and bridge to the mainland and is within walking distance of the scenic waterfront, yacht harbor, and town center of Knysna, one of South Africa's most picturesque and popular coastal towns.
Unique Features
The Leisure and Thesen Islands are actually some of the most visited Islands in South Africa. This is mainly because of its accessibility. You can actually drive to their locations by crossing the bridges.
Thesen Island and its surrounding salt marshes are home to an amazing variety of birds. Kingfisher, Tern, Eagle-Owl, fish-Eagle, Goshawk.
You can see the Knysna seahorse on Thesen Island which is truly a national treasure. The seahorse is South Africa's only endemic seahorse and is one of only two endangered seahorse species in the world.
The salt waterways are also home to a wide variety of sea life, including the Backwater butterfly ray, Cape needlefish (Petalichthys capensis), Prison goby (Caffrogobius multifasciatus), and River goby (Glossogobius callidus).
Take a fantastic lagoon view over the pristine salt marshes and coastal thicket vegetation. The reserve is home to many creatures, including the Knysna dwarf chameleon and the strikingly beautiful painted reed frog.
Leisure Isle has a small harbor on the northern end and the beach at Bollard Bay in the west looks out at the Knysna Heads, two gigantic promontory pillars on either side of the Knysna lagoon mouth.
The properties on Leisure Isle are a combination of old money mansions and modern, grand homes bounded by fertile gardens and narrow lanes. The lanes encourage an active lifestyle of walking, running, or cycling to conveniences nearby.
How to Visit the Islands
Of course, it is very possible and easy to visit the two islands that nestle on the gentle currents of the gorgeous Knysna Lagoon.
Leisure Island is a well-known scenic spot in Baiyangdian. It has catering services and accommodation. You can live in a local-style fisherman's house and eat fresh seafood. Here, you can spend a few days enjoying the natural fishermen's life away from the bustling city.
7. Robben Island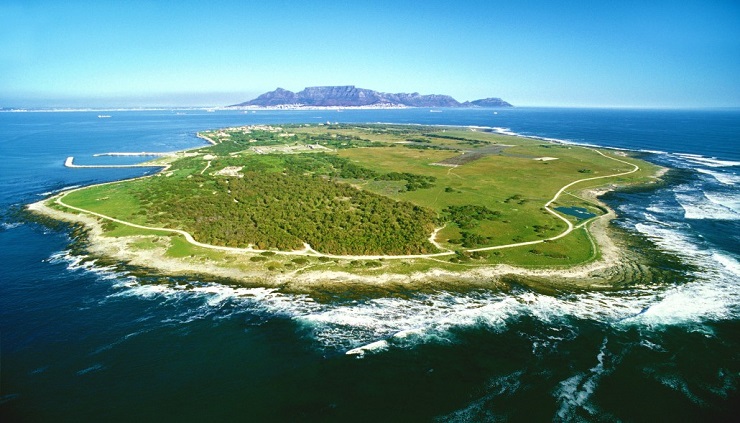 Once a place of exile where rulers sent those they regarded as outcasts and troublemakers, Robben Island is famous for its rich 500-year-old multi-layered history. With an approximate area of 5 square miles (13 square km), the island is about 5 miles (8 km) west of the mainland and 6 miles (10 km) north of Cape Town.
Unique Features
Robben Island is home to a large amount of history and tells the story of Nelson Mandela's captivity – and subsequent freedom – which became iconic for the liberation of South Africa.
Mandela was jailed on the island for 18 of his 27 years in prison. Today, the island is a popular tourist attraction for those interested in history and human justice.
Aside from its historical sites, artifacts and exhibits, Robben Island is one of South Africa's most important breeding homes for sea birds.
The Island is also a breeding locality for 8 500 pairs of African penguins, the world's second-largest colony of this vulnerable species.
The Island was also the home of prisoners from outside South Africa, notably Namibia. It became a place for incarcerating political prisoners in 1961.
 How to visit the Island
Robben Island is visited every year by thousands of people who are eager to understand and honour the important aspects of South African history it represents. A standard tour to Robben Island is about 4 hours with three half-hour ferry trips from the mainland and back.
The only way to reach the island is by boat or aircraft. Visitors begin their ferry from Nelson Mandela Gateway, Clock Tower Precinct at the V&A Waterfront. They also disembark and re-embark at Murray's Bay Harbour situated on the east coast of the Island. Accommodation with easy access to the starting point can be found in V & A Waterfront, Central Cape Town and Camps Bay.
8. Prince Edward Islands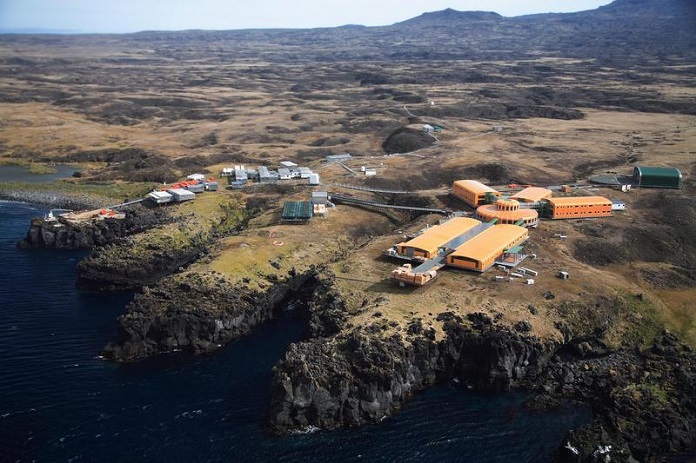 The Prince Edward Islands (this should not be confused with Prince Edward Island (PEI)  which a province of Canada) are two small islands discovered on 4 March 1663. The Islands, Marion Island, and Prince Edward Island are known for being the location for several shipwrecks.
Location
Prince Edward and Marion Island, otherwise known as the Prince Edward Islands can be found about 1700km south of Mzansi. Their location is the halfway point between South Africa and Antarctica.
Unique Features
Both islands are of volcanic origin with Marion Island being one of the peaks of a large underwater shield volcano.
The Prince Edwards Islands have a tundra climate despite its location inside the south temperate zone at 46 degrees latitude.
With about thirty different species of birds found breeding in the area, the Islands were, therefore, designated an Important Bird Area (IBA) by BirdLife International for their significant seabird breeding population.
Some of the bird species you can find on the Islands include wandering albatross, dark-mantled, light-mantled, Indian yellow-nosed and grey-headed albatross, petrel, prion,  brown skua and Antarctic tern.
Aside from birds, the Prince Edward Islands are home to three species of seals, including the southern elephant seal, the Antarctic fur seal, and the Subantarctic fur seal.
You could also get a chance to see large whales such as southern rights and southern humpbacks, as well as leopard seals which are seen more sporadically.
How to Visit Prince Edward Islands
Prince Edward Island is uninhabited except for occasional biological research teams. Marion Island, for example, is not a tourist destination and access is limited to SANAP team members. Therefore, the only way to travel to the Islands is on board a South African research vessel. Research team members remain on the Marion island for months, but it is also possible to visit the island as part of the relief team
Best Time To Visit South African Islands
South Africa's climate has seasons but the country is a year-round destination, with varying regional climates and wildlife opportunities. May to August brings in the cold in winter and often hot in summer (November to March) with temperatures reaching the early thirties. However, the weather begins to cool down with frequent rains. The rainy season begins in October and lasts through to April.
Therefore, for a better view of wildlife congregating around the watering holes, visitation will best be in the dry season (May to October) while November to February is perfect to travel for birding, as temperatures remain warm at 22°C-33°C. Meanwhile, the best time to visit the Cape for whale watching is between July and November. September remains the best month to travel to South Africa if you'd like to experience a combination of regions and wildlife.
Which Is The Largest of The South African Islands?
South Africa is one of the few countries surrounded by a number of beautiful Islands. Interestingly, these islands contribute to the history and cultural development of the country. Of course, the most notable of them all is the Robben Island in Table Bay.
Robben Island, the roughly oval-shaped land which stretches 3.3 km (2.1 mi) long north-south, and 1.9 km (1.2 mi) wide, with an area of 5.08 km2 (1.96 sq mi), is considered the largest island in South Africa. Next to it is Dassen Island which lies in the Atlantic Ocean, approximately 55km north-west of Cape Town and 9km off Yzerfontein.