Jim Iyke is a Nigerian actor and businessman whose net worth is estimated between $8 and $30 million. 
James Ikechukwu Esomugha, also known as Jim Iyke is one of the most prominent actors in Nollywood today with a net worth running into millions of dollars. A gifted actor no doubt, who can interpret and play out any character/role given him and one who is loved by his fan despite the series of controversies he courts on a regular basis.
The actor is also not doing badly moneywise since he broke into the mainstream of Nollywood. His current net worth is estimated to be millions of dollars thereby making him one of the richest Nigerian actors alive today. More so, this Nollywood beloved bad boy does not seem to be slowing down in dishing out outstanding performances even in recent times, and coupled with the fact that he has ventured into diverse business enterprises, his net worth has received a tremendous boost.
How Did Jim Iyke Begin To Build His Estimated $30 Million Fortune?
Although many sources have placed the popular Nollywood bad boy's net worth at a whopping $30 million making him one of the A-list actors in the industry, other sources have however given him a conservative $8 million. So far, Jim Iyke has not publicly confirmed any of these figures, but in spite of this, the fact still remains that the actor has raked in some good amount of cash from his endeavor as an actor and from other ventures he has tried his hands on over the years.
With regards to his thriving acting career, Jim Iyke got into Nollywood sometime in 2001 when he was still an undergraduate at the University of Jos, Plateau State. However, it was gathered that the young man had always dreamt of becoming a very popular actor in the nation's entertainment industry – this has been a dream he had nursed since his days in secondary school.
With luck on his side, he was able to land a major role in the popular 2002 film 1 Dollar which also featured the Nollywood veteran, Patience Ozokwor. Jim Iyke's performance in the movie was laudable and he quickly established himself in the industry as his passion for his craft together with the perfect interpretations of his assigned roles attracted more opportunities for him. He was then seen in a lot of films playing his bad-boy role which ended up turning his journey as an actor, a very successful one.  As of now, it is widely believed that Jim Iyke has featured in more than 150 movies since he joined Nollywood – which is about 2 decades ago. Some of the notable appearances he made in the early 2000s include:
Crossroads
Deadly Kiss
Definition of Love
Jungle of Heirs
The Siege
Dream maker
Between two Worlds
Perfect Planner
One Love
Cruz
Strongholds
Games Men Play
In later years, he would go on to star in several other highly rated Nollywood productions like Between Kings and Queens (2010), Last Flight to Abuja (2012), And Then There Was You (2013), American Driver (2017), Seven and a Half Dates (2018), Merry Men: The Real Yoruba Demons (2018) and its sequel Merry Men 2: Another Mission (2019), just to mention a few.
How Much Does Jim Iyke Earn Per Movie?
Nollywood is currently regarded as one of the goldmines of the Nigerian economy and it accounts for more than $5 billion in revenue annually. According to global statistics, the industry has continued to grow in leaps and bounds over the past years which also makes it one of the highest employers of labor after agriculture in Nigeria. More so, some of the films released in the industry have gone on to rank as top-grossing films like The Wedding Party which raked in more than $1 million as profit from the Box Office.
Many publications have also tried to make a list of the highest-earning actors in Nollywood and in almost all of these lists, Jim Iyke comes out in the top 5 list of the highest-earning actors in Nigeria. Although there is no record to show how his income has grown over the years, it is estimated that as of now, he is reported to earn an average of N1.7 million per movie. However, he has not confirmed this figure but given the number of years he has spent in Nollywood and going by the number of movies he has been featured in, it's possible that Jim Iyke makes this amount per film appearance.
More so, as one of the A-list Nollywood acts in Nigeria, he has also moved into movie production and has been able to earn much more than he would have been paid if he had only been contracted to feature as an actor in movies. Some movies which Jim Iyke has been featured in are even available on NetFlix and he could possibly still be earning some residual income from those movies presently, which all contribute to his earnings immensely.
The Actor Has Invested His Huge Earning In Houses
As soon as a man has the means to take care of himself, he has to have a roof over his head, and for someone like Jim Iyke, it's definitely going to be a very luxurious one. However, the actor has not showcased all the features of his house on any of his social media platforms. Many believe, he has refrained from doing so in order not to attract undue attention to himself.
The only concrete information that has been gathered about the actor's home is the fact that it is located in Abuja. More so, it is reported that it cost him up to N200 million to acquire his mansion and from the few home shots he has shared, the interior looks quite exotic.
Aside from his residential house in Abuja, Jim Iyke has also been seen posting several pictures of other homes both in Nigeria and abroad. However, it is not clear if these houses are also his own or simply rented apartments or those of his friends/partners.
Jim Iyke's Other Businesses & Investments 
Having earned considerable revenue from featuring in well over 150 movies in Nollywood and getting very popular on the Nigerian film and fashion stage, Jim Iyke's fame and popularity have definitely opened doors for him. He has had the opportunity to mingle with the rich and influential in society – some of whom enjoy his acting dexterity and fashion sense. Over the years he has also gone on to use his ingenuity and associations with men and women of means to establish a string of businesses that have further increased his net worth, some of his business endeavors are:
Burgeon Global Table Water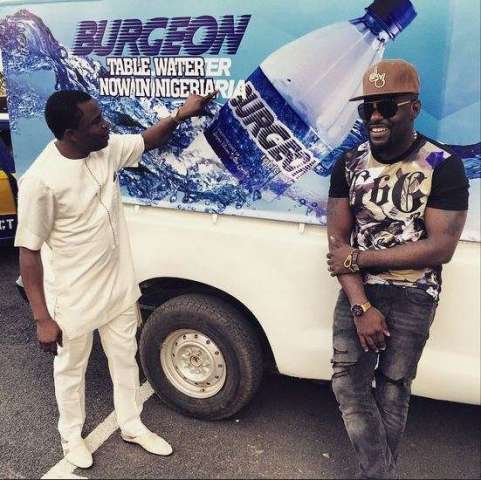 The actor is known to have teamed up with a few partners to establish a table water bottling company called, Burgeon Table Water, based in the Federal Capital Territory, Abuja. He took to his social media handles to gleefully announce to his teeming fans that after several weeks/months of painstaking deliberations and designing, they had come up with an excellent bottle design, as well as having put in place an ultra-modern bottling plant that will guarantee excellent product quality for their customers.
Untamed Productions
After having worked under several production outfits as an actor, Jim Iyke decided to set up his own film production outfit in 2007 called Untamed Productions and they have produced 5 movies to date including 2Dollars, Good Evening, Ebony, Shades of White and Perfect Choice. One can only hope to see more from this production outfit in the future.
Untamed Records
Just 2 years after establishing his film production outfit, he also started a music label called Untamed Records. He is the first artist to produce an album with the label and it was named 'Who Am I?'. The album featured A-list musicians such as Sound Sultan and 2face Idibia.
Untamed Closet
Being a fashion-savvy celebrity who is best known for donning well-fitted and impressive outfits, he also decided to start a clothing line named Untamed Closet. This fashion house has not only helped Jim Iyke look good and remain fashionable but it also caters to an A-list clientele spread all over the nation – mainly men and women of style and great taste in appearances.
Untamed Cars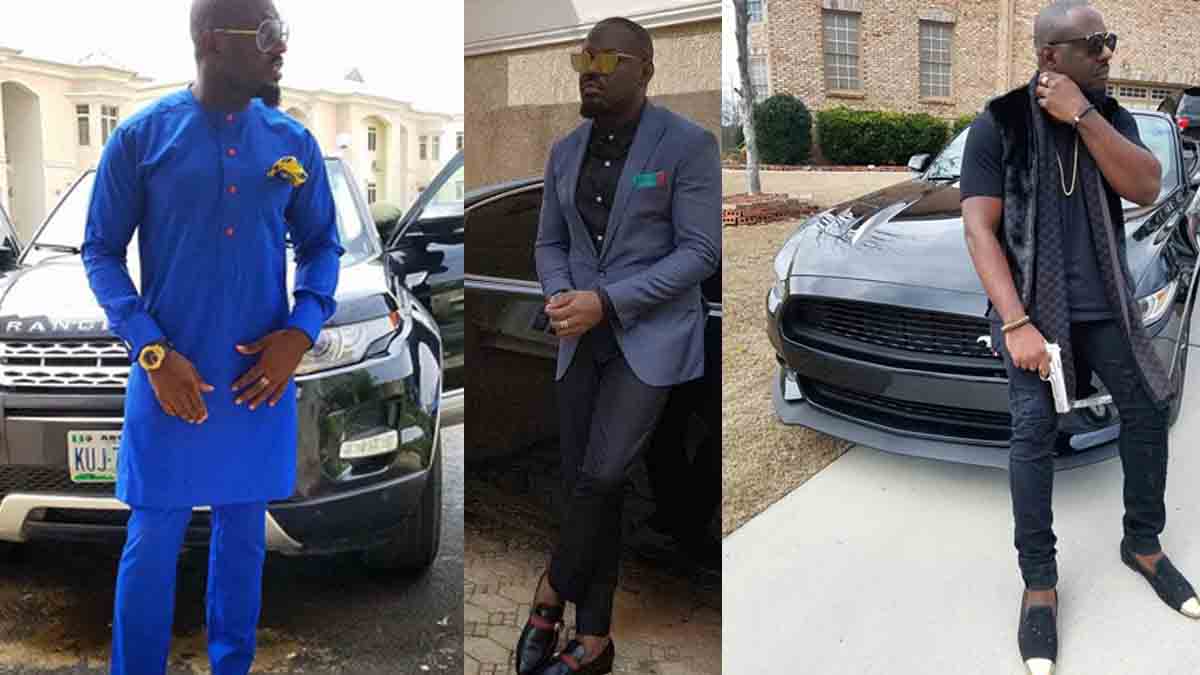 The actor not only has good taste for fashion and his appearance, but he is also known to love exotic, fast, and luxurious automobiles. Some of the cars believed to be in his garage include a pimped-out black Toyota Landcruiser, a red Toyota Camry, Range Rover Sport, Lexus LX 570, Chevrolet Camaro, Mercedes Benz cL600, and ML 350, just to mention a few. However, beyond owning very exotic cars he also decided to make a business out of it to cater to those like him who love very luxurious cars of all brands, shapes, and sizes.
Biggy Lottery Limited
In late 2020, Jim Iyke teamed up with a few partners to form a company called Biggy Lottery Limited. He took to his Instagram to share the contract signing ceremony with the other partners of the company dressed in his favorite blue suit and glaringly elated about the prospects of the company. He has been named as a co-owner of the company which he hopes would be the company of choice in its sector.
Lustrous Dynamic Global Real Estate
The A-list Nollywood star seems to have a soft spot for the real estate business and industry, which by the way is one of the most rewarding business ventures in Nigeria right now with very high returns on investment. Jim Iyke is also among the bandwagon of those who have an interest in real estate as he is part of the Lustrous Dynamic Global real estate firm which was launched in 2017.
He is also known to be a partner in the developing estate, Smart City Estate located in a choice part of Enugu State in Nigeria and as usual, he shared pictures of the approval to construct issued by the government of the state represented by the Commissioner for Works and Urban Development. At the first phase of the estate, they intend to develop 200 plots and build very luxurious homes with all the basic amenities and facilities needed to make life very comfortable for their patrons.
Apart from the above, he has also hinted that his Estate Development company was in discussions with some other developers and state governments to develop more real estate across the country and even beyond. Jim Iyke made a soft advert pertaining to this on his Instagram handle showing off a "luxurious" AirBnB apartment in the Lekki area of Lagos State, indicating that he has 4 different luxurious apartments available for those who desired its services. It is not clear however if this is his own solo real estate project, or if it was in conjunction with the real estate company where he is a partner.
His Brand Ambassadorial Contracts
Many brands have always preferred having celebrities as brand ambassadors and Jim Iyke has been chosen by quite a few brands in the country to be their ambassador.
He was reported to have signed a multi-million naira deal to become the brand ambassador for Wear It All – Men's Luxury, a luxury clothing and shoe lime for men sometime in 2018 – he has always been one celebrity that has had a good fashion sense, so this deal logically makes sense.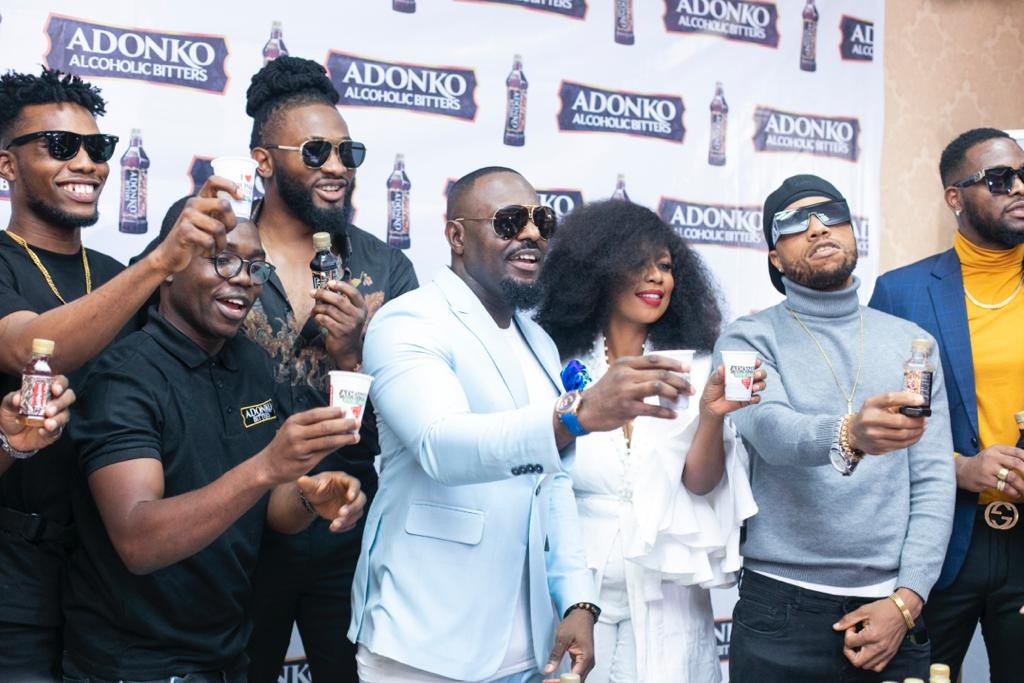 In 2020, he (alongside a few other celebrities) was unveiled as brand ambassadors for a fast-rising alcoholic herbal drink called, Adonko Bitters. The company which is owned by a Ghanian decided to take the initiative to get Nigerian celebrities as brand ambassadors to penetrate the Nigerian market. In a bid to promote the product, Jim Iyke has at several times posted messages on his social media handles about the drink while also occasionally taking a sip or two himself.
Jim Iyke was once a brand ambassador for Glo – a telecommunications company in Nigeria, as well as a cab service in the South-Eastern part of Nigeria, called Mr. Taxi. However, the endorsement deal with Mr. Taxi which had started operation in Abuja with plans to expand to the Southeast ended on a sour note as it was alleged that Jim Iyke was claiming ownership of the company which ultimately led to the deal being terminated by the company's management.