Just like most African countries, Ethiopia is still an underdeveloped country or rather a developing country where there is still so much disparity between the rich and the poor. However, on the bright side, Ethiopia has produced some of the most beautiful black women in the world, right from the time of Queen of Sheba to the present day. Ethiopian women are indeed beautiful, no doubt about that, a trip to this beautiful country will leave you with no doubt about the fact that Ethiopian women are truly breathtaking and strikingly beautiful. The way they dress, talk and carry themselves always defines beauty. These beautiful Ethiopian women are part of the glamour of this country, no doubt we have some foreigners who met their life partners amongst beautiful Ethiopian women.
If you are planning to take a trip to Ethiopia for any reason, then be rest assured that you are in for a wonderful time and might probably want to extend your stay, it's something you have to make provision for. Most Ethiopian women are black with high cheekbones and a thick stature. They are very feminine. A lot of urban women can be seen wearing western style clothing as well as typical African dress. Bright colours and head wraps are the norms. They do wear cosmetics, flashy accessories, and adorn themselves with cosmetics and piercings.
Ethiopian women are known to be endowed with natural beauty (not such that are enhanced by heavy makeups that end up adding almost another skin-thick layer to the face, giving a strange look like some character from Nickelodeon cartoons). There is no doubt that there are lots of beautiful Ethiopian women with lovely, supple and glowing skin so if you are interested in beautiful black (chocolate skinned) ladies, Ethiopia is the place to be. Here is a list of 20 most stunning Ethiopian women
Most Beautiful Ethiopian Women
1. Yordanos Teshager

We are starting with Yordanos Teshager as one of the known most beautiful Ethiopian women known. A salsa-loving stunner who was the second runner-up for Miss Ethiopia in 2004. Since then she has gone on to grace catwalks for the likes of Rock & Republic, Osman Yousefzada and Giorgio Armani. She was featured in Vogue Italia in 2008 and served as UN Ambassador on a mission to Nigeria in 2012. She has also appeared in Essence magazine and a 12-page spread for British Marie Claire.
2. Liya Kebede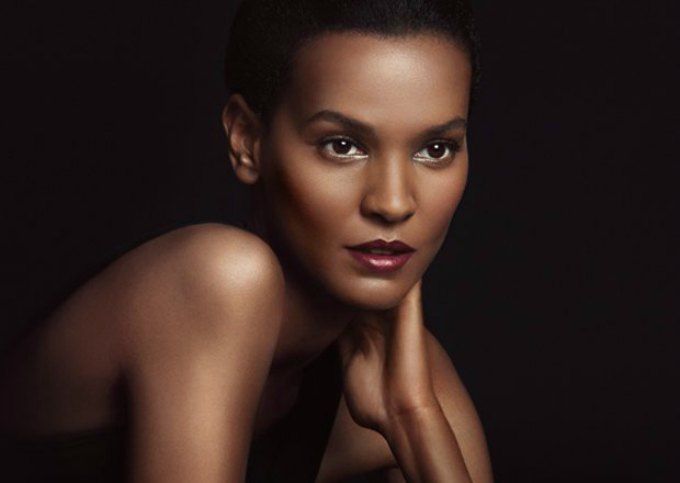 Considered as one of the most beautiful women in Ethiopia, Liya was the first Ethiopian supermodel, as well as the first black model to represent Estee Lauder cosmetic brand. She was also picked by Tom Ford for a Gucci fashion show and afterwards an entire Paris Vogue edition was dedicated to the model. Some campaign ads where she featured includes Yves Saint-Laurent, Dolce&Gabbana, Escada, Louis Vuitton, Victoria's Secret, Gap and many more. Today, Liya is mentioned among the richest supermodels in the world.
3. Lola Monroe

The Ethiopian-American hip-hop artist, model and actress, Fershgenet Melaku, better known as Lola Monroe was born on October 25, 1986, in Addis, Ababa. She started her modelling career in 2006 for some urban magazines and her model name was Angel Lola Luv. She was the first female rapper and model to go international from the D.C area and has her own label company called Blue Rose Entertainment.
4. Gelila Bekele

She is an Ethiopian model and social activist that has featured in print ad campaigns for Levi's, Pantene, L'Oreal, Colgate, Tory Burch, Anna Sui, Michael Kors, and many more. She was born on September 4, 1986, and has a sister named Anna Rossetti. she is also a documentary filmmaker, with her latest release being 'Mai: Life is not Honey'. What makes her so special is her philanthropy, despite her busy schedule in modelling, Bekele devotes much of her time to social work, mostly for native Ethiopians.
5. Helen Getachew

Crowned Miss Universe Ethiopia 2012, Getachew was born on January 13, 1990, and she represented Ethiopia at the 2012 Miss Universe pageant which took place at Planet Hollywood in Las Vegas. She is now more engrossed in her modelling career and is a brand ambassador for numerous global brands.
6. Tirunesh Dibaba

Tirunesh Dibaba is an Ethiopian distance runner who has won multiple Olympic and world titles on the track. Born June 1, 1985, Dibaba who is also known as "baby-faced destroyer", remains one of the most famous and beautiful Ethiopian athletes known. She won the Olympic 10,000-meter title in 2008 and 2012 and won a bronze medal at the 2016 Olympics in a personal best of 29:42.56. She was named the third-fastest woman in history as well as the Ethiopian record holder after finishing second in her second attempt at the distance, during the 2017 London Marathon.
7. Zewdy Awalom

Awalom is an Ethiopian-American whose beauty and bolster of pure talent have made her earn much fame both in her home country and broad. She borrowed a leaf from her father Habte Awalom who is a long-time veteran musician in USA.
The young talented singer who started in 2007 by posting video blogs and cover performances of hit artists like Beyonce, Whitney Houston and Jazmine Sullivan, among many others, now has over 100 cover songs that are capturing the attention of listeners all over the world. Currently, Zewdy is working on her debut project release. She is also on tour with Solange Knowles as a background vocalist.
8. Melkam Micael Endale

Crowned Miss Ethiopia 2010 and selected to represent Ethiopia in Miss World 2011, Micael Endale was listed as Ethiopia's representative to Miss Intercontinental Pageant 2012. Her curvy body and facial appearance make her one of the most beautiful women in the world today.
9. Sara Nuru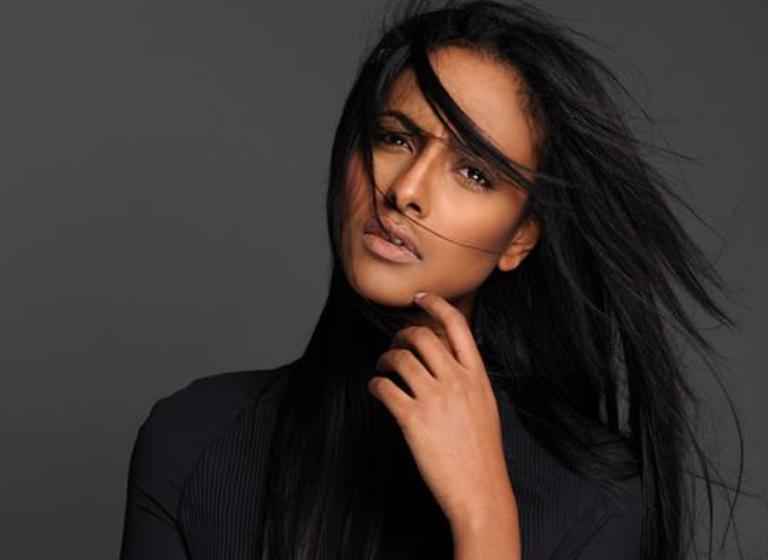 Sara Nuru is a German fashion model of  Ethiopian descent. She was born on August 19, 1989, in Erding, a small suburb of Munich, West Germany. There she grew up and became one of the country's supermodels. She began her modelling career in 2009 at 19, she took first place in the television casting show "Germany's Next Topmodel,". Since then, Sara has remained one of the most sought for by numerous ad campaigns. Apart from that, she has walked at fashion shows from Paris to New York and has even appeared in a German movie. Sara also worked with an NGO called Menschen für Menschen (People for People) in Ethiopia, her parents' home country, and became an ambassador for the organization's education program. Although she is currently older than most of the other top models, Sara's beauty and gorgeous figure still keep her as one of the top models of her time.
10. Yityish Aynaw

Titi Aynaw is an Ethiopian-born Israeli model who won the title of Miss Israel in 2013. Born on June 23, 1991, Aynaw is the first Ethiopian-born Jew to win the contest. She was born in the village of Chahawit in Ethiopia's Gondar Province but at age 12, she migrated to Israel together with her grandparents.  On March 2013, the Israeli queen was invited to the US White House by the then President Barack Obama who wanted her to attend a gala with Shimon Peres and Obama as he appreciated Israel for crowning a black woman as Miss Israel. The beauty queen is currently working on establishing a community arts education centre in Netanya which would serve at-risk youth.
11. Dina Fekadu

Dina is an Ethiopian TV Host, model and beauty pageant who competed in Miss Universe 2006 and was placed among the top 20. She was raised in Addis Ababa, Ethiopia and she longs to be a successful lawyer and philanthropist so she could advance the cause of women in her country just as she does in the beauty trend.
12. Melat Yante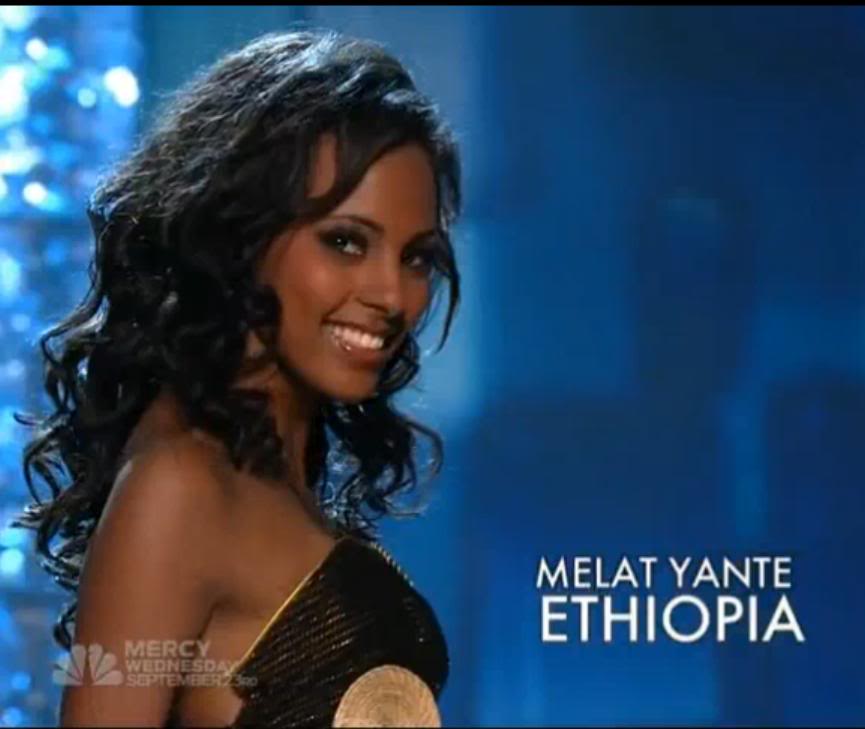 Melat Yante Woldesenbet is Ethiopia's representative to the 2009 Miss Universe Pageant, was chosen as the first runner-up in the Global Beauties Face of the Year competition. She was also named the Global Beauties Face of Africa winner. Aside from her facial beauty, Yante is also gifted. She confidently speaks three languages- Amharic, Italian and English.
13. Lydia Asghedom

Lydia Asghedom is an Eritrean-Ethiopian fashion model who was born and raised in Addis Ababa. Her mother is Eritrean-Ethiopian from Asmara and her father is Italian. Aside from modelling, Lydia is also a sports lover. She has played numerous sports such as soccer, field hockey, water polo, and track and field. But the one sport she enjoys most is wrestling.
The model has appeared in over 200 fashion shows and has done ads for Michael Kors, Macy's, AT&T. Lydia runs a commercial in the U.S as well as 4 other countries including Germany for Bare Minerals and Sheer Cover Make-up. A successful woman like her can't be exempt from the list of beautiful Ethiopian women.
14. Israela Avtau

Israela Avtau is an Ethiopian-Israeli supermodel raised in Eilat. While growing up, Avtau longed to become a flight attendant but after winning the Israeli Elite Top Models contest at the age of 16, her career path quickly shifted to modelling. In recent years, Avtau was mentioned as second-highest paid Israeli next to Bar Refaeli. She has also appeared in numerous international fashion ads, product campaigns, runway shows, and magazine covers.
15. Jiitu Abraham

Jiitu is an American-born Ethiopian model who, in addition to her physical beauty is intelligent and well talented. Jiitu is the first American-born Ethiopian to win the "Miss Ethiopia World" title and was named "Honorary Ambassador of Goodwill to Israel" by the then Minister of Tourism, Mr Avraham Hirchson. She is also among the few African models who had the opportunity to meet with the then President Barack Obama with whom she discussed her mission as Miss Ethiopia World.
16. Joy Suzanne Grazer

Joy is an Ethiopian Model born of Ethiopian and German descent and raised in New Orleans. Having modelled from age 15, Joy is now a former fashion model turned scientist. She graduated from the University of California at Berkeley where she obtained honours in Psychology. She currently does much of research works much of which centres on multi-ethnic and cultural dynamics, childhood family development, and philosophy.
17. Mhadere Tigabe

She was crowned Miss Universe Ethiopia 2013 as she represented Ethiopia at Miss Universe 2013 pageant. Tigabe was born in 1992 and she attended Mekelle University, Ethiopia where she graduated as a Mechanical engineer. Tigabe took the world by surprise when she defeated other 14 contestants at the tail end of the pageant held on September 20, 2013, and was crowned Miss Universe for the year. Certainly, a Miss Universe champion has to make the list of the most beautiful Ethiopian women.
See Also: Bodi Tribe: Meet The Ethiopian Tribe Whose Men Get Overweight On Blood & Milk; Just For The Fame
18. Senait Gidey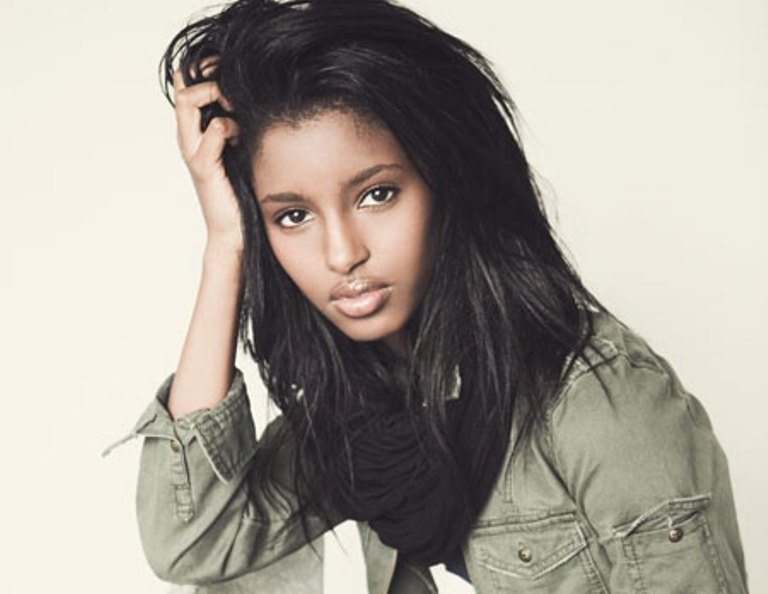 Senait Gidey is a Canadian model of Ethiopian descent. She was born in Toronto, Canada on May 6th, 1995, but she had her education at Toronto before moving to New York City where she signed with IMG Worldwide. Gidey's professional modelling career began when she was discovered at Elmer Olson Models 'boot camp to bigtime' event, a place where fresh faces meet big organisations and today she has become one of Carine Roitfeld's favourite girls, being cast in two editorials in one year and styled by Bazaar's global fashion director. She names 3.1 Phillip Lim, Pucci, Givenchy, Nina Ricci, Chloè as her favourite designers.
19. Gate Maya Haile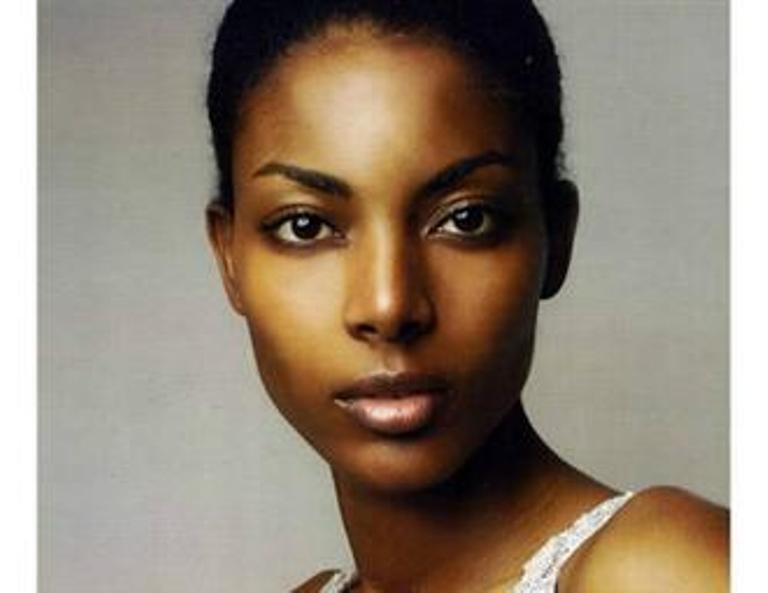 Maya is an Ethiopian-born fashion model who grew up in Holland before relocating to New York where her fashion modelling career began to flourish. She is represented by the world's top modelling agencies including IMG, Elite and Ford. In 2011, Maya was invited to host "Ethiopia's Next Number One Model" reality show, where the contestant who wins gets a three-year contract with a top international agency and travel opportunities to walk for high-fashion designers in Europe and the U.S. She is the co-founder and President of Three Goats, a non-profit organization committed to improving the health and well-being of families and children living in Ethiopia by providing sustainable access to vital and renewable resources. She is signed with Elite, IMG and Ford Models modelling agencies.
20. Bewunetwa Abebe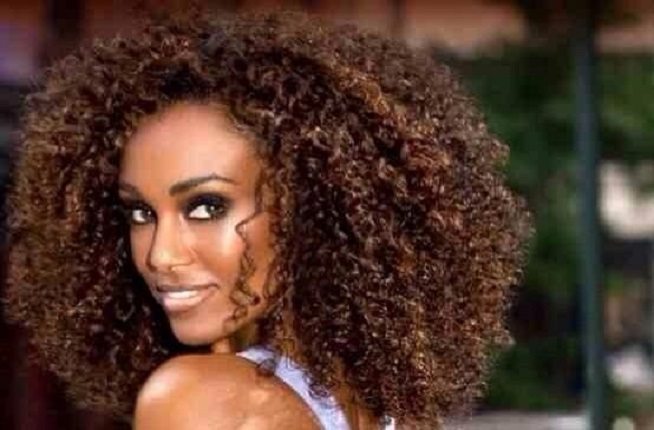 Born in 1990, Bewunetwa Abebe was one of the most beautiful Ethiopian women who made it to the top as a model. She was crowned Model of Africa at the 2009 International Beauty and Model festival in China.