When Betty Gabriel got the chance to star in the movie Get Out, she did not think it would catapult her into the consciousness of hordes of people. For one who had been trying so hard to achieve success in the movie industry, it proved to be the moment she had dreamed of for so long.
Since such opportunities do not stroll by every day, it was necessary to leverage that newfound fame and make something of her career as she had been hovering on the edge of the industry a good eight years before that breakthrough role.
Despite things improving career-wise for her, she remains fiercely private. She has proven to be a somewhat mysterious character that the media is still trying to figure out, with small success so far.
Get Out Catapulted Her Into Global Fame
Despite her career gradually building a head of steam, Betty Gabriel did not quite expect that her next movie appearance would garner so much attention and acclaim. It proved to be the case after she appeared in the horror film Get Out.
Having been a frequent collaborator with Blumhouse Productions, she had a unique advantage when casting for the roles began. She was on vacation when she received a call to come in and audition for a role in the movie. After auditioning, she got cast to play Georgina, a black housekeeper whose soul has been stripped of its originality by the white people she works for.
Her performance went on to receive critical acclaim from everyone. Despite playing a supporting role and having limited screen time, she was one of the best performers in the movie. Her depiction of someone who did not have her soul received high praise, and critics felt she was a standout performer.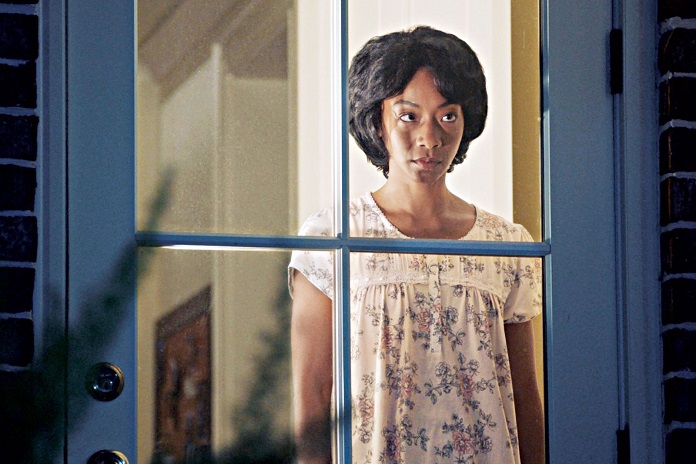 Her performance also brought her much fame, and she became known to a broader audience. One of her most memorable scenes in the movie became a popular gif across social media, and lots of conversations were centered around it. She eventually was rewarded with the Invisible Woman Award at the 14th Women Film Critics Circle Awards for her performance in Get Out – a fitting moment for the actress.
She Prepared for the Role by Having a Race-Related Conversation with Her Grandmother
When Betty Gabriel realized she had gotten the role in the movie, she set out to do her research to execute the part properly. She began by watching TED talk videos of Martin Pistorious regarding being trapped in one's own body. Betty also watched the Bride of Frankenstein to enhance her preparation technique.
Perhaps the most important thing she did, though, was to have a conversation with her grandmother. Her grandmother grew up in Alabama at a time when racial tensions were extremely high and noticeable.
The preparations certainly worked a treat as she went on to deliver an unforgettable performance. Her performance received so much acclaim that she was even put forward as a possible Oscar nominee. According to some media outlets, she deserved a nomination in the best-supporting actress role.
She ended up not receiving a nomination recognition from the Academy. Still, it did nothing to take away from her outstanding performance. The New York Times labeled her performance as one of the best of 2017.
The movie went on to be a commercial and critical success. It grossed over $250 million against a paltry budget of $4.5 million. It also earned four nominations at the 90th Academy Awards and won for best screenplay. At the 75th Golden Globes, it amassed two nominations but failed to win any awards.
Betty Gabriel Has Gone on to Forge an Affinity for Horror Movies
After the success of Get Out, things got understandably hectic for Betty Gabriel. She leveraged spectacularly on the exposure she got and built a niche for herself in the horror genre. She is gradually becoming the scream queen of the 21st century.
Her post-Get Out filmography is littered with horror movies in various forms. She starred as one-half of a lesbian couple in the horror Unfriended: Dark Web in 2018. The year also brought another action-horror movie for her with Upgrade, where she played a tough cop tracking a genetically enhanced human.
In 2019, she appeared alongside Ethan Hawke, Anne-Marie, and Loni Love in the drama Adopt a Highway. She also had a supporting role in the drama, Human Capital. Betty Gabriel also upped her television series game after the release of Get Out.
She got cast in season two of the science-fiction Western series Westworld and featured in three episodes. Other TV series features include an appearance in eight episodes of the science fiction thriller Counterpart and another eight-episode part in the crime drama, Defending Jacob.
With future appearances in the film, The Spine of Night, and the show, Clickbait lined up; the 2010s is turning out to be a purple patch for the actress whose career began in theatre.
She Gradually Moved from Theatre Work to Small Film Roles
Betty Gabriel began her acting journey with theatre roles while still at Iowa State University. When she moved to Chicago to learn modern dance, she continued as an actress and dancer within Chicago theatre scenery. Betty took these roles initially to further her education process as an actress. Eventually, she began appearing in productions like The Brother/Sister Plays by Steppenwolf Theatre in 2010.
Her first-ever film appearance came in the short film Maidenhead, released in 2009, and Gabriel played a small role as Isabeau. She had to wait for two years before she got her next appearance in a movie, but it was the platform she needed for her career to eventually kickoff.
She appeared in the unpopular drama In Memoriam playing Kayla. The bit-part roles continued in 2013 and 2015. She appeared in the comedy film, He's Way More Famous Than You and the biographical drama Experimenter, respectively.
She Eventually Got her First Major Role in A Movie in 2016
The year 2016 proved to be the beginning of the best period of Betty Gabriel's career. It seemed all her years of patience and hard work were about to be worth it, and it started when she secured her first major role in a movie.
She got cast to play a supporting role in the 2016 horror movie The Purge: Election Year. The film was the third installment in The Purge franchise and was the most successful at the box office before being overtaken by the fourth installment. It marked a successful debut in a significant capacity for Betty Gabriel and showed she was ready to handle more responsibilities.
She followed up this big win with news that she would be making her television debut in the periodical drama web series Good Girls Revolt. Gabriel was cast to play Denise in the Amazon Prime series and starred in it for seven episodes.
The series generally received positive reviews from critics but was canceled after just one season. Gabriel then went on to star in her second television project in the same year. Once again collaborating with Blumhouse Productions after The Purge: Election Year, she appeared in two episodes of 12 Deadly Days. She played the role of Willow Russell in the miniseries.
Betty Gabriel's Personal Life is a Mystery
Betty Gabriel was born on the 6th of January 1981 in Washington, DC. She grew up in Pittsburgh, Pennsylvania, and Hyattsville, Maryland. She is fiercely protective of her privacy, and details about her parents or siblings remain undisclosed.
Although she is relatively active on her social media accounts, she refrains from posting overly personal information. As a result, it is hard to say if she is single or not. She usually attends red carpet shows alone and is yet to be pictured in the arms of a man (or woman). If we were to make a guess, it would be that the Get Out star is currently single and unattached.
She is a graduate of the Julliard School of Performing Arts
Betty Gabriel had a decision to make after finishing college. She had just bagged a B.Sc in Animal Science from Iowa State University in 2002. She could have decided to pursue a career along that line, but she made a much more difficult decision to tread an uncertain path.
After college, she relocated to Chicago to study modern dance and work as an actress in the Chicago theatre community. Not satisfied with bit-part roles and wanting to further her craft as an actor, Betty George enrolled in Julliard, a private performing arts conservatory in New York City. In 2014, she graduated from Julliard with a graduate diploma and a stronger resolve to make it in the movie industry.