Caribe Devine is a Phoenix-based TV anchor who has carved a niche for herself in front of the camera. Though she worked with other media outlets such as KFOX-TV & KTSM in her early career days, Devine is best recognised for her efforts at 12 News. A passionate and dedicated broadcaster, she has deliberately remained with the network for more than a decade and also grown through the ranks. More so, the meteorologist is acknowledged for her good fashion sense on and off the screen. Explore amazing facts about the TV personality, passionate homemaker and former model.
Caribe Devine – Bio (Age and Ethnicity)
A Texan, Caribe Devine's birthdate is 15th June 1979. There is no information about her parents but it is popular knowledge that she and her two sisters Jacqueline and Quetzal were raised in a decent home in their hometown El Paso. The American meteorologist also takes pride in her Black and Mexican heritage.
Caribe has always had interests in broadcasting and was an active student at Andress High School where she became the anchor-reporter with the school's news team. She later bagged a degree in education from the University of Texas, El Paso. Right after college, Devine decided to pursue her passion by studying Broadcast Meteorology at Mississippi State University. Thereafter, she became a certified member of the National Weather Association.
Career Journey
After college, Caribe Devine first worked as a hostess at Applebees before eventually landing a place in front of the camera. She joined KFOX-TV El Paso, Texas, as a weather reporter and later worked in the same capacity at KTSM, also located in her hometown.
In 2005, she joined Phoenix 12 News working first as a weekend weather anchor and feature reporter. Through hard work and dedication, Devine not only warmed her way into the hearts of her audience but also grew through the ranks at work. By 2011, she was made the chief meteorologist at weeknights. She currently anchors the 5, 6, and 10 pm news with the network.
Over the years, Caribe Devine has worked primetime on 12 News where she mostly has to be camera-ready and be on air all night. According to the seasoned meteorologist who has intentionally remained at 12 News throughout her career, it has been a worthwhile experience at the network practically grooming her both personally and professionally.
Devine continues to thrive in her career which she is so passionate about. The broadcaster once revealed why she chose to work in TV. According to Caribe, she not only feels obliged but also takes pride in notifying and educating the public on different weather conditions.
Husband of The Famous TV Anchor
Caribe Devine is happily married to her heartthrob Renard Johnson, an engineering and information technology specialist. There is no information available as regards when and how the couple met or when they officially tied the knot. However, if their public photos together are anything to go by, then they are presumed to be living their best lives yet as husband and wife.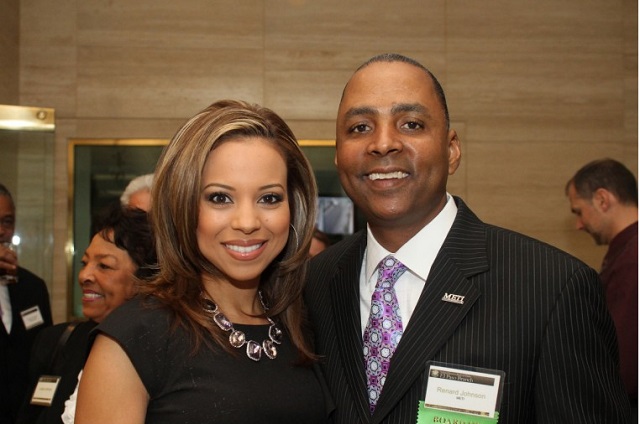 Caribe and Renard who have since expanded their family are proud parents to two daughters, the first Nevaeh born in October 2009, and Aviva born in December 2013. Devine values her family above all else and tries to create a balance between her career and the homefront. A doting wife and mother, she loves to savour special and even the smallest family moments when she's not working.
Her hubby, Renard Johnson owns METI Inc, a professional service company that provides support in systems engineering and information technology to government and private clients both at the national and international levels.
Other Interesting Facts
One of the demands that come with Devine's job as a meteorologist is fashion needs. In addition to her graceful looks, Caribe has a good sense of fashion and has done a good job at balancing simplicity and refinement on and offscreen. Besides her favourite black and white colours, Caribe has to consciously avoid wearing green colours on set in order not to be overwhelmed by the weather graphics on the chroma key wall. The TV personality also loves quality handbags and some of her go-to-brands are Louis Vuitton, Michael Kors, and Calvin Klein.
Prior to her career as a TV personality, Caribe Devine once modelled for top beauty brand Revlon where she was featured with curling irons.
One of the people Caribe looks up to in the industry is the pacesetter journalist Barbara Walters.
During both of her pregnancies, Caribe Devine joined the long list of expectant moms who had special cravings. Some of her taste bud delights at those times were milk, doughnuts, vegetables, salad, peanut butter, and jelly sandwiches.
Devine and her hubby intentionally decided to have more than one child. The meteorologist who believes that life will be 'even better with two' once disclosed that she had an amazing time growing up with her sisters and didn't want it any different for her first daughter Nevaeh whose name is "heaven" spelled backward.
Off her busy work schedule, Caribe Devine loves to take time and enjoy moments with her family as evidenced on her social media posts. Her other favourite leisure activities are reading, watching good movies, hiking, and exploring cuisines at a new restaurant.
The African-American and Hispanic journalist wears her mixed heritage with pride. Caribe speaks fluently both English and Spanish.
Caribe Devine's favourite travel destination is Aruba. More so, the meteorologist once disclosed that she is curious about Africa adding that visiting the continent is part of her bucket list.