The Southern region of Africa is one of the five regions that make up the African continent; others are Northern Africa, Western Africa, Eastern Africa, and Central Africa. The Southern part of Africa comprises independent countries, some existing within the borders of others. The region is rife with a wide variety of eco-zones and an expansive wildlife collection. It is home to people of various cultures and ethnicity, language, and beliefs.
Southern Africa was originally populated by Pygmies, Khoikhoi, and native African San people in widely dispersed settlements. Due to a huge amount of Bantu growth over the years, many ethnic groups in the region speak different Bantu languages. The African region is further rich in culture and various natural landmarks.
The Countries That Makeup Southern Africa
The number of independent states that make up the Southern region of Africa differs depending on who you ask. While some organizations include some nations that belong to two other regions, other organizations or sources tend to focus strictly on those that only fall into the southernmost region.
For example, the United Nations scheme of geographic regions in Africa has only five countries under Southern Africa. These countries are Namibia, Botswana, Eswatini (Swaziland), Lesotho, and South Africa. The Southern African Development Community, founded in 1980 to facilitate co-operation amongst nations in the region, has sixteen member countries. They include the five earlier mentioned countries along with Angola, Comoros, Democratic Republic of Congo, Madagascar, Malawi, Mauritius, Mozambique, Seychelles, Tanzania, Zambia, and Zimbabwe.
For this article, we will be focusing on the globally accepted five Southern African countries as specified by the United Nations. Despite existing in the same region and sharing certain similarities, these countries have numerous differences and landmarks distinct to their nation. Let us explore each country one by one.
1. Botswana
Botswana is a landlocked country located in Southern Africa, meaning that it shares borders with other countries and none with any water body. It is bordered by South Africa to the south and southeast, Namibia to the west and north, and Zimbabwe to the northeast. The country also shares a border that is at most a few hundred metres long with Zambia to the north.
Botswana is one of the least inhabited countries globally and comprises primarily of deserts and arid lands. Despite this, it is home to some stunning landmarks.
Livingston Cave
Also called the Kokwe cave, Livingstone Cave is located in the village of Gabane which is a short distance from the capital city of Gaborone. This cave was said to be occupied by some evil spirits according to local tradition but explorer David Livings dismissed these claims after he visited it once. Despite its popularity, the cave remains underdeveloped.
Orapa Diamond Mine
The world's largest open-pit diamond mine is in the central area of the Southern African country. The mine produces over 2,200 kilograms of diamond yearly.
Kubu Island
Kubu Island is an unusual place. It once reportedly got submerged by a lake. In the present day, the rock island stands tall above a white sea of salt.
Although there are other rock islands in the Makgadikgadi region, Kubu Island is the most popular. The unique thing about the island is its three taboos; no hunting of wild animals, no collection of island rocks, and no plucking of wild fruits.
Kgale Hill
Kgale Hill is an unmissable landmark located in the western part of Gaborone. Adventurous visitors who decide to hike to the top of the hill get a wonderful view of the Gaborone dam and the city. If you are lucky, you might also sight one or two black eagles famous for nestling in the hill's cliffs.
Kalahari Desert
One of the biggest deserts in the world is an extremely popular landmark in Botswana. The Kalahari desert covers much of Botswana and parts of Namibia and South Africa. Some ethnic groups in Botswana have settled around the desert and have adapted to its arid climate. Some of these settlements are Ghazni, Tshane, Tshabong, and Orapa.
Other Landmarks and Notable Tourist Attraction Spots in Botswana
Chobe National Park
Okavango Delta
Tsodilo Hills
Matsieng Foothills
2. Eswatini (Swaziland)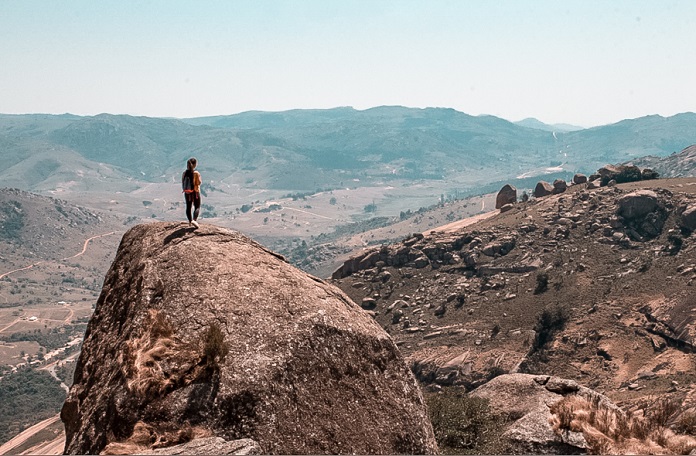 Eswatini is Africa's last complete monarchy and it is yet another landlocked country in Southern Africa. It is bordered by Mozambique to its northeast and South Africa to its north, west, and south. The country, formerly known as Swaziland, is a small but beautiful nation home to stunning scenery, beautiful cliffs, ravines, and waterfalls. Some of its most notable landmarks are listed below.
Hlane Royal National Park
Hlane Royal National Park is home to the largest herd of game in the entire country. It offers visitors the opportunity to see animals such as lions, elephants, and rhinos. Asides from wildlife, you can also ride mountain bikes, bird walks, and overnight treks in the bush.
Lobamba
Lobamba is the spiritual and cultural heart of Eswatini. It is home to the monarchy and some of the nation's most important structures, including the Parliament Building, Royal Kraal, and the National Museum. Visitors can, however, only tour the Parliament Building.
Ngwempisi Gorge
A geological masterpiece, this gorge was carved from the Ngwempisi River and it stretches almost 20km in length. To date, it has remained untouched by human settlement and intervention, offering visitors a unique and genuine feeling of being in the African wilderness.
Other Landmarks and Notable Settlements in Eswatini include:
Mkhaya Game Reserve
Mantenga Reserve
Malolotja Nature Reserve and Phophonyane Falls Nature Reserve.
3. Lesotho
Like other countries in Southern Africa, Lesotho is another landlocked country with the unique status of being entirely encircled by South Africa. It is one of three nations in the entire world whose territory is wholly surrounded by another nation. The other two? San Marino and Vatican City.
But despite being a country inside a country, Lesotho still has its own distinct and remarkable landmark and tourist attractions.
Tse'hlanyane National Park
Although this national park is underrated and perhaps underused, it remains a viable landmark in the whole of Lesotho. Located in Tse'hlanyane, it is the largest park in the country and protects a 5600-hectare wilderness with a high altitude. It is unique for housing Lesotho's only indigenous forest area with several undergrowth plants foreign to the habitat.
Sani Pass
Sani Pass is very popular with both tourists and citizens. It is an ideal landmark for driving, hiking, or riding mountain bikes with a spectacular view of the Drakensburg Mountain. At Sani top is Africa's highest pub where locals and foreigners enjoy a drink and have their pictures taken as souvenirs.
Thaba-Bosiu
The Thaba-Bosiu is considered a national monument as it is widely considered the origin of the Basotho nation. It generally inspires a sense of identity and loyalty from citizens. For this reason, it is one of the most important historical landmarks in Lesotho. The local belief is the 'mountain of the night' grows at night into an impenetrable force. It was attacked numerous times but was never conquered.
Other Important Landmarks in Lesotho are:
Kome Cave Dwellings
Maletsunaye/Semonkong Falls
Major Bell's Tower and Fort.
4. Namibia
Namibia is one of the least densely populated countries in the world. This is as a result of it being occupied by the large and arid Namib Desert from which the country derives its name.
Being located between the Kalahari and the Namib Deserts has done no favors for Namibia in terms of rain. It receives the least amount of rainfall amongst every Sub-Saharan African nation. However, it does have some top-notch landmarks and tourist destinations. Check out some memorable ones below.
Fish River Canyon
The fish river canyon is so breathtaking and grand that it is considered only second to the Grand Canyon in Arizona in the entire world in terms of magnificence. Located in Southern Namibia, the canyon has an immense ravine about 160km in length, 27km in width, and almost 550m deep. It contains only a small amount of running water because it is used for damming purposes.
Twyfelfontein
This landmark is located in north-western Namibia and contains one of the largest collections of engraved rocks in Africa. It is believed that the carvings were made over 6000 years ago by ancient Bushmen. It represents a fascinating sight.
Gibeon Meteorite National Monument
This national monument is located in the eastern part of Post Street Mall, an area renowned as Windhoek's shopping heart. This structure is comprised of 33 octahedrite meteorites mounted on numerous steel plinths and weighs a total of 21 tonnes. The meteorites are so old, they are estimated to be around 600 million years and were first recorded in 1838.
Other Landmarks in the Southern Africa country include:
Skeleton Coast
Kolmanskop
Caprivi Strip
Franke Tower
Heroes Acre
5. South Africa
South Africa is the southernmost nation in the whole of Africa. With its distinct three capital cities and numerous ethnicities, it is the powerhouse country in Southern Africa and one of the most influential in Africa. Part of what makes South Africa a fascinating country is its numerous landmarks that attract tourists regularly. It is no surprise that it has the most UNESCO heritage sites on the African continent. Here are some of the famous ones.
Robben Island
This landmark is popularly known as the place where Nelson Mandela spent 18 of his 27 years in prison. However, the island has also served as a leper colony and animal quarantine station. It is a UNESCO heritage site. One of the landmark's unique things is that some of its present guides were once prisoners of the famous prison.
Isandlwana Battlefield
The historical landmark is the location of a battle that took place on January 22, 1879. The battle marked a significant victory for Zulu warriors as 20,000 of them ambushed a British camp and overcame them. It is a landmark worth visiting.
Nelson Mandela Capture Site
Nelson Mandela was arrested on August 5, 1962, at this location in KwaZulu-Natal before the now famous Rivonia Treason Trial. It remains one of the most famous landmarks in South Africa and a sign of life in the apartheid period.
Hole in the Wall
This remarkable hole in the wall is on the wild coast, just on the outskirt of Coffee Bay. The local Xhosa people refer to it as 'the place of thunder' due to certain tides slapping against the rock in a loud manner.
Other Historical Landmarks and Top Tourist Destinations in South Africa include:
Union Buildings
The cradle of Humanity in Maropeng
The Big Hole in Kimberley
The Huguenot Memorial Monument in Franschhoek
South Africa is the Biggest Country in Southern Africa
Going by the generally accepted list of the Southern African nations by the United Nations, South Africa is the biggest country in Southern Africa. With a landmass of 1,221,037 square kilometers, it is ahead of the second-biggest Southern African country, Namibia, with a landmass of 825,418 square kilometers. Botswana, Lesotho, and Eswatini round up the list with land sizes of 581,726 square kilometers, 30,335 square kilometers, and 17,364 square kilometers respectively.
South Africa is not just the biggest in terms of landmass. It is also the largest in terms of population, with over 59 million citizens. With $711 billion in GDP, it is also the richest Southern African country and has the region's biggest economy. Suffice to say, South Africa wholly dominates the region.
Which City Holds the Most Attraction for Tourists in Southern Africa?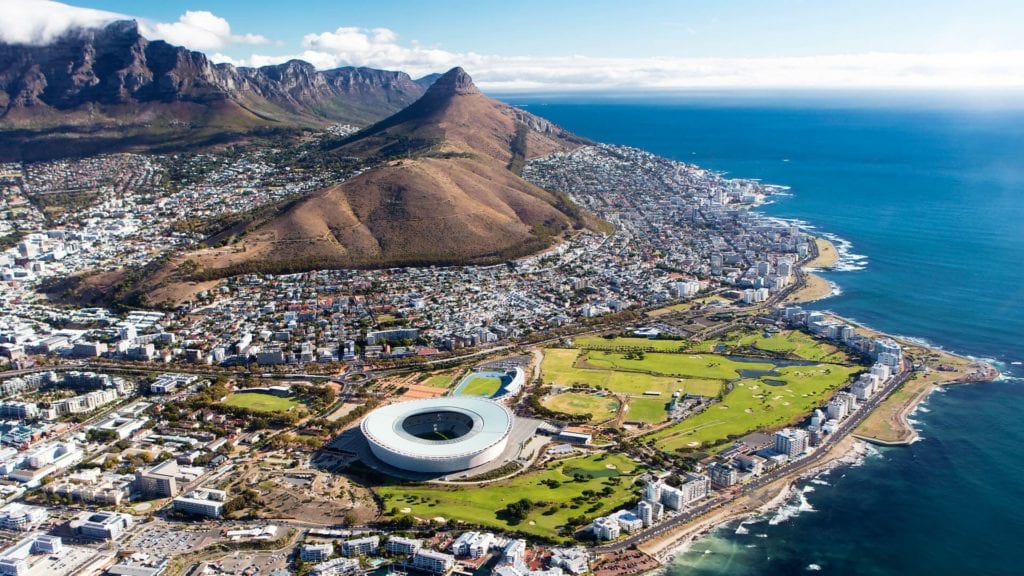 While Southern African cities have enough tourist attractions, as we have shown, some draw more visitors than others. The city that holds the most appeal for tourists in the Southern African region is none other than the mother city of Cape Town.
It is the best tourist attraction, even in the whole of Africa. It represents the easiest and most accessible way to get a taste of Africa. Its colorful mix of people, food, tradition, and culture makes it a prime place for tourists from all over the world to visit. In 2016, the Master card global cities index estimated that it welcomed over 1.6 million people.