Ada Ameh (Born: May 15, 1974, Died: July 17, 2022, Age at Death: 48) was a Nigerian actress with more than two decades of experience in Nollywood.
She was most popular for the role she played as Emu Johnson in the award-winning Nigerian TV series titled The Johnsons. She was also notable for her role as Anita in the 1996 movie, Domitilla. Ada, who was highly skillful and creative in acting and interpretation of characters gained a decent fan base through her emergence in the Nigerian movie industry in 1995. Also, the veteran actress caught the Nigerian media attention following the death of her only child, Aladi God'sgift whom she lost to cancer in 2020. Here, we unravel some facts about her biography.
Profile summary of Ada Ameh
Full name: Ada Ameh
Date of Birth: 15th May 1974
Date of Death: July 17, 2022
Age at Death: 49 years old
Place of Birth: Ajegunle  in Lagos, Nigeria
Ethnicity: Idoma
State of Origin: Benin City
Nationality: Nigerian
Marital Status: Single
Occupation: Actress
Years Active: 1995-2022
Famous For: The Johnsons
Ada Ameh Was Born In 1974
Of Benue State descent, Ada Ameh was birthed in the southwestern part of Nigeria, precisely at the Naval Barracks on Malu (Mobil) road in Ajegunle, Lagos State, Nigeria. She was born on the 15th day of May 1974. Ada was brought up in a family of eleven children; 5 older brothers, and 5 younger sisters, she was the 6th child. Her father worked in the Navy while her mother, a strict disciplinarian was a businesswoman. Ada was multilingual, she spoke Idoma, Ibibio, and Yoruba very fluently and a little bit of Igbo language.
She Dropped Out Of School After Getting Pregnant In Her Early Teens
For her education, Ada attended primary school at Army Children's School 4, at Ajegunle, Lagos. She attended three secondary schools, first was at Idoma Community Secondary School, Otobi, in Benue State. After her class two, she moved to Wesley High School, Otukpo, also in Benue State, and later to Adeolu Secondary School, Ajegunle, Lagos.
In the middle of her secondary education at Wesley High School, Ada got pregnant and a Naval officer was responsible for it. As a result, her education was obstructed as she couldn't continue along with the pregnancy. To make the situation worse, she lost her mother within the same period. As if that was not enough still, she was chased out of the home by her father. In fact, it was no picnic for the actress at this time of her life, considering the fact that she was only 14 years old at the time.
When she did not have anybody to cater to her needs, she went to the extent of becoming a hustler just to meet up with her baby's needs whose father did not appear in the picture all through her lifetime. However, Ada proved to be a strong lady when she went back to complete her secondary school after giving birth, as well as sit for GCE as an external candidate. Having a passion for education, she also later struggled to get a diploma in Cosmetology from an undisclosed institution.
How Ada Ameh Began Acting at The Age of 21
According to Ada, it was the famous Nigerian filmmaker and producer, Zeb Ejiro who influenced her career in acting. In 1995, Ejiro met her at an occasion both of them attended, they got talking, and from there, he told her that there is something he sees in her that needs to be harnessed. Ada, in her own words, said that she took it all as a joke because all her life she never thought of being an actress but only wanted to become a medical doctor or a singer.
Eventually, Ejiro encouraged her to register in the Nollywood industry which she did promptly. She began going for auditions and in 1996, when Zeb Ejiro's movie, Domitila was going to be shot, he called her to play the role of Anita. Even though she played as a greenhorn, her role in the movie earned her the bedrock of popularity she had in Nollywood. The movie eventually became successful and received many awards, bringing her to global recognition.
That was how it all started for Ada Ameh and the actress became consistent in her efforts to date. She credited her growth in Nollywood to Zeb Ejiro who apparently brought out the talent in her and then there are Pat Okiri and Barsoge who taught her how to interpret a script.
The Johnsons TV Show Took Her To Another Level Of Fame
Ada kept on climbing the ladder of success by taking roles in numerous movies, alongside top Nollywood stars. She usually played the character of a mother and sometimes acted in comedic roles. In 2013, she was featured in the award-winning Nigerian comedy film, Aki na Ukwa alongside Chinedu Ikedieze and Osita Iheme (Aki na Pawpaw).
In 2016, she started starring in the popular TV series, The Johnsons which currently airs on Africa Magic Showcase channel 151. This particular TV series radically boosted the actress's fame and popularity, wherein she diversified as a comedian. The Johnsons is a Nigerian TV series that focuses on the average Nigerian family in Lagos and the challenges they face.
In the TV series, Ada Ameh played the character of Emu Johnson, the mother of the family. She is often misunderstood and unappreciated, given her lack of formal education and poor vocabulary, and would be corrected by her family members in a ridiculous manner. The long-standing TV show is a successful project and has also received many awards and accolades. Over the course of her career, actress Ada acted in more than 100 Nollywood movies which include:
Domitila
Aki na Ukwa
Ghana Must Go
Our Husband
One Good Turn
Double Trouble
A Million Baby
King Of Shitta
Phone Swap
Blood Money
The Wedding
30 Days in Atlanta
True Love My Foot
Before Her Death, Ada Ameh Recorded Many Achievements As A Nollywood Veteran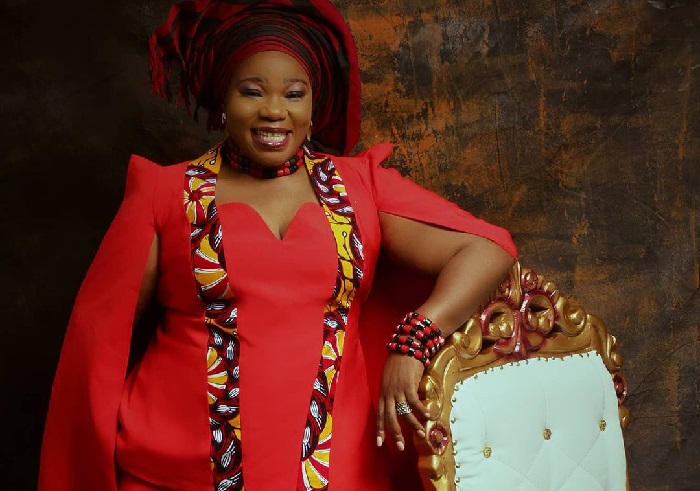 In 2012, she won the Best Actress in a Supporting Role at the Nollywood Movies Awards
She was nominated as the Best Comic Actor to Watch at the Africa Movie Academy Awards
In 2017, she received a chieftaincy title in her hometown in Benue State for her contribution to community growth and development
She was also nominated as the Promising Actress in Nigeria at the Africa Magic Viewer's Choice Awards
In 2018, she was nominated as the Best Actress in Comedy at the City People Entertainment Award
With an estimated net worth of N200 million, Ada Ameh has made a fortune for herself, making her one of the richest and influential actresses in Nollywood.
Ada Ameh Died In 2022 At 48
Nollywood, especially The Johnsons family went into mourning as news about the death of Ada Ameh trickled in on 17th July 2022. The President of the Actors Guild of Nigeria, Emeka Rollas released an official statement upon her death to devastated fans.
Ada Ameh had opened up about her struggles with mental health a few weeks before her death but she had been living with the condition for many years. The reason for her mental challenges can be traced to the deaths that happened around her within a short time. Before the year 2020, Ameh lost six of her direct siblings. As if that was not enough torture, she later lost her only child and daughter on October 20, 2020. That was the straw that broke the camel's back.
The actress slipped into depression and her mental health gradually depreciated into nothing. Her situation got worse after losing another sister in March 2022. During a TV program where she was interviewed, the actress expressed hope that she will come out of her situation better.
"Everything is going to be fine. I have an issue right now, and it's taking my life. I will not die. We will get over it."
Sadly, this never happened as The Johnsons actress passed on a few months later.