Frances Bavier was a woman of several contrasts. She was born and bred in the bubbling city of New York but choose to live out the remainder of her life in a small idyllic town of Siler City, North Carolina. The late actress was also most famous for portraying a warm and loving southern matron, named Aunt Bee, on TV. However, in real life, Bavier was a recluse who had a reputation for being difficult. Want to know more about the late TV star? Then, we have got more facts about her including her husband as well as the cause of death.
How Frances Bavier Built Her Career
Frances Elizabeth Bavier was born on the 14th of December 1902 in Manhattan, New York City. Her father's name was Charles while her mother's name was Mary. Bavier grew up in New York and obtained a degree from Columbia University. She later honed her acting skills at the American Academy of Dramatic Arts, and commenced her career in vaudeville (a theatrical genre of variety entertainment).
The New Yorker later moved her talents to Broadway and took part in several productions. Frances Bavier made her screen debut in the 1931 film, Girls about Town. She later went on to appear in several movies including The Day The Earth Stood Still, The Stooge, The Lady Says No, Bend of the River, Sally and Saint Anne, My Wife's Best Friend, Man in the Attic, The Bad Seed, It Started with a Kiss, and A Nice Little Bank That Should Be Robbed etc.
Frances Bavier experienced the most career success on the small screens, appearing in TV series such as City Detective, Dragnet, It's A Great Life, The Eve Arden Show, Letter to Loretta, The Andy Griffith Show, and Mayberry R.F.D. The Andy Griffith Show was a CBS sitcom which ran from 1960 to 1968. The show revolved around Andy Griffith, the widowed sheriff of the fictional town of Mayberry, and his precocious son, Opie. In the series, Bavier portrayed the role of Aunt Bee, the warm and kind-hearted aunt/housekeeper who takes care of both father and son. Aunt Bee was renowned for her famous dishes as well as the coziness of her surroundings. Bavier appeared in about 175 episodes of The Andy Griffith Show and received the 1967 Emmy for best-supporting actress in a comedy. The New Yorker also reprised her famous role of Aunt Bee in a spinoff series titled Mayberry R.F.D. By the time of her demise, Bavier had a net worth of $700,000.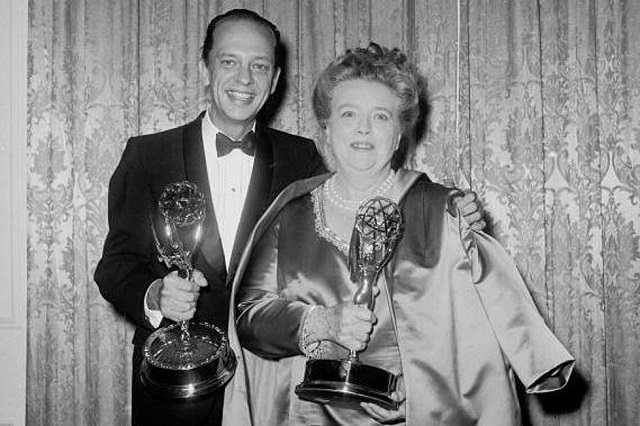 About Frances Bavier's Husband
Bavier never got married nor had any kids. The actress rather focused her energies on her Hollywood career. Bavier made her last professional appearance in the 1974 film, Benji. Benji is a family drama about a stray dog who befriends a bunch of neighbourhood kids. The movie was a critical and commercial success and won the Oscar for best original song.
Following the success of Benji, Bavier called time on her accomplished career and retired to the town of Siler City in North Carolina. The actress was initially an active member of her local community, taking part in Christmas/Easter activities as well as holiday parades. The Mayberry star also welcomed fan mail and supported several charity activities.
Bavier, however, became a recluse in later years; she declined interviews and almost never left her home. The actress was also said to have been crabby and fussy on the few occasions that she interacted with others. Some people have suggested that Bavier's attitude was just a means of protecting her privacy. The actress' home was often invaded by fans who hoped to catch a glimpse of her.
See Also:  Tim Conway And Harvey Korman: Everything To Know About The Duo 
What Did She Die of?
Frances Bavier passed away on the 6th of December 1986; she was aged 86 years old. Her death was caused by several heart-related issues as well as breast cancer and arthritis. The actress was later interred at the local cemetery in the town she called home. Bavier left an estate of $700,000 at the time of her death. She bequeathed parts of it to the Actors Fund of America as well as UNC Public Television. The Mayberry star also bequeathed $100,000 to Siler City Police Department. The principle of the fund is kept at $100,000 while the interest is divided amongst the police staff, annually, as a Christmas bonus.