Gethin Anthony is a British actor who is famous for his role as King Renly Baratheon in Game of Thrones. Gethin Anthony is not gay but rather heterosexual.
Although Anthony has appeared in several other films like Doctors and Aquarius, fans best know him as the gay king Baratheon. Taking up this sensitive role has led to many speculations, but Anthony's popularity has since soared amongst the LGBT community, who now perceive him as a strong ally. The question, however, remains: is he gay? Before we delve into all that detail, let's tell you about the Anthony you probably don't know.

Who Is Gethin Anthony?
Gethin David L. Anthony (a.k.a. Gethin Anthony) was born on October 9, 1983, in Warwickshire, England. He schooled at Ashton Hayes Primary School and Christ Church Primary School, New Malden, Surrey.
Anthony attended the renowned Tiffin School in Kingston-Upon-Thames, where he served as head boy. Soon after that, he received a Scholarship to attend the British American Drama Academy in London from July to August 2004. Following that, Gethin studied English Literature at Oxford University's Balliol College and was President of the Oxford University Dramatic Society, after which he trained at the London Academy of Music and Dramatic Art.
Although Gethin is best known for his role in Game of Thrones, His acting career dates back to 2006 when he made his debut appearance in Pinochet's Last Stand, a movie chronicling the life of Former Chilean dictator Augusto Pinochet. In the movie, Gethin played the role of William Straw. Following his role in Pinochet's Last Stand, Gethin has also appeared in Beyond the Rave (2008), Into The Storm (2009), Dreck (2012), Copenhagen (2012), First Kill (2017) and Kodachrome (2017).
From November 2012 to March 2013, Gethin played Grigory in Boris Godunov at the Royal Shakespeare Company in Stratford-upon-Avon. He has appeared in Ten Days to War and Doctors. His glory days, however, came in 2011 and 2012 when he starred as Renly Baratheon in the TV series Game of Thrones and Charles Manson in NBC's Aquarius in 2015 and 2016.
In Game Of Thrones, Anthony starred alongside actors and actresses like Charlotte Hope, Richard Brake, Eline Powell, and Faye Marsay. As a gay character, he performed sensual scenes with Sir Loras Tyrell, a role portrayed by Fin Jones. In the series, although Gethin was married, his desires drifted to his partner, Tyrell whom he equally made various public appearances with.
His performance in the series has not been without reactions, especially from millions of LGBT viewers. But Anthony's tact on-set nailed the role and sparked an avalanche of appreciation from audiences, especially those of the LGBT community who now see him as a voice for their cause. In a 2016 interview with Dailystar, Anthony confessed to having received several "lovely letters" from his gay fans.
Is Gethin Anthony Gay, Who Is The Partner or Wife?
Although Anthony Gethin has been seen enjoying some gay romance with his on-screen partner, Sir Loras Tyrell, that is hardly the case in real life. He has not been spotted with or been rumored to be dating any mystery lady. Unlike most celebrities of his caliber, the English star has kept much of his love life what it's supposed to be: a personal affair. He hasn't been seen flaunting any details of his love life on social media. However, an October 2017 social media post kept fans expectant about the actor's next move.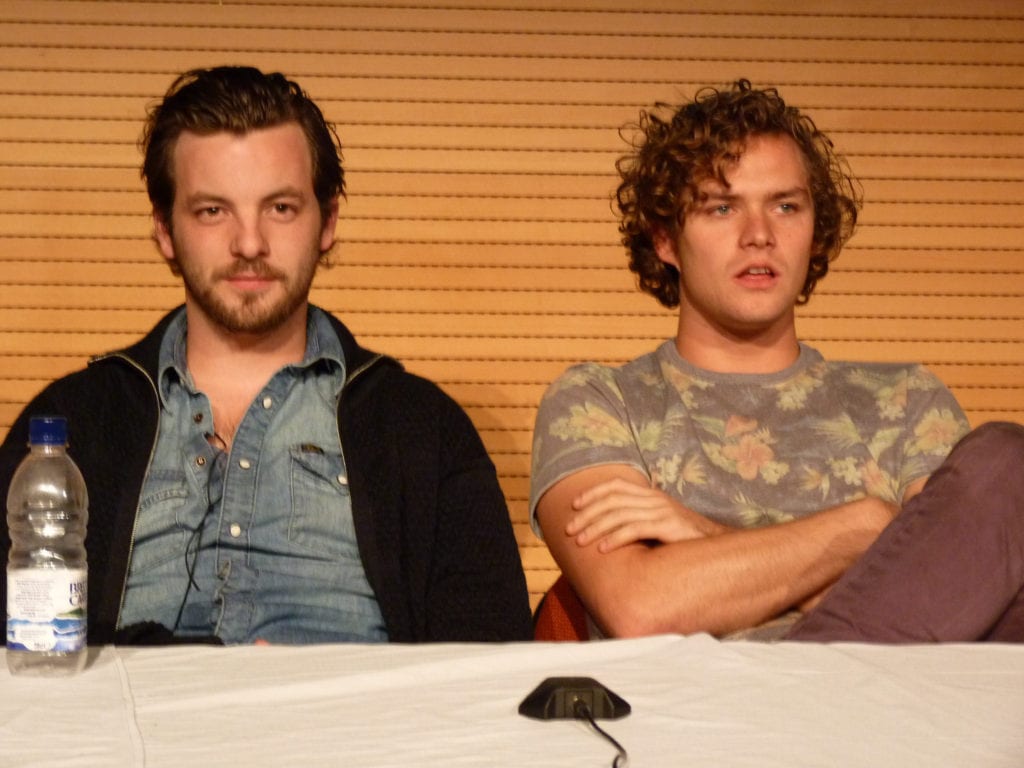 Gethin reportedly posted a picture captioned, "Gethin and Cara". So far, nothing has been heard from the actor over the meaning of the post. There are, however, speculations that Cara is either his partner or friend.
If there is anything fans should look out for, it's his starring role in the 2018 movie Dead in a Week: Or Your Money Back, a movie directed by Tom Edmunds where Gethin portrayed the character of Charlie. The movie has received 7.9 stars out of 10 from IMDb since the trailer was first posted on YouTube in June 2018.
When it comes to the sexual orientation spectrum, Gethin Anthony is not gay but rather straight unlike his famous Game of Thrones character. The actor is however a vocal advocate and supporter of LGBTQ rights. He has even participated in a straight but not narrow campaign. Straight but not narrow describes a person who has a heterosexual orientation but is open-minded and accepting of a person's sexual orientation
Gethin Anthony's Salary and Net Worth
Although no official details of his exact net worth have been published yet, Anthony is believed to have earned substantial income from his appearance in the hit TV series, Game Of Thrones. The series has grossed about $2,000,000 domestically.