She has appeared on the cover of Forbes Woman Africa magazine and has won and received nominations for several awards. It has been a successful career for the South African actress, who has amassed substantial wealth in over two decades alongside critical recognition. Connie Ferguson's filmography and her business ventures have helped her to a $2 million net worth and given her many of the luxuries her heart desires.
The journey to her net worth has taken a lot of courage and dedication, particularly to her craft. She has also been a businesswoman and model, both of which have contributed significantly to her considerable wealth.
A Lot of Connie Ferguson's Net Worth comes from Eighteen Years of Generations
The soap opera brought Connie Ferguson into the limelight, and it is one of the cornerstones of her enviable net worth. Born in Kimberly, Northern Cape, in South Africa, Connie had begun her entertainment career in 1991. She worked as a model, appearing in commercials and print ads for various brands. Then she found acting with minor roles in works like Tropical Heat, where she played Lydia. Later, she got cast in South Africa's most popular soap opera, Generations.
She began playing the main role of Karabo Moroka, the wife of Tau Mogale and sister to Archie Moroka. She starred alongside other notable actors like Sophie Ndaba, Menzi Ngubane, and Slindile Nodangala. The journey with Generations lasted eighteen years.
For the first 16 years, she appeared consistently on the show between 1994 and 2010. Before returning in 2014 for the show's relaunch as Generations: The Legacy, she left to pursue other career opportunities. Connie Ferguson only spent two years in her second return, however, before leaving permanently.
Her exact salary per episode remains a mystery. However, her longevity on the popular show provided the foundation for Connie's burgeoning wealth. And as she starred in other projects, she grew her net worth on credit after the other.
Connie's Filmography Has Brought Her a Lot of Income
Generations may have been the show that brought Connie Ferguson to the limelight and planted the seed for her $2 million net worth, but other acting roles have contributed. During her first stint on the soap opera, she appeared in Solley Loves Kina, Soul City, Love By Many Way's, among others.
She also hosted a late-night show for three years, Late Night News with Connie Ferguson, between 2004 and 2007. After her first exit from Generations, she appeared in The Wild, Rockville. After the second exit, she has been starring in the telenovela, The Queen, since 2016. This busy nature has ensured Connie's income is always on the rise.
Business Investments like a TV Company and Her Own Fragrance Made Connie Rich
If Connie Ferguson's filmography was not enough to help her reach a $2 million net worth, her business investments did. After leaving Generations for the first time, she and her husband, Shona Ferguson, launched the TV production company, Ferguson Films. Their first aired project was Rockville, which began appearing on M-Net in 2013.
Over the years, they have produced other works like The River, The Imposter, The Gift, The Throne, and iGazi. A successful acting career is lucrative, but with producers being investors who receive a larger share of profits, Connie has made a lot more money via the company.
It is not just a TV company that constitutes her investment portfolio, either. Karabo, as most fans call her, launched a fragrance, True Self, in 2008 and has a lotion she released six years later.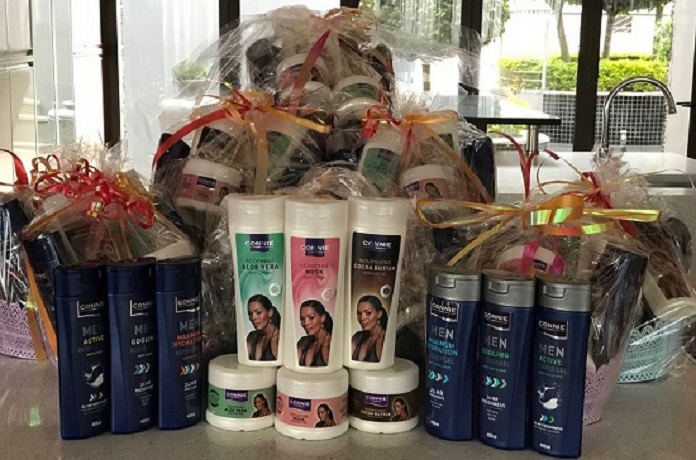 Both body care products are under her company, Koni Multinational Brands, which she founded in 2013. She has since released other body care products, with a presence in major retail stores like Shoprite, Choppies, Game, and Clicks.
Her decision to start the company came after six years of being a model and ambassador for Garnier's facial product, Even & Matte. While she earned a substantial amount as the brand's face, Connie's entrepreneurship spirit led her to establish her own thing. It has been a good move ever since.
To recap – sources of Connie Ferguson's $2 million net worth include:
The face of Even & Matte
Co-founder, Ferguson Films
Founder, Koni Multinational Brands
Eighteen years on Generations, and several other film roles.
With Her Net Worth, Connie Ferguson Has Been Able to Afford a Plethora of Luxuries
Her career as a model, actress, and entrepreneur has seen her receive accolades like the South African Foundation for Excellence and Achievement Award and Duku Duku Awards. She has also received the You Spectacular Award, a place among Cosmopolitan magazine's South Africa's 10 Most Beautiful Women and Upcoming Supplier Award.
It has also made her a lot of money, which she sues in enjoying luxuries ranging from luxury cars to a jaw-dropping house. Connie and her husband own a collection of cars that include a Range Rover, G-Wagon, Bentley, Rolls Royce, and a flashy BMW. Aside from their four-wheeled cars, they also one two-wheeled and three-wheeled vehicle each.
Asides from their vast car collection, they also have one of the most luxurious houses in South Africa. Connie Ferguson and her husband, Shona, have not hesitated in showing off pieces of the mansion, which spans several acres of land.
It is a multi-story home with a spiral staircase with a larger than life entrance that opens to a piano. The driveway is exceedingly long and capable of holding the couple's expansive car collection, with plenty of room for casual rides, as seen from some of Connie's Instagram posts.
Her house also has room for well-manicured trees surrounded by terraced floors. Inside, the floor is made of marble tiles with luxury furniture adorning its multiple rooms.
She Frequently Goes on Lavish Vacations With Her Family
Connie and Shona Ferguson are royalty in South Africa. With her net worth, the veteran actress and her family have also spread their financial wings outside the country. With her husband and children, Connie has been on opulent vacations to places like Dubai and California.
During their visit to California, the couple explored various tourist attractions in the famous US state. They stayed in Beverly Hills, lodged at the expensive Waldorf Astoria, and visited Madame Tussauds, among other fascinating locations. In Dubai, Connie and her family went on helicopter rides, spent time in the Margham Desert, and stayed at The Palm Dubai.
After more than two decades as an actress, Connie Ferguson has developed a reputation as the queen of South African television and has the net worth and lifestyle to go with it.