Chrisean Rock's height is 5 feet 4 inches, equivalent to about 163cm or 1.63 meters. Her weight is around 54kg.
The American rapper, who has constantly been in the news due to her toxic and on-off relationship with Blueface, is one of the few celebrities yet to go under the knife to enhance her curvy body. Chrisean has been described as a natural athlete; therefore, working out and keeping fit for her is more of a joy than a chore.
Chrisean Rock's Bio
AGE:  Years Old
BIRTHDAY: 23 Years Old
BIRTHPLACE: Baltimore, Maryland, United States
BIRTH SIGN: Pisces
ETHNICITY: African-American
FATHER: Eugene Arthur Malone 
MOTHER: Charla Malone
SIBLINGS: 11 (Including Terence Dorsey and Latifa Tesehki Malone,
Chrisean Rock's Height in Inches:  5 feet 4 inches
Chrisean Rock's Height in Centimetres: 163 cm
Chrisean Rock's Height in Metres: 1.63m
Chrisean Rock's Weight in Kilogram: 54 Kg
Chrisean Rock's Weight in Pounds: 119.05lbs
Body measurements in centimeters: 81-60-88 cm
Body Type: Curvy
Chrisean Rock's Instagram: @chriseanchriseanchrisean
Twitter: @ChriseanMalone
YouTube: ChriseanRock
Chrisean Rock's Height and Weight
Chrisean Rock's height is approximately 5 feet 4 inches. This translates to 1.63 meters and 163 centimeters. Ironically, Chrisean's height is the actual average height of women in the United States. This means she ranks among those who are considered to be of average height in America.
Chrisean Rock's Height Compared to Other Rappers 
Here is how Chrisean Rock's height compares to some contemporary rappers in the industry, including her on-off-boyfriend and baby daddy, Blueface.
Chrisean Rock's Height Compared To Blueface's Height
Compared to Chrisen Rock's height of 5 feet 4 inches, Blueface is 6 feet 3 inches (191 cm). This means that Blueface is a solid 11 inches taller than Chrisean. The difference in their height is quite obvious, especially when they appear in pictures together. Blueface's height is definitely one of the major attractions for Chrisean, who has revealed several times that she is head over heels in love with Blueface despite all that he has put her through.
The on-and-off lovers have lived out several aspects of their lives and relationships in the eye of the public. They recently welcomed a son together, who is Chrisean's first and Blueface's third child.
Chrisean Rock's Height Compared To Other Female Rappers
As stated earlier, Chrisean Rock's height puts her in the category of average-height women in America, but it is pertinent to compare her height to other women in the HipHop music industry.
While height isn't an indication of talent and success, there are several female rappers who tower above Rock and several others whom she dwarfs by some inches. Some of them include Megan Thee Stallion and Lizzo who are both 5 feet 10 inches tall. Saweetie, who is 5 feet 7 inches, is taller than Rock by 3 inches. Lakeyah and Flo Millii are both 5 feet 6 inches tall and are two inches taller than Rock. Latto and Doja Cat are both 5 feet 5 inches tall, which means they are just one inch taller than Chrisean Rock'.
Moreover, there are some female rappers who are of the same height as Chrisean Rock and some who are even shorter than her. Just like Rock, SZA and Glorilla are both 5 feet 4 inches tall. On the other hand, rappers like Nicki Minaj and Bhad Bhabie are 5 feet 2 inches tall, which gives Chrisean a whole 2 inches above them. Rock is also taller than Cardi B, who is 5 feet 3 inches tall.
Chrisean Rock's height isn't much different from that of her reality TV costars. Compared to her 5 feet 4 inches, Bri, Natalie Nunn, and Anne Moore all stand at 5 feet 5 inches. Moreover, Chrisean Rock has such a big charisma and carries herself with so much pomp that one doesn't even notice that she is average height.
Chrisean Rock's Weight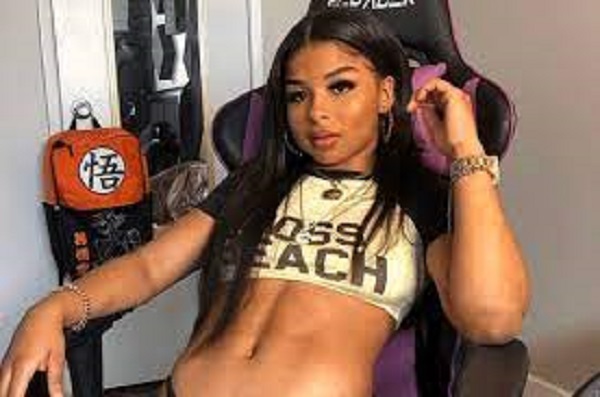 Chrisean Rock reportedly weighs around 54 kg, which is about 119 lbs. Rock, who used to be an active athlete, is known for her athletic build. She has toned abs, a well-rounded ass, and toned legs. Her fans are so fixated on how lovely her legs are that there are a few videos on the internet with detailed exercises on how to achieve Chrisean Rock's legs.
Even before she became a mother, Rock has grown more curvy over the years, especially after she became less active in sports. Despite not having been in any active sports competition, she has continued to work out. Rock is also a good dancer and her acrobatic, energetic dance steps are also a good workout routine.
From what she has shared about herself, she doesn't follow any strict workout or diet routine. She eats moderately whatever she wants to eat and there have been times that she hasn't been eating well due to her intake of too much alcohol and depression. There are videos of Rock eating Pizza and other foods that most might refer to as junk food, but her energetic performances are one of the ways that she continues to keep in shape.
During the course of her relationship with Blueface, there were different videos of her working out and lifting weights alongside her man. Rock does take working out seriously and all her hard work has paid off.
Chrisean Rock Has An Amazing Body
Chrisean is very proud of her body and is quick to show it off in flimsy outfits. She also has a curvy and rounded ass, which she is proud of. This is probably why she is fond of posing and taking pictures of herself from behind just to show off her assets.
While some have speculated that Rock might have done a BBL (Brazilian Butt Lift), those who are close to her have maintained that her body is all-natural, and she has continued to share videos of herself training with her brothers and working out on her Youtube channel. Moreover, old pictures of her as an athlete have shown that she has always had a curvy derriere even when she was slim.
Meanwhile, all through her latest pregnancy, Chrisean was very energetic and active. Her weight gain was moderate, as she continued to tour and perform at different shows. It is no surprise that she has been able to snap back so quickly. She shared a picture of herself just two days postpartum and the internet went agog with her transformation. About her post-baby body and keeping fit, she has shared that she is healing and working out in her home gym.
Despite all the drama that surrounds her personal and professional life, she remains a fitness enthusiast as this is one way for her to cope with life.