Ashesi University Accra is one of the leading Universities in Ghana that offers a vast variety of professional courses particularly in the fields of Business Administration and management, Arts and Sciences, ICT, and Engineering, accepting students from within Ghana and other African countries as well as across the globe.
It is renowned for producing quality graduates that are making great impacts in their various disciplines. Ashesi is a non-profit university that has set the pace in grooming entrepreneurial leaders in Africa, and to crown it up, gaining admission into this top-notch citadel of learning is quite easy for both nationals of Ghana and international students. The application process is two-way traffic as it could be either online or offline depending on the procedure that is convenient for the prospective applicant.
General Entry Requirements for All Candidates
In terms of the entry requirements, what the institution looks out for in a
potential candidate transcends beyond the basic academic to consideration to
other extra-curricular activities potential of a candidate such as leadership skill,
volunteering experiences, proficiency in communication as well as writing skills or
other special abilities. All of these give an applicant better chances of being
accepted.
Application Requirements and Process
Highlighted here are the requirements and a simplified step-by-step guide on the
application process, under the different classes or categories of applicants.
Ghanaian Nationals
For students who are indigenes of Ghana, the following are the steps to follow:
First, applicants are expected to provide the completed application form,
including personal essays duly written by the applicant.
 Applicants must provide their High School transcript or report cards for at
least six terms from their previous school
 One of the results of the following examinations is required:
 West African Senior Secondary Certificate Examination (WASSCE); Six
subjects are used to calculate a candidate's WASSCE score, these
include Integrated Science, Core Mathematics, Core English, and three
electives. A minimum of C6 grade is expected in each subject
Six IGCSE (G.C.E. O-level) passes including Mathematics, English and
Science is required in addition to the other three 'A' Level passes
International Baccalaureate (IB) Diploma
American/Canadian High School Diploma
– French Baccalaureate (a certified copy of the original score and certified
translated copy in English)
– Other relevant examinations results approved by the National
Accreditation Board of Ghana.
NB:  kindly noted that all certificates and result slips other than the WASSCE must be referred to the National Accreditation Board for verification, evaluation and to determine their eligibility for admission into Ashesi University).
International Candidates
International candidates are also expected to meet the following requirements,
aside meeting the requirements described for the Ghanaian nationals:
Certified Translation: Transcripts or other supporting documents submitted by international applicants in a language other than English must be translated and certified as copies of the original document(s).
Candidates must provide evidence of English Language Proficiency: International students whose language of instruction during High School was not English must submit evidence of
English language proficiency, in addition to but not limited to Test of English as a Foreign language (TOEFL), and International English Language Testing System (IELTS).
Engineering Students
Candidates applying as Engineering students are expected to provide the
following
West African Senior Secondary Certificate (WASSCE): three core subjects including Mathematics, English, and Science, including three other elective subjects, such as
Elective Mathematics and Physics, with at least C6 grade or above in each.
A-Level: three A-Level passes (A-D) including Mathematics and Physics and six IGCSE (G.C.E, O-Level) passes including Mathematics, English and Science are required. A grade of D or above in Further Mathematics instead of General Mathematics is also acceptable for entry into a prospective Engineering major.
International Baccalaureate (IB) Diploma: For prospective Engineering students, Mathematics SL with a 5 and above, or Mathematics HL with a 3 or above is acceptable to fulfill the entry Mathematics requirement; also, Physics SL with a 5 or above, or Physics HL with a 3 or above is acceptable to meet the criteria for the admission. However, Mathematics HL and Physics HL would be considered competitive applicants.
Transfer Students
It is worthy of note that part of the rule of the university provides that all students that transfer into Ashesi University must begin as First-year students, as the University does not accept transfer students into the 2nd, 3rd, or 4th year of their academic program.
Notwithstanding, as part of the requirements, transfer candidates must provide official transcripts from each previous college or university attended, and candidates must ensure that those transcripts must reach the desk of the admission officer of Ashesi University in good time.
All things being considered, candidates are advised to visit the Ashesi University
campus to have a personal experience of the administration of the University. In this regard, candidates who wish to schedule a visit to the University will have to send an email to the admissions unit @ashesi.edu.gh or call the following mobile numbers:
+233 302 610 330,
+233 501 568 499,
+233 204 374 374
Here's How to Apply to Study in Ashesi University
The application process of the Ashesi University is as easy as pie, whether online or offline all you need to do as a candidate is to follow these three steps:
Online Application:
Step 1: Download the Online Application Form
You can do that by accessing the Online Application Form
Paper Application:
If you prefer to or can only fill a paper application, download and complete the forms below:
Download Admissions Application Form
Step 3: Submit Completed Application Forms
Completed Application forms can be submitted via:
By Post:
Admissions Office
Ashesi University College
PMB CT3, Cantonments,
Accra, Ghana
By E-mail
Scan completed application and email to:
[email protected]
In-Person
Ashesi University College,
1 University Avenue,
Berekuso, Ghana
Click here for directions…
Application Fees Payment Options
Application Payments can be made as follows:
MTNMobile Money
Transfer application fee to merchant mobile number: 024 526 4831
The name of the recipient should be Ashesi University College
Applicants should quote the following information on their application form or in the task box in the online application portal:
a. Mobile number used for the transaction by applicant
b. Transaction ID
Reference Number (Applicant's Name should be used as the reference)
Online Payment
Applicants who would like to pay via Visa, Mastercard, Amex, or Discover, should visit https://expresspaygh.com/ashesi.
Applicants should quote the expressPay generated transaction reference number on their application form (paper applications) or in the task box on the online application portal.
Direct Deposit/Rapid Transfer (Ecobank Branch in Ghana and West Africa)
If you wish to do a bank transfer, you can do that to the following Ecobank accounts of the institution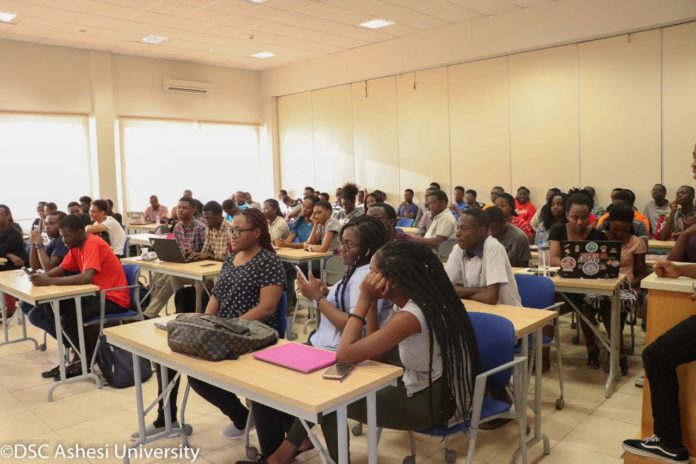 FAQs About Ashesi University Requirements And Admission Process
What are Ashesi's application requirements?