There are just two methods of checking WAEC/WASSCE (West African Senior Secondary Certificate Examination) results. You either do it online or offline. The offline method entails leveraging a mobile phone to send the "Short Message Service" (SMS), WAEC*ExamNo*PIN*ExamYear to WAEC shortcode 32327. On the other hand, checking your results online involves going through the internet. Important to note that whichever way you choose to follow you are required to get a scratch card as the PIN on the cards must be imputed for either of the methods to work.
1. How to Check WAEC Result on Mobile Phone via SMS
This method entails checking your WAEC results offline without having to log on to the internet. The process of checking your WARC/WASSCE using a mobile phone is far from complicated. In fact, it is considered to be the easiest. All you need for this is a mobile phone with little airtime to cover the ensuing charges. Just follow the steps listed below and you will have your WAEC results in a jiffy.
Key-in the correct combination of SMS (short message service), an example has been given below
WAEC*ExamNo*PIN*ExamYear.
Remember, you are not supposed to leave spaces between the letters and numbers. Besides, users should note that they still need a WAEC result checker card to use the mobile phone/SMS method as the number three item on the "short message service" is the PIN on your card.
When you are satisfied with the combination, forward it to WAEC shortcode 32327 using networks like MTN, Airtel, or Glo. You can get a better understanding of the process through the example below
WAEC*8921106738*46532148779*2020. After this, you impute the recipient number which is 32327.
Cross-check what you have done and hit on the send button
With this, your WAEC results will surface within a couple of minutes.
This procedure is not limited to only WASSCE but every other exam conducted by the West African Examination Council such as GCE, ABCD, BECE, GBCE, and of course WASSCE.
How much does it Cost to Check WAEC Result with a Mobile Phone?
Even though everything is done offline, sending an SMS to WAEC is not free as the service attracts some minor charges. Users will have to part with a token of N30 which will be charged from your available airtime. This charge will be deducted whether the information is correctly imputed or not. Thus, those who made mistakes with entering the SMS will have to part with another N30.
However, once everything is in the right order, you will get feedback from WAEC as soon as they finish processing your request. Usually, the duration does not exceed two minutes. Important to note that there are possible issues that may come up with checking WAEC results, this may happen when they have an excessive number of candidates trying to check their results at the same time, posing some technical glitches. The network can also be an issue sometimes but in spite of all these, you will still get your feedback. All you need do is to exercise a little patience.
2. How to Check Your WAEC Result Online Using a Result Checker Scratch Card
WAEC candidates who do not wish to check their results through the aforementioned method can still leverage the result checker scratch card method. This method is equally simple and straightforward and has been proven to be reliable. All you need do is to follow the under listed simple steps
Each region has its own valid WASSCE/WAEC Result Checker scratch card, thus, candidates must ensure that whatever card they are purchasing is the one for their respective regions. If you sat for your WAEC in Ghana and mistakenly buy the scratch card for Nigeria, it will not work and you will have to buy another one for your region. So if you wrote WAEC in Nigeria, ensure that the card you buy is for Nigeria
When you are ready to buy the scratch card, ensure that the WAEC website you visit is the right one for your region. The scratch card can be bought online or offline, but when you are buying offline, ensure that the source is a credible one. Access the PIN by scratching off the silver panel at the reverse side of the card. The approved site is https://www.waecdirect.org. The countries are listed as follows.
 Nigeria
 Ghana
 Liberia
 The Gambia
 Sierra Leone
Just click on the appropriate link depending on where you sat for your exams.
Your 10-digit WAEC Exam No. comprises your center number (7 digits) and candidate number (3 digits). Example – 4002356780. Key in the number.
Next, you are expected to punch in your examination year.
Example – 2020
Pick the type of examination you sat for
November/December WASSCE (Private) or May /June.
Turn to the flip side of your scratch card to get your card serial number and enter it
Example – Serial Number: WG1400115511.
Also, enter your scratch card PIN (Personal Identification number)
Example – PIN: 174855618800.
At the end of the process, click on submit and within a short while, the result window will come up
When the result window shows up, be sure to save it on your device because one scratch card only allows you to check your result three times maximum following which the card expires. Thus, if you omitted to save your result when it appeared and have exhausted all your chances, you will have to purchase a new card anytime you wish to access your WAEC results.
In addition to saving a soft copy of your WAEC results, it is advisable for one to also print and keep a hard copy. Those who encountered challenges with accessing their results should reach out to their regional WASSCE/WAEC office.
You need all these to successfully check your WAEC results either online or via SMS
Examination Number – A candidate's Exam number is that unique number that differentiates him or her from the rest. For this reason, two people cannot have the same examination number; this can only happen by error and must be rectified.
Examination Year – Providing the exact year you sat for your WAEC exam is of utmost importance as it simplifies the database task of locating your results as well as other vital info about you; It also hastens the process.
Type of Examination – There are different types of examinations conducted under WAEC such as SSEC, GCE, and more. Thus, candidates are required to provide info on the particular exam they sat for to assist in sieving out their data from WASSCE/WAEC portal.
Card Serial Number– Your card serial number is a unique number found on every card and it is a vital part of the process.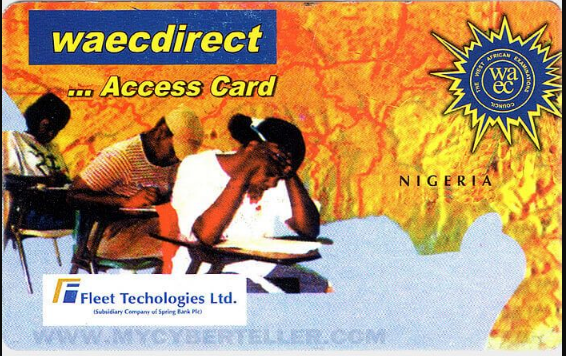 Buying Your WAEC Result Checker Scratch Card
As earlier mentioned, the WAEC Result Checker scratch card can be purchased online or at WAEC offices across the regions. You can also buy from Fountain Trust Bank Plc branches across Nigeria. The card comes at a price for different regions; in the case of Nigeria, the charge is pegged at ₦2000. You will not be required to pay any other transaction charge after that.
Is There any Possibility of Checking WAEC Result Without Scratch Card?
The answer to the above question is a "yes and a "no." In explanation, checking your WAEC result for the first time must involve the use of a scratch card as you need the PIN to get to the WAEC database. However, when the result surfaces on the screen, you can send it to your email by clicking on the "Send Result to Email" button. With this successfully done, you are at liberty to view your WAEC result from your email anytime without a scratch card. In conclusion, checking your WAEC result must involve the use of a scratch card at least for the first time.
What can I do if I can't Access My WAEC Result Online?
When you go online and your WAEC result is not forthcoming, it means that you are either imputing the wrong info or it may be undergoing the uploading process.
For verification and assistance, the following details should be sent to [email protected]
• Error message displayed
• Your WAEC exam number
• Type of Exam
• Year of Exam
You can visit your zonal WAEC office for further inquiries