To legally practice as a teacher in Kenya, it is essential to undergo and complete your TSC Number application. Article 237 of the Teachers' Service Commission (TSC) mandates the commission to register every teacher in the country before teaching in schools. The TSC number ensures you are recognized as a competent teacher by the Kenyan Government and means you are entitled to the benefits of being a member.
The TSC number application is an entirely online process. It takes at least 30 days from the date of application before you receive your registration certificate containing your TSC number.
Who Qualifies to Apply for a TSC Number?
All teachers working in Kenya are qualified to apply for a TSC number. There is no minimum number of years you must have worked as a teacher before you can embark on your application journey. All teachers teaching in either private or public schools can apply as well.
When the process started, teachers who had been working for years before the commission began registration also had to undergo the exercise. If you are just beginning your professional teaching career, it is advisable to apply immediately and secure your unique TSC number.
More importantly, it is also open to non-Kenyan individuals working as teachers in Kenya. It means that as long as you are a teacher in Kenya, you are qualified to apply for a TSC number regardless of your country of origin.
Requirements to Meet Before Applying for a TSC Number
After you have ascertained your qualification status, there are specific requirements you must meet if you desire to have a successful application. These requirements are non-negotiable, and failure to produce even one might lead to an inability to complete the application or even an unsuccessful application. Therefore, ensure these requirements are present, properly arranged, and up to date before your TSC number application.
The requirements needed before applying for a TSC number include:
Certified copies of your academic and professional qualifications. This should include certified copies of proof of primary, secondary, and tertiary education completion. It should also include possible professional teaching or nonteaching courses you might have taken.
One clear and current passport-sized photo of yourself
Your Kenya Revenue Authority (KRA) pin.
A completed GP 69 medical form. It acts as surety that you have the right mental and physical health to undergo your responsibilities as a teacher.
A valid certificate attesting to your good conduct as an individual.
Your national identity card if you are a citizen of Kenya. For non-citizens, your work and entry permits, along with the Ministry of Education's vetting committee's certificate of clearance, should suffice.
A bank deposit slip. This can be obtained when you pay a non-refundable fee of Ksh 1055 to the TSC's bank account as a first-time applicant. The standard application fee is Ksh 1000, while Ksh 55 is the bank's commission charge. You pay Ksh 2055 if you are applying for a duplicate certificate. You can pay through direct banking using the following details –

Bank Name: National Bank of Kenya;
Account name: TSC-Secretariat;
Account number: 01001005707400
Steps Involved in Completing The TSC Number Application Form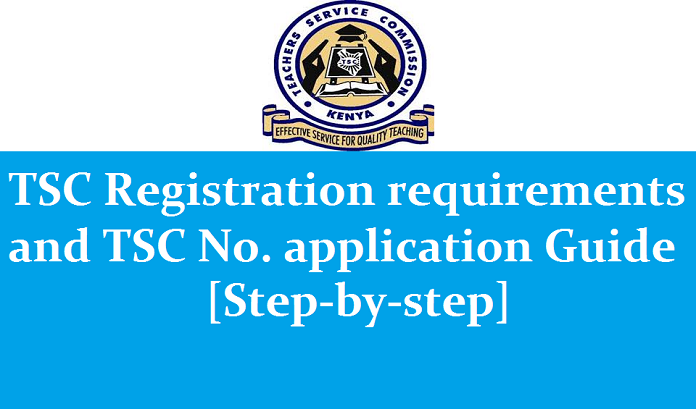 After securing all the documents listed above, ensure they are all saved in PDF format for easy upload on the TSC portal during the application process. After this stage, proceed to follow the steps below:
Using Google Chrome browser, open the website address tsc.go.ke.
Enter your surname and identity number and click 'next'.
Proceed to provide answers to all required information, including email address, KRA pin, and mobile number.
The final step is to upload all the scanned versions of all the required documents in the right order.
Submit your application.
After submitting your application, you will receive a mail informing you of successful completion. Within 30 days from the date of your application, you will find out if your application was successful or not. If successful, you are issued your certificate of registration containing your unique TSC number.
It should be noted that the process is not usually successful for every applicant. For various reasons, some individuals are notified of negative results after the 30 days waiting period. Some of the reasons for failed applications include:
Entering false information during the process
History of misconduct and criminal charges
Medical proof showing lack of fitness for the role
Education credential is not impressive enough
These are, however, in the minority. As long as your application was filled carefully and honestly, you should be met with positive feedback.
How to Check Your Registration Status
As stated earlier, there is a maximum 30-day waiting period before you find out if your application was successful or not. However, as with human nature, anxiety and impatience might set in. The need to continually check the status of your registration might be overwhelming. Thankfully, there is a way to check your registration status from time to time to stay updated.
Visit the website tsc.go.ke.
Navigate to the page that states 'Status of Teacher Registration Application'.
Enter your identity or passport number.
Click on the 'go' tab.
You will get information regarding the current status of your TSC registration.
If your registration is unsuccessful, there will be no records of your registration status presented. However, if your records are shown, it means you are still in consideration. When your application for registration is eventually verified, you are granted a certificate bearing your TSC number. With this, you can legally operate as a teacher in Kenya, apply for teaching roles, and even seek promotion.
Potential Penalty for Deliberate Lies
During your application for your Teachers Service Commission Number, you must give only truthful and verifiable information. Before you begin the process, note all the requirements, and produce every single information needed.
If you do not have the answer to a particular question, ensure you find the solution before going ahead to begin your application process. Do not start with the intention of giving false information to the TSC. It is dangerous.
If you are caught willfully volunteering false information to deceive and manipulate your way, you will be penalized. The law states that an offender convicted of such a crime may be fined up to Ksh 100,000 or jailed for up to twelve (12) months or both. The guiding law can be found in section 44 of the TSC Act No. 20 of 2012.