The practice of sending Please Call Me may no longer be as widespread as it once was among mobile phone users due to the arrival of smartphones. Still, life has its curveballs, and it can become necessary on certain occasions. That is why Telkom Mobile and other major telecom companies in South Africa still operate the Please Call Me SMS service.
We have compiled everything you need to know about the service today, including how to send it and the number of times it can be used per day. In addition to reaching out to the Telkom Mobile call center, here is everything you should know about the less popular features of the telecom company.
What Is the Telkom Please Call Me Number?
The Telkom Mobile Please Call Me number is *140*[phone number of recipient]#. To access it, all you have to do is:
Open your Call Screen
Enter *140*[phone number of recipient]#
Dial it
You will get a notification that your Please Call Me has been successful
The intended user will receive an SMS asking them to call you back along with a Telkom Mobile advertisement. Depending on when you use it, the ad is likely to be different for each recipient. If you want to access the full Call Me Back menu, simply dial *140#.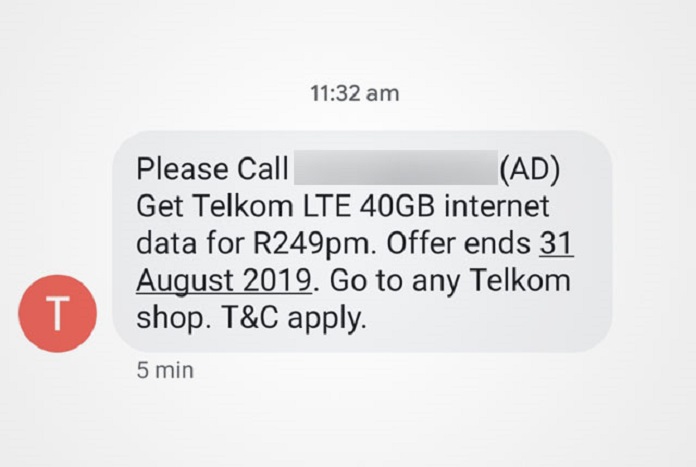 Other things worth noting when you use this feature is, you can only send five maximum Please Call Me SMS per day. So, make sure you use it wisely. There is also the added fact that it is entirely free, and you will not be charged later for the service.
When Should You Send a Telkom Call Me Back?
Speaking of using the feature wisely, one thing that helps is knowing the right time to use the service. Ideally, you want to use it when you have exhausted all means of reaching the said person directly. Say you are out of data, airtime, and have no one else around you to help.
In that case, you can use a Telkom Please Call Me to reach out when:
Stranded with no airtime or data
Want the person to initiate the call
When your network is bad, and you can't make a call
You want to save money
You are in an emergency and can't risk making a call from your end
Whatever your reason might be, you must make strategic use of it. As we mentioned earlier, you only have access to five per day. It is vital that you only use it when necessary, not just to conserve the daily SMS, but to ensure your recipients take the SMS seriously.
Can I Send a Telkom Call Me Request to Another Network?
Unfortunately, as useful as this feature can be, it has its limitations. Besides the limited daily usage, you cannot send a Call Me SMS to a competitive network. If you need to reach out to someone who does not have an active Telkom number, you might need a few hops.
You can send the SMS to someone who has a Telkom number who will then reach out to your intended destination. Otherwise, you will need a SIM of your recipient's network and use their Call Me Back service.
How to Reach the Telkom Mobile Call Centers
Sometimes, you are not trying to reach a colleague, family, or friend. Instead, you want to 'speak with the manager,' in this case, of the Telkom Mobile call center. There are so many issues one can encounter in the process of using any of the network provider's services, and having a medium to express complaints is crucial to excellent service delivery.
While the telecom company does have other means of reaching out to its customer service, none gets the message and solution across like a phone conversation. Therefore, Telkom Mobile has various phone numbers dedicated to giving customers of all categories a means to make their complaints.
Telkom Mobile has four departments with contact details for each category of complaint. They are – Mobile, Home, Enterprise, and Business.
Mobile Customers
For issues relating to your Telkom mobile phone or device, contracts, prepaid and data deals, dial 081190. The call is completely free if you are using a Telkom mobile phone. Otherwise, you are likely to be charged by the regular call rate.
Home Customers
Sales – 10213
Services – 10120
Customers who have questions about their landlines, fiber internet, wireless internet, ADSL internet, and other Telkom Home issues have dedicated phone numbers. If you are looking to buy any of the products in this category, call 10213. For services, such as resolving technical issues, call 10120.
Calling both numbers is free as long as you are using a Telkom landline. If you are not, kindly note that you will have to pay at the rate of a regular phone call.
Business Users
Sales – 10213
Services – 10217
These numbers are for Telkom Mobile customers who have business needs related to services like fiber internet, ADSL internet, wireless internet, and mobile contracts. There are two dedicated phone numbers meant to cater to questions and issues related to sales and services.
For issues related to sales, call 10213. For issues related to services, dial 10217. Please note that calling this number is free only if you are using a Telkom landline. Otherwise, you will be charged by the designated call rate.
Enterprise Users
Enterprise users, who belong in the same customer category as business users, also have their dedicated Telkom Mobile contact number. If you are an enterprise user, simply dial 10214 to speak with a customer service agent.
As with home and business users, a call with an agent is only free if you use a Telkom landline. Anything else, and you will be charged for the service.
Besides placing a call, you can also reach out to the Telkom Mobile call center via their website and use their Fixed Line Chat feature. Follow the following steps to do this.
Log on to the Telkom customer care website
Click the 'chat to an agent' icon
Fill the form below by inputting your name, surname, number, then select your service query and service area
Select the Captcha box and click start chat
However, you should know that the Fixed Line Chat is only available from Monday to Friday between the hours of 8 AM and 5 PM. On Saturdays, the service is available between 8 AM and 1 PM. The service is closed to customers on Sundays.