Ever since Telkom was founded in the early '90s, the telecommunication company has emerged as a stronghold in the telecommunication business in South Africa and Africa as a whole. The company serves various communication needs of customers in over 35 African countries. One of its service offerings is the Telkom Webmail which subscribers can use to send and receive emails from all over the world.
How can I set up My Telkom Webmail?
Setting up your Telkom webmail on any device is an easy process that does not require one to be a computer genius to do so. Webmail is an email service that can be accessed using a standard web browser. Many internet service providers provide webmail as part of their internet service package. Just follow the easy steps below if you find it difficult to set up your Telkom email.
Telkom Webmail set up for iPhone
Below are the steps for setting up your Telkom email on your IOS devices
Click on your iPhone's settings icon
Select the option "Mail, Contact, Calendars."
Click on "Add Account."
Select the option "Other."
Click on "Add Mail Account."
Input your email details that include: Your name, Email address, and password,  description
Select either POP or IMAP. Next, supply your email details as issued by your email provider. Click on "Next" afterward. Your settings will be verified and added to the account.
For those who have authenticated SMTP from their email providers. A secondary SMTP server can be added to give you the option to pick the secondary server to send out on.
Select "Email" account from Settings > Mail, Contacts, Calendars.
Select "Add Server."
Then, fill in the information provided to you by your email service provider.
Click "Save."
By selecting "Save," you have successfully set up your Telkom email on your iPhone.
Telkom Webmail set up for Your Computer
Here are few steps for setting up Telkom email on your personal computer (either desktop or laptop).
Click on the "Start" button. Type in "Windows Live Mail" and select "Enter."
When Windows Live Mail opens, click on "Add an e-mail account."
To login to your account, enter your Telkom address and password.
Enter a display name and click "Manually configure server settings for e-mail account." Then click "Next."
Set POP3 as an incoming mail server. In the POP3 field, enter "pop3.Telkom.co.za". And finally, in the SMTP field, fill in "smtp.Telkom.co.za".
Click "Next."
Complete your Telkom email set up by clicking "Finish."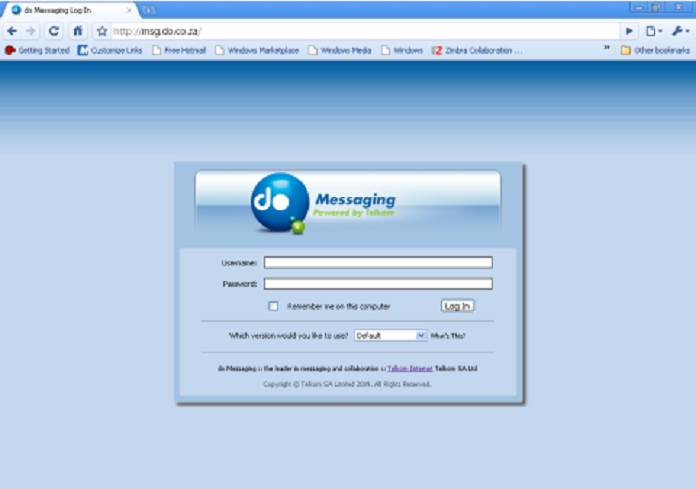 How to Login to Your Telkom Webmail
Telkom has made it easier for its users to log into their email account since the email provider introduced their mobile app. This app is readily available to be used once it is downloaded from the various mobile app stores. The app can be downloaded from the windows app store on PCs and the apple app store for IOS-enabled PCs.
To login to your Telkom email from the web, you first have to click on the URL http://webmail.telkom.sa.net.
Upon opening, enter your login details using your Telkom address and password in the provided fields and click on "Login."
If you have difficulties remembering either your username or password, click on "I forgot my username or password."
To retrieve your forgotten password, this can be done by either clicking on "I forgot my username or password" and follow the instructions or send "Password" to 0123210215 via SMS, and your Telkomsa.net password will be sent to you.
Common Telkom Webmail Issues and what You can do About Them
Before concluding the reasons why you failed to send or receive emails via your Telkom email might be a problem from the service provider, some of these simple to solve problems below may be the reasons.
Have you checked your internet connection?
Surprisingly, it happens. Your internet connection might often go off when you are unaware, most times due to bad network reception. So, when you expect to receive a mail, and nothing is coming through yet, check your internet connection.
Check to see if your recipient email address is correct
Check again to confirm if the recipient address is correct as the email you want to send will not go through if you input an incorrect address. Also, be certain to send your correctly spelled email address to who you expect an email.
Many email service providers try to detect which emails are legitimate (deserve to be in the inbox0, and those not legitimate and should be sent to the spam folder. But many times, this is not accurate. So, to avoid missing out on some of your important emails, it is advisable to check your spam constantly.
Telkom has its internet spam filtering tool which allows subscribers to set profiles on their accounts to restrict the delivery of unwanted e-mails. The tool was introduced to customers in 2003. To activate it, you will need to log into the Webmail system and follow the Spam Preference page's setup instructions.
Emails were mistakenly saved as a draft
Sometimes the emails we try to send do not go through but rather get saved in the draft folder. If this happens, check your draft and resend the email accurately.
If your inbox is full, there would be no space to receive new emails. So, delete or archive some old emails and new ones can come in.
You have exceeded your daily message limit
If this happens, save your email as a draft and send it the next day. Also, try increasing your message sending limits.
Is Telkom Email POP or IMAP?
POP differs from IMAP in that POP relocates email from the server to your computer when the email is accessed and will either delete it from the server and save it in the inbox or saves it in both. While in IMAP, the email is saved in a server which allows it to track what happens in the inbox.
Telkom uses POP for the incoming mail server and uses SMTP for the outgoing mail server. Telkom does not make use of IMAP.