Considering MTN Nigeria is one of the most popular networks in the country, data or airtime sharing represents an opportunity to foster a connection with friends and family. Maybe you are gifting (as MTN prefers to call it) or coming to a friend's rescue in time of need, knowing how to share data or airtime is necessary for the network's users.
The good news is because it is essential, it is effortless to learn, with a few choice methods to choose from. They include sharing via the popular myMTN App, Text Message and a shortcode. All these options are reliable, and you can choose either one depending on what you find comfortable.
Step-By-Step Guide to Sharing Data on MTN Nigeria
Once you have a fully functioning MTN sim, you are, by default, capable of sharing data with another MTN user. Of course, there are tariff and data plan exceptions (we will get to it later) but owning the SIM pretty much makes you eligible for this feature.
Since launching the service, there have been three ways to share data on MTN Nigeria: myMTN App, SMS, and dialling shortcodes.
Sharing Via myMTN App
If you are not familiar with the myMTN App, it is the all-inclusive tool that users of the network can use to perform any activity, including sharing data. To share via the app, all you have to do is follow the simple processes:
If you don't have the app, download and install from Google Play Store or Apple iOS, as applicable to your device
Once installed, open the app and follow the prompt
By now, you should be logged into the app and on your SIM dashboard. You can now proceed to data sharing. If you already have the app, you can skip the first two steps.
Click the Bundle tab
Among the list of options, click 'Share Data'
You will see a list of data volume you can share
Select your choice and enter the phone number of the recipient
Click 'Proceed' and follow the prompt
That's it. You have successfully shared data on MTN Nigeria, and it all took less than two minutes. If you don't use a smartphone or would rather not download an app, there are other methods you can use.
Sending SMS Keyword
While the app is a robust tool capable of doing most things, it requires a few extra steps. Other options are a lot more straightforward, including sharing data via SMS. To do this, simply –
Text Transfer RecipientPhoneNumber DataAmount. Example: Transfer 08xxxxxxxxx 50MB
Send to 131
Dialling a Shortcode
As easy as dialling a friend, you can also share data on the MTN Nigeria network by dialling a shortcode on your phone. This method allows you to transfer data, whether you have a smartphone or not. All you have to do is –
Dial *131*7#
Follow the prompt
You will see a list of options under the Data Gifting service. The first one is 'Transfer from Data Balance' and what you are looking for. If you prefer completing the whole process in one dial, you can –
Dial *131*Recipient Phone number*Data amount*#
Any of the three listed methods are reliable and simple ways to share MTN Nigeria data with your friends and family. However, before you get to sharing, there are a few things you should know.
There is no PIN Requirement for Sharing Data on MTN Nigeria
In the early days of rolling out the sharing feature, either for airtime or data, MTN Nigeria required individual users to have a pin that authorized each transfer. It was a safeguarding requirement that ensured unauthorized sharing did not occur on individual accounts.
While airtime sharing still has a pin safeguard, you DO NOT need a pin to share data on MTN Nigeria. None of the methods requires you to have a pin, but you do need to meet specific requirements, like –
Have a minimum of 50MB Data Balance
You can only send a MAXIMUM of 1GB a day
You can only transfer data twice a day
Your options range from 10MB, 50MB and 100MN. On myMTN app, you can transfer up to 500MB
Data Sharing Only Applies to Daily, Weekly and Monthly Bundle Plans
MTN Nigeria has several data bundle plans. The majority of them can be categorized into Daily, Weekly and Monthly Plans. If you subscribe to any of them, you can transfer data to another MTN user. Please note that you only gift plans you bought, and as such, you cannot gift bonus and XtraValue bundles.
You should also note that the transferred data is only valid until the sender's data plan expires. This means, for example, if you receive 100MB from an MTN user, you have to exhaust it until their data plan expires. If it goes unused, the data will equally expire.
How to Share Airtime on MTN Nigeria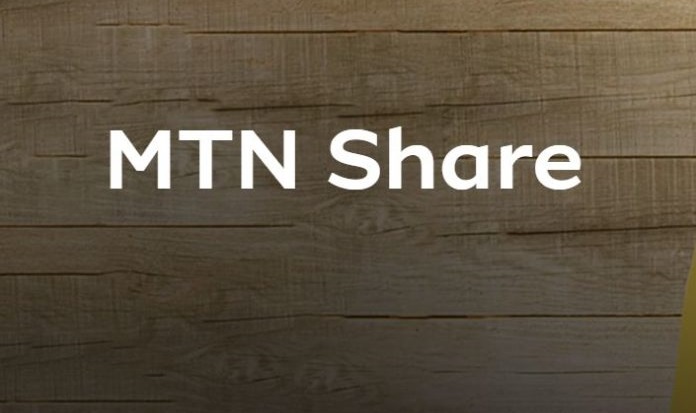 You know now how to share data on MTN Nigeria, here is a step-by-step guide on how to share airtime on the network. Like data, there are a few methods to sharing airtime, using the same options above – app, USSD shortcode, and SMS.
Via myMTN App
Now that you have the app on your phone, all you have to do to get started is launch the app. Then follow the simple steps –
Go to the 'Recharge' tab
Click MTN Share
Enter the recipient phone number, airtime amount and your PIN
Select proceed and follow the prompt
Transferring via SMS
If text messages are more your style or do not have a smartphone, you can still transfer airtime on MTN Nigeria. Just send a formatted text to a dedicated number '777', and here it is.
Text "Transfer Recipientphonenumber amount and PIN Eg. Transfer 08xxxxxxxxx 2000 1234
Send to 777
After sending this text, you will receive a confirmation text from MTN asking if you want to make the transfer. Reply by sending an SMS with 'YES' to 777.
Using USSD Shortcode
Maybe apps and texts are just not straightforward enough for you. MTN Nigeria also has a shortcode with which you can transfer airtime to friends and family. Simply dial –
*777*Recipient's Number*Amount*PIN#
Click Send or Ok
That is it! Once it is complete, you will receive a message from the network confirming that the transfer was successful. It is pretty easy as long as you have your PIN.
How to Set and Retrieve MTN Share PIN
Unlike data sharing, MTN Nigeria needs users to have a secret pin that authorizes each airtime transfer. Everyone new to the service comes with the default pin of 0000, and MTN requires you to change it before using the service. To do this –
Compose an SMS in this format: Default PIN New PIN New PIN, i.e., 0000 1234 1234
Send to 777
Alternatively, you can:
Dial *777*Default PIN*New PIN*New PIN#
Using any of the above, you will receive an SMS confirming that you have successfully changed your MTN Share PIN. Remember this PIN and keep it somewhere you will never forget because you will need it for every airtime transfer transaction.
If for any reason you no longer remember your transfer pin, here is how to retrieve and reset it.
Call 180 (MTN Customer Care). Explain the reason for the call, and they will fix it in a jiffy
NOTE: Although others suggest sending YES to 556 in an SMS, personal experience and customer complaints shows it is no longer valid. A guaranteed way to fix the issue is to call MTN Customer Care.