Ini Edo (born 23 April 1982) is a 41 year-old Nigerian actress known for her appearance in highly-rated movies and TV series like Reloaded (2009), Weekend Getaway (2013), While You Slept (2015), Desperate Housegirls, Chief Daddy (2019), The Citation (2021), and Shanty Town (2023) among many others.
Ini Edo, the Akwa Ibom native is one of the most recognizable faces in Nollywood, having featured in more than 100 movies since her career began. Although rumors claim her success was through divine luck and happenstance, the prodigiously talented actress had to put in the work and make numerous sacrifices to climb to the top of a profession filled with an incredible number of talented individuals.
Summary of Ini Edo's Bio
Full Name: Iniobong Edo Ekim
Gender: Female
Date of Birth: 23 April 1982
Ini Edo's Age: 41 years old
Place of Birth: Akwa Ibom
Ethnicity: Ibibio
Nationality: Nigerian
Education: University of Uyo; University of Calabar; National Open University of Nigeria
Religion: Christian
Sexual Orientation: Straight
Marital Status: Divorced
Ini Edo's Ex-Husband: Philip Ehiagwina
Children: One Daughter
Parents: Lawrence and Eunice Jonathan
Siblings: Three (including Oti Edo and Ukeme Edo)
Ini Edo Height: 5 feet 7 inches
Famous For: Her acting career
Instagram: @iniedo
Ini Edo Was Born in Akwa Ibom and Is Now 41 Years Old
Iniobong Edo Ekim, professionally known as Ini Edo, was born in the South-South part of Nigeria in Akwa Ibom. She is from the Ibibio ethnic group and is known to be proud of her state of origin. Edo was born on the 23rd of April 1982, meaning the woman we have been watching on our screens for close to two decades is 41 years old.
Edo was born into a strict and religious family to a church elder father and a mother who was a teacher. She was the second of four children with two sisters and a brother. The family is a tight-knit one, raised on strong religious beliefs. This upbringing played a big part in Ini Edo's love and affinity for acting as she began acting in the church from an early age.
She Did Not Envisage Going Into Professional Acting When She Was Younger
As mentioned earlier, Ini Edo had been acting in the church from when she was a young girl. She attended New Era International Nursery and Primary School in Eket and Cornelius Connely College in Uyo. The Nollywood veteran also performed in her secondary school as an actress and a singer.
After her primary and secondary school education, she headed to the University of Uyo, where she bagged a diploma in Theatre Arts. After this, she went on to study English at the University of Calabar. All these pointed at a career in acting, but surprisingly, Ini Edo did not consider venturing into the film industry.
Her primary aspiration was to become either a lawyer or chase a path in television. Nollywood, the Nigerian movie industry, was yet to become a mammoth enterprise and was not an attractive option for many young people back in the days. However, one thing led to another for Ini Edo, and she found herself a professional actress.
Ini Edo's Life as Professional Actress Began in 2000 at The Age of 18
Every successful person has that story, the moment that kickstarted everything else. Ini Edo is no exception and the moment for her was as fascinating as it could be. She got invited by a friend, a makeup artist who was already working in the industry, to audition somewhere in Aba, Abia State.
The name of the movie she was to audition was for is Cassandra – Child of Destiny, directed by Ndubuisi Okoh. The producers were looking for new talents that could breathe passion and enthusiasm into the script. Still a student at the University of Uyo, she decided to give it a try and left for Aba.
Her audition for the role was successful. After making her film debut, she decided to stay back in Aba and went on to appear in two more movies. That became the beginning of the journey for Ini Edo and what a journey it has been.
She Made Her Film Comeback at the Age of 21 after Taking a Break To Complete Her Education
After appearing in two more movies following her debut, Ini Edo had a decision to make. She knew she had to either complete her degree or venture into movies full time and give her studies a break. Deciding to juggle both would have been tedious and inevitably affected her studies.
Eventually, she chose to take a break from acting and focus on her studies. Her parents also advised her to focus squarely on her studies at the moment. Two years after, in 2002, Ini Edo returned to the movie scene and began auditioning again. Her first movie appearance after her return came in 2003 when she was 21 as she had a minor role in the movie Thick Madam. Though her role was minimal, it got her the needed exposure to attract future roles in films.
She Became a Household Name At 22 With Her Appearance in World Apart
As she began to get more roles, it was inevitable that Ini Edo's breakthrough moment would arrive. That moment came earlier than expected in 2004 when she appeared alongside Kenneth Okonkwo in World Apart. The movie, directed by Tchidi Ebere, also featured Liz Benson, one of Ini Edo's acting idols, Hilda Dokubo, and Laz Ekwema.
The romantic comedy launched Ini Edo into the consciousness of several Nigerians. Thus began her steady ascent to the top of the ladder in the Nigerian movie industry. Her newfound star status was confirmed when she won the 'Most Promising Actress' award at the Africa Movie Academy Awards for her performance in World Apart.
Top Three Ini Edo's Movies to Date
When an actress has over 100 movie credits to her name, it is challenging to select their most popular performance or those that made the most impact. Despite the difficulty, three movies helped catapult Ini Edo to stardom, won her awards, and resonated with many fans.
World Apart – 2004
Although we mentioned this movie earlier, it is still impossible to mention Ini Edo's most famous movies without World Apart. Released in 2004, the movie is responsible for launching Ini Edo's career, earning her recognition as a talented actress.
She played the role of Ulima, a village girl taken to the city to live with and assist her uncle. Her character fell in love with a Prince, but the Queen promptly rejected her, believing she is beneath her son. The romantic comedy was well received by viewers who resonated with Ini Edo's character.
Her sincerity and portrayal of the different emotions she went through were astounding. Her performance equally drew critical recognition, earning her the 'Most Promising Actress' award at the Africa Movie Academy Awards. It was the movie that lifted Ini Edo onto a new level in her acting career.
Games Men Play – 2006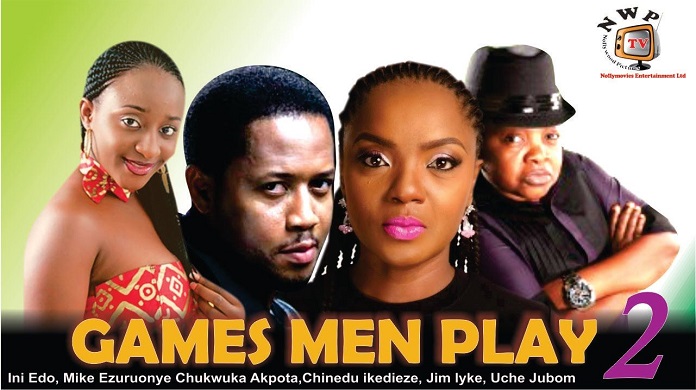 This 2006 offering from Lancelot Oduwa Imasuen was a smash hit in the country. The film examined the indiscretions taking place amongst Lagos couples. Ini Edo perfectly played the role of a 'side chick' who was continuously greedy.
It is one of the first movies mentioned when Ini Edo's filmography is examined. She was still a relative newbie in the movie industry when she appeared in the movie, and it further highlighted her versatility and talent as a thespian. This movie spurred her on to get more roles and culminated in her appearing in over thirty movies the next year (2007).
While You Slept – 2015
This movie was quite popular, mainly due to Ini Edo's performance. She played the role of a recently widowed woman who has to deal with the appearance of another woman who claims the boy with her is her dead husband's son.
Audiences applauded her portrayal of a heartbroken widow who found out her husband's numerous secrets. Movie critics also rated it high, earning her a nomination for 'Best Lead Actress' at the 11th Africa Movies Academy Awards. The movie was released in 2015 and was directed by Desmond Elliot. It also features Joseph Benjamin and Venita Akpofure. To date, it remains one of Ini Edo's most famous movies among fans and critics.
Ini Edo's Influence Shows She is an A-list Actress in Nollywood
Ini Edo is one of the most popular and recognizable actresses in Nollywood, having been a consistent force in the industry for close to two decades. At some point, she was reportedly the highest-paid actress in Nollywood due to her talent and demand. Also, she currently boasts millions of followers on her various social media accounts, hinting at the level of authority she commands.
As a performer, she has appeared in some of the most memorable and biggest movies in the Nigerian movie industry. Therefore, it is unquestionable that she is an A-lister, top of the food chain, as well as a force to be reckoned with.
Some of Ini Edo's most popular movies include:
Desperate Billionaire – 2005
Lonely Hearts – 2005
Married To the Enemy – 2006
Love Games – 2007
Reloaded – 2009
Inale – 2010
I'll Take My Chances – 2011
Caro the Iron Bender – 2014
Ghetto Queen – 2014
Unforeseen – 2017
Chief Daddy – 2019
Citation – 2020
List of Awards Won By Ini Edo So Far in Her Career
Alongside appearing in some of the industry's most iconic and popular films, Ini Edo's A-list status is further bolstered by an exceptional catalog of awards. Below is a table containing some of the honors she has won and the movies that earned her the accolades. Please note that this does not include every award she has won in her illustrious career.
| | | | |
| --- | --- | --- | --- |
| Year | Award Show | Award | Movie Won For |
| 2005 | Africa Movies Academy Awards | Most Promising Actress | World Apart |
| 2011 | Zulu African Film Academy Awards | Best Indigenous Actress | Edika Nigeria |
| 2013 | Golden Icons Academy Movie Awards | Honorarium Award | Herself |
| 2013 | Golden Icons Academy Movie Awards | Female Viewers Choice | Herself |
| 2013 | Cross River Movie Awards | Best Act Female | Behind the Melody |
| 2013 | Nollywood and African Film Critics Awards | Best Supporting Actress | Weekend Getaway |
| 2015 | Ghana Movie Awards | Best Actress | While You Slept |
| 2018 | ZAFAA Global Awards | Best Actress | Desperate Housegirls |