John Cusack is an American actor and producer. His production company called New Crime Productions produced Grosse Pointe Blank (1997), Fear and Loathing in Las Vegas (1998), and The Jack Bull (1999) among various stage productions which have helped define his career as largely successful. In the TV series, Utopia which is currently filming, John Cusack portrays the persona of Dr. Kevin Christie alongside Desmin Borges and Dan Byrd. Read more about the iconic actor here.
John Cusack's Bio (Age) 
Born at St. Joseph Hospital in the Lakeview neighborhood of Chicago on June 28, 1966, John Cusack grew up in Evanston, Illinois. He is the son of Ann Paula Nancy, a former teacher and a strong political activist; and his father, Richard Cusack (1925–2003) who was an actor. John's siblings; Ann, Joan, Bill, and Susie are all thespians by trade.
John Cusack was born into an Irish Catholic family. He is the fourth of five children. His father was a documentary filmmaker who owned a film production company and was a friend of activist Philip Berrigan. He worked in advertising, winning a Clio Award, until 1970, when he left to start a production company and also wrote a series of films for the United Nations. John graduated from Evanston Township High School in 1984, where he met Jeremy Piven and spent a year at New York University before dropping out. John Cusack made his feature film debut at 17, acting alongside Rob Lowe and Andrew McCarthy in the romantic comedy Class (1983).
Who is His Sister?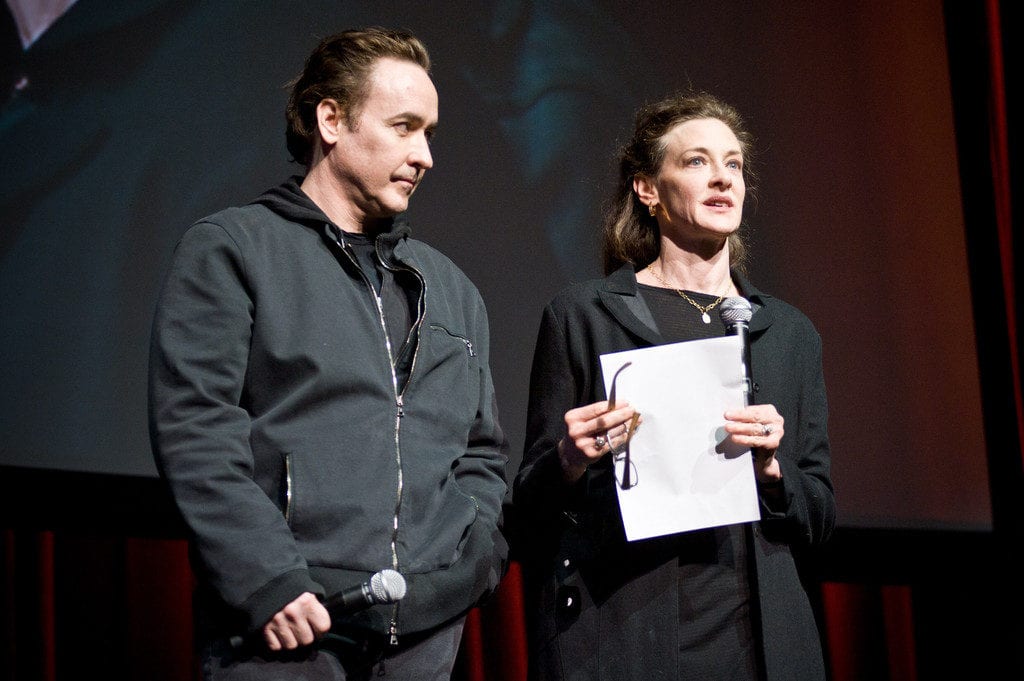 John Cusack has three sisters and each of them is an actress. Susie Cusack, the youngest of the three sisters was born in 1971. She is known for Short Cuts (1993), High Fidelity (2000) and Not Again! (1996).
Joan Cusack, born in 1962 in New York City, USA has appeared in 10 movies with her brother John Cusack. She is well known as the voice of Jessie the cowgirl in Toy Story 2 (1999), Toy Story 3 (2010), and Toy Story 4 (2019). On television, she scored a role in the series Shameless, with her work gaining her an Emmy nomination.
Ann Cusack was born on May 22, 1961, in Brooklyn, New York, USA. She is an actress, known for Grosse Pointe Blank (1997), Accepted (2006) and Stigmata (1999).
See Also: Levy Tran – Bio, Net Worth, Age, Height, and Other Facts
Is John Cusack Married? Wife or Girlfriend?
John Cusack has been in Hollywood since his first feature debut in 1987. Back in 1992, he was dating Susannah Melvoin, an American vocalist. The duo was together for three years then split in 1995. Later in 1997, he dated his co-star in the movie Evil, Alison Eastwood. However, it was short-lived as John was later spotted with Minnie Driver on the set of the 1997 blockbuster, Grosse Point Blank. Minnie and Cusack dated briefly for a year.
John Cusack and actress Neve Campbell were also romantically linked after meeting each other in Canada in 1998. The attraction was mutual and they started dating, but the affair ended after four years. After Neve, he dated Jodi Lyn O'Keefe though not regularly from 2003-2009. John was also reportedly going steady with Brooke Burns, American actress and television presenter in 2010. After his split with Brooke, he has kept his personal life away from the limelight.
Is He Gay?
There isn't any confirmation that John Cusack is gay, he has dated women despite choosing to be a confirmed bachelor. In 2009 when asked why he had never married he answered, "Society doesn't tell me what to do!". He hasn't also publicly announced his choice of sexuality.
Net Worth
All the years of acting for John Cusack have paid off nicely. His net worth is valued at $50 million. One of his greatest box office hits, The Sure Thing earned over $18,000,000 and was shot on a budget of $4,500,000.
John's dedication to his acting career is an important reason for his huge fortune, with leading roles in over 70 films and a couple of television series. Titles like Never Grow Old (2019), River Runs Red (2018) and Distorted (2018) have generated to his current net worth.
Back in September 2016, John Cusack sold his Malibu beach house for an estimated $10 Million. the house was acquired in 1999 for $2.1 million, netting an awesome profit. The Spanish-style multi-level lavish home is a 4,660-square-foot property with breath-taking view and interior.
Height and Other Body Facts
Height in Meters: 1.85m
Height in Centimeters: 185cm
Height in Feet: 6 Feet 1 Inch
Weight in Kilograms: 83kg
Weight in Pounds: 183lbs
Chest in Inches: 40 Inches
Waist in Inches: 34 Inches
Biceps in Inches: 14 Inches
Eye Color: Dark Brown