It is often believed that people who have a career in showbiz rarely have a stable marriage; Kimberly Sustad is however one of the many entertainers who has ridiculed this negative stereotype. An actress, mom, and consummate professional, these are just a few of the hats that Kimberly Sustad wears. The Canadian-born actress is making waves in Hollywood and has appeared in numerous TV series and movies, mostly on the Hallmark Channel.
Her popular works include critically acclaimed drama series like The Romeo Section, Supernatural, Alcatraz, The Nine Lives of Christmas, Primeval: New World, and Continuum. The seasoned actress has also portrayed several characters on stage. She may not be an A-lister but it would be absurd to suggest she hasn't done well for herself in the competitive industry.
Kimberly Sustad Began Acting in 2009 But Gained Relevance after She Played Nikki in Thunderballs
Kimberly Sustad commenced her acting career in 2009 with an appearance in a short drama titled Live Henry Live. The drama revolved around a man whose creativity struggles affect his family and Sustad appeared as herself. Live Henry Live really became the beginning of what of a fulfilling journey on screen for her.
After 2009, Kimberly did not get another gig until 2011 when she got a role as Nikki in Thunderballs, the movie brought her enough money that she became more determined to scout for more and more roles.
From 2012 she began to get multiple deals, she got a role in Supernatural as Amanda Willer (2012), played Charlotte in Alcatraz (2012), Vivian Patterson in A Bride for Christmas (2012), and Brooke Cross on Primeval: New World (2012).
The year 2013 was also a good year for her as she starred in several movies like Motive as Katie, Continuum as Patsy, Super
Buddies as Joanne, Baby Sellers as Bethany, and as Christie in Down River.
Becoming a Hallmark Channel Sweetheart Solidified Her Status as a Mainstream Actress
From 2013, she began appearing on several TV series and movies, mostly on the Hallmark Channel. They include appearances in Spooksville Madeline as Templeton (2013-2014),  A Bit of Bad Luck as Sandy, Signed, Sealed, Delivered as Melissa, and Witches of East End (2014).
She also appeared as Marilee White in the popular 2014 movie, The Nine Lives of Christmas, which earned her so much fame and admiration. You will also find the actress in Hearts of Christmas (2016), Walking The Dog (2017), Cooking with Love (2018), and A Godwink Christmas (2018).
A Godwink Christmas is a Hallmark movie about a young lady named Paula who is engaged to marry a hotshot lawyer. The lawyer's workaholic ways eventually drive a wedge between them and she ends up falling in love with a charming inn owner named Gery. Sustad's performance fetched her a nomination for Best Lead Performance by a Female in a TV Movie at the 2019 Leo Awards.
Her acting career has not been limited to screen appearances. She is also a successful stage actor who has appeared in theatrical productions such as One Slight Hitch and Boeing-Boeing (Vancouver Arts Club). She also voiced the character of Joanne in the 2013 Disney video, Super Buddies.
Her $1 Million Net Worth is a Prove of How Successful Her Career Has Been
The Canadian's income and earnings are mostly generated through her acting adroitness but not limited to it. A high
percentage of her income comes from TV series and commercial success in the films she has been a part of.
Asides from acting, Kimberly also earns from endorsement deals and advertisements. She has also invested in small businesses and has some shares in her husband's company. As of 2020, her net worth is believed to be at least $1 million.
This figure may appear small compared to her popularity in the industry and how much movies and TV series she has been featured in, however, we do believe that as she continues her career, her wealth will also continue to increase.
Kimberly Sustad Met Her Husband in College and They Got Married Before She Became Popular
Kimberly Sustad is not just a successful actor but also a doting wife and mother who has been able to manage her career and the home front perfectly well that none interferes with or affects the other negatively.
She has been married to her husband Scot Sustad since 2004, that was long before she gained popularity on-screen. Some believe this might be the reason they are still together.
The duo reportedly met while studying at Trinity Western University and dated for a couple of years before walking down the aisle; it was a private wedding ceremony witnessed by a few friends and family members.
It is not hard to see that they are very much in love. The actress frequently uploads pictures of herself and her man, whom she refers to as her geek on Instagram. She also doesn't shy away from publicly expressing her love for him.
Meet Scot Sustad and the Kids He's Had With the Famous Actress
Scot Sustad is the CEO of Arrival Store and Digital Hot Sauce, a Vancouver based website development company. He was born and raised in Canada and attended Trinity Western University just like Kimberly. He is said to have also attended Covenant Bible College Ecuador and graduated in 2001.
Scot and Kimberly are proud parents of twin girls named Vienna and Ari, who were welcomed on the 14th of June 2017. Although a very private person, the proud mom has shown off her little cuties a few times online.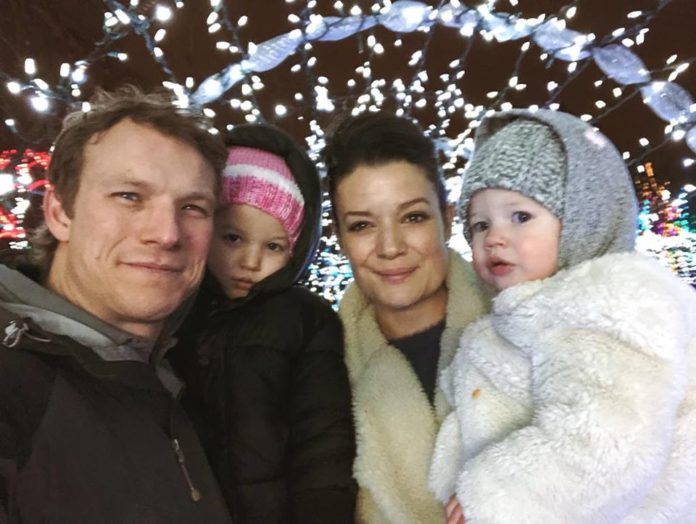 Being a popular actress, the Kimberly-and-Scot union has faced some of the challenges that are common to celebrity couples. For instance, it once circulated that the couple was getting a divorce. Thankfully, it turned out to be false and nothing other than rumors.
Kimberly Ststad and her husband are very happy together and it's difficult to imagine anything that can bring them apart. The actress spends quality time with her family, is faithful to her husband, and has kept controversy away from her family. They live in Vancouver, Canada.